Best Healthy Mexican Chopped Salad with Lime Dressing
As an Amazon Associate, I earn from qualifying purchases. Please read my disclosure policy.
Taste the tropical flavors of summer with this Healthy Mexican Chopped Salad recipe with Lime Dressing and a fabulous handful of delicious ingredients, like fresh corn, creamy avocado, juicy tomatoes, jicama, and black beans.
Serve this flavorful salad as a hearty side dish at your next backyard BBQ or for a busy weeknight dinner. Mix the homemade dressing, toss the salad ingredients, and dive into deliciousness!
If you are a fan of healthy, vibrant salads, then you have to try my Italian Chopped Salad with zesty Italian dressing, this Steakhouse Wedge Salad made with romaine and topped with a chunky blue cheese dressing!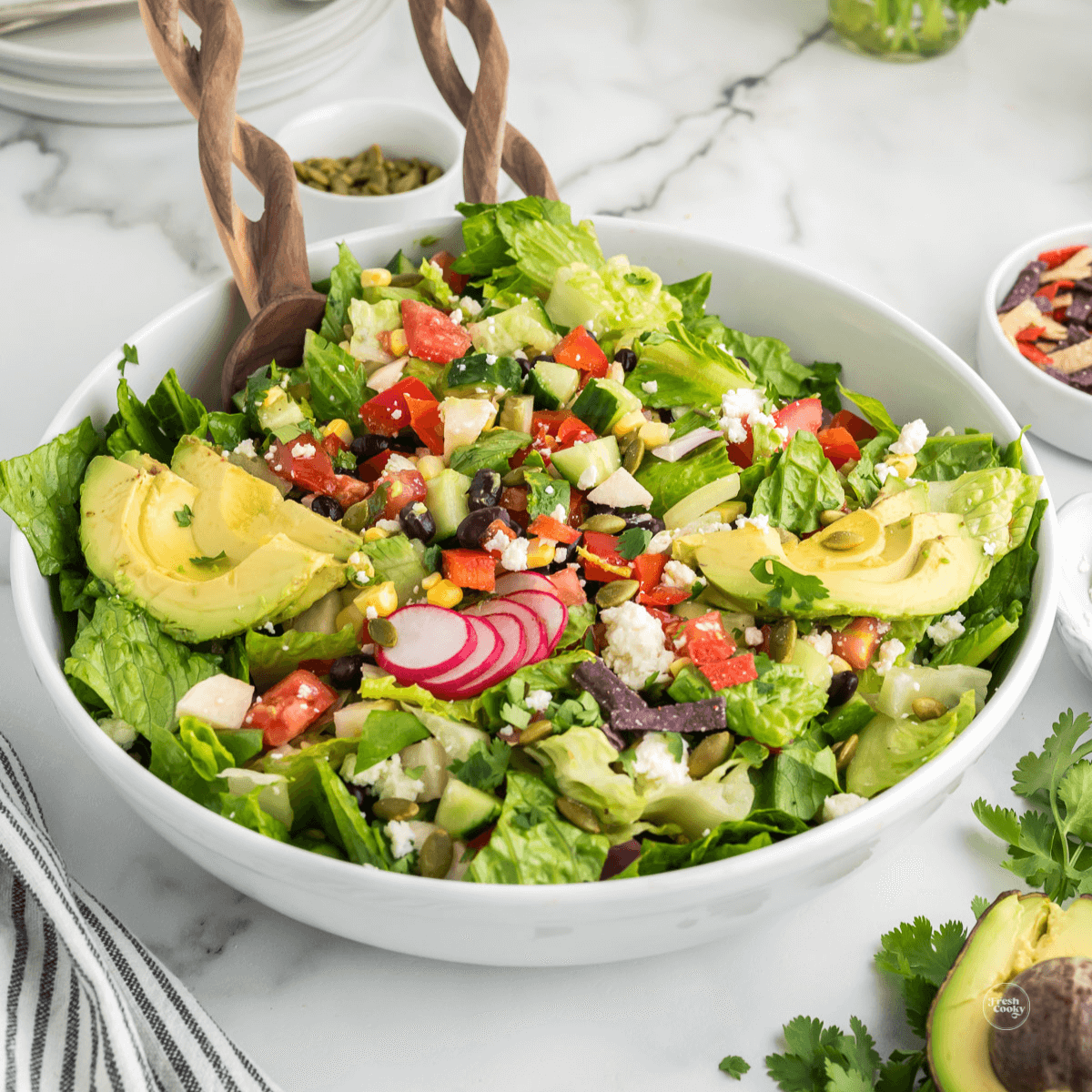 I enjoy giving precise details in my recipe posts to lead my readers through any questions. If you're just here for the printable recipe, feel free to click "Jump to Recipe" right under the title of this post, and you'll head straight there!
Why You Will Love This Recipe
Guilt-Free Mexican Food – This flavorful Mexican salad is made with fresh ingredients and a light homemade dressing.
Easy – After mixing the simple dressing ingredients, chop the veggies and toss all the salad components together for a quick and easy meal or side salad.
Customizable – Swap the ingredients for the ones you like most and make this salad perfect for your taste or the guests you serve.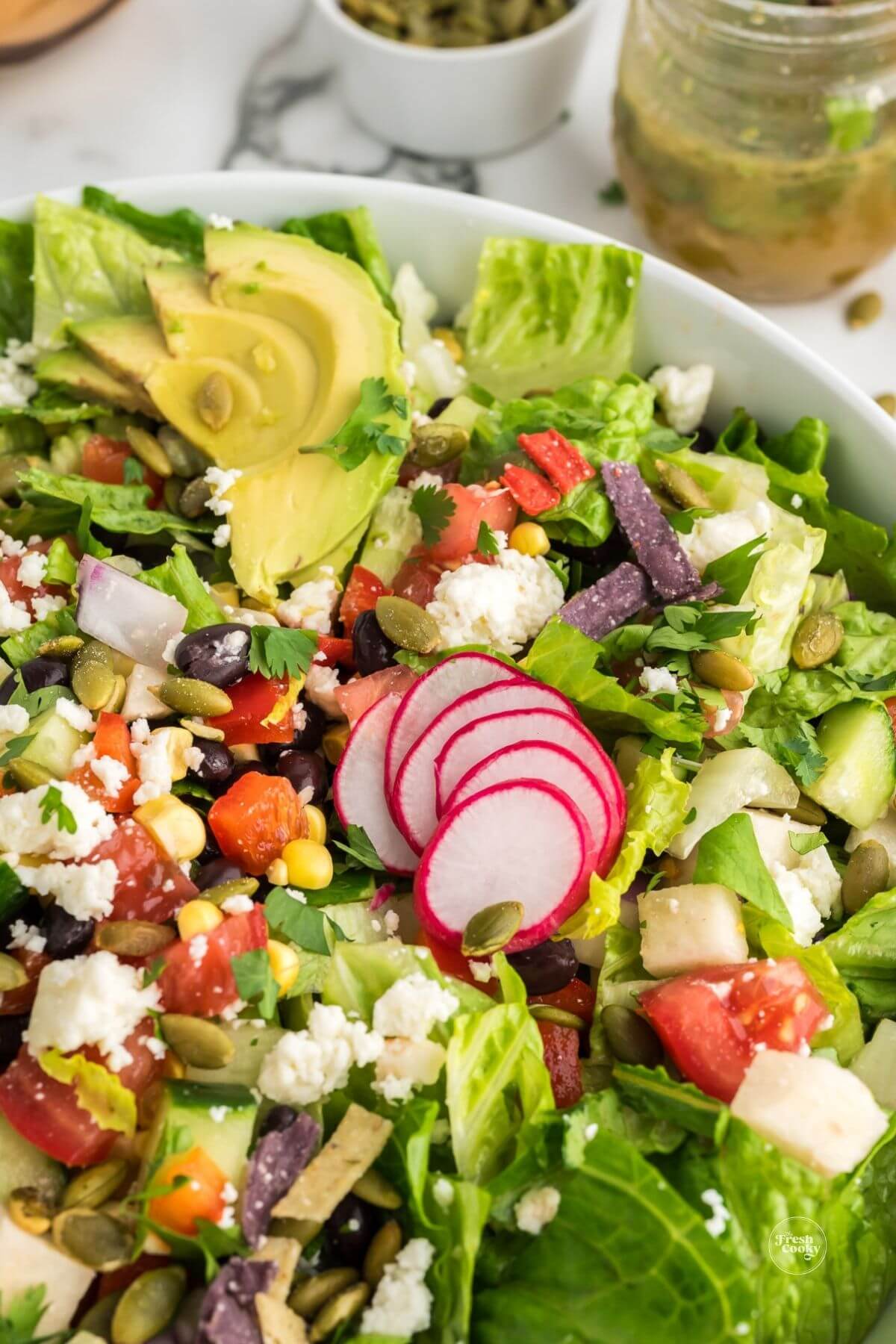 Mexican Chopped Salad Simple Ingredients
Ingredients, directions and nutritional information in the printable recipe card at the end of the post.
Lettuce | The base of this salad is a head romaine lettuce, chopped and ready to go.
Veggies | Add one bell pepper of any color, a red onion, creamy avocado, crispy cucumber, corn, and juicy tomatoes (grape, cherry, or regular).
Jicama | Jicama is a common root veggie found in Mexican cuisine. It tastes less sweet than an apple and feels like a potato, adding an interesting texture and loads of nutrition to the salad.
Beans | Add flavor and texture with a can of drained and rinsed black beans.
Cilantro | Mix in refreshing, finely chopped cilantro.
Pepitas | Sprinkle the salad with toasted pepitas (or pumpkin seeds) for additional texture and a nutty taste. I like sprinkling in Tajin or chili powder when toasting the pepitas for this healthy Mexican salad recipe.
Cotija cheese | Cotija cheese is a light, tangy, and creamy cheese used for many Hispanic dishes and found at just about any grocery store. Substitute this ingredient with crumbles of queso fresco or feta cheese if preferred.
Optional toppings | If you're craving more delicious ingredients, pack the salad with thin slices of radishes, zucchini, and crushed tortilla chips.
Optional protein | Just about any protein works with this salad, but my favorites are rotisserie chicken, leftover chicken, cooked ground turkey, or taco meat for a taco salad– YUM!
Dressing | Check out this cilantro honey lime dressing made with fresh lime juice, avocado oil, rich honey, fresh cilantro, and additional seasonings. Add sour cream, mayonnaise, or Greek yogurt to make it a creamy dressing!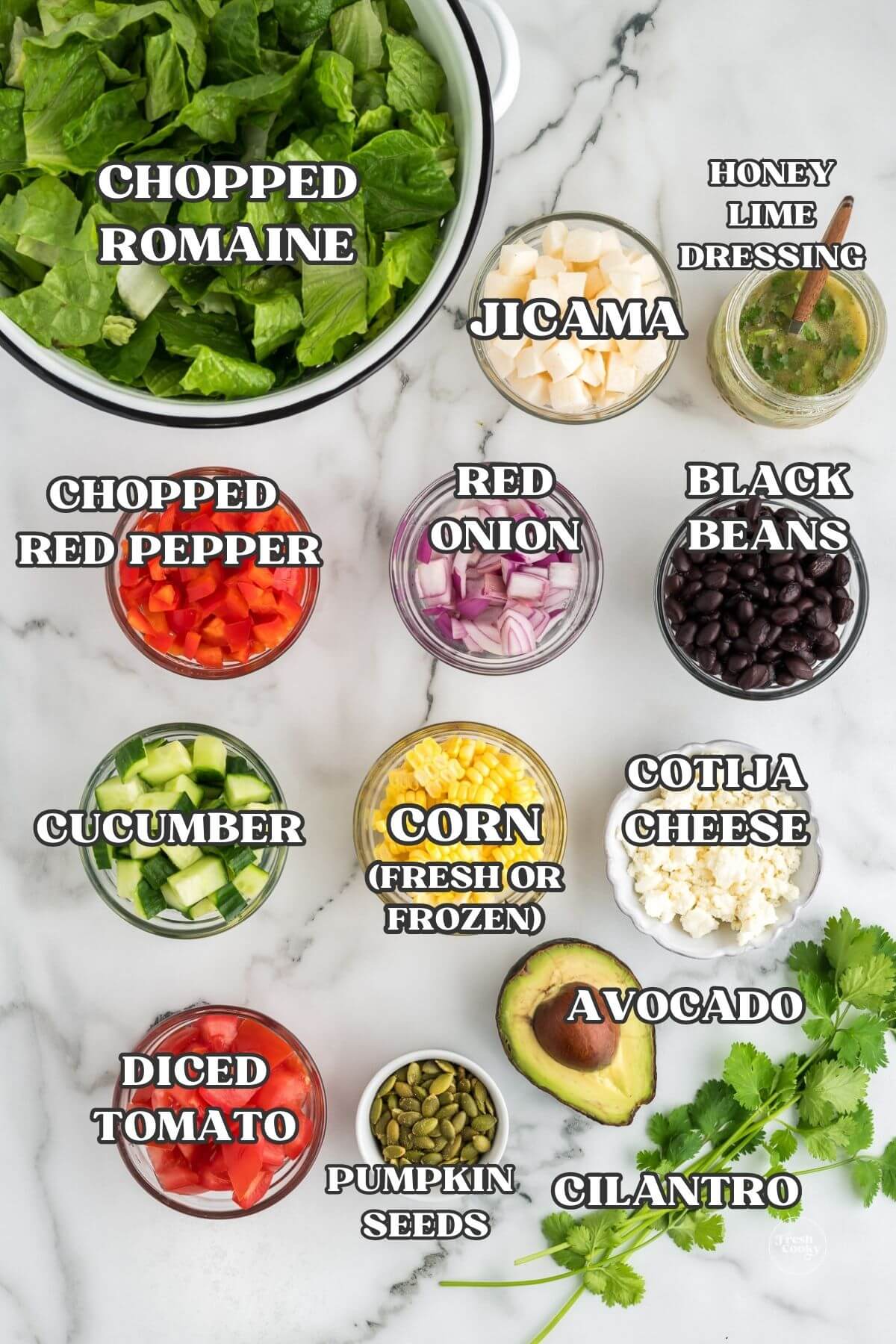 Best Ways to Prepare and Use Jicama
I usually buy precut jicama, to make life easier, but it will go bad fast.
To prepare jicama: wash the root vegetable and peel it using a vegetable peeler, like a potato, then slice, dice, chop, and enjoy!
Store jicama: Place cut jicama tightly wrapped in plastic wrap or in an airtight container, store in the refrigerator. Eat within a few days for the best taste and texture.
Jicama has a crisp and refreshing texture, making it a perfect addition to salads, slaws, and crudité platters.
Citrusy Marinades: Jicama can be marinated to enhance its flavor and tenderness. Prepare a citrus-based marinade and allow the strips or pieces to marinade for at least 30 minutes or overnight in the refrigerator. The marinade will infuse the jicama with a tangy and refreshing taste.
Stir-Fries and Roasting: While jicama is often enjoyed raw, it can also be cooked. When cooked, jicama softens slightly and develops a sweeter flavor. Try adding jicama to stir-fries by slicing it into thin strips or cubes. It can also be roasted with other vegetables, tossed with olive oil, salt, and spices of your choice, and baked until tender and slightly caramelized. The roasting process enhances the natural sweetness of jicama.
How to Make Healthy Mexican Salad with Honey Lime Dressing
Mix the dressing ingredients in a small bowl or shake them in a jar with a tight-fitting lid. If preferred, whir the dressing ingredients in a blender for a second or two. Keep the dressing in the refrigerator until you're ready to use it.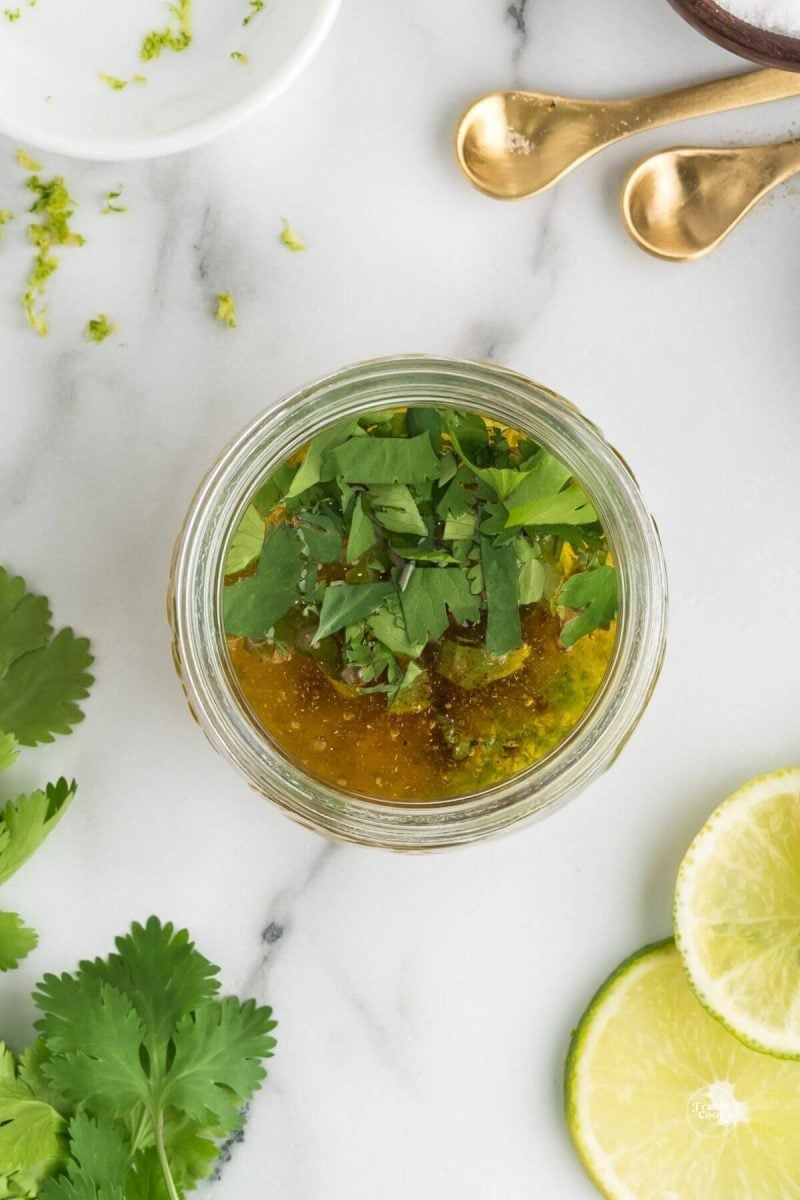 For the salad, start by prepping all the ingredients. Next, place all the healthy ingredients in a large salad bowl and gently toss to combine.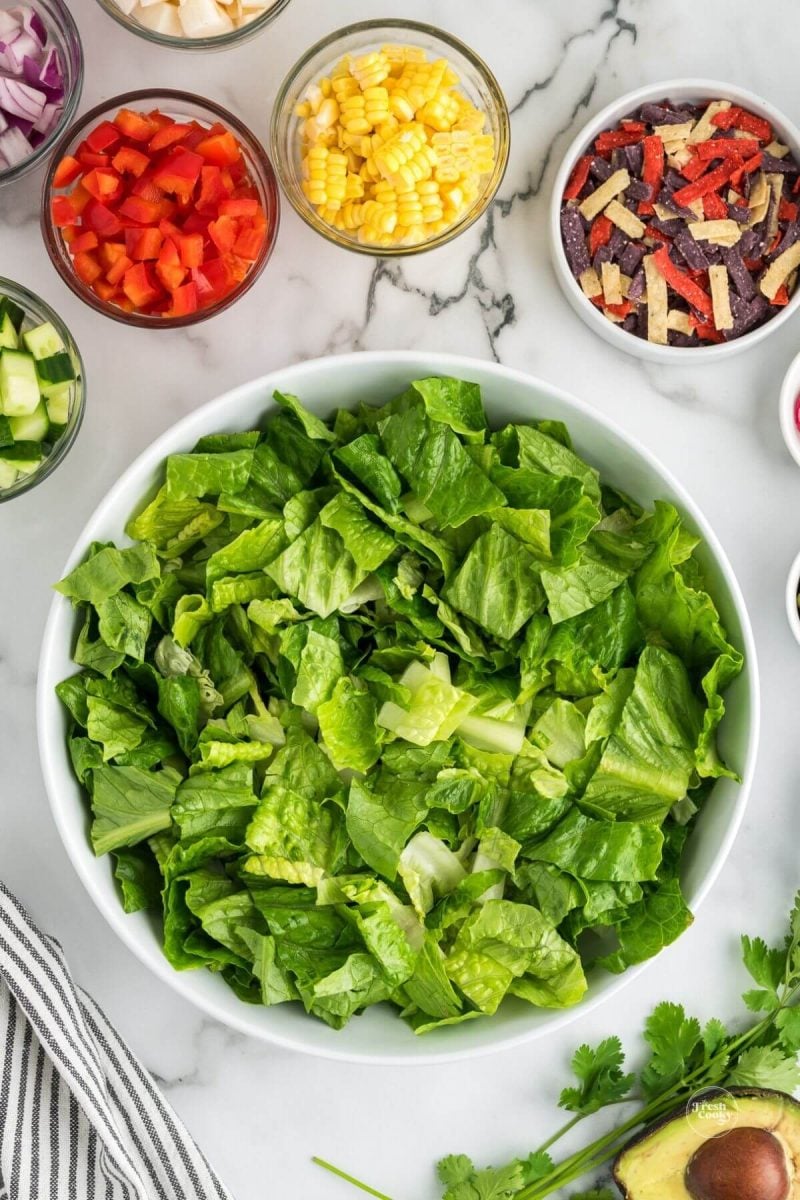 If you want a lovely presentation, place the chopped romaine in a salad bowl, adding sections of each veggie and sprinkling with cotija, cilantro and pepitas.
Then, just drizzle with cilantro lime dressing, toss to coat, and serve!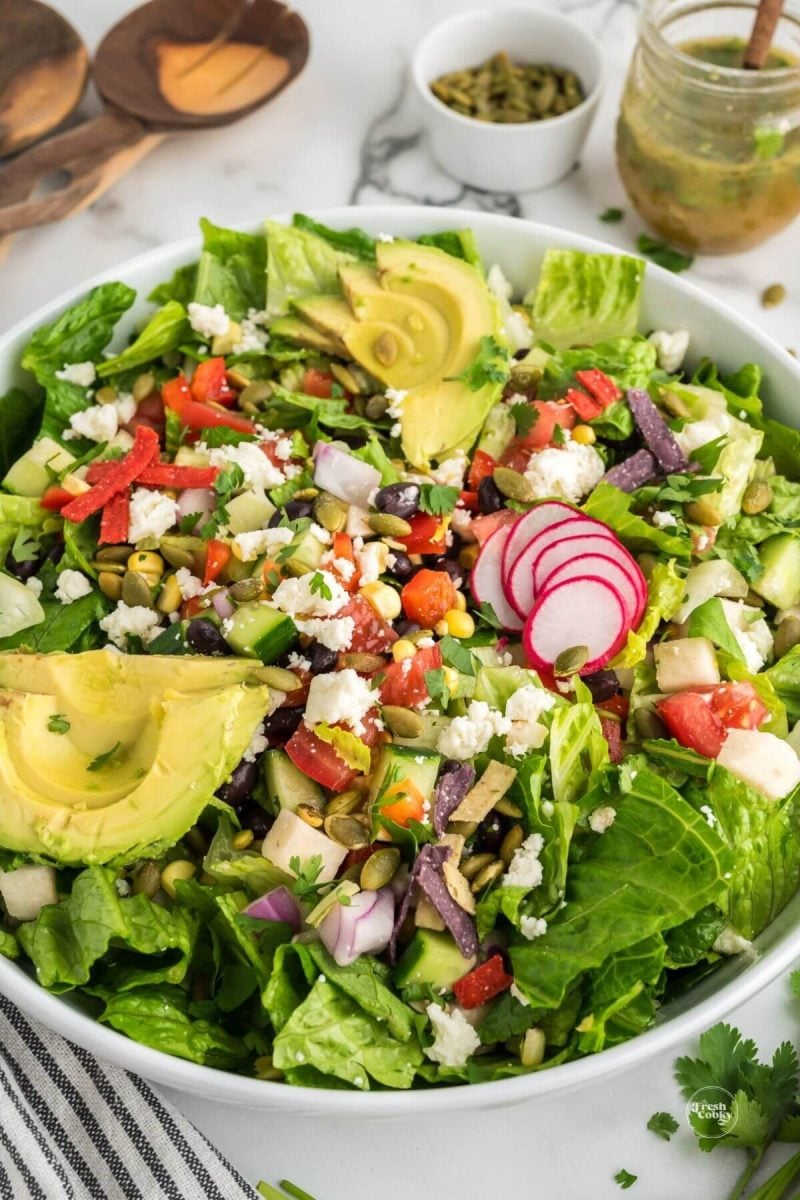 Fresh Tips
This salad is excellent for meal prep! Divide the ingredients between meal prep containers with the dressing on the side.
If you use olive oil for the dressing, remember to remove the mixed dressing from the fridge about 30 minutes before using it. The oil will harden in the refrigerator.
This dressing is even better the next day when the flavors have had time to develop.
Keep the salad ingredients chilled before assembling and serving.
Serve your homemade Mexican chopped salad on cold salad plates that have been chilling in the freezer for about 20 minutes.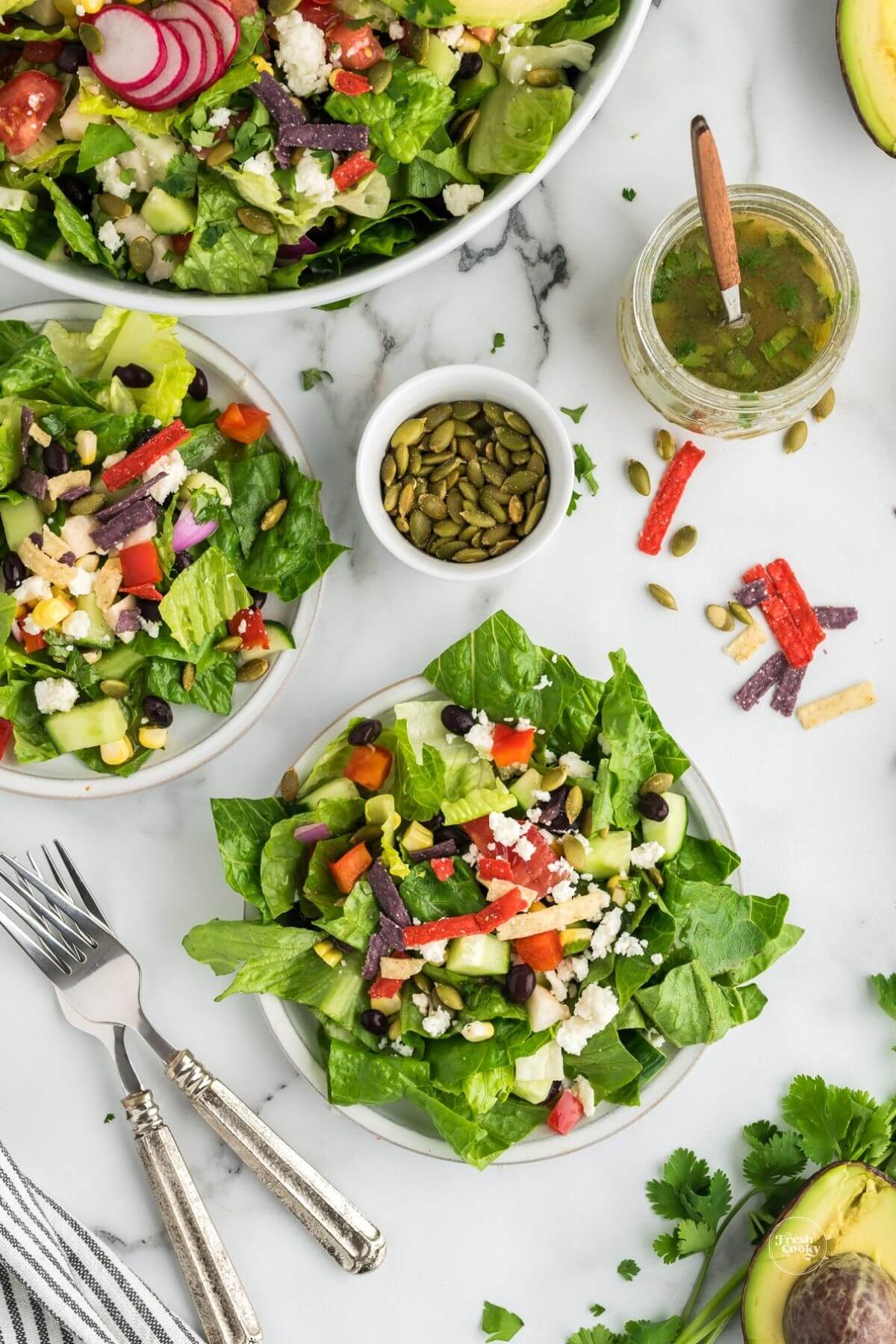 This healthy taco salad recipe is great as a main course when you add protein. However, it can also be enjoyed as a side salad to compliment another main dish, like Mexican Barbacoa Tacos with seasoned chuck roast and a healthy twist, sizzling hot Authentic Mexican Chicken Fajitas, or these tasty Mexican Street Corn Rice Bowls.
Variations & Substitutions
Keto Taco Salad: Make this recipe keto-friendly by replacing the honey in the dressing and removing the corn and black beans in the salad. Coconut Lime chicken with fresh lime juice or plain grilled chicken would be excellent for this keto salad's protein.
Use Your Favorite Peppers: The recipe calls for bell peppers, but roasted red peppers, poblano, or shishito peppers are also delicious!
Protein Options and Alternatives: Garbanzo beans are an excellent replacement for meat if you're serving a vegetarian taco salad. Otherwise, grilled chicken breast, ground beef and taco seasoning, pork carnitas, or air fryer steak bites also work!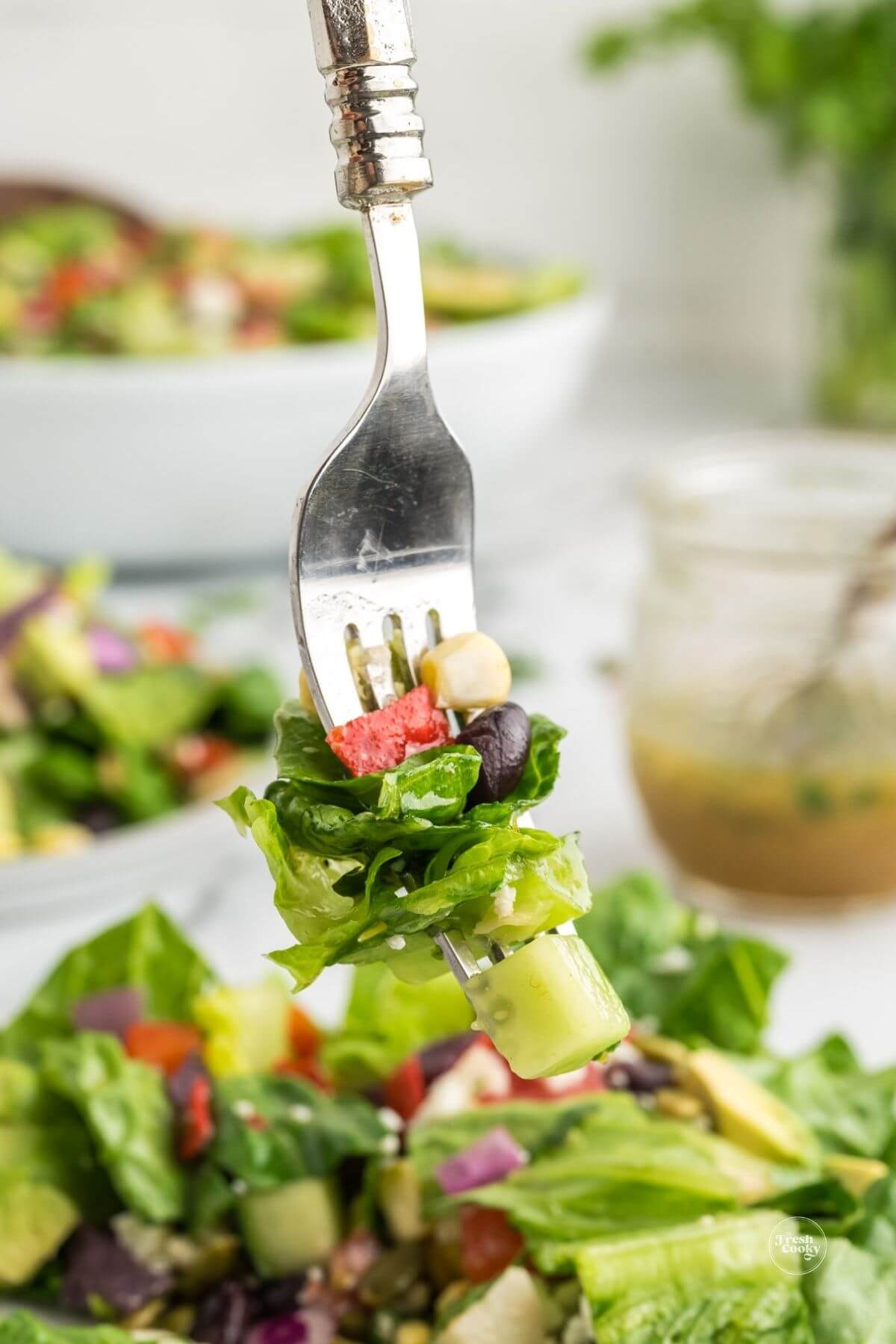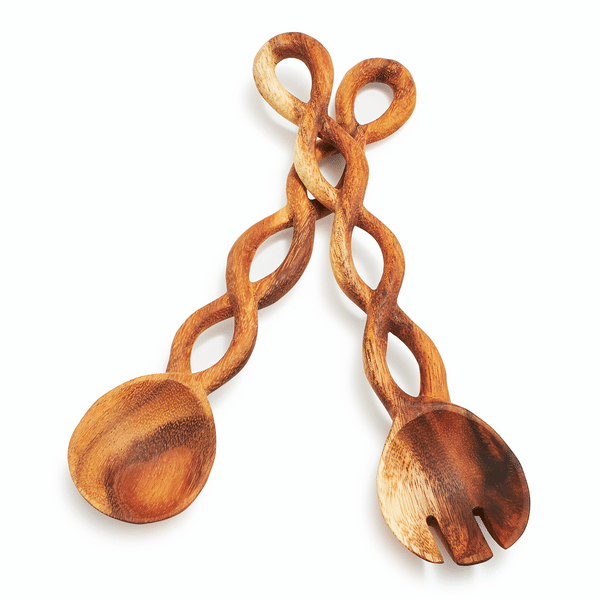 Frequently Asked Questions
What's the difference between a salad and a chopped salad?
The difference between these two types of salads is just how it sounds – One involves chopping all the ingredients to about the same size and tossing them all together, while the other type consists of a bed of lettuce with additional ingredients on top. Eating a chopped salad is a slightly different experience from a regular one because each bite contains a lovely balance of most of the ingredients in the recipe.
Can this Mexican chopped salad be made vegan?
Yes! Omit the cheese or use a plant-based product. For the dressing, swap the honey for maple syrup, agave or monk fruit. EASY!
What's in a chopped salad?
Chopped salad recipes are diverse, but they often contain lots of veggies and other ingredients, like green onions, romaine lettuce, or a mix of greens, bell peppers, cherry tomatoes, carrots, cold meat, and more.
Is chopped salad healthy?
Because chopped salads often include a plethora of nutritious veggies and ingredients, they are a great way to get valuable vitamins and minerals. Of course, if the salad is overloaded with cheese or a creamy dressing, it will have several more calories, but it still includes loads of nutrition!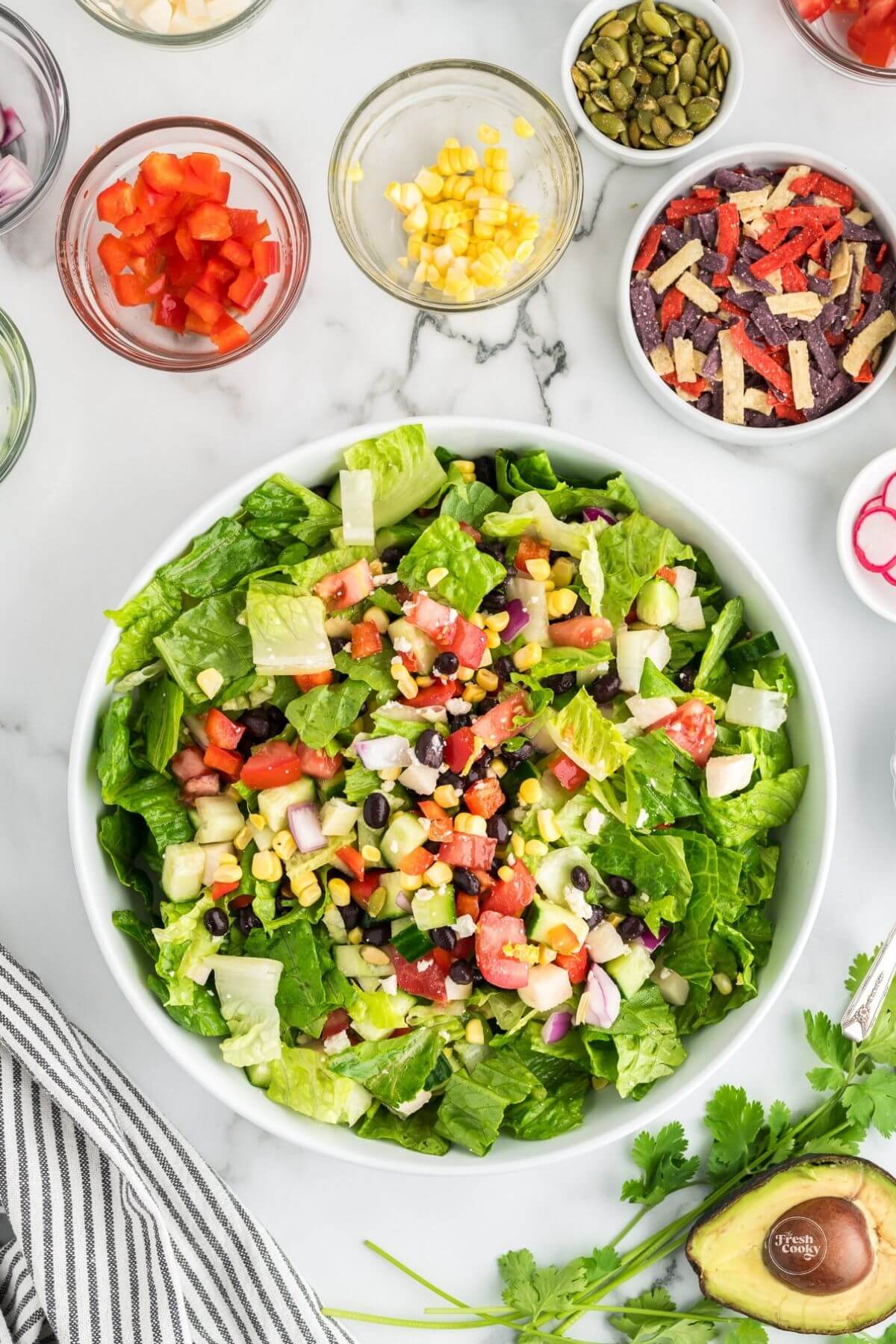 Storage Tips
Refrigerate Leftovers – Most of the salad ingredients will last for a few days in the refrigerator when stored in airtight containers. Keep the tomatoes, avocado, and dressing separate until ready to serve.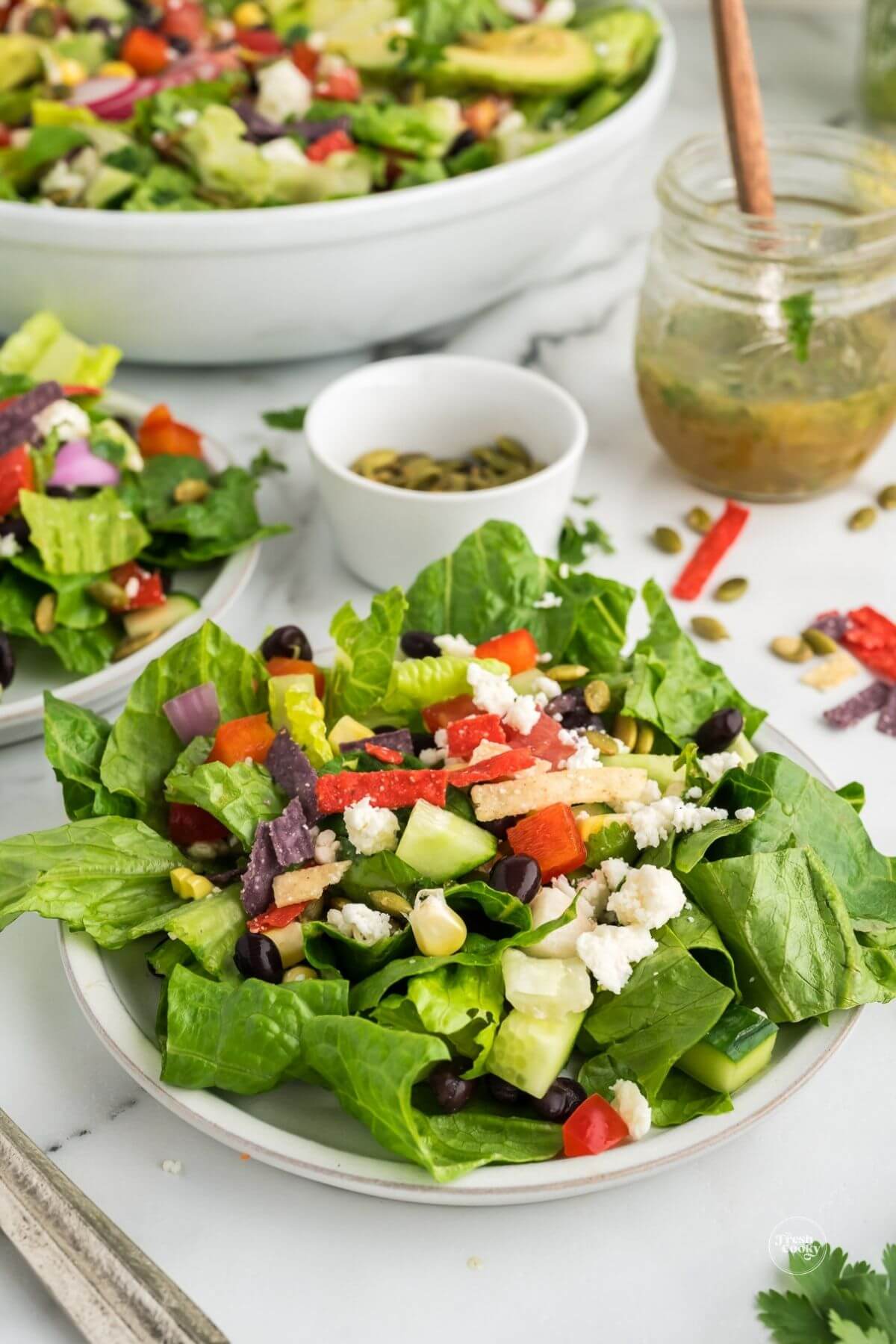 Prevent a soggy salad by storing the salad ingredients separate from the dressing if you plan on serving the recipe a little after assembling. You may also want to wait to add the avocado until it's time to plate the dish or drizzle with a little lemon juice.
Best Drinks for Healthy Mexican Salad Recipes
Delicious Mexican salad is best paired with something tropical, like Skinny Grapefruit Paloma Spritzer Mocktail, or add your favorite spirit to make it a fun summer cocktail! Gorgeous naturally pink Fresh Strawberry Gin Cocktail for a pop of color and refreshing flavors. Or try this low-calorie, no-sugar Watermelon Slush, spiked or kept clean so the little ones can enjoy it too!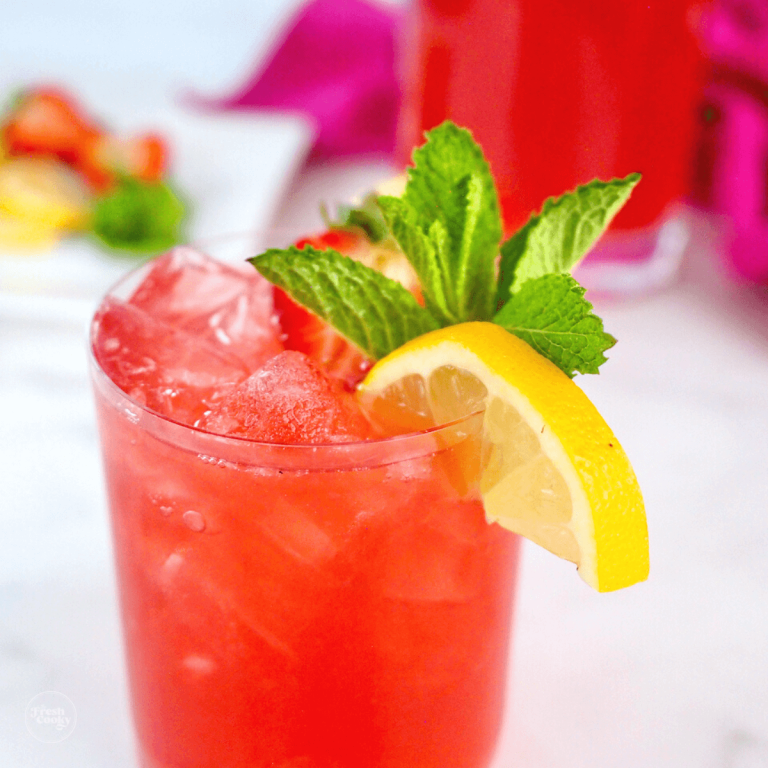 Pink Lemonade Vodka Cocktail
Looking for a simple, homemade pink lemonade vodka cocktail? With a few simple ingredients this fresh and delicious all-natural pink lemonade vodka drink will become a summer favorite! This easy cocktail recipe can be made by the glass or by the pitcher!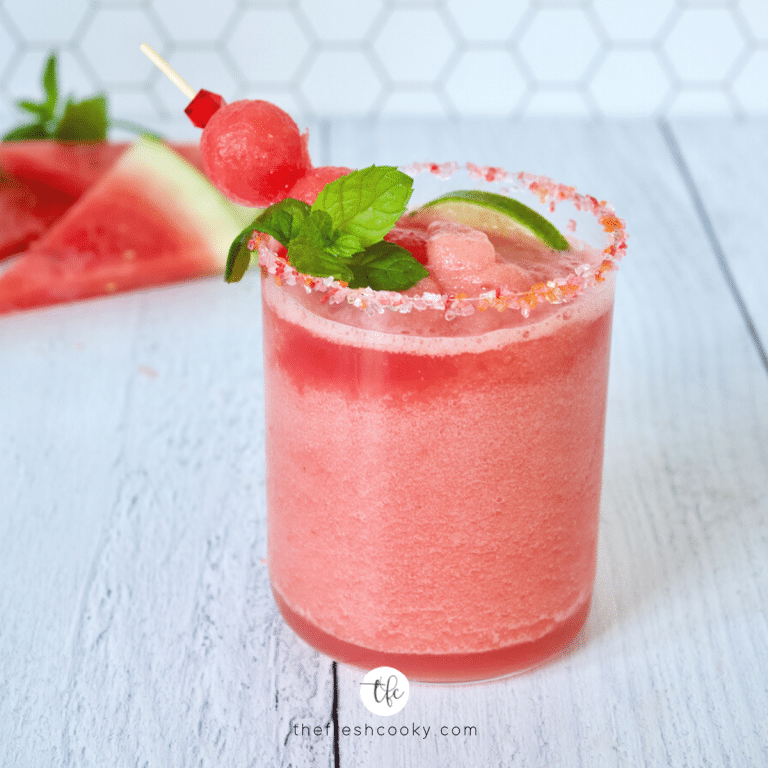 Watermelon Slush
Juicy, ripe red watermelon, frozen and blended into this refreshing, delicious and healthy watermelon slush! With just 3 main ingredients, this all natural, no sugar slushie recipe is the essential cool summer drink!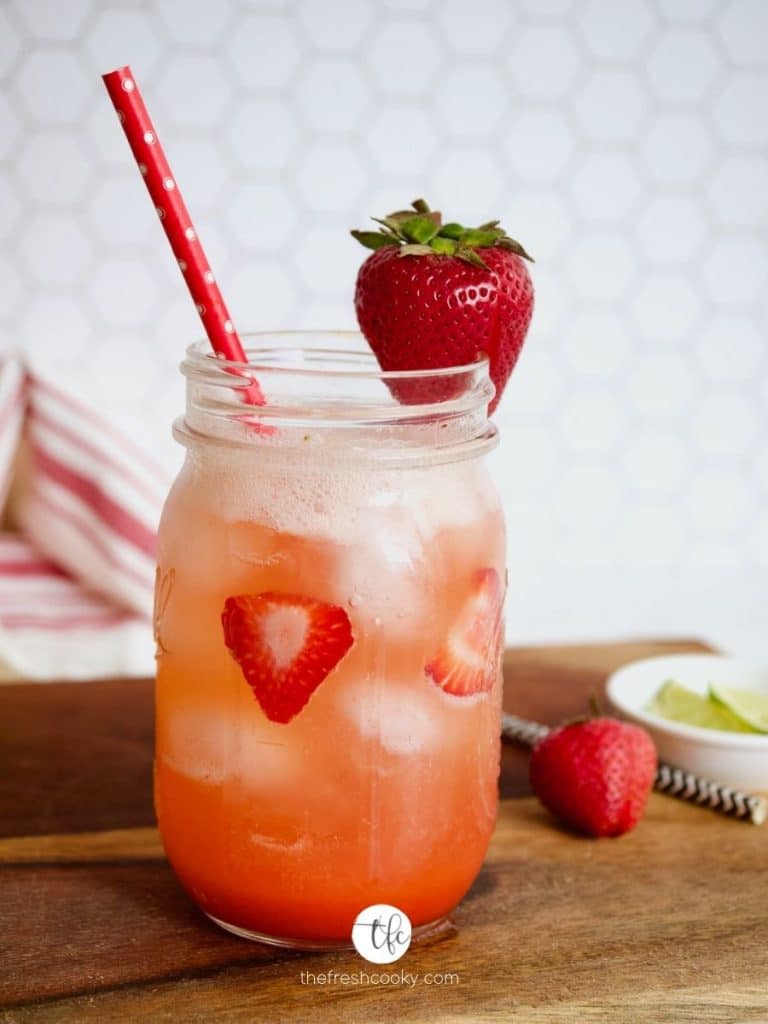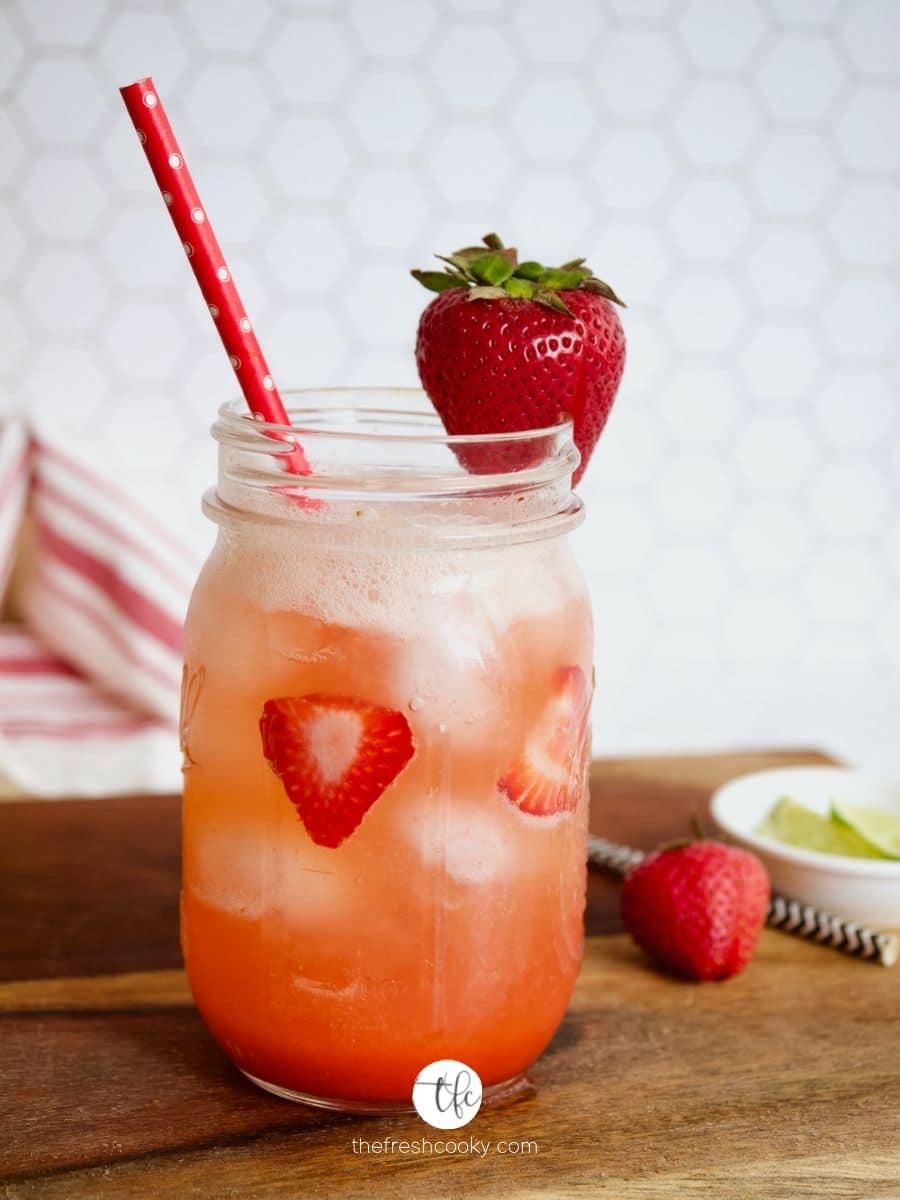 Strawberry Refresher
The Strawberry Refresher is a light non-alcoholic drink made with summer fresh strawberry syrup, lime juice and your favorite mixer. Perfect for a warm spring or summer day, refreshing and delicious.
Best Desserts to Serve with Easy Mexican Salad Recipe
Stick with the Mexican flavors by serving Air Fryer Fried Ice Cream Recipe or my popular Key Lime Pie. Or drizzle honey on this Mexican Fruit Salad Recipe as a healthier dessert option. On the other hand, this nutritious salad recipe leaves room for a decadent and filling dessert, like this delicious, irresistible, easy-to-make Oreo Pudding!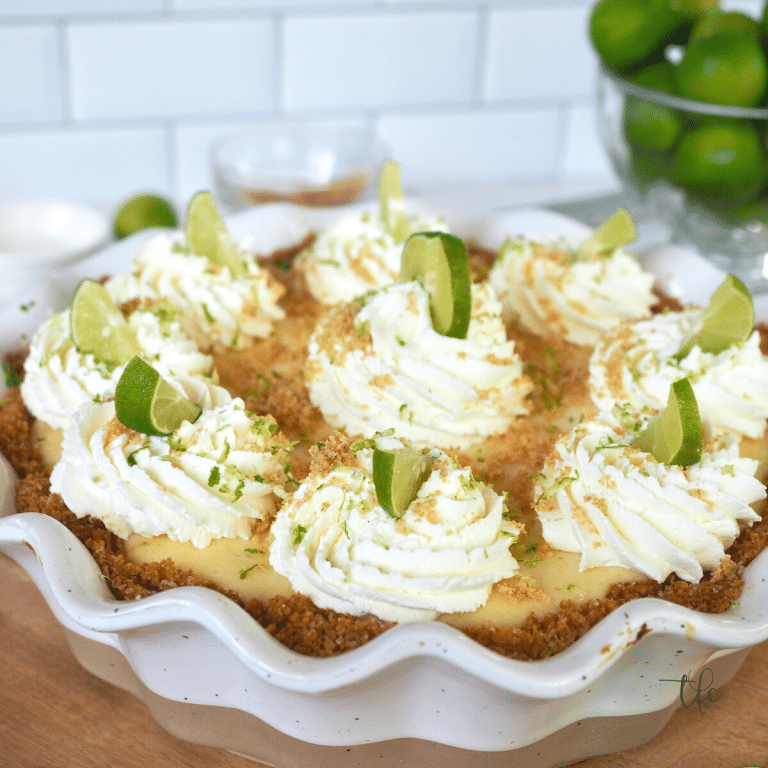 The Best Key Lime Pie | A Traditional Key Lime Pie Recipe
This is the BEST Key Lime Pie, so easy too! A traditional Key Lime pie recipe that is, citrusy, sweet-tart — the perfect sweet to-pucker ratio; light and bright with a crisp not-to-sweet graham cracker crust! Award winning!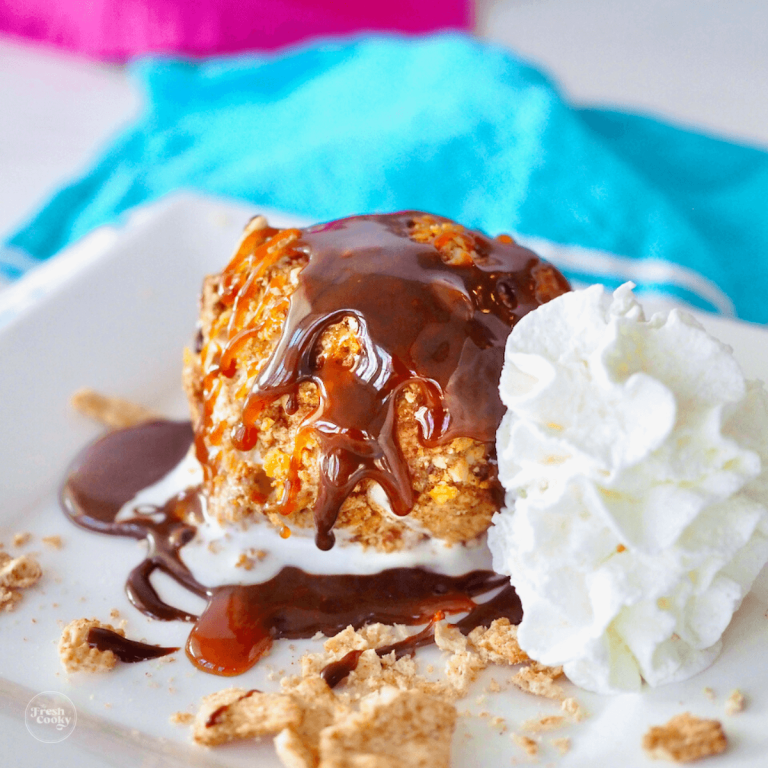 Air Fryer Fried Ice Cream Recipe
A healthier and easy air fryer fried ice cream! No deep frying in hot oil! Crunchy and crispy on the outside, smooth creamy vanilla ice cream on the inside, the best fried ice cream recipe.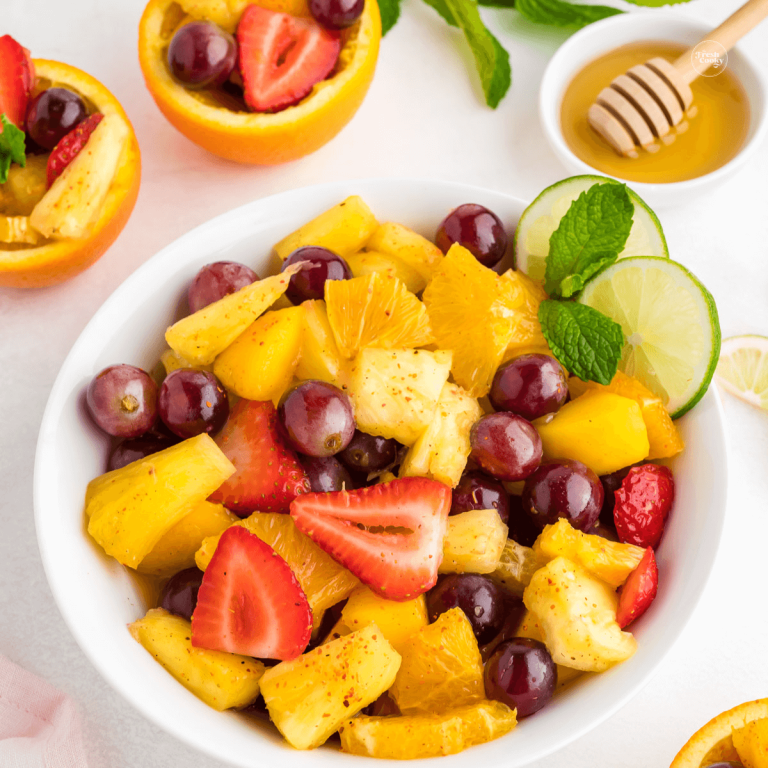 Best Mexican Fruit Salad Recipe
This Mexican fruit salad recipe is refreshing, and bursting with juicy and sweet fruits that will make your taste buds salsa dance! Tropical fruits paired with citrus, strawberries, and grapes in a light honey-lime Tajin dressing.
More Fun and Flavorful Salad Recipes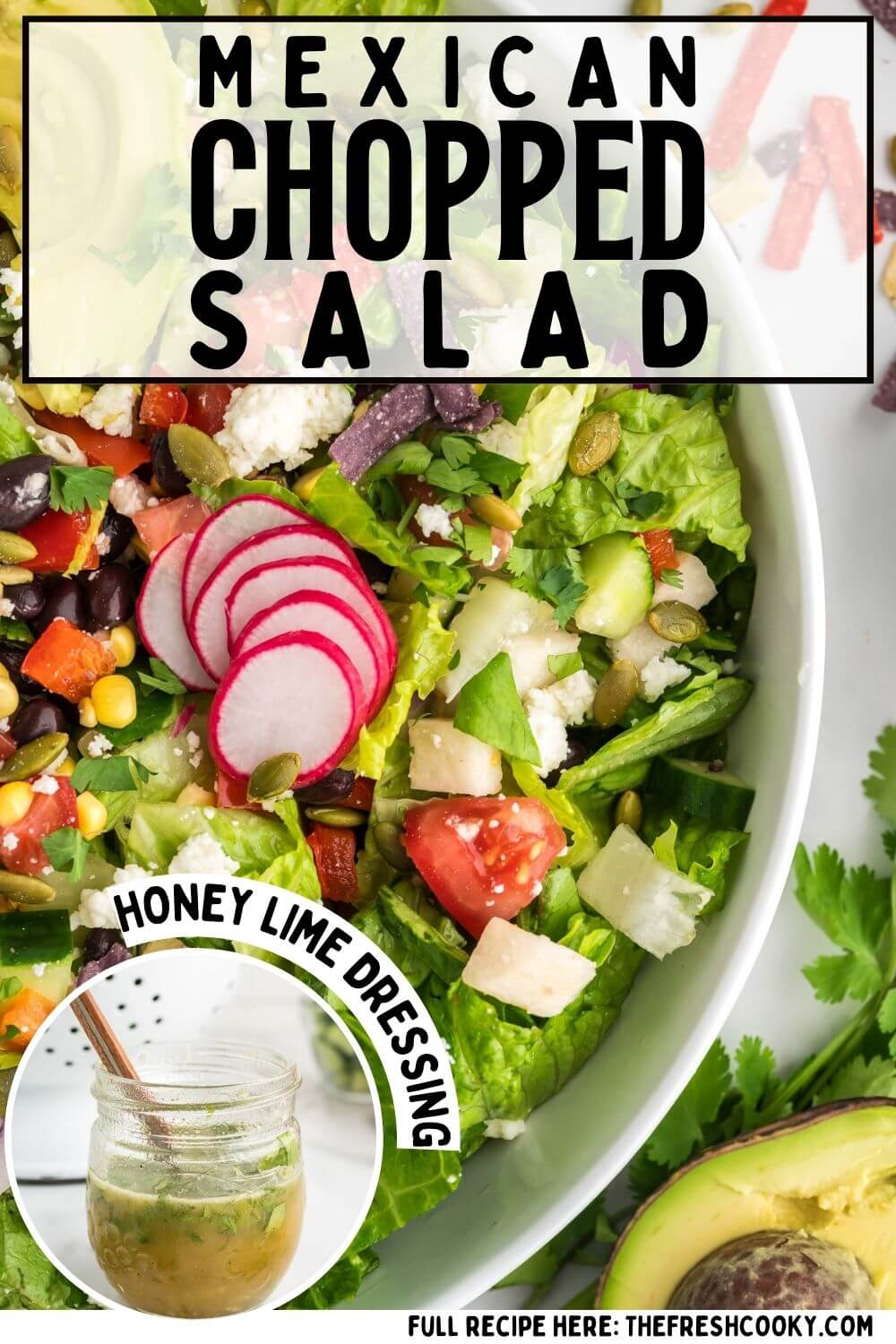 I hope you loved this Mexican Chopped Salad — if you did, would you share your creation on Instagram, Facebook and Pinterest? And be sure to comment below!
Like this recipe?
Don't forget to give it a ⭐️⭐️⭐️⭐️⭐️ star rating and comment below the recipe!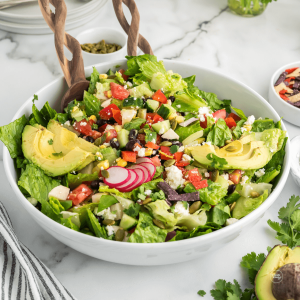 Best Healthy Mexican Chopped Salad with Lime Dressing
A healthy Mexican Chopped Salad recipe with honey-lime dressing full of fresh corn, creamy avocado, juicy tomatoes, jicama, and black beans and more.
Ingredients
Honey Lime Dressing
1

lime

,

zested, use juice below

¼

cup

fresh lime juice

,

2-4 limes

1-2

tablespoons

honey

,

agave, maple syrup or monk fruit (low carb)

½

teaspoon

cumin

1-2

cloves

garlic

,

minced or pressed

½

teaspoon

kosher salt

¼

cup

avocado oil ,

or your favorite oil, if using olive oil, remove from fridge 30 minutes before serving.

¼

cup

cilantro

,

minced

freshly ground black pepper
Mexican Chopped Salad
1

large head

romaine lettuce

,

chopped, or 3 small romaine hearts

1

medium

red bell pepper

,

diced, any color

½

medium

medium red onion

,

diced small

½

medium

jicama

,

peeled and diced

1

large

avocado

,

diced (tossed in a little lemon juice if not serving for a bit)

1

medium

English cucumber

,

diced

1

cup

tomatoes

,

diced, or halve grape or cherry tomatoes

1-2

ears of corn

,

shucked and corn cut off or substitute 1 ½ cups of sweet, white corn (frozen)

1 15-

ounce

black beans

,

drained and rinsed

¼- ½

cup

cilantro

,

finely chopped

2-4

tablespoons

Pepitas

,

or pumpkin seeds, if desired toasted in with a little Tajin or chile powder

2-4

ounces

cotija cheese

,

crumbled
Instructions
For the dressing, in a jar, combine all dressing ingredients, cover and shake to combine, or if preferred, whir for a second in a blender. *Note, if using olive oil for the dressing, remember to remove from the fridge about 30 minutes before using; the olive oil will harden in the fridge.

If toasting pumpkin seeds (pepitas) heat a small skillet over medium heat, add pumpkin seeds and shake a little chile powder or Tajin on top, shake pan until they are warm and popping, cool before placing on salad.

Place all ingredients for the salad in a large salad bowl, tossing to combine. Or, for presentation, place chopped romaine in a salad bowl, then add sections of each veggie, creating a colorful wheel.

Add chopped avocados, and sliced radishes if desired and toss with cilantro and pepitas, and with honey lime dressing. Toss to coat.
✱ Kathleen's Tips
Optional Toppings: Try thinly sliced radishes; add a lovely crunch like in this Poblano Chicken Soup. Cut up zucchini into small chunks. Crushed tortilla chips or Tortilla strips, toss in rotisserie or leftover chicken, and use leftover taco meat for a taco salad.
Storage
Store undressed salad in an airtight container in the fridge 2-3 days. For meal prep, keep avocado, cheese, Pepitas and tortilla strips off until serving.
Meal Prep: Divide salad ingredients between meal prep containers with dressing on the side (I like these dressing containers to go).
Keto Taco Salad: In dressing, replace honey with a couple of teaspoons of Monk fruit sugar replacement or similar. Omit corn and black beans.
Protein: Add a protein, Coconut Lime chicken with fresh lime juice or plain grilled chicken would be excellent for this keto salad's protein., or just grilled chicken would be fabulous; sprinkle a little garlic powder, onion powder, cumin, and chili powder along with salt and pepper on the chicken before grilling. Chop and divide between meal prep containers after cooling completely.
Variations: Roasted red peppers, bell peppers, or your favorite Mexican peppers, such as poblano, Shishito, etc.
Add garbanzo beans if desired for more protein.
Nutrition
Serving:
1
serving
Calories:
357
kcal
Carbohydrates:
39
g
Protein:
12
g
Fat:
19
g
Saturated Fat:
4
g
Polyunsaturated Fat:
3
g
Monounsaturated Fat:
11
g
Trans Fat:
0.003
g
Cholesterol:
8
mg
Sodium:
315
mg
Potassium:
821
mg
Fiber:
14
g
Sugar:
8
g
Vitamin A:
1523
IU
Vitamin C:
53
mg
Calcium:
103
mg
Iron:
3
mg
Nutrition Disclaimer
The Fresh Cooky is not a dietician or nutritionist, and any nutritional information shared is only an estimate. We recommend running the ingredients through an online nutritional calculator if you need to verify any information.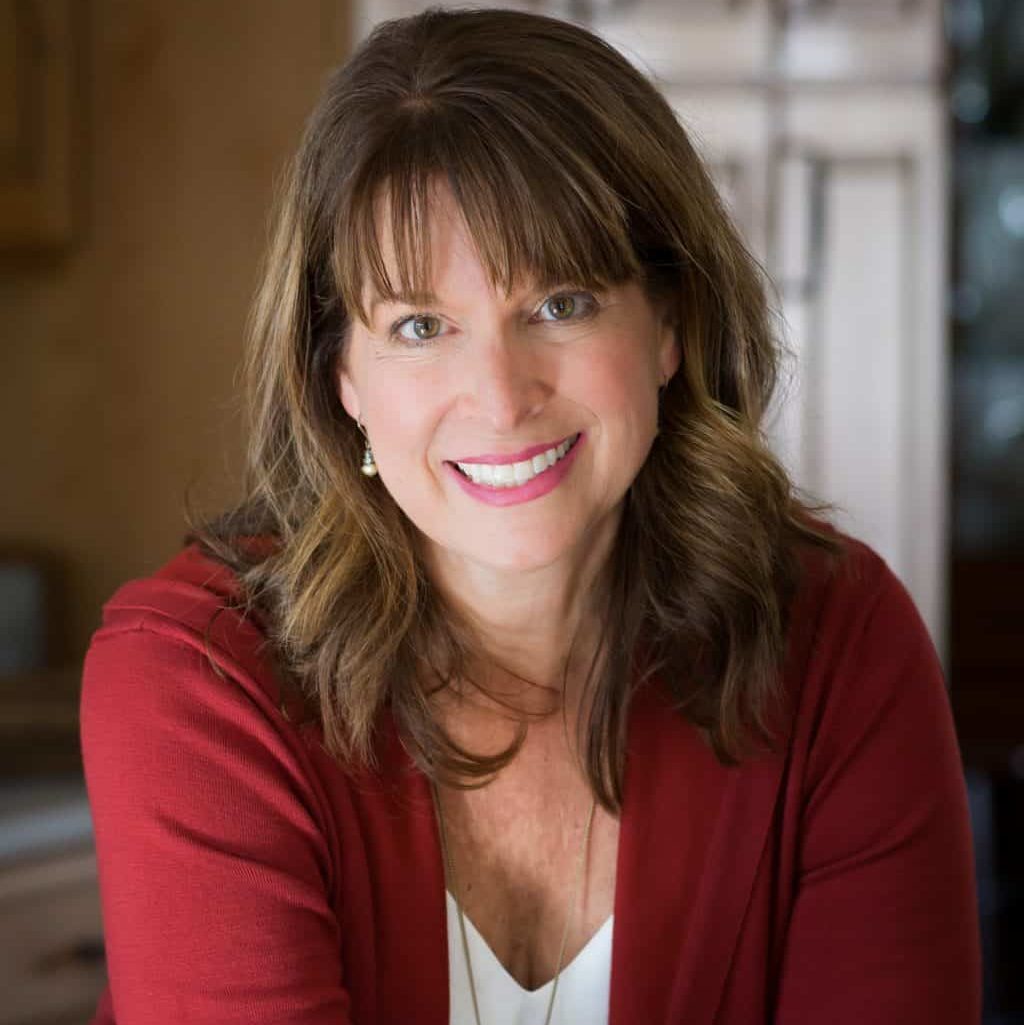 About Kathleen Pope
Recipe Innovator | Food Photographer | Food Writer
Hi, I'm Kathleen Pope. Here at The Fresh Cooky you will find easy, mostly from-scratch, trusted recipes for all occasions. From speedy dinners to tasty desserts, with easy step-by-step instructions. I am here to help teach you how to make mouthwatering recipes without spending hours in the kitchen. Read more about Kathleen here.