A slam dunk grill seasoning that works on chicken, fish, beef and pork! This Copycat Carrabba's Grill Seasoning is the best one ever!
Sometimes I get a hankering for a meal I've eaten at a favorite restaurant, does that happen to you? Well a few weeks ago, I was craving Carrabba's Chicken Bryan, and set out to make our family this beautiful dish.
Chicken Bryan is a perfectly grilled seasoned chicken breast with a delicate, but oh-so-flavorful lemon butter sauce, topped with soft and melting goat cheese and chopped sun-dried tomatoes. Personally I think it's best served with rustic mashed potatoes, but also delicious with pasta or fresh steamed broccoli.
Recipe for Chicken Bryan coming soon, but in the meantime, I wanted to get this amazing grill seasoning in your kitchen, it's delicious on everything!
WHAT CAN I SEASON A GRILL RUB?
My favorite is as a Grilled Chicken Seasoning, sprinkle 1 ½ – 2 teaspoons all over your chicken before you grill.
Use like you would Montreal Steak Seasoning; sprinkling and rubbing on steaks, ribs and even hamburgers.
Consider using as a BBQ Rub, rubbing on flank steaks, skirt steaks, steaks, even pot roasts, and chuck roasts.
FISH! Let's not forget fish, sprinkle a little on your favorite fish before pan frying, grilling, baking or broiling.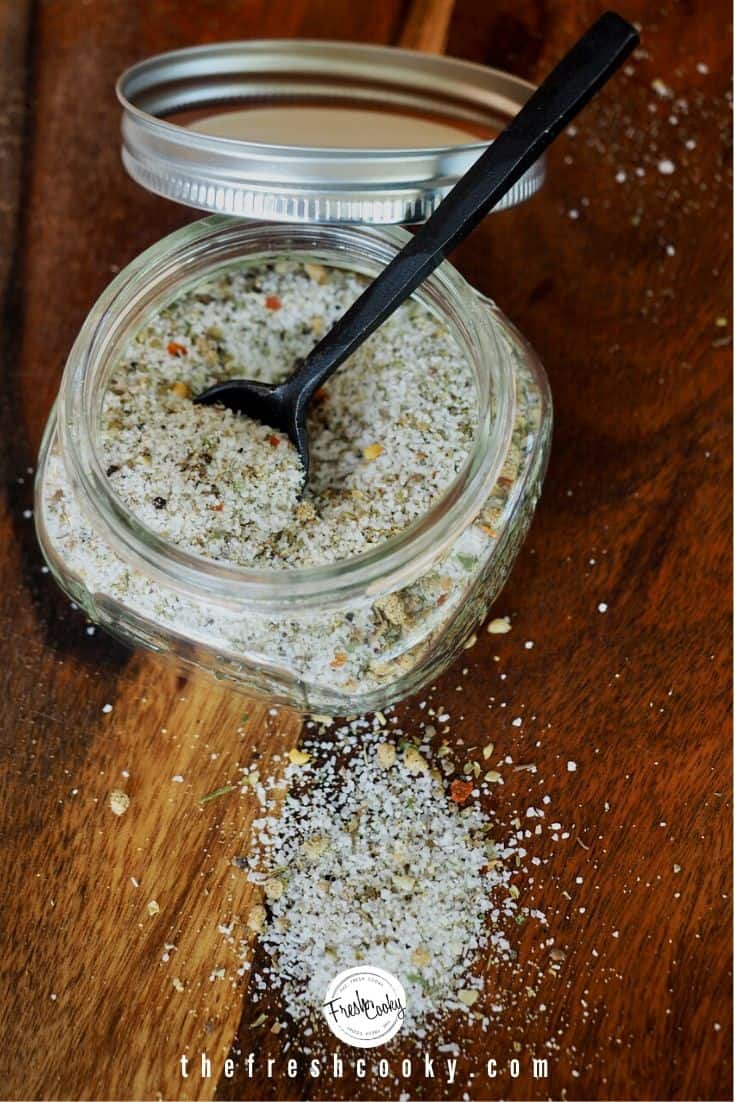 A LITTLE SEASONING GOES A LONG WAY
I have to tell you a story, I made this grill rub a few weeks ago and my husband asked if he could help prep for dinner, I said, "sure, if you could sprinkle a little of the grill seasoning onto the chicken breasts, that would be great."
I had my back turned preparing another portion of our dinner and turned around to see more than have the jar of grill seasoning gone!
"Eeks, honey, sprinkle a 'little'"I said, he laughed and said, "Oh I thought you wanted the entire jar on the chicken!"
We got a good laugh out of that, I scraped some off, and didn't salt the sauce at all, we had a few pieces that were pretty salty, but overall it turned out fine. Just remember a little goes a long way.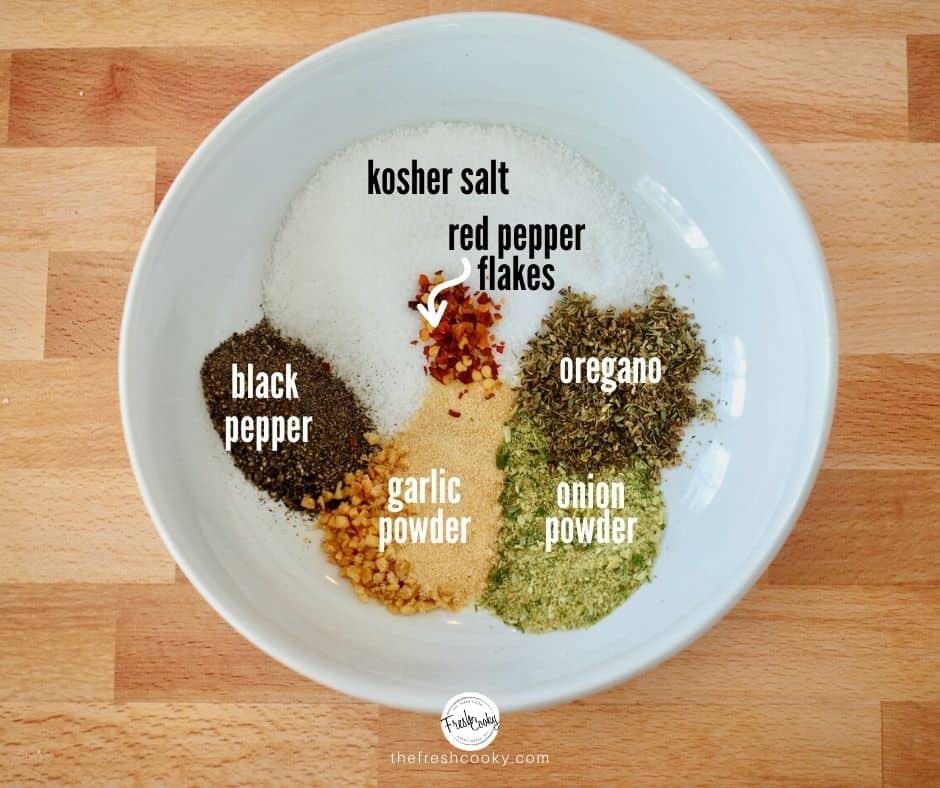 INGREDIENTS NEEDED
Kosher Salt | Salt is the foundation of any good rub and should make up about half of your mix. Not only does it add flavor, but it also pulls moisture from the outer part of the meat. This allows you to develop a seared crust, which will hold the rest of the moisture in leaving your meat juicy. (Source)
Freshly Ground Black Pepper | anyone who knows me, knows I typically steer clear from black pepper, but a spice rub is one place I typically put it in, I'll be honest and say I don't usually put as much as is called for, but fresh ground is definitely best!
Granulated Garlic | Granulated vs. Garlic Powder, they are really the same thing, but granulated is a bit more coarse, like cornmeal, you can use either one. I also added a teaspoon of Rinaldo's Toasted Garlic, the little nuggets of freshly toasted, all natural garlic you see in the mix!
Granulated Onion |You can use onion powder or granulated; spoiler alert, I actually used Trader Joe's Onion Salt, great to make dips, on eggs or in this case in a rub!
Dry Oregano | A traditional Italian herb used in many Italian seasonings, be sure it's fresh! Crumble a little in your hand and do the sniff test before using, it should smell like oregano.
Crushed Red Pepper | even if you are a spice wimp (like me!) please put in the crushed red pepper, it's a tiny bit, but adds tremendous flavor!
HOW TO MAKE GRILL SEASONING
Are you ready? It's a bit complicated….NOT!
Simply measure, dump, stir to mix and store in a airtight container, I love these Ball Half Pint Jars! (Psst, also great for Golden Milk Spice Mix and Anti-Bacterial Hand Scrub!)
Watch the video below to see how easy it is to make!
HOW MUCH SEASONING DO I USE?
CHICKEN | General rule of thumb is 1 tablespoon per 1 pound of chicken. Be sure to rub the dry rub on all sides of the chicken. Leaving on no longer than 4 hours, preferably placing on just prior to grilling your chicken.
BEEF | Use about one tablespoon for every pound of meat. You can apply a rub right before you cook or a few hours ahead of time for basic grilling or up to 24 hours ahead if you're smoking the meat.
PORK | Same rule as above, great on pork loin, roast, chops, shoulder, sprinkle and cover the hunk o' meat.
FISH | Start by drizzling on a little bit of olive oil or avocado or other quality vegetable oil, then sprinkle on the rub a little at a time, you won't need as much as the other cuts of meat. Grill or prepare as normal.
VEGGIES | Sprinkle on mushrooms, stir fry and other vegetables.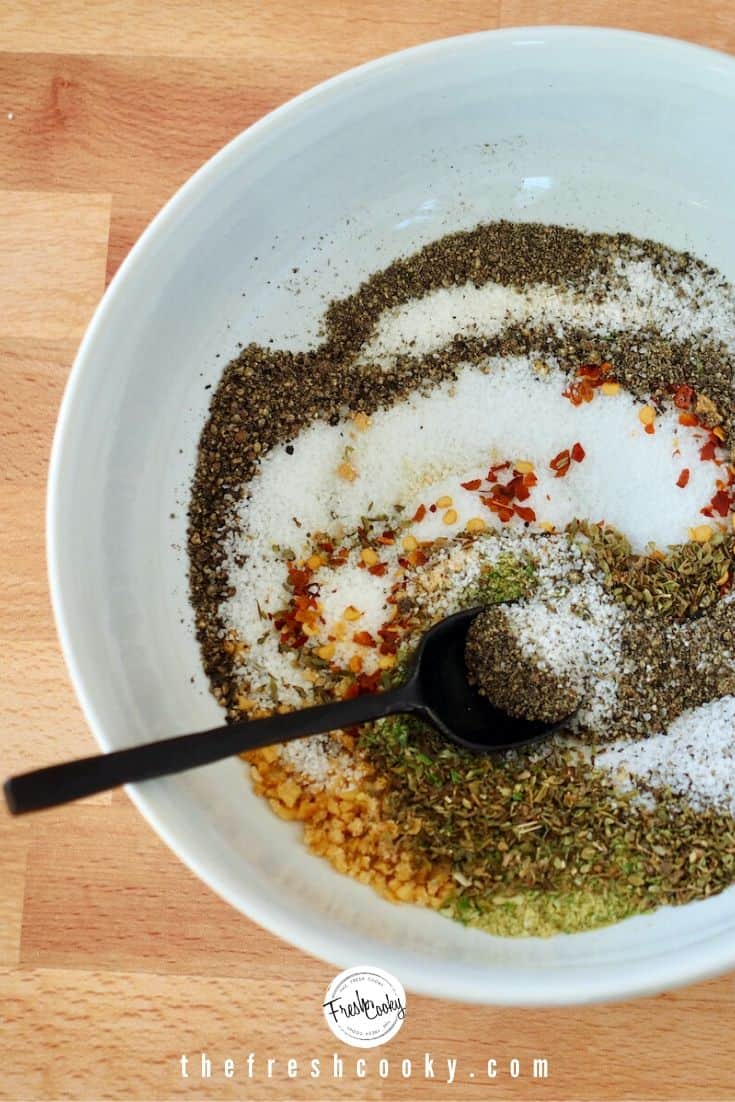 Great Host (or Hostess) Gift!
Know people who love to cook and grill!? This grill seasoning makes a fabulous hostess or host gift! Place in a pretty jar with simple instructions on how to use and the contents. Check out these other great hostess food gifts as well!
Print Out These Cute Free Christmas Gift Tags to go with your gift!
Don't forget to PIN to your favorite Condiments & Seasoning's Board!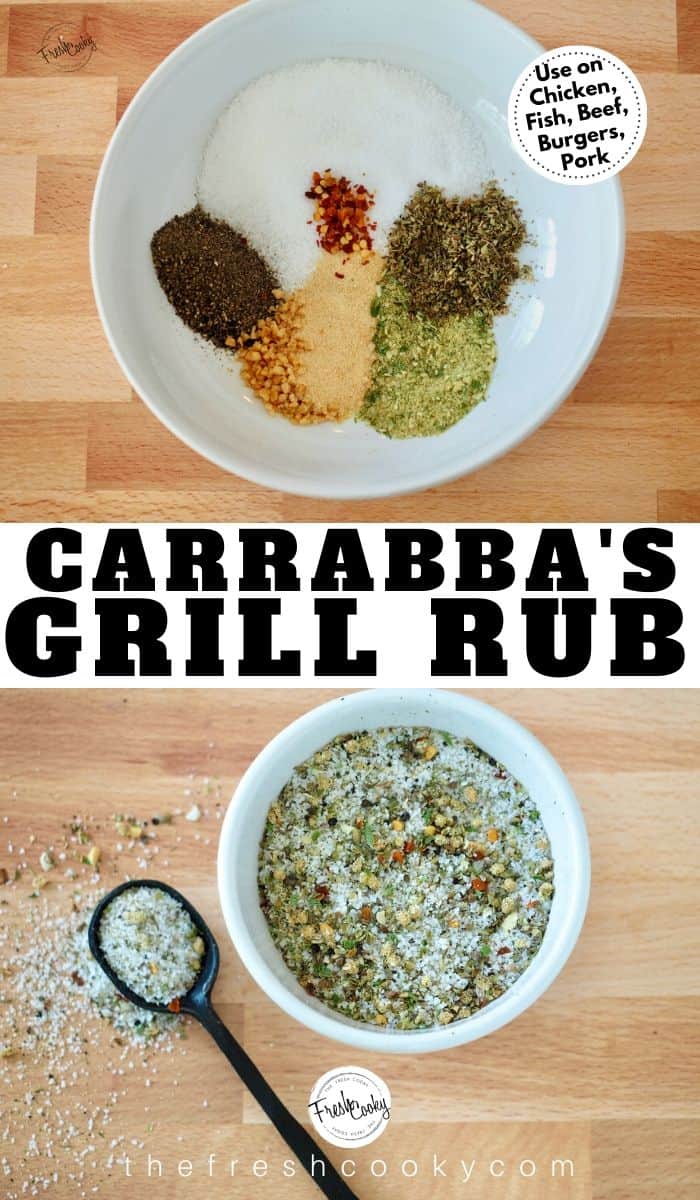 Recipe adapted from Carrabba's Italian Grill Recipes from Around Our Family Table Cookbook.
Print this FREE Ingredient Substitution Chart
Click Download button below.
Like this recipe?
Don't forget to give it a ⭐️⭐️⭐️⭐️⭐️star rating in the recipe below!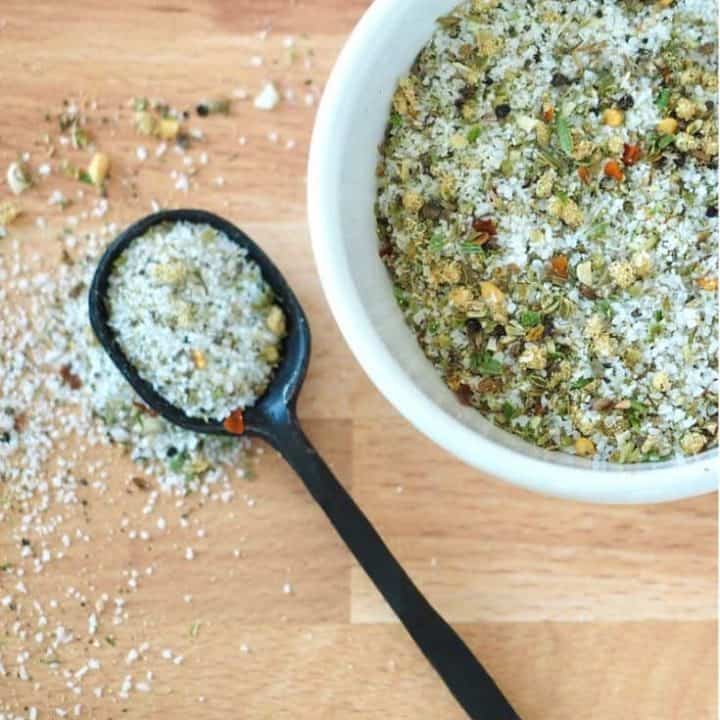 Yield:

⅔ cup (approx 10 tablespoons)
CARRABBA'S GRILL SEASONING
A slam dunk grill seasoning that works on chicken, fish, beef and pork! This Copycat Carrabba's Grill Seasoning is the best one ever!
Instructions
In a small bowl or jar, combine all ingredients. Store in airtight container for up to 6 months.
General Guide: use 1 tablespoon seasoning per 1 pound of meat, except fish. If using on fish, drizzle with a little oil or good vegetable oil (I like Avocado oil) and then sprinkle on seasoning.
Nutrition Information:
Yield:
10
Serving Size:
1 tablespoon
Amount Per Serving:
Calories:

7
Total Fat:

0g
Saturated Fat:

0g
Trans Fat:

0g
Unsaturated Fat:

0g
Cholesterol:

0mg
Sodium:

2830mg
Carbohydrates:

2g
Fiber:

1g
Sugar:

0g
Protein:

0g
The nutritional information is estimated and may not be entirely accurate, at times it pulls information for suggestions and options which may increase calories, etc. Nutritional information will change based on used ingredients, quantities used, etc.