Zucchini Lemon Bread with Lemon Glaze
As an Amazon Associate, I earn from qualifying purchases. Please read my disclosure policy.
This bright and lively, citrus-y, but not too sweet Zucchini Lemon Bread is a great way to use some of your garden zucchini harvest. Whole grains, lower sugar and a sweet-tart lemon glaze.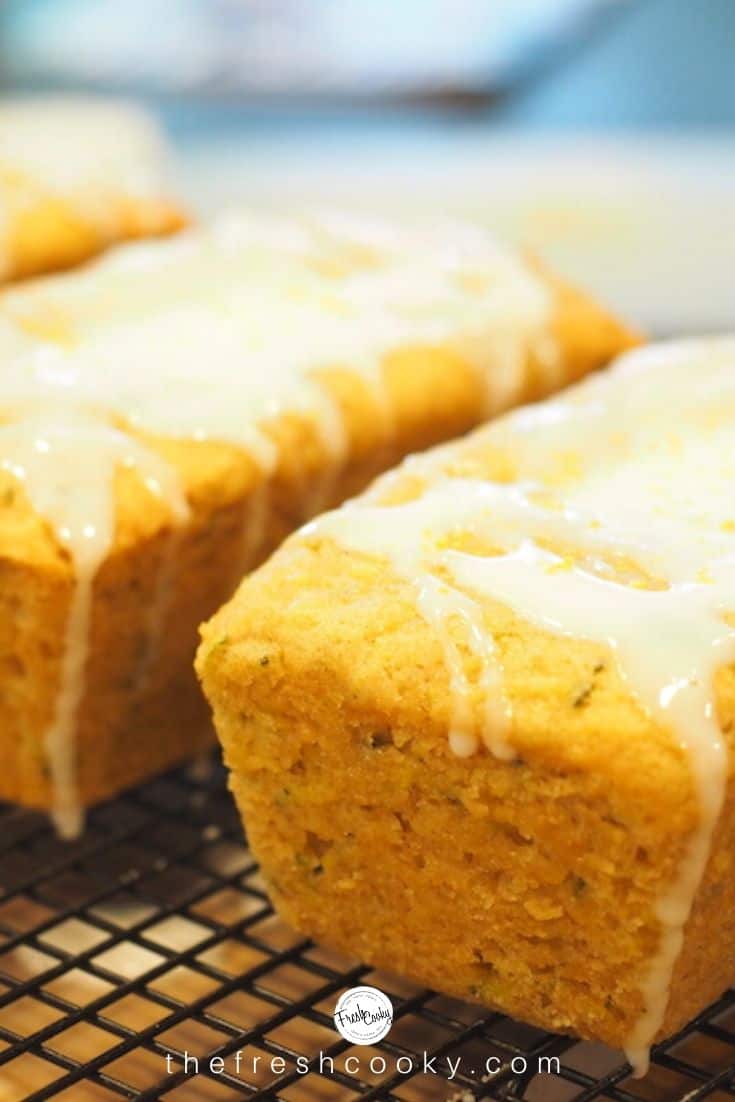 So my friend Kathleen, yes, my friend, I'm not talking about myself…it's always a bit strange isn't it when you have a friend with the same name.
Anyhoo, several weeks ago at my Book Club, my friend Kathleen challenged me to find new ways to use zucchini. Her garden was bursting (as many gardens seem to this time of year) with oodles of zucchini.
Oh, I rattled off the typical items like zucchini bread or tossing the shredded stuff into brownies, but she doesn't like to bake…then I suggested, "Well, you can make zoodles (zucchini noodles) out of them, replacing spaghetti with the zoodles?"
She kind of wrinkled her nose at me while holding a zucchini the size of Rhode Island, but as I was prattling on about various ways I've used zucchini, she finally stopped me and said, "BUT, what do you do with them when you really don't like zucchini?"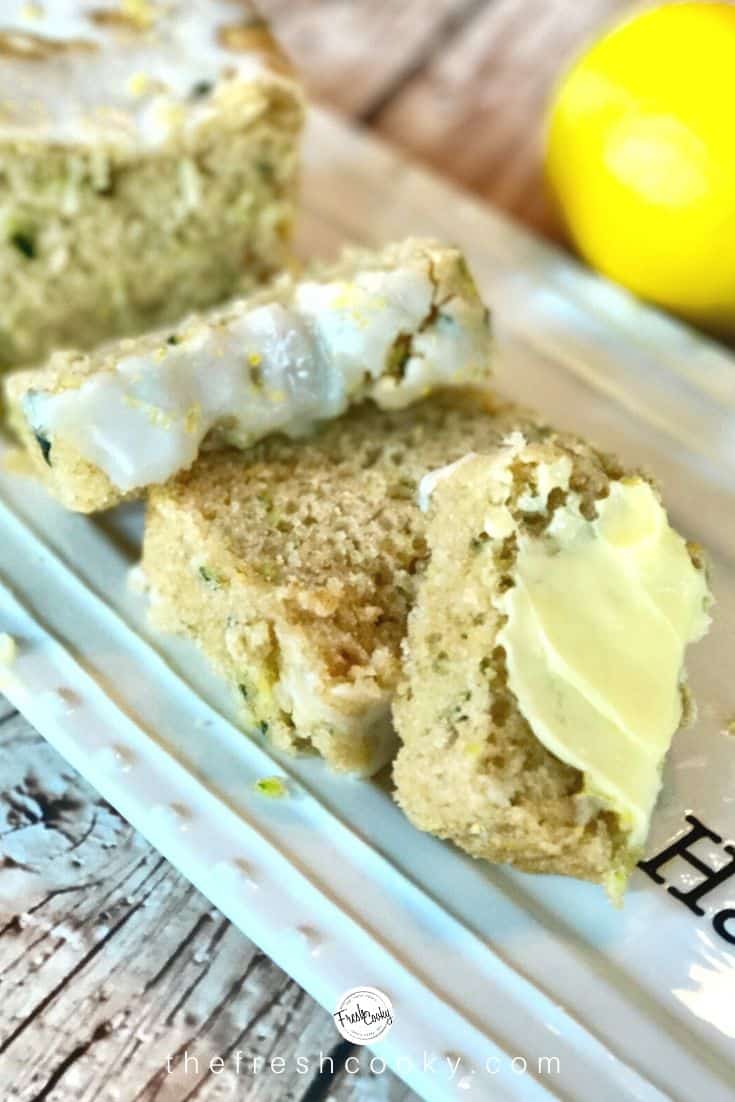 Oh, now that might be a bit more of a challenge! While you can put zucchini in just about anything and not really taste it, that's a pretty boring post to write…but I did find something a bit different than just regular ol' zucchini bread, not that there is anything wrong with zucchini bread mind you. This bright and lively, citrus-y but not too sweet Zucchini Lemon Bread, it's a great way to use some of your garden zucchini.
Kathleen brought up a great question; after cooking it in soups, stews, sauces, does it still have any nutritional value leftover? That's a great question and I'm not positive this is the be all end all of nutritional values and scientific data, but thought it was a good place to start and well, it made me feel better because I do this myself.
Does Zucchini Have Nutritional Value after Cooking
After reading a few online articles I found this tidbit of information at Livestrong.com
"Over 90 percent of a zucchini squash consists of water. Cooking releases some of the water and leaches or vaporizes some nutrients. Boiling zucchini in salted water removes more protein than carbohydrate and reduces the total energy content to 10 calories. Zucchini loses more than one-half of its potassium and one-third of its phosphorus through boiling. Magnesium content drops to 3 mg, and calcium remains stable at 3 mg. Boiling reduces vitamin C in zucchini by more than 50 percent, but increases vitamin A."
So I guess the answer is yes, reduced in value, but yes, it still has nutritional value! I guess the way I look at it is, it's better than throwing it away, better than letting it turn into a slimy, moldy mess in your crisper drawer, better than not having the pleasure of growing it.
Best Way to Freeze Zucchini
Grab a grater and shred that zucchini; freeze it by the cup in freezer bags to use in all sorts of dishes throughout the year. Once thawed it will be very watery, so toss in a colander and strain, pressing lightly with paper towels, or throw it frozen into just about anything! Once shredded it kind of disappears as it cooks, like in this chili or spaghetti sauce. My kids eat it because it's so innocuous and they don't even really know it's there!
TRY IT IN THESE DISHES
GIFT GIVING ZUCCHINI BREAD AND GARDEN ZUCCHINI
Make up several batches of mini loaves of this Zucchini Lemon Bread and give a loaf to each your neighbors and friends, along with your gift, give them 2-3 zucchini's from your garden, attaching a copy of the recipe to make their own Zucchini Lemon Bread! The bonus; your neighbors will love you AND you responsibly get rid of your ample zucchini crop!
How to Make Zucchini Bread
Let's get baking! Preheat your oven to 350° (325° for dark or glass pans) and spray your loaf pan(s) with oil.
Start by grating your zucchini(s) to yield about 1 ½ cups (I used both fresh and frozen), be sure to drain and squeeze out any water, frozen (thawed) below…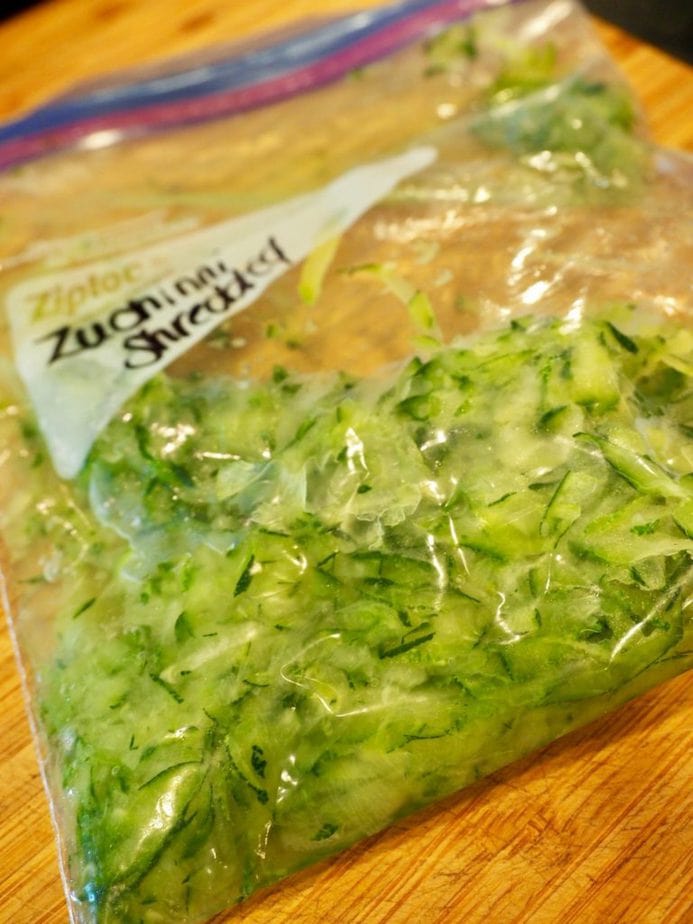 …freshly grated.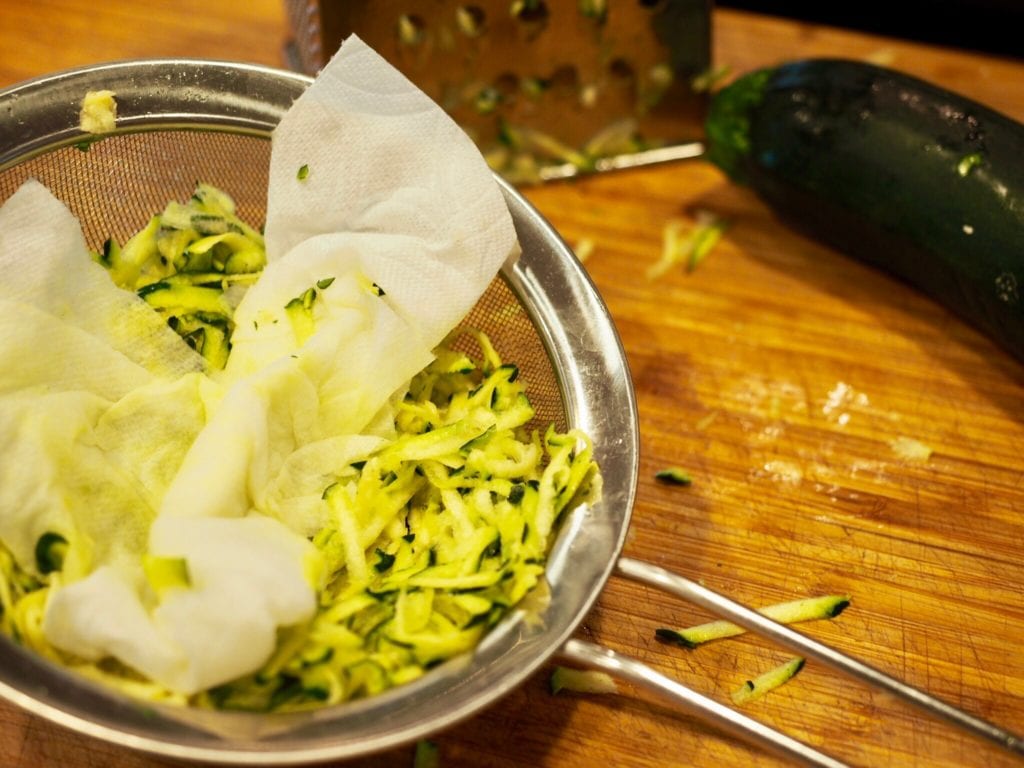 Toss your grated, drained zucchini into the base of a mixing bowl (hand or stand mixer) and add your all-natural cane sugar (for a quick bread these are pretty low in sugar) and oil (I used Avocado oil)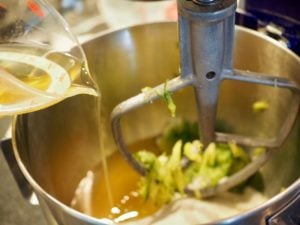 Then add your yogurt, I used Fage greek yogurt, a nice thick and mild yogurt.
Add your egg and then the lemon zest (about 2 small lemons, I used 3 large lemons for the double batch), love using this zester or microplane!!
Juice lemons and reserve juice*, add 1 tablespoon of lemon juice to batter, and mix on low until mixture is combined well.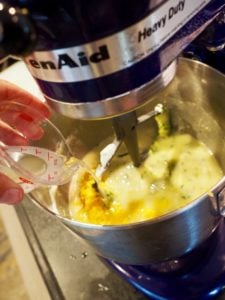 Save reserved lemon juice, you'll use a couple of tablespoons in your glaze and any left over, measure and freeze for use in another recipe.
While mixing your wet ingredients, whisk together your flours and leavening (baking powder, baking soda and salt). I like that this recipe calls for some whole wheat flour, makes it a bit heartier and healthier. With your mixer on lowest speed, carefully mix in dry ingredients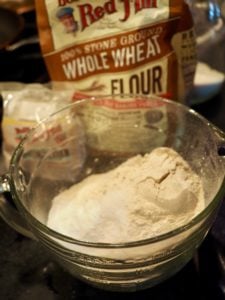 Mix until incorporated, scraping down sides. Remove beater from mixer, using a spatula to remove all collected zucchini and stir into batter by hand.
Scoop into prepared loaf pans, again I doubled the recipe, so made one large loaf…
…and 4 mini loaves, make sure your portions are fairly even.
Place in oven on a cookie sheet for easy removal, they will need to come out before the large loaf.
Bake large loaf for 50-60 minutes and mini loaves for 25-35 minutes…until toothpick comes out clean. They should be nicely browned on the top.
Cool on cooling rack for 10 minutes, then gently remove from loaf pan(s), you may have to encourage them out, but running a knife around the edges, turning them upside down and they should fall out, if not, put your knife between the pan and the bread and press very gently with the flat side of the knife to "pull" away from sides and bottom, give a little "knock" to the bottom and they should fall right out.
Turn right side up and allow to cool completely before drizzling on the glaze.
How to Make Lemon Glaze
Using reserved lemon juice, add 1 cup powdered sugar and just enough juice to make a glaze, you don't want it too thin and runny, so whisk it around until smooth and "pourable", a little goes a long way.
Once cooled, place sheet of wax paper or parchment paper under the cooling rack to catch the drips from the frosting.
Drizzle onto loaf(s), evenly, using back of spoon to encourage a little over the edges and covering the top.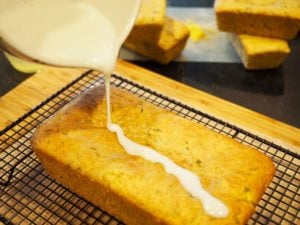 Isn't it purty!?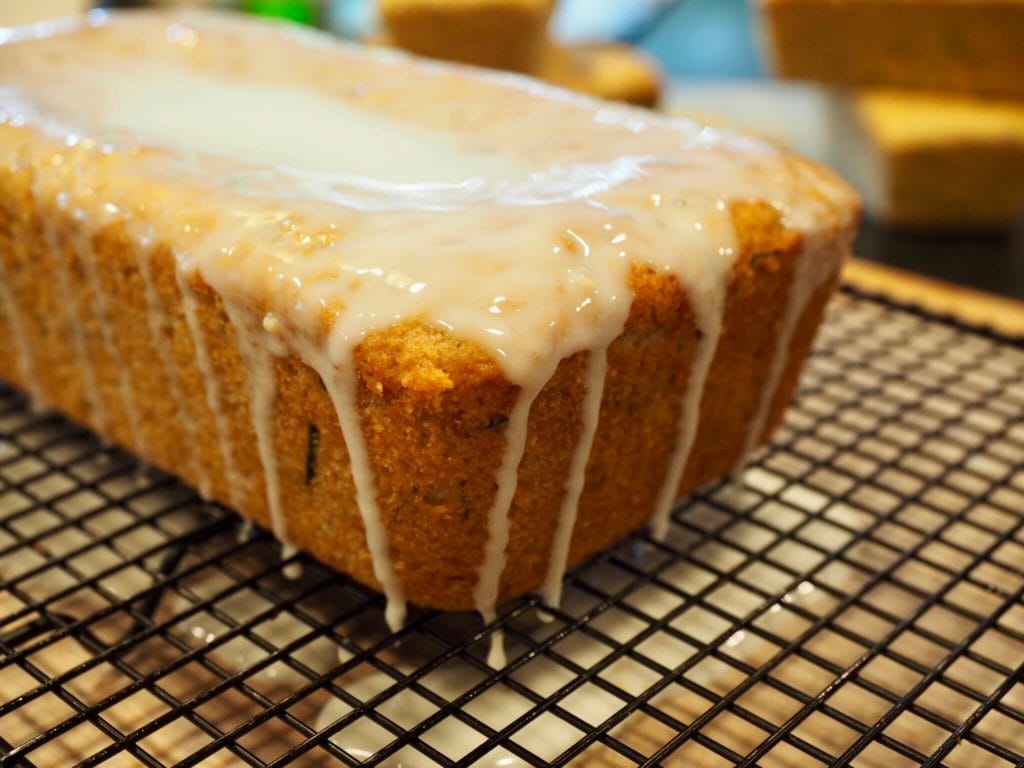 GET FREE RECIPES FROM THE FRESH COOKY DELIVERED RIGHT TO YOUR INBOX!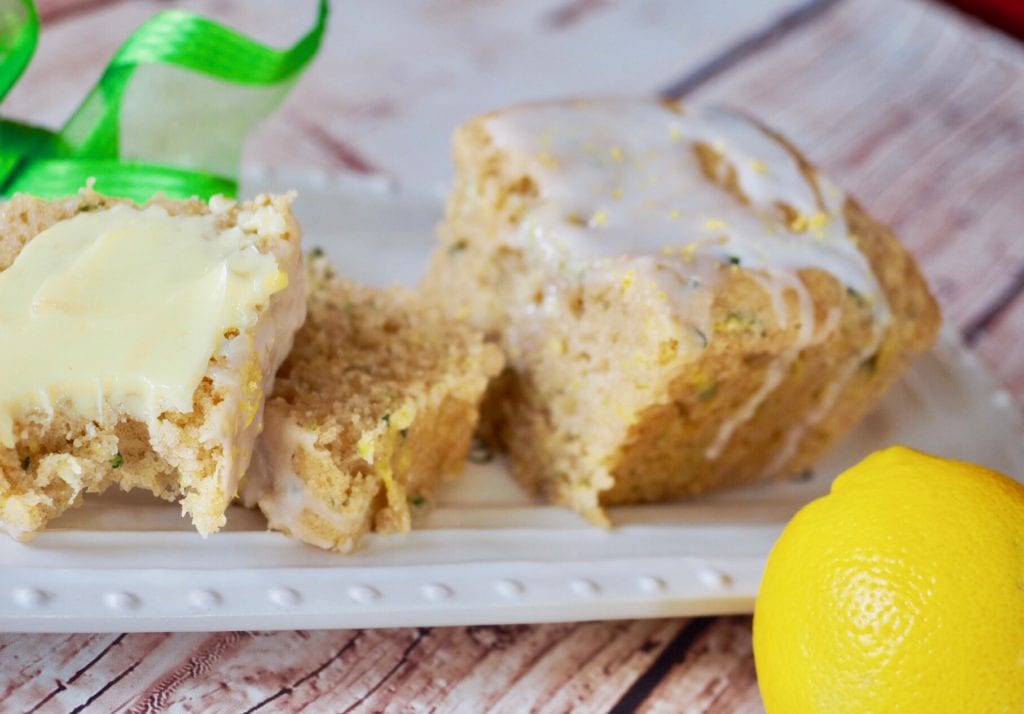 We have new neighbors who just moved in this week, as well as another neighbor who had surgery, and while I'm at it, our other neighbors are getting ready for their daughters wedding in a few weeks, so I thought it would be nice to give them each a loaf of this quickbread.
How to Wrap Bread for Gifting
For pretty wrapping, using parchment paper, start by tearing off a large sheet of parchment paper (big enough so that you have room to fold it down in the center and on the sides.) Or get yourself a package of these precut, unbleached parchment sheets — game changers for me!
Center your loaf on the sheet of parchment or wax paper.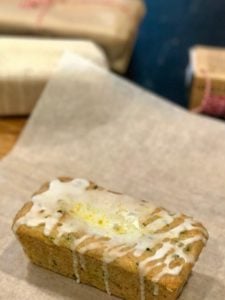 Draw up both sides evenly and fold over about ½-1 inch at top…
Continue folding until you are snug against the loaf of bread, then fold in the corners, like you are wrapping a package.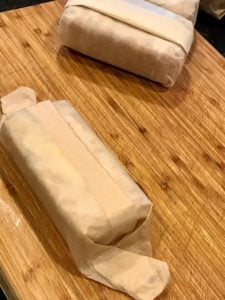 It doesn't have to be perfect, tuck them under the loaf or up and then using bakers twine wrap around loaf and tie a simple bow.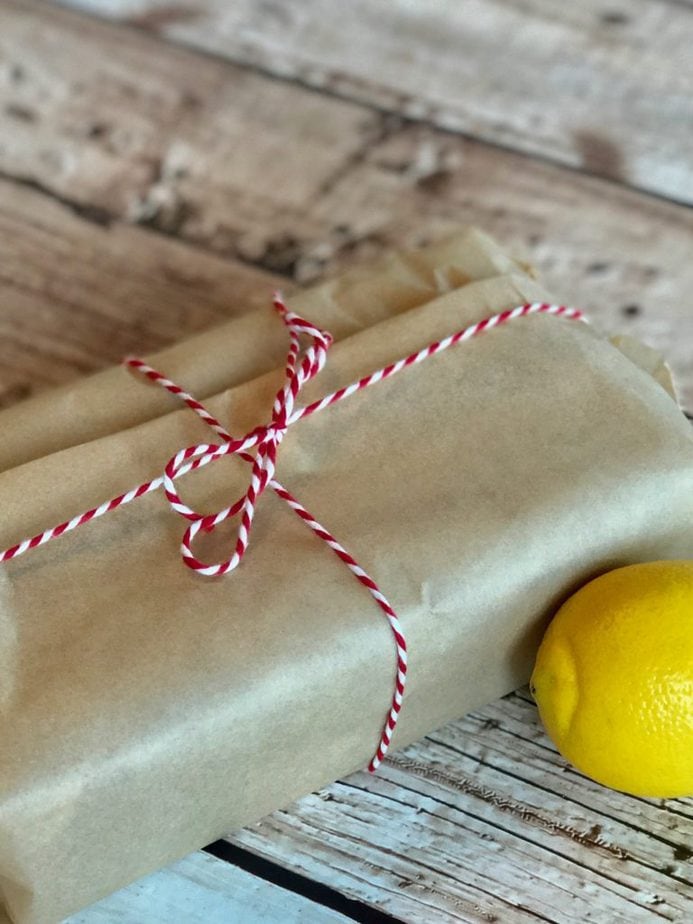 Simple, practical and presentable! Grab a loaf and walk over to your neighbor, I will be doing that very thing today.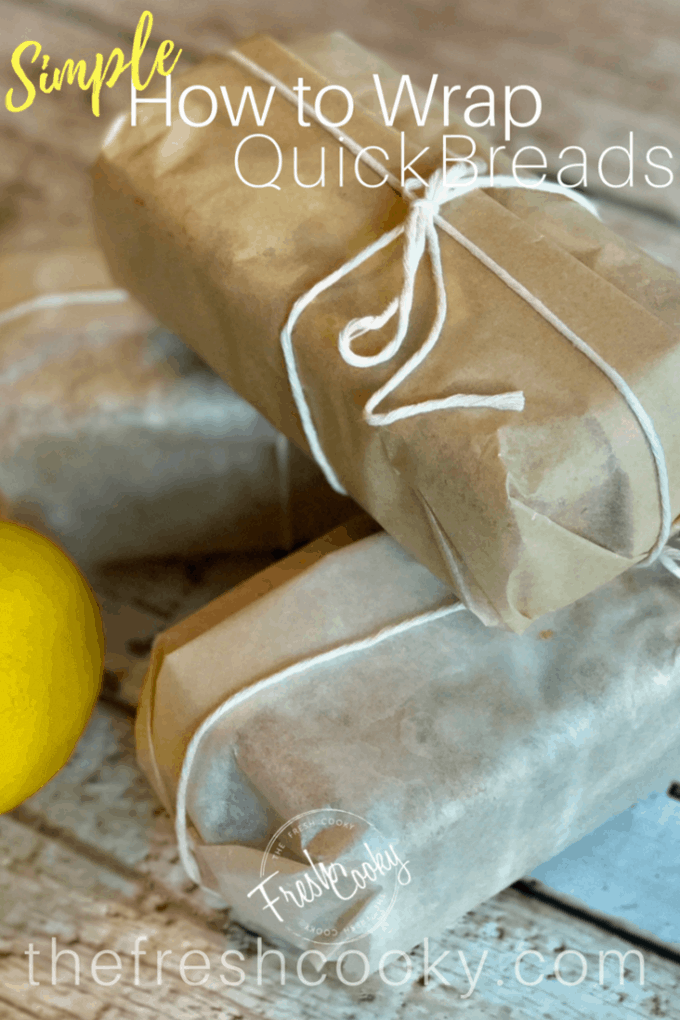 Excited to share on Weekend Potluck and Meal Plan Monday!
Recipe for Lemon Zucchini Bread adapted from Closet Cooking.
Like this recipe?
Don't forget to give it a ⭐️⭐️⭐️⭐️⭐️ star rating and comment below the recipe!
Zucchini Lemon Bread with Lemon Glaze
A delightful citrus twist on the traditional zucchini bread. Not too sweet, loaded with zucchini, whole wheat flour and brightened with zesty lemons.
Ingredients
Lemon Zucchini Bread
1 ½

cups

zucchini; grated

,

drained and squeezed to get extra water out

1

cup

sugar

,

I like all natural cane sugar

½

cup

oil

,

I used Avocado oil

½

cup

plain yogurt

,

I used plain, Fage Greek yogurt

1

large egg

2

lemons

,

small zested

1

tablespoon

fresh lemon juice

1

cup

all-purpose flour

¾

cup

whole wheat flour

1

teaspoon

baking powder

½

teaspoon

baking soda

½

teaspoon

salt
Instructions
Preheat oven to 350° (325° for dark pans) and generously spray loaf pan(s) with oil. Toss the grated zucchini into the bowl of a mixer, pouring the following ingredients on top. Sugar, oil, yogurt, egg, lemon zest, and lemon juice.

Will be "soupy" so mix on low until all ingredients are mixed in. Meanwhile, in a separate bowl, add flour, whole wheat flour, baking soda, baking powder, and salt, whisk gently to combine.

Add to liquid ingredients while mixer is on stir or lowest setting, careful to not floof flour all over. Scrape down sides, mix one more time.

Using a spatula, scrape the collected zucchini off the beater and mix into batter by hand. If making one large loaf, scoop batter into prepared loaf pan. If making mini loaves, evenly distribute batter between prepared pans.

Bake large loaf 50-60 minutes; mini loaves 25-35 minutes until golden and toothpick inserted in center comes out clean. Cool on wire rack in pans for 10 minutes.

Remove from pans (slide a knife around edges if needed to encourage loaf(s) onto cooling rack, turn upside down and tap gently on bottom to release from pan)

Finish cooling entirely on wire rack, you may turn the bread right side up after removing from pans if you don't want the pattern of the rack on the top of the loaf. Once cooled, prepare glaze.

Mix powdered sugar and 1 tablespoon of lemon juice together until spreadable but not too thin, if needed to thin out a bit, add a little lemon juice at a time until desired consistency.

Place a sheet of wax paper under the cooling rack prior to pouring glaze, this will catch all of your drips. Drizzle glaze all over bread loaf, mostly centered, using back of spoon gently move some glaze to the edges so that some drizzles down the sides of the loaf.

If desired, wrap in parchment paper, plastic wrap or place in zip lock bag. Enjoy!
Nutrition
Serving:
1
Calories:
197
kcal
Carbohydrates:
31
g
Protein:
3
g
Fat:
8
g
Saturated Fat:
1
g
Polyunsaturated Fat:
7
g
Cholesterol:
12
mg
Sodium:
147
mg
Fiber:
1
g
Sugar:
20
g
Nutrition Disclaimer
The Fresh Cooky is not a dietician or nutritionist, and any nutritional information shared is only an estimate. We recommend running the ingredients through an online nutritional calculator if you need to verify any information.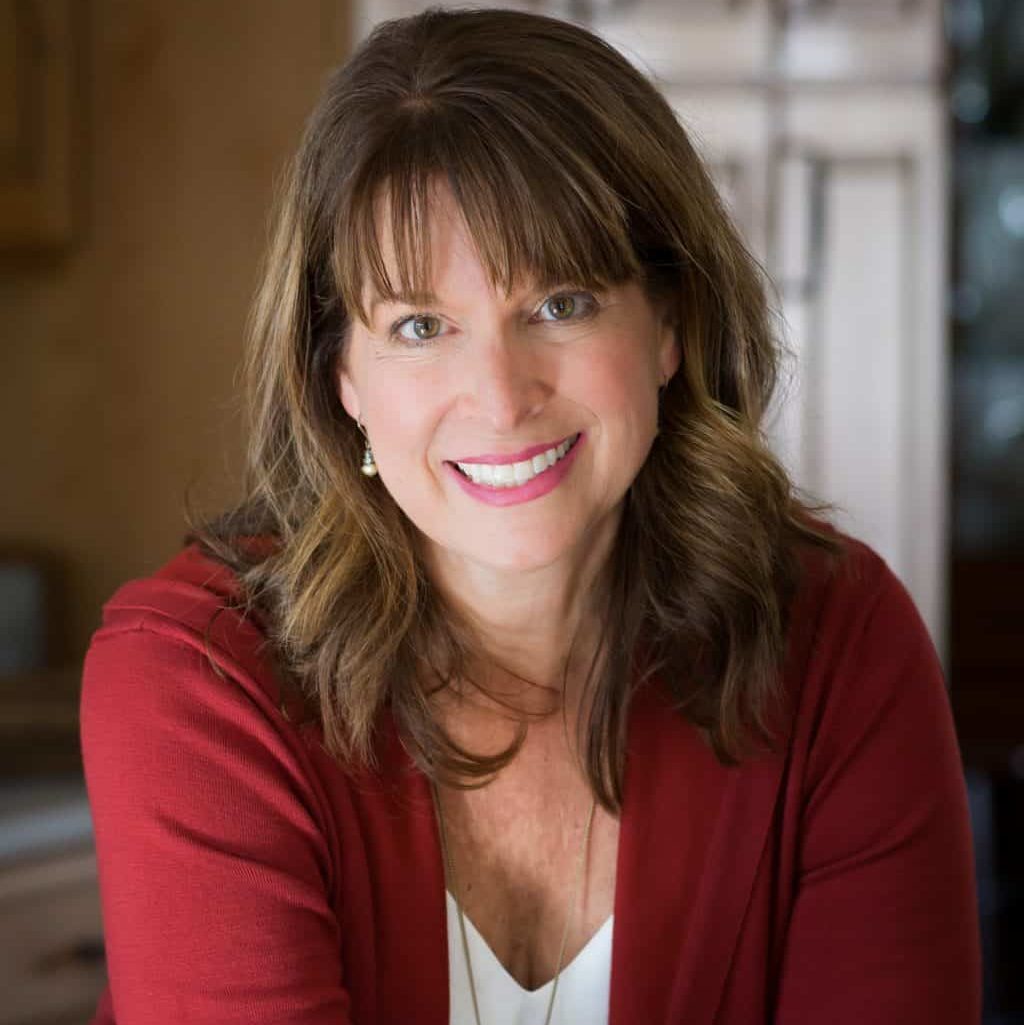 About Kathleen Pope
Recipe Innovator | Food Photographer | Food Writer
Hi, I'm Kathleen Pope. Here at The Fresh Cooky you will find easy, mostly from-scratch, trusted recipes for all occasions. From speedy dinners to tasty desserts, with easy step-by-step instructions. I am here to help teach you how to make mouthwatering recipes without spending hours in the kitchen. Read more about Kathleen here.