Merry Christmas Eve! | December 24
As an Amazon Associate, I earn from qualifying purchases. Please read my disclosure policy.
We've had a crazy week, besides getting ready for the Christmas holiday with the last minute shopping, wrapping and baking; on Wednesday afternoon we had a polar vortex hit, we went from a balmy 49 degrees to sub-zero temperatures in a few hours!
With a few inches of snow, it finally It feels a lot like Christmas! YAY!
I wish I could send everyone of you a Christmas card, but in lieu of that, here is our picture from our Christmas card this year! Be sure to pop all the way to the end for our crazy Christmas picture!
What's on our Table this Christmas
Besides our low calorie breakfast (wink-wink), we'll be having some family friends over for Christmas dinner and games! Below are a few items I'm making, others will be bringing something to contribute as well!
Best Cranberry Cream Cheese Dip
This Cranberry Cream Cheese dip is not only easy, is perfect for the holiday season. 4-ingredients to this cheesy, sweet-tart, salty and savory hot dip. Using homemade or leftover cranberry sauce, this cream cheese cranberry dip will be raved about at your next party.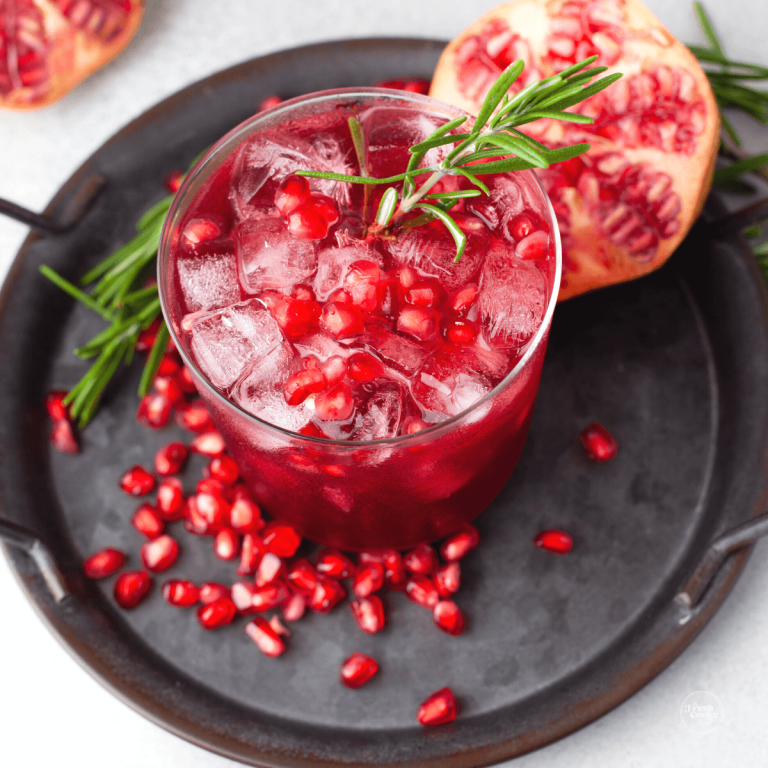 Christmas Margarita Recipe (Hibiscus and Pomegranate)
A festive Christmas margarita recipe! Yes! This hibiscus pomegranate margarita recipe is a lovely twist on the classic margarita with a sweet and tangy combo using homemade syrup it is sure to become a favorite Christmas cocktail. Some might even call it the perfect mistletoe margarita!
The Best Festive Holiday Christmas Salad Recipe
For a beautiful Holiday Salad Recipe this year, add a healthy punch of bold flavors to your holiday menu. Simple greens, fruits, and veggies topped with goat cheese and crunchy nuts — it is a festive Christmas Salad topped with pomegranate arils and a pomegranate balsamic vinaigrette.
Pomegranate Salad Dressing Recipe
My favorite Pomegranate salad dressing recipe will take your simple salad recipe to the next level with the elevated flavor combination of a vinaigrette made with pomegranate juice, citrus, shallots, and creamy Dijon mustard. Easy, healthy and delicious!
Honeybaked Ham Recipe (Copycat)
Learn how to cook spiral Ham without drying it out, it is easier than you might think. My copycat Honeybaked Ham Recipe is a perfectly moist spiral ham. With a honey sugar crust and most of the work is done in your crock pot.
Potatoes au Gratin (Potatoes Dauphinoise)
Potatoes au Gratin are the best!! This classic French potato side dish is also known as potatoes Dauphinoise. Thinly sliced potatoes layered with a creamy herb and garlic infused sauce, studded with rich and nutty Gruyère cheese; baked to golden, creamy, bubbly perfection! Oh and they are naturally gluten-free!
Classic Green Bean Casserole Recipe with Bacon
This homemade version of Classic Green Bean Casserole with Worcestershire is packed with creamy and savory flavors. Made with fresh green beans, a from scratch sauce, crisp bacon and topped with traditional French-fried onions. No canned soups in sight!
Mini Chocolate French Silk Pies
Smooth as silk, Mini Chocolate French Silk Pies are the bomb! Creamy, decadent chocolate French silk pie filling on a toffee graham cracker crust, with a dollop of vanilla bean whipped cream.
Christmas Games
Don't forget the games! These are some great games! Most you can grab stuff at the last minute! Get Gramma up, make Uncle Tom guffaw, make it intergenerational!
Check out these fun, low supply games here!
Our Christmas Traditions
Last night we went to a movie, a family Christmas tradition, anything to get our kids together. And I try and take a picture, some nice guy offered to take a picture!
This afternoon we'll go to Christmas Eve service and then to a friends house who have hosted a Christmas Eve party since our boys were young, I'll be bringing my ooey-gooey oh so delicious Roast Beef Sliders! Then, this mama in her kerchief and papa in his cap will snuggle in for a long winters nap. 🙂 Or at least until morning.
On Christmas morning, I love being the first one awake, I stuff the stockings, and enjoy some quiet time to meditate on the meaning of that first Christmas
Then I'll make cinnamon rolls, put together these delicious egg and sausage sliders and make me and my husband an eggnog latte. Once our boys decide to wake up, we will open gifts and enjoy a nice breakfast together and read from the Christmas Story from the Bible.
Is Christmas Hard for You? | Weekly Inspiration
I know that Christmastime can also be a very hard time of year for many people, we know so many people who have lost someone in the last few years. Even now, we have some friends who are standing vigil with their sister and her husband and kids as she transitions from her earthly home to her heavenly home. Oh how my heart hurts for each one struggling this season. You are never alone!
This song is amazing, especially to those who have lost someone —The Piano Guys — The Sweetest Gift. I'm praying for you this Christmas!
Merry Christmas dear friends, thank you for opening my emails each week, for your support, for telling friends and family about the blog, it is indeed an honor and privilege to have this little corner of the internet and I give God all the glory.
One final song, this is one of my favorites, Here With Us by Joy Williams.
"There are lots of stories in the Bible, but all the stories are telling one Big Story. The Story of how God loves his children and comes to rescue them. It takes the whole Bible to tell this Story. And at the center of the Story, there is a baby. Every Story in the Bible whispers his name. He is like the missing piece in a puzzle — the piece that makes all the other pieces fit together, and suddenly you can see a beautiful picture."

Excerpt from The Jesus Storybook Bible which I highly recommend, for young and old alike!
So grateful for you,

Our boys were good sports hanging with some impromptu family pictures, so this was our one crazy one! And at times, maybe more how we feel inside.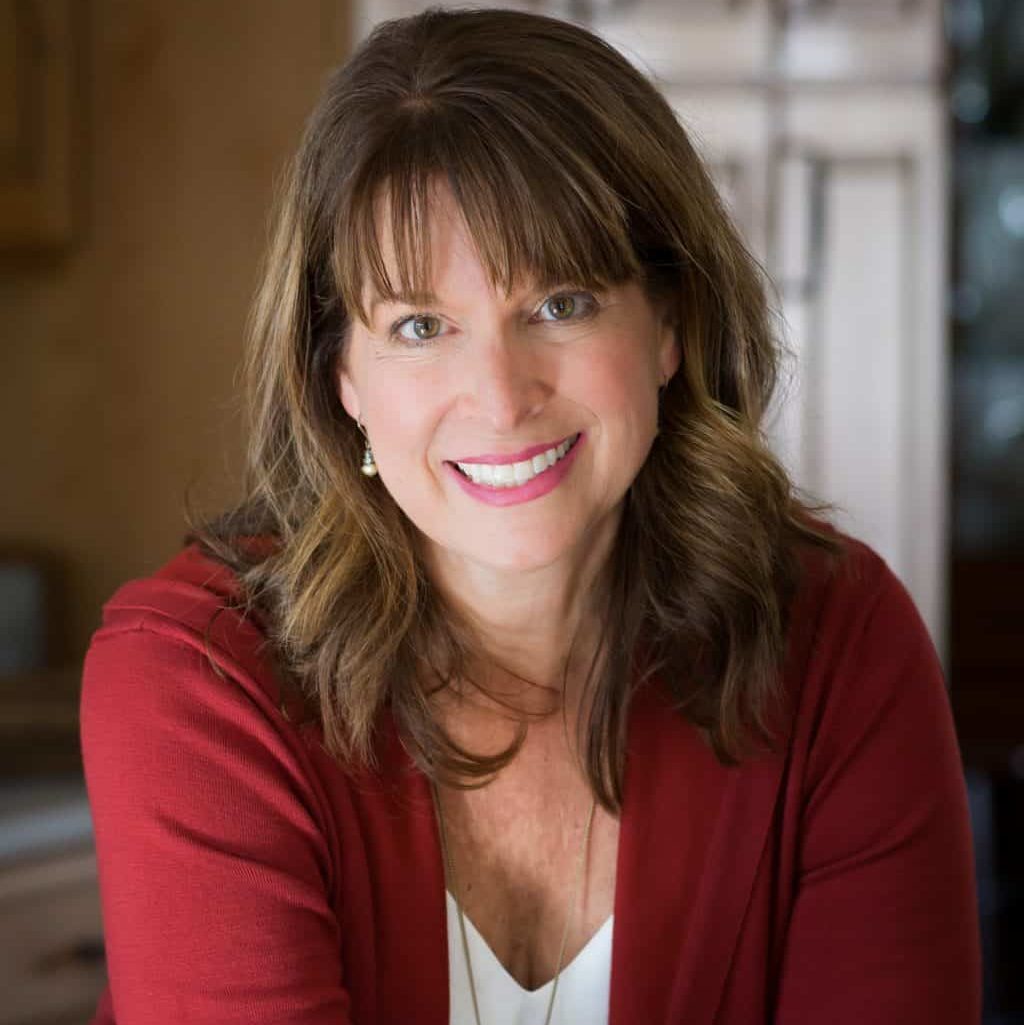 About Kathleen Pope
Recipe Innovator | Food Photographer | Food Writer
Hi, I'm Kathleen Pope. Here at The Fresh Cooky you will find easy, mostly from-scratch, trusted recipes for all occasions. From speedy dinners to tasty desserts, with easy step-by-step instructions. I am here to help teach you how to make mouthwatering recipes without spending hours in the kitchen. Read more about Kathleen here.