Super Easy Ice Cream Cake
As an Amazon Associate, I earn from qualifying purchases. Please read my disclosure policy.
I scream, You scream, we all SCREAM for Ice Cream…CAKE! If you were to ask me what my favorite cake is, I would probably say this super easy Ice Cream Cake. With a buttery cookie crust and layers and layers of creamy ice cream with cookies, hot fudge, caramel drizzled in between. Oh yes!!
SUPER EASY ICE CREAM CAKE
My first official week of "retirement"….so what's a girl to do? Why make an Ice Cream Cake and make lists, of course don't you?!
Lists of all of the chores I've wanted to get done and haven't; lists of Dr's appointments, reservations and more, I love lists! Are you a list person? I am!! I will even write something down after I've done it, just so I can check it off, those of you who aren't list people won't understand; the rest of you are nodding your heads in agreement with me right now.
I'm easing in to this list as I'm trying to savor each moment of summer with my not so little boys. At 13 and 15, I'm no longer taking them to the pool for hours, instead I'm running them around to tennis matches, lessons, friends homes and the gym. I'm not complaining at all, I love time with them.
Instead of trying to tackle my entire list in a week, it's for the summer, and to be honest it will probably bleed into the fall as well. I know when my boys are grown they won't say, "Gosh Mom, we had such a clean house I'm so glad you took all that time washing windows, doing laundry and cleaning floors." Instead I pray that they will say something like this;
"Mom, I love how you drove us around places, took the time to hear about our day, cooked us dinner, taught me to make cookies, sat with us and watched a movie in the middle of the day, came to our games, matches and meets…thanks Mom!"
A mom can dream can't she? But I do know that time makes a difference, I am much more thankful now that I have my own kids, for my mom and all she did and sacrificed for us as kids.
So instead of taking on a chore a day, I took one chore and broke it up into several days; like cleaning out my china cabinets and cupboards, I'm always amazed at how dirty a closed cupboard can get!
It reminds me of how I like things clean and orderly; but my German heritage clashes with my Italian side. I can be pretty darn messy, unkempt, untidy, piles build up.
I have a friend who has coined what I have, "HSD" Horizontal Surface Disorder, yep that's me, if it's flat, typically things are piled on it. But every so often, my German kicks into gear. I'm sure my husband wishes it would kick in more often, though he never complains. But just look how sparkly clean this cabinet is and please don't notice the piles on either side of the counters! Oi!
So what better to do than to reward myself with a lovely ice cream cake, okay, okay, so I didn't make it right after I cleaned the cabinets, I actually made it for Father's Day. We had a couple families over for a BBQ to celebrate, it's a perfect show-stopping dessert!
Three Reasons You Should Make An Ice Cream Cake
No oven required, doesn't heat up your house. YAY!
YOU choose your favorite flavors of Ice Cream and Toppings
It's SO easy to make, SUPER EASY ICE CREAM CAKE!
I've been making this cake for years, I made up the recipe years ago, because while I liked a Dairy Queen Ice Cream cake, it always tasted a bit "fake" to me, I wanted the real deal and not have to take out a loan to buy one. I deconstructed the cake to have what I now make on a very regular basis.
While a natural dessert choice in summertime don't be afraid to make this during the various seasons of the year using your favorite ice creams and cookies.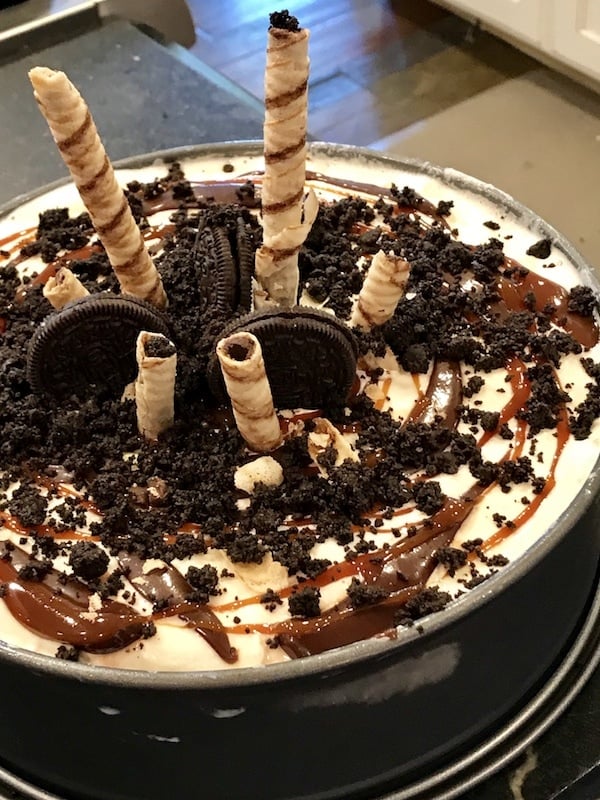 There isn't any great secret to this cake, I've shared the recipe dozens of times and you really cannot go wrong!
Start with a chocolate cream sandwich cookie (like Oreos, or my preference to keep it more organic and natural is Newman O's. Toss them in a food processor (reserving three cookies for decoration) and process until crumby, no worries if there are some lumps and chunks. If you don't have a food processor just place in a heavy duty freezer ziplock and smash the roll away until the "cookie crumbles" as they say.
Gluten Free Ice Cream Cake
Super easy to make GF; do watch your ice cream ingredients and your toppings, purchase Gluten Free Sandwich cookies or Chocolate Cookie, you might have to reduce butter so doesn't get too mushy. Also works great using GF Graham Crackers and butter.
Pulse or crush until medium fine crumbs; then pour in melted butter.
Pulsing until combined, not long, you don't want to make a paste out of it. Reserve ¾ to 1 cup of the crumb mixture. Pat the balance of the crumbs into an 8, 9 or 10″ springform pan (can also be made in a 9 x 13 pan, just prettier and easier to cut in a springform.) So I don't get my hands all crumby, I like to use a piece of plastic wrap to press the crumbs evenly. If you make it in a smaller springform, you'll just adjust your ice cream amounts as you fill the pan, no special recipe here.
SOFTENING ICE CREAM FOR ICE CREAM CAKE
While you are making your crust, remove your ice cream from the freezer and allow to sit on the counter top for 10 minutes or so to soften slightly.
Grab your ice cream(s) (your choice, choose 2 flavors that will compliment or enhance one another, see suggestions below) and your favorite toppings. I chose hot fudge and salted caramel. Make sure that the toppings are "drizzle-able," is that a word? If you can stick a spoon in and it falls that should be good. If not, heat in microwave for 15 seconds or so until slightly runny. You don't want it hot so that it melts your ice cream.
To scoop the ice cream, I like using a sturdy large metal spatula or a spade ice cream scoop. Generally I run it under hot water and then scoop about an inch sized wedge from the ice cream carton (this really works best if you choose ice creams that are in the rectangular cartons as opposed to round cartons). Scoot it onto the cookie crust with the large end of wedge facing the outside of the springform pan.
Working quickly, repeat the above steps until you have filled in your first ice cream layer.
Place a sheet of plastic wrap or parchment on top of ice cream and quickly smooth down. Work quickly so your ice cream doesn't melt, much. If you have time, you may freeze after this step for 30 minutes or so, but I usually just like to get it assembled, so I keep pressing on, melting ice cream and all.
Next drizzle your toppings over the top of the ice cream layer…
Sprinkle about ¾ of your reserved cookie crumbs onto the top of the ice cream and toppings.
Add your second layer of ice cream, change it up in flavor or keep it the same! Your choice.
Repeating all of the first steps, place ice cream, smash down, drizzle with toppings, top with leftover crumbs, garnish with reserved cookies if desired.
Get that baby back in the freezer as fast as you can! Freeze for 4-6 hours, longer if possible. I typically make this the day before, that way it is nice and firm when you serve it. When serving, slide a knife around the edges of springform pan, then release and slide cuff off. With a long knife run under hot water and slice into cake, serve immediatly. Return leftover cake to freezer as soon as possible.
Try these other suggestions for a delicious dessert every time.
Cookies & Cream + Moose Tracks + Oreo Cookie Base (Shown)
Traditional Mud Pie: Coffee Ice Cream + Chocolate Toasted Almond + Oreo Cookie Base
Mint Chip Ice Cream + Vanilla or Chocolate Chip + Mint Oreo Cookie Base
Pumpkin Ice Cream + Vanilla + Gingersnap Cookie Base Or Graham Cracker Base
Peach or Strawberry Ice Cream + Vanilla Ice Cream + Blonde Oreo Base (garnish with fresh peaches or strawberries)
Black & White: Dark Chocolate Ice Cream + Vanilla or White Chocolate Ice Cream + Oreo Cookie Base
Peppermint Ice Cream + Vanilla (or chocolate if you prefer) + Peppermint or Regular Oreos for base, garnish with candy canes.
Seriously, whatever combo you would like! Go for it!
And if you like this recipe, give these other cool summer recipes a try.
Easy Ice Cream Sandwiches
Frosted Lemonade – Copycat Chick-Fil-A
Ice Cream Cake
Creamy ice cream layered on a buttery cookie crust with layers of your favorite toppings drizzled between! An easy entertaining recipe, great for holidays, Father's day and more.
Ingredients
Cookie Crust
1/2

cup

melted butter

,

cooled slightly (only add as much as makes cookies moist)

1

family size chocolate sandwich cream cookies

,

divided (regular size if only making 8" springform)
Cake
2 -

half gallons ice cream

,

flavors of choice, divided & softened

Hot Fudge

,

Salted Caramel or other favorite ice cream topping

Reserved crumbs from crust

Reserved whole cookies for decoration
Instructions
For the crust, put cookies in the bowl of a food processor and pulse until crumbly. Or place in freezer baggie and smash and roll with rolling pin until big chunks are broken down. Add melted butter and add to food processor while pulsing to combine, only adding enough to moisten the cookies, might be less depending on type of cookies used.

Reserve 3/4 - 1 cup of crumbs for middle of cake and topping. Press into base of 8, 9 or 10" springform pan. Using a sturdy metal spatula or ice cream spade, scoop out wedges of ice cream about an inch thick, scoop until you have filled up the entire layer on top of the cookie crust. (One flavor at a time per layer). Once layer is filled with ice cream, press down to create even layer, using plastic wrap (you won't use quite all the ice cream)

Drizzle some of your favorite toppings over the top of the first layer of ice cream, warming topping if too thick to drizzle. Sprinkle about ¾ of reserved cookie crumbs evenly on top.

Repeat steps above with the second ice cream flavor. Finish with a final drizzle of your favorite toppings and sprinkle remaining crumbs on top. If desired, place 3 cookies in the middle as desired.
ICE CREAM CAKE FLAVOR COMBINATIONS
Cookies & Cream + Moose Tracks + Oreo Cookie Base (Shown)

Traditional Mud Pie | Coffee Ice Cream + Chocolate or vanilla Toasted Almond + Oreo Cookie Base

Mint Chip Ice Cream + Vanilla or Chocolate Chip Ice Cream + Mint Oreo Cookie Base

Pumpkin Ice Cream + Vanilla + Gingersnap Cookie Base

Peach or Strawberry Ice Cream + Vanilla Ice Cream + Blonde Oreo Base (garnish with fresh peaches or strawberries and a drizzle of

Bourbon Caramel Vanilla Sauce.

Black & White: Vanilla Ice Cream + Dark Chocolate Ice Cream + Oreo Cookie Base

Christmas Ice Cream Cake | Peppermint Ice Cream + Vanilla (or chocolate if you prefer) + Peppermint or Regular Oreos base (Garnish with crushed Candy Canes)
✱ Kathleen's Tips
TIP: For GF crust purchase GF Sandwich cookies or GF Graham Crackers, use slightly less butter.
Nutrition
Serving:
1
Calories:
243
kcal
Carbohydrates:
24
g
Protein:
3
g
Fat:
15
g
Saturated Fat:
9
g
Polyunsaturated Fat:
5
g
Cholesterol:
48
mg
Sodium:
149
mg
Fiber:
1
g
Sugar:
19
g
Nutrition Disclaimer
The Fresh Cooky is not a dietician or nutritionist, and any nutritional information shared is only an estimate. We recommend running the ingredients through an online nutritional calculator if you need to verify any information.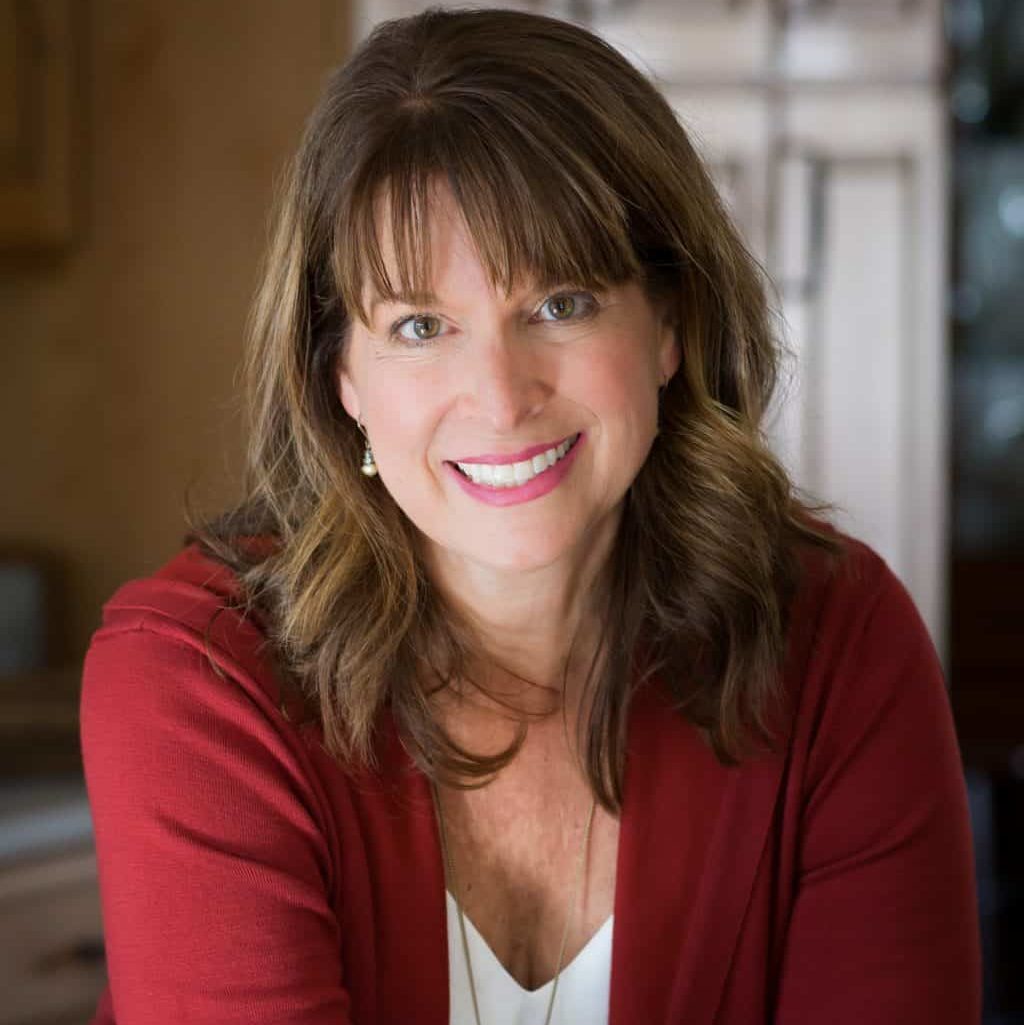 About Kathleen Pope
Recipe Innovator | Food Photographer | Food Writer
Hi, I'm Kathleen Pope. Here at The Fresh Cooky you will find easy, mostly from-scratch, trusted recipes for all occasions. From speedy dinners to tasty desserts, with easy step-by-step instructions. I am here to help teach you how to make mouthwatering recipes without spending hours in the kitchen. Read more about Kathleen here.