Fresh Fridays, January 20
As an Amazon Associate, I earn from qualifying purchases. Please read my disclosure policy.
Happy Friday, friends!
Fridays seem to come faster and faster, don't they? Or maybe it's Mondays that come quicker? Either way, here we are!
In My Life this week
Brad and I enjoyed a quiet weekend, now that our boys are back in college. He had Martin Luther King's birthday off, so we did some furniture shopping. We haven't bought new couches in over 20 years and it's time — but, talk about sticker shock! Yikes!
As you read this, I will be flying home from a quick trip to Michigan to spend time with my friend, Chellie. She is an accomplished photographer and I needed some (A LOT of) help better understanding my new camera, settings, focus, lighting techniques and more.
I've had so much fun being in her home, meeting her family, watching her do all she does so well. We have been part of the same Mastermind group for about 4 years now, she has a beautiful food blog called Art From My Table and has started a food photography business as well — and is overall just a joy to be around.
I feel like I had a few "aha" moments that will help me so much. I seem to learn slower the older I get, so it might take a few more phone calls, before I better understand. But hopefully better images are in my future. It's one of my goals for 2023 to improve my food photography — never stop learning, amiright?
Crockpot Giveaway Winner
Thank you all for your amazing comments in the Crockpot drawing this past week. I loved your favorite things to make in a crockpot.
Below is WordArt of all the great dishes you all create using your slow cookers. Chili was by far the number one item with Pot Roast (or roast beef) and Mac and Cheese competing for second. But I'm really curious about crockpot Pizza and Monkey bread made in the crockpot!
Our crockpot winner was Sherry from Missouri. Congratulations!
Sherry's favorite thing to create in the crockpot is a pot of brown beans with a whole onion, chopped celery stalks, a few carrots and a big clove of garlic. A side of cornbread and supper is ready. Mmm, doesn't that sound amazing!?
Her word for the year is Patience.
I was inspired by your words, verses, phrases or quotes. Thank you for that, so encouraging!
What's Cooking in my Kitchen
Before I headed out on this trip, I was able to get a few recipes on the blog. You are going to love this healthy, vegetarian (technically, it's vegan) soup!
Healthy 10 Vegetable Soup
A 10 Vegetable Soup that is loaded with healthy veggies, whole grains in a delicious, flavorful broth. A great soup to make on Sunday and enjoy all week long.
The best part about this soup is that you can totally customize it to your tastes! Not a fan of corn, leave it out, love beans, add them in, crazy about garlic, load it up!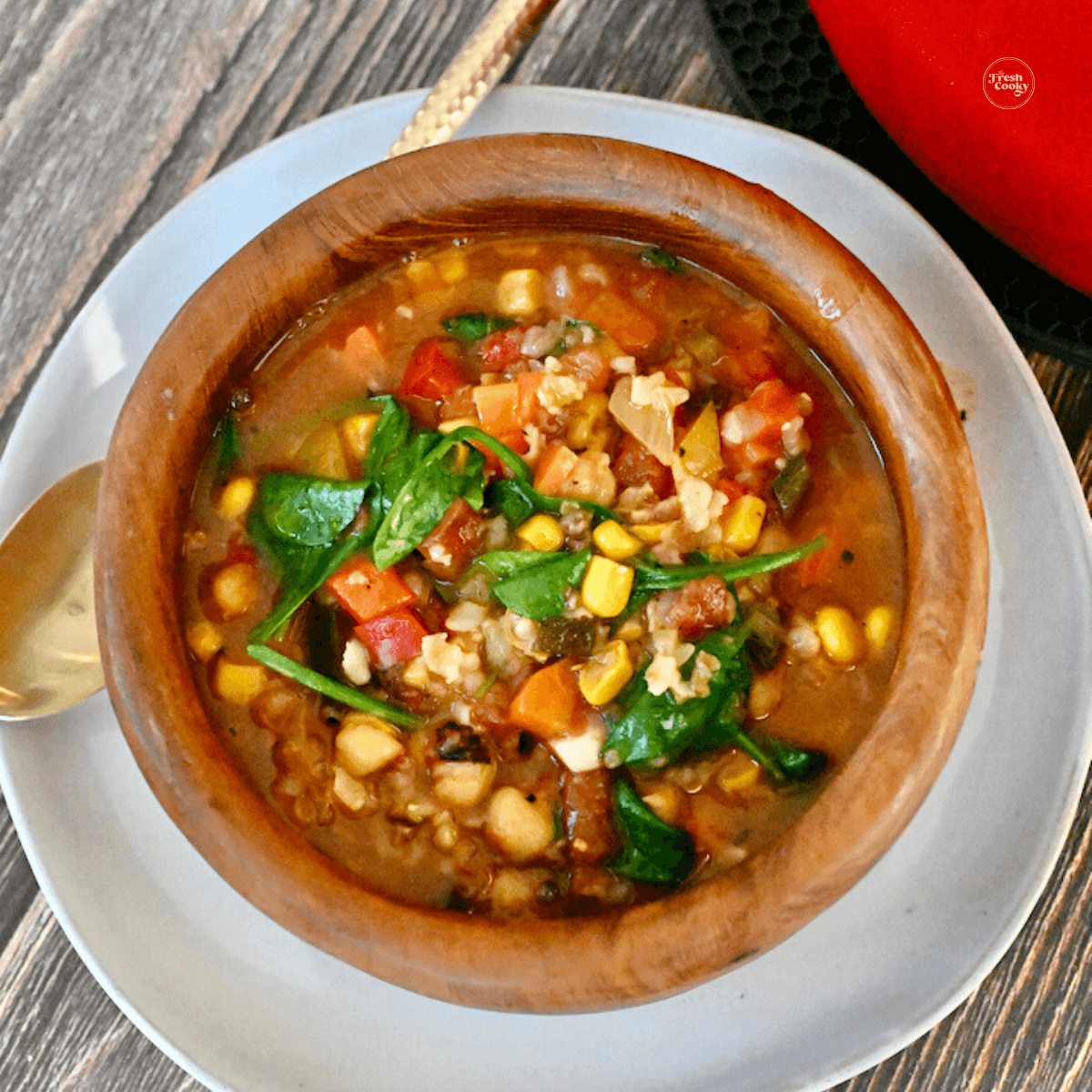 Save this recipe!
Okay, Sugar Cookie Fudge isn't quite in season, however; sometimes you just need to get it on the blog. Haha! And this easy 5 ingredient, 10 minute fudge is actually great for any holiday, not just Christmas — change the sprinkles for the occasion.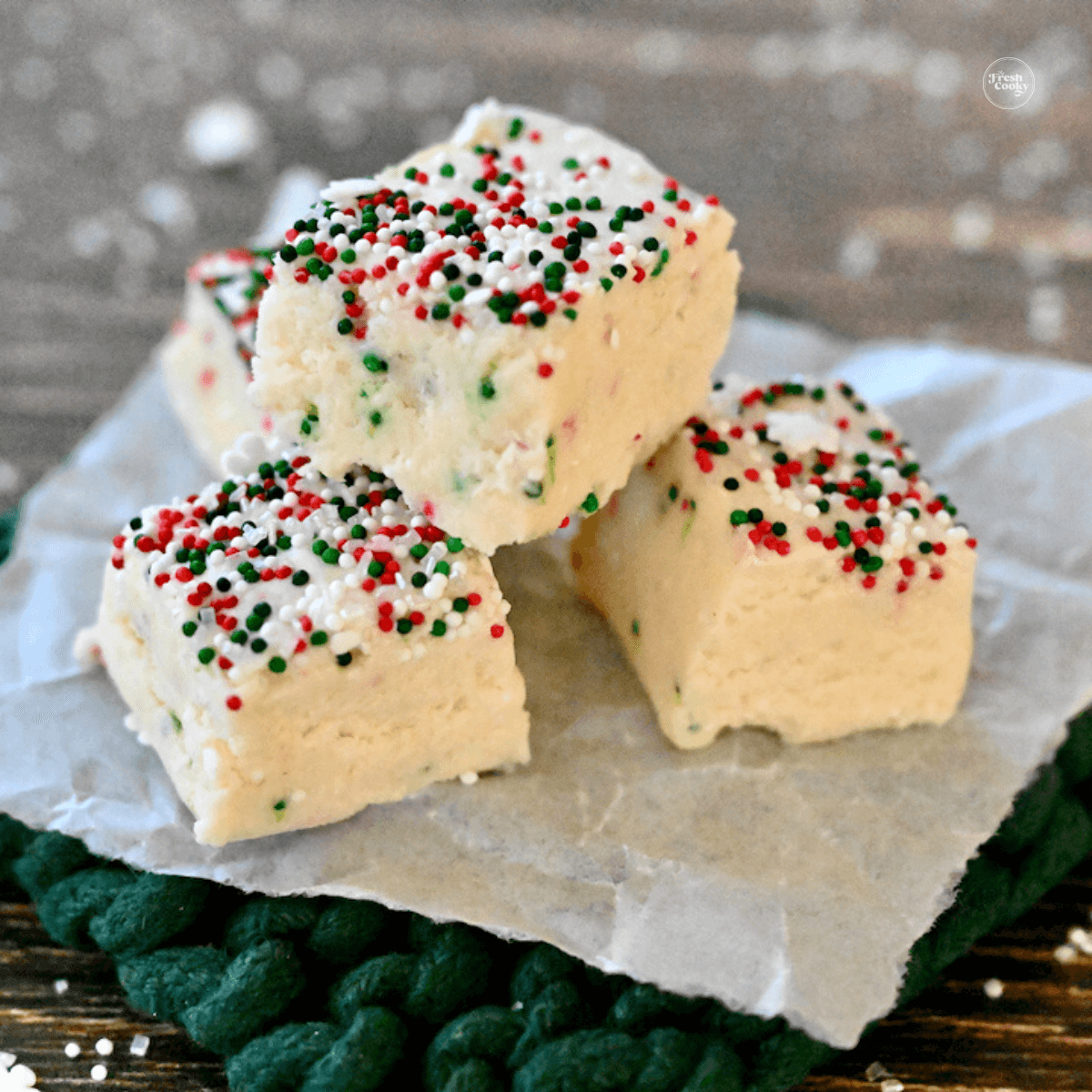 What you're cookin'!
Here's what is trending on the blog this week — the top 5 recipes are almost always the same, so these are in addition to my Best Cheesesteak Sandwich Recipe, Crumbl Chocolate Chip Cookies, Crockpot London Broil, Traditional Shortbread and Healthy Mongolian Beef recipe.
Best Gooey Cinnamon Rolls
"I've made cinnamon rolls for 10 years and worked in a professional bakery. These are DELICIOUS and DELIGHTFUL. They are easy, gooey, sweet and everything a cinnamon rolls should be. Lots of cinnamon flavor , perfect texture. Literally the stuff of dreams. MAKE THEM. Easy to follow recipe! Don't over bake or over work dough- it will be sticky at first. Don't add more flour or you'll get a dense roll. I used my oven to proof and it made it so easy. No other recipe needed." ~ Ella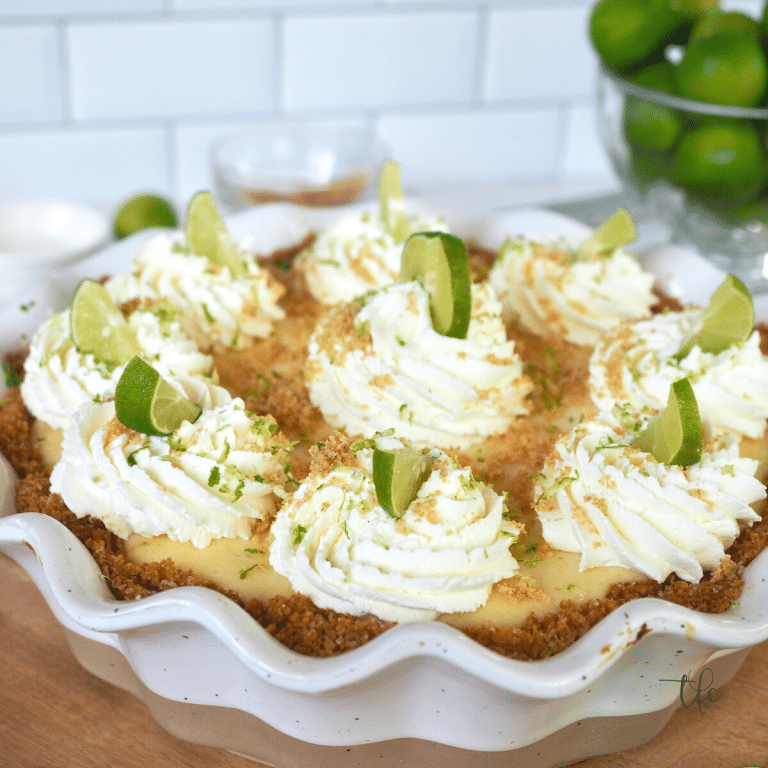 Award Winning Key Lime Pie
"This came out perfectly tart and sweet. The balance was amazing, and we all loved how light it was as well! Thank you so much for sharing the best key lime pie recipe!" ~Joyce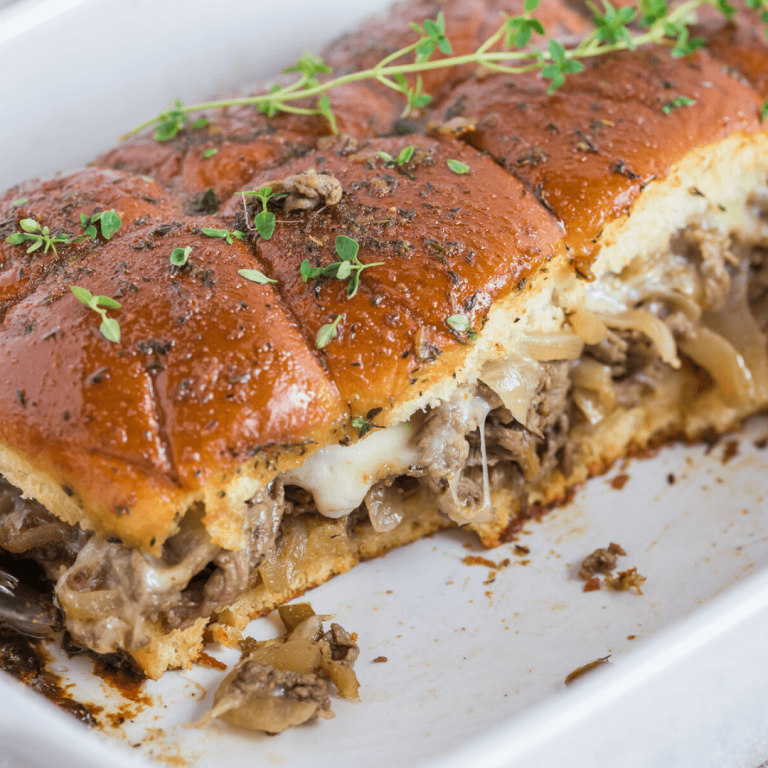 Philly Cheesesteak Sliders Recipe
"Oh my goodness! These Philly cheesesteak sliders were sooo good. Very easy to make, I followed the recipe except for dijon mustard, I did not have any. I would make these again and again. I did toast the bottoms to prevent them from getting sorry. 75th birthday party and everyone loved them." ~Terri
Copycat Mimi's Bran Muffins
"Best bran muffin recipe ever! I added some left over flax seeds (whole, cooked) and made bite sized muffins instead. Definitely a keeper! Thank you so much for sharing!" ~ Michelle
Orange Scones (Panera Copycat)
"I have attempted many scone recipes and this is the only one that absolutely nailed it. I made these yesterday and they turned out perfect. Thank you. And yes they are better than Panera." ~Eran
What's on Sale
I'm dishing these little parfait glasses right now, fun for desserts, mini parfaits, pudding and more!
Save your produce using these organic produce bags.
Or this USA Brownie pan is loads of fun! Love these pans! And I'm thinking I need to add this heart shaped bundt pan to my collection, it would be gorgeous with my White Chocolate Raspberry Bundt.
Weekly Inspiration | But I'm telling you…
This message really resonated with me today, from Our Daily Bread this morning, I hope you are encouraged also.
"I know what they're saying. But I'm telling you . . ." As a boy, I heard my mother give that speech a thousand times. The context was always peer pressure. She was trying to teach me not to follow the herd. I'm not a boy any longer, but herd mentality's still alive and kicking. A current example is this phrase: "Only surround yourself with positive people." Now while that phrase may be commonly heard, the question we must ask is: "Is that Christlike?"

"But I'm telling you . . ." Jesus uses that lead-in a number of times in Matthew 5. He knows full well what the world is constantly telling us. But His desire is that we live differently. In this case, He says, "Love your enemies and pray for those who persecute you" (v. 44). Later in the New Testament, the apostle Paul uses that very word to describe guess who? That's right: us—"while we were God's enemies" (Romans 5:10). Far from some "do as I say, not as I do," Jesus backed up His words with actions. He loved us, and gave His life for us.

What if Christ had only made room in His life for "positive people"? Where would that leave us? Thanks be to God that His love is no respecter of persons. For God so loved the world, and in His strength we are called to do likewise.

By: John Blase
You bless me abundantly by coming back week after week, trying my recipes, and spreading the word — thank you!
So grateful for you,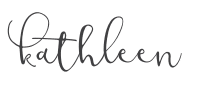 P.S. Be sure to browse through last weeks Fresh Fridays for more great recipes!
Visit The Fresh Cooky's Amazon Shop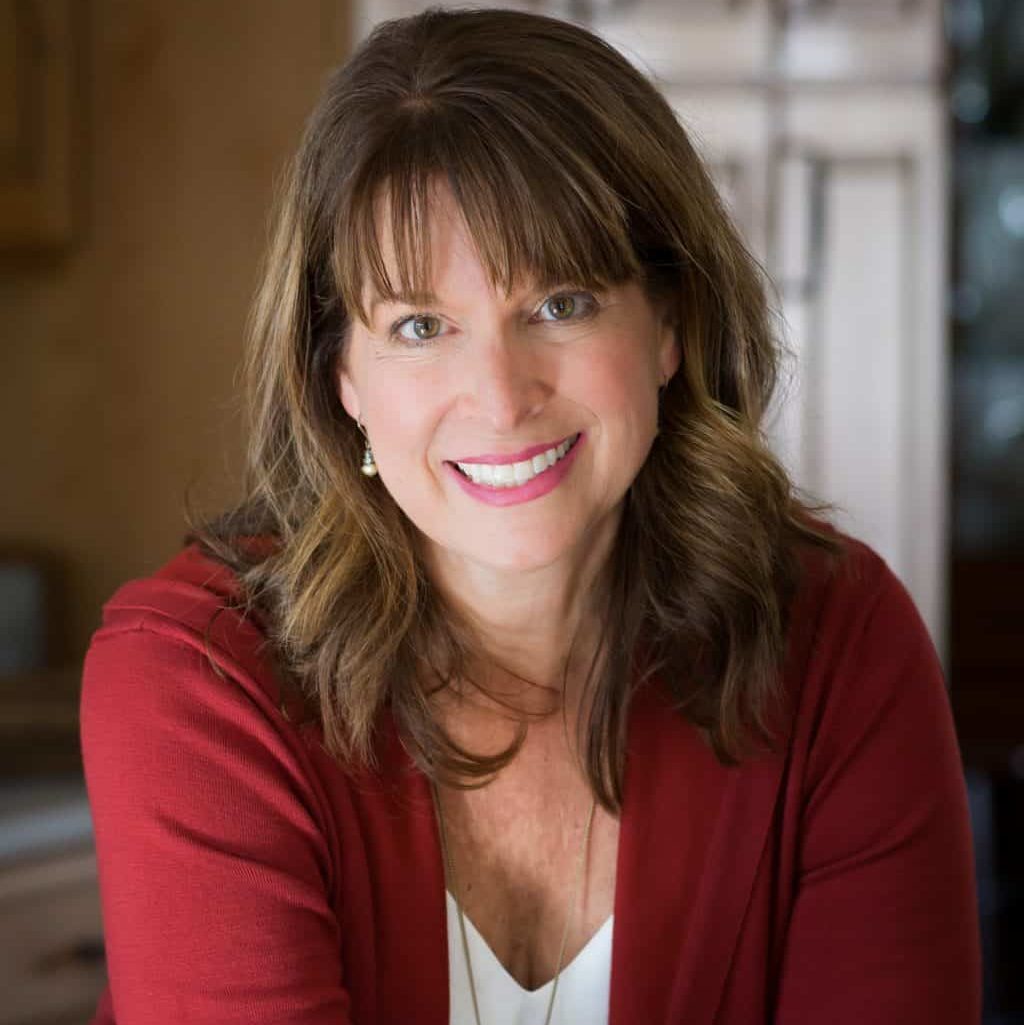 About Kathleen Pope
Recipe Innovator | Food Photographer | Food Writer
Hi, I'm Kathleen Pope. Here at The Fresh Cooky you will find easy, mostly from-scratch, trusted recipes for all occasions. From speedy dinners to tasty desserts, with easy step-by-step instructions. I am here to help teach you how to make mouthwatering recipes without spending hours in the kitchen. Read more about Kathleen here.