As an Amazon Associate, I earn commissions from qualifying purchases (
disclosure policy
).
You are going to love this easy New Mexico Chile Relleno casserole recipe. Made with delicious New Mexico Hatch green chiles, stuffed with Monterey Jack cheese snuggled into an easy egg batter. A delicious vegetarian dish the whole family will love. Great for breakfast, lunch or dinner! Easily adapted to be gluten-free.
A low-carb, high-protein meatless casserole that the entire family will enjoy!
If you are looking for quick and easy casseroles, you might enjoy this Chicken or Turkey Divan, Biscuits and Gravy Casserole or Easy Tamale Pie Recipe with Cornmeal Crust. While not a casserole this Crockpot London Broil is a fan favorite!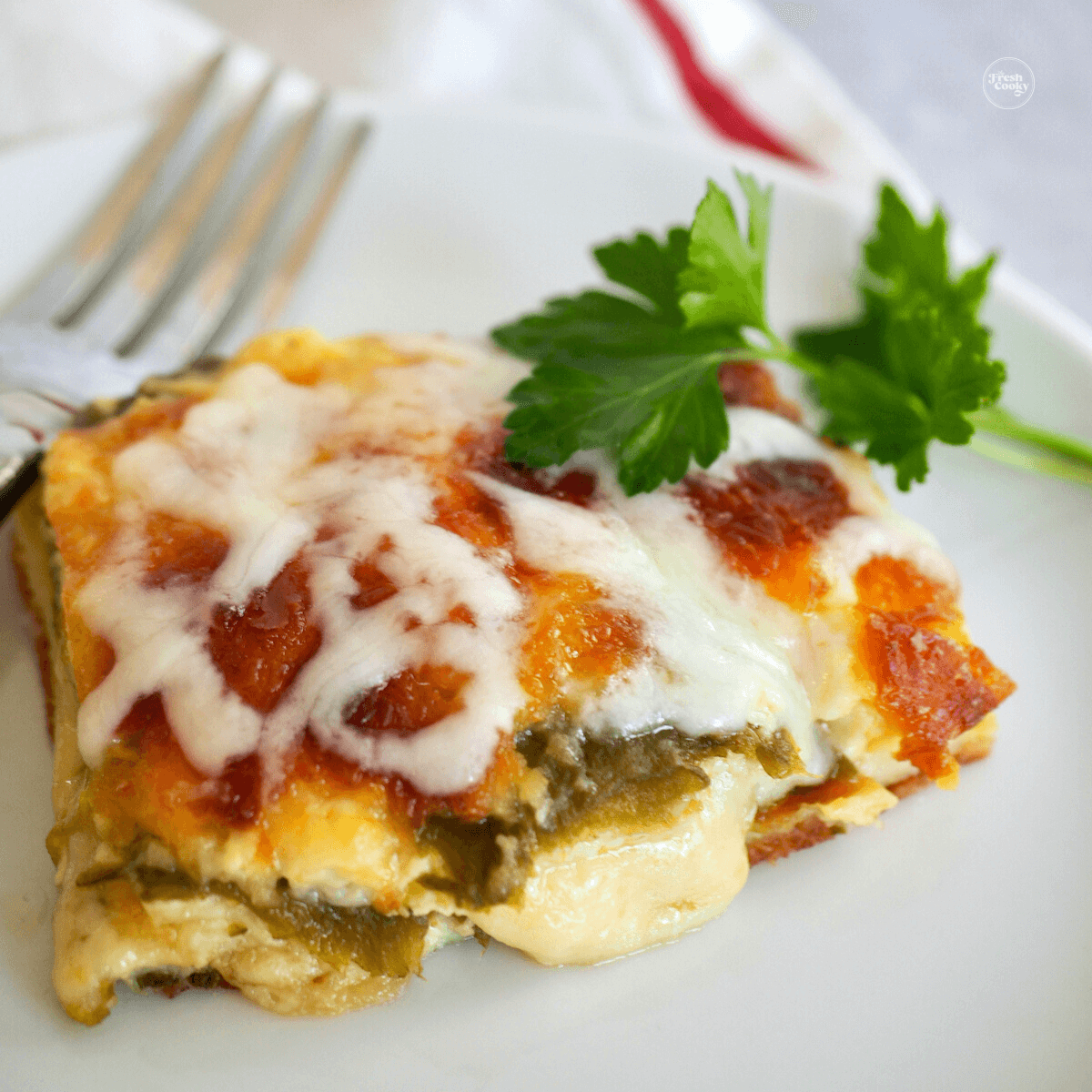 This post has been updated for a better user experience, but the recipe remains the same!
We love quick and easy, slam-dunk recipes for a breakfast casserole in our house, and besides the chilies and cheese there are only 4 additional ingredients mix, pour, bake! AMAZING
I love recipes like this, they work for any meal! It tastes great leftover and reheated AND it takes less than 20 minutes to put together. Plan ahead, this recipe for baked chile rellenos does take awhile to bake, but is so worth it!
Why You Will Love this Baked Chile Relleno Recipe
Easy | If you don't roast your own chile peppers, using canned whole chiles this recipe comes together in minutes!
Make Ahead | Assemble all of the ingredients the night before, cover with aluminum foil, bring to room temperature the next day while you are preheating the oven and shazam!
Winner | Everyone I have ever made this easy recipe for (and I make it a LOT) asks for this recipe. It's a winner every time!
Double or Triple the Recipe | I love recipes you can easily scale based on your needs. You can double the chiles and cheese and keep the amount of milk and eggs the same or double or triple the entire recipe baking in a 9×13 inch pan for a slam-dunk dish!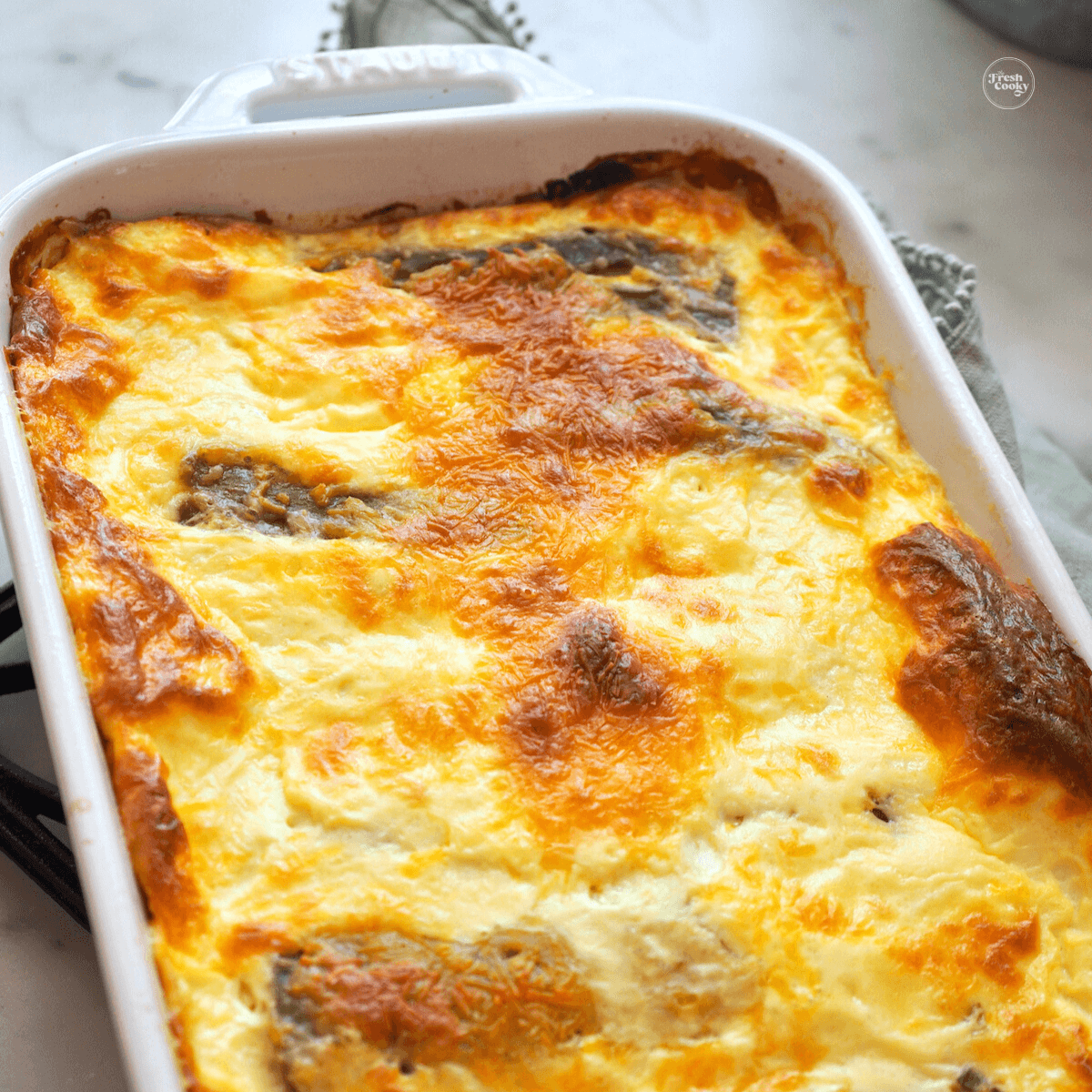 Growing up in Southern California we had the privilege of enjoying real Mexican food, real Chile Relleno's.
A family that we helped out on occasion would make and bring us the most incredible chiles rellenos, but they are a decent amount of work and we're just trying to get breakfast or dinner on the table some nights — amiright?
Fresh Tip
At times, I've had a hard time finding whole roasted chiles. So I modified and used 2-3 (4 oz) cans of diced green chiles instead. Just place them in the dish, with diced chunks of cheese or shredded cheese, pour the egg batter and bake. Turned out great!
What is the difference between a Chili, Chilli, and Chile?
I have always thought of "chili" as the ground beef based stew we make in the fall and wintertime, and Chile as something with peppers, turns out, I am not all that wrong. In fact, depending on where you live, just about any variation goes! I don't care how you spell it — just make it! Your family will thank you!
The difference between chili, chilli, and chile, is usually a matter of location. In American English, "chili" is the most common spelling for the spicy peppers as well as the stew and hotdog topping. In British English the preferred spelling is "chilli." In Spanish speaking countries and regions of the US, "chile" is the most common variant.
Key Ingredients for New Mexico Chile Relleno Casserole Recipe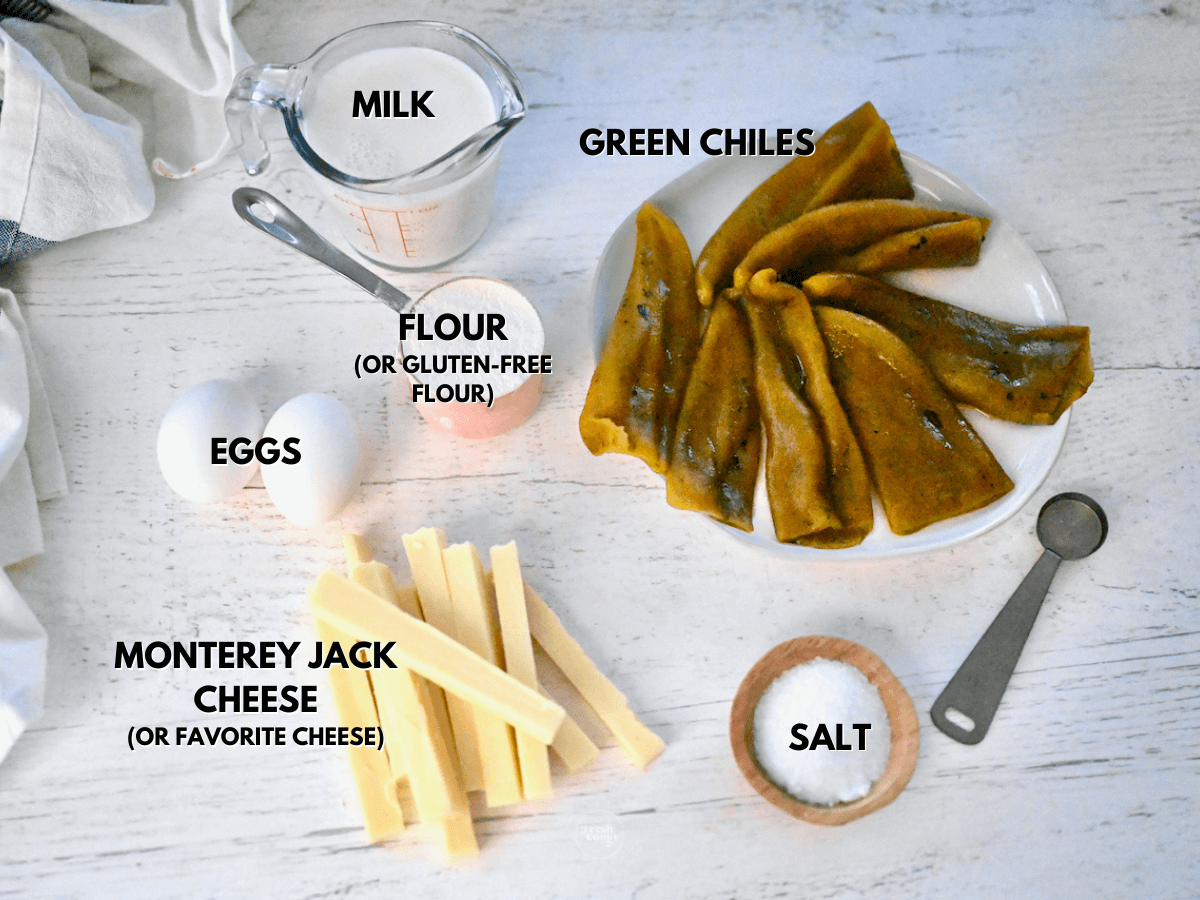 Whole roasted green chiles | I use canned, but home roasted fresh chiles is great (see tip for how to roast below). May also substitute chopped green chiles as well.
Monterey Jack Cheese | Slice into sticks! Can also try Pepper Jack cheese, regular or your favorite cheddar cheeses, also try Cotijo.
Eggs | I always use large eggs in my cooking and baking
All-purpose flour | May substitute with a good 1-1 all purpose gluten-free flour.
Milk | We use whole milk at home, but you can substitute whatever you normally use.
Extra cheese grated for sprinkling on top
How do you make Chili Relleno Casserole?
Why is this easy chile relleno recipe so great, because it's made using canned whole roasted chile peppers.
No roasting, sweating and pulling skins off here, though you are certainly welcome to do so, probably taste even better!
Step 1 | Prep chiles
Rinse the peppers in cold water and then carefully scrape the seeds out, the seeds are where the heat is. If you like the heat, by all means keep them inside! I would say that Hatch Green chiles are typically a mild- medium heat pepper, but you can find hotter versions too.
Use a paper towel to remove some of the extra moisture from the peppers. Spray a 9×9 inch casserole dish with a little spray oil.
Step 2 | Stuff Chile Rellenos
Slice cheese block into sticks and carefully stuff them into the chiles laying in a single layer in the casserole dish.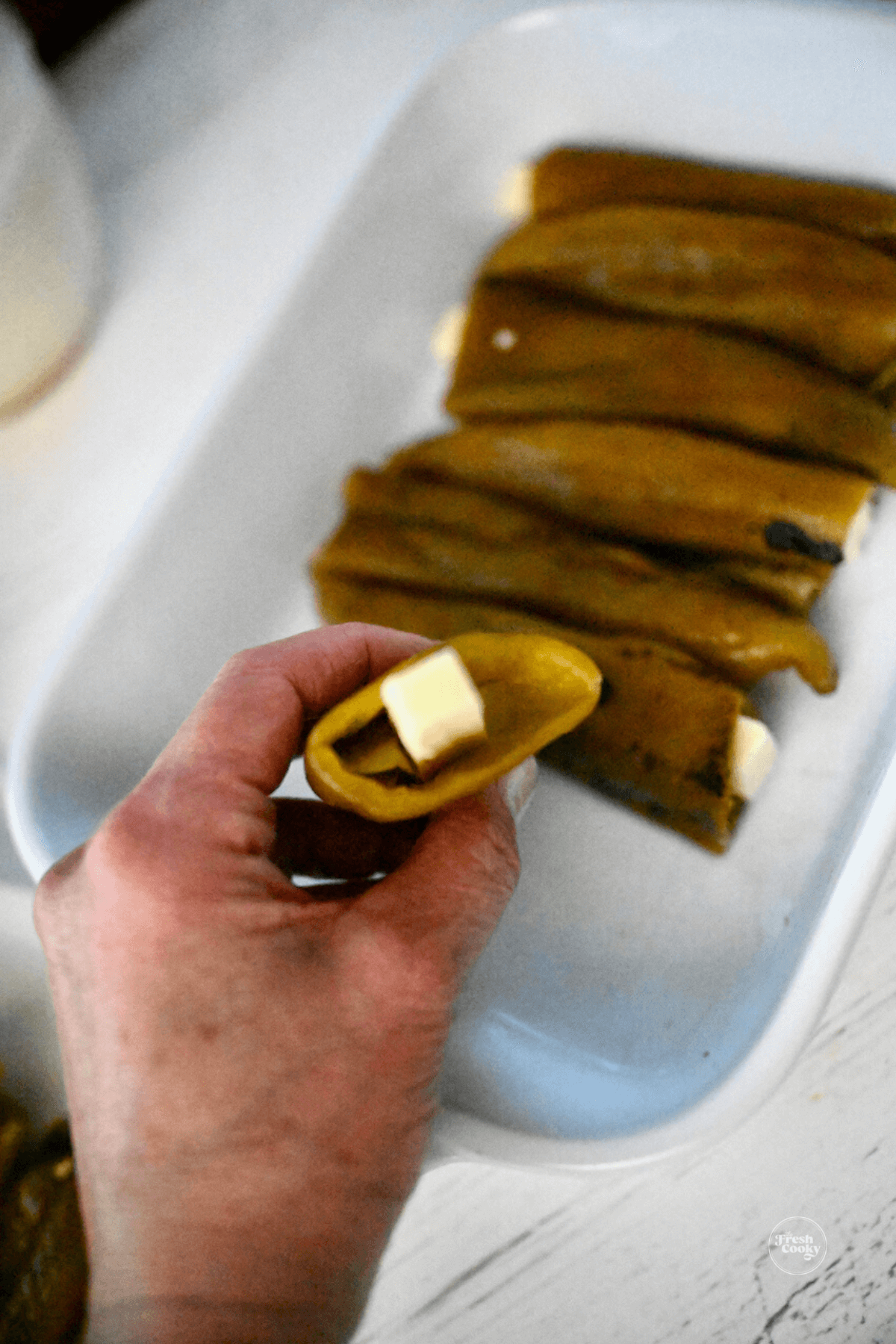 My favorite cheese for authentic chile rellenos is Monetery Jack cheese – it melts so beautifully, but you can use cheddar, pepper jack or any deliciously melting cheese, or try salty Cotija Mexican cheese.
If the pepper splits, don't worry about it, just roll it together as best you can and lay it in a lightly greased (spray oil works great here) pan. Tucked them nice and close together.
Step 3 | Make Egg Mixture
In a medium bowl add eggs and using a fork or whisk, beat until smooth. Add regular or gluten-free flour to the mixture, milk and salt and pepper, whisking until smooth.
Pour egg mixture over the top of the cheese stuffed chiles and top with a little grated cheese and bake.
Step 3 | Bake New Mexico Chile Relleno Casserole Recipe
All you do now, is place that casserole dish in the preheated 350 degree F oven and bake between 60-90 minutes, until it's golden, bubbly, puffed and set.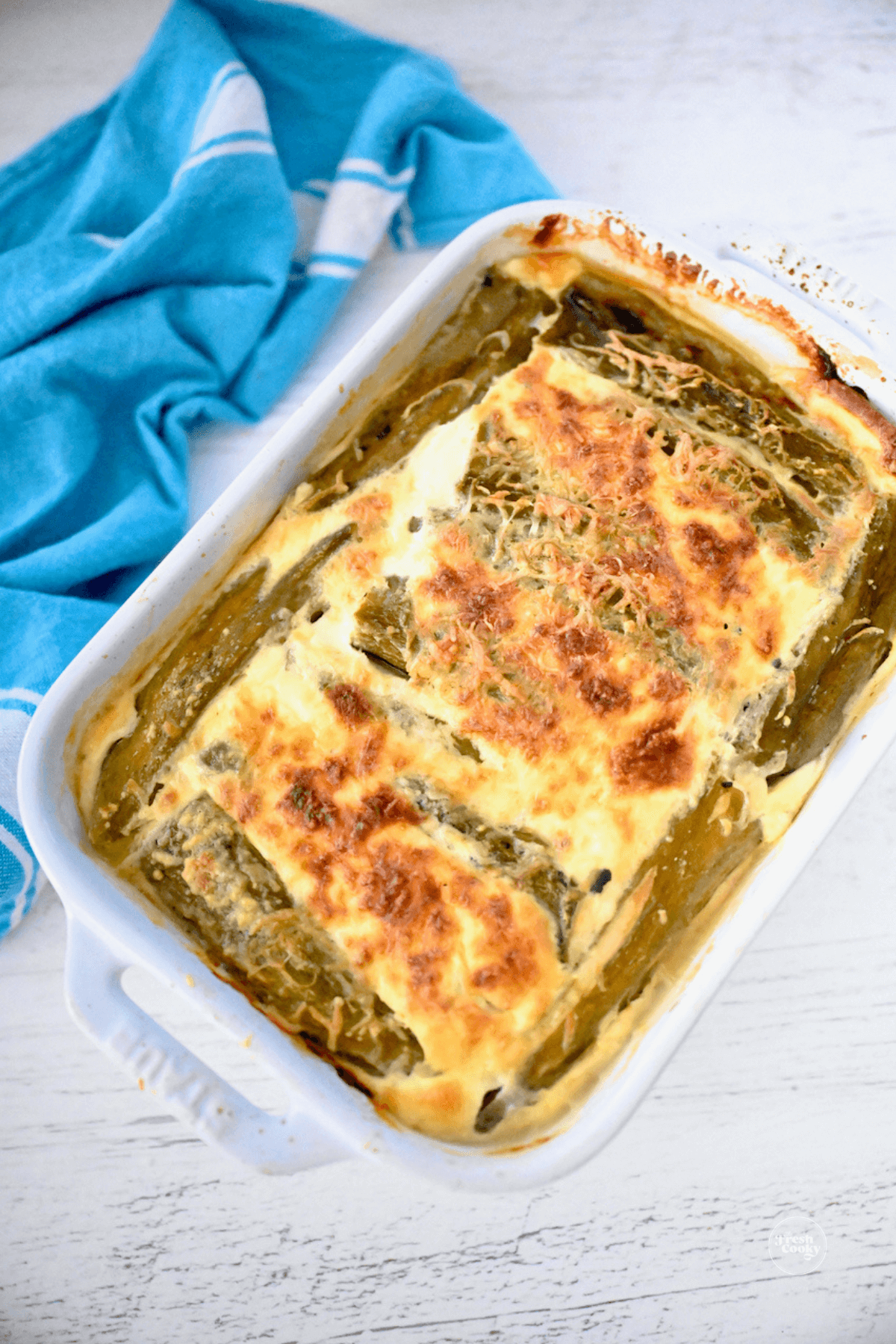 Frequently Asked Questions
Are Chile Rellenos Spicy?
This dish, made with canned chile peppers is very mild. I prefer roasted Hatch Green Chile's which I can purchase in our local grocery store, they have delicious flavor but are still very mild, even for spice wimps like me!
If you want to kick up the spice in your dish, try using pepper jack cheese, adding a few (or a lot) of shakes of Tabasco or Cholula sauce to the milk and egg mixture.
Plus Hatch chiles are from New Mexico, making this a truly authentic New Mexico chile relleno casserole recipe.
Can I Make Chile Relleno Casserole Ahead of Time?
Yes! Assemble the chiles and cheese, mix the egg and milk mixture and pour over the chiles, cover and refrigerate until ready to bake.
Set on counter, allowing to come to room temperature 20-30 minutes prior to baking. They may be baked ahead of time, but you will not achieve the same fluffy rise as with the first baking.
What is chile relleno batter made of?
Traditional chile relleno batter is made from eggs, flour and milk. The egg yolks are separated, whipping the whites and mixing the two together. The difference between this easy chile relleno casserole and traditional chile rellenos is the peppers are usually dipped in a frothy egg batter and deep frying until golden and hot.
Can I use other chile peppers for New Mexico Chile Relleno Casserole?
Absolutely! If you want to roast your own peppers, try using Poblano peppers or Anaheim peppers (a little spicier) but they will hold up well in the chile relleno dish.
How to Roast your Own Chile Peppers
Start the process by washing and drying your chile peppers of choice.
Oven | Place peppers on baking sheet brushed with a little olive oil and roast in a 425 degree oven for 15-20 minutes, turn and roast another 15-20 minutes until they are soft. Steam as directed below.
Broil | Place peppers on baking sheet brushed with a little olive oil, with rack 3-5 inches from the broiler, broil for about 20 minutes total, turning a quarter turn every 5 minutes. Until charred and peppers are soft. Steam as directed.
Stovetop | If you have a gas stovetop this is my preferred method for just a few peppers. Place washed and dried peppers directly over the medium gas flame, turning about every 5 minutes, until the entire pepper is charred. Doing it this way imparts the most smokey flavor into the pepper. Steam as directed below.
Grill or Grill Pan | With the grill heated to medium, place washed and dried peppers directly on grill or grill pan, turning every 5-10 minutes until peppers are soft and completely charred. Steam as directed.
How to Steam Charred Peppers | Once peppers have been charred, place hot peppers in an airtight baggie for 10-15 minutes. Or on a cutting board and invert a glass bowl over the top of the hot peppers. Once they steamed, gently and carefully remove the charred skin and throw away (a little messy) and then remove stems and carefully remove seeds.
Why are they called Hatch Chiles
Hatch Green Chiles are a specialty chile developed and grown in New Mexico. They are one of my favorite chiles, as they are a bit more mild, but still have loads of flavor.
Variations & Substitutions
Roast your Own Peppers | You can easily roast your fresh peppers. Wash peppers and pat them dry with paper towels. Place peppers over an open flame, turning occasionally, until the pepper is blackened and charred all over. Once charred, place peppers in plastic bags and seal for about 10 minutes, this sweats the char off and softens the peppers, keeping the roasted flavor inside the chile pepper. Once 10 minutes are up, gently peel away the charred portion and discard. Use peppers are you would in any recipe. Fresh roasted pepper are divine!
Instead of stuffing the peppers, layer them on the bottom of the dish, then add cubes or shredded cheeses to the top, then pour the egg flour mixture over the top.
Dairy-Free Chile Rellenos | I've never tried this, but replace the cheese and the milk with your favorite plant-based cheese and milk.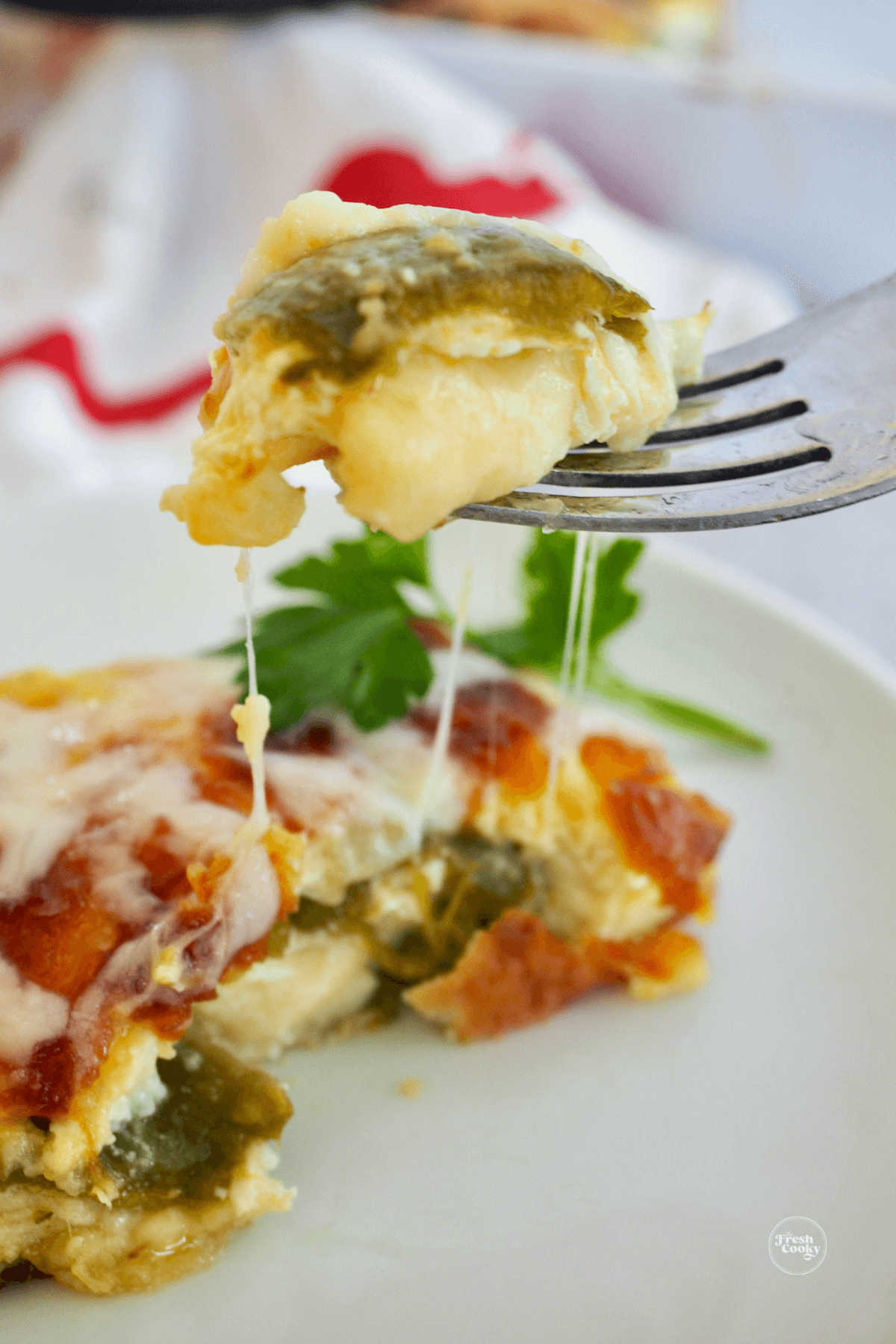 Storage
Make Ahead | You can assemble this easy casserole the night before. Cover and while oven preheats, remove and let come to room temperature. Bake as directed.
Refrigerate | Once baked, cool completely then store in airtight container in fridge up to 5 days.
Freeze | Freeze baked and cooled chile rellenos casserole wrapped first in plastic wrap, then wrapped in foil and if possible sealed in an airtight baggie. Freeze up to 3 months.
Reheat | To reheat from frozen, allow to thaw overnight in fridge, then heat in 300 degree F oven for 30-40 minutes covered, until bubbly. To reheat from fridge, place a piece on a microwave safe plate and heat in 30-60 second bursts until hot. Or place in oven at 350 until warmed through.
Gluten-Free New Mexico Chile Relleno Casserole Recipe
To make gluten free chile relleno casserole, simply swap out the all-purpose flour out for your favorite Gluten Free All Purpose Flour, this is my favorite!
I try as much as possible to provide an easy gluten-free variations; while we are not gluten-free, my brother and his family are GF, so I like giving gluten-free options.
Check out all of my Gluten-Free Recipes here!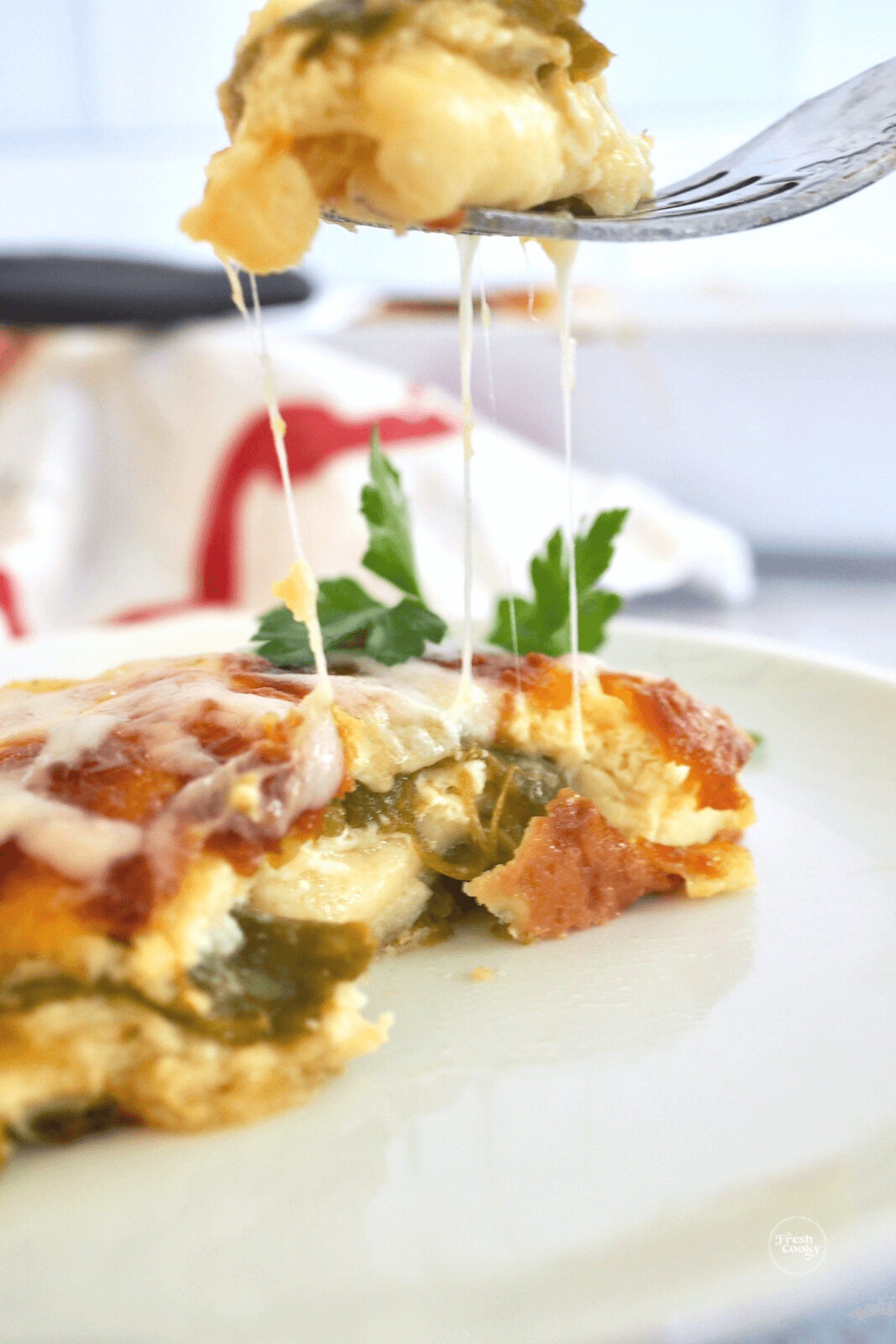 Toppings
This traditional dish doesn't need anything on top, but if you want to amp up the flavor even more, then try these topping ideas.
Salsa or Pico de Gallo or even just fresh chopped tomatoes
Chopped cilantro or chopped green onions, even a little fresh chopped jalapeños
Fresh sliced avocado
Sour Cream
These rellenos are is a great recipe for a weekend breakfast, try making them along with this delicious Chilaquiles Recipe for a great addition to any Cinco de Mayo spread, or an easy weeknight dinner.
Serve them with creamy refried beans, Mexican Rice. And perhaps a light and refreshing margarita as well!
More Great Recipes you will love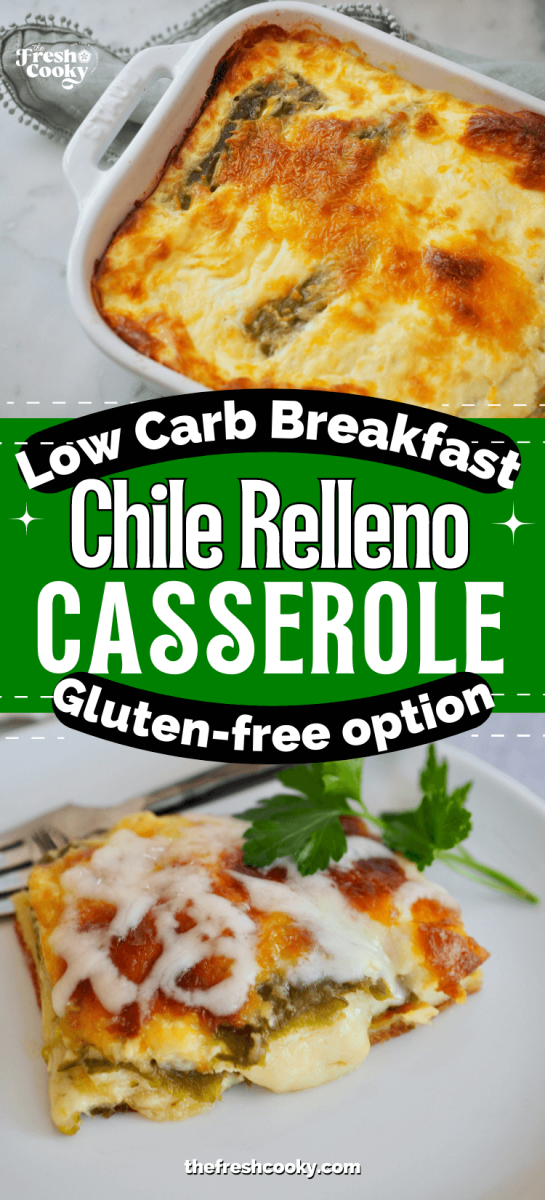 I hope you loved this New Mexico Chile Relleno Casserole Recipe — if you did, would you share your creation on Instagram, Facebook and Pinterest? And be sure to comment below!
Like this recipe?
Don't forget to give it a ⭐️⭐️⭐️⭐️⭐️ star rating and leave a comment below the recipe!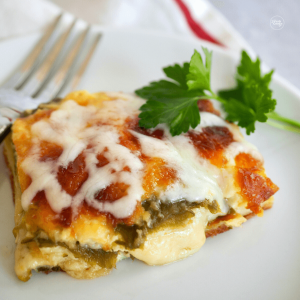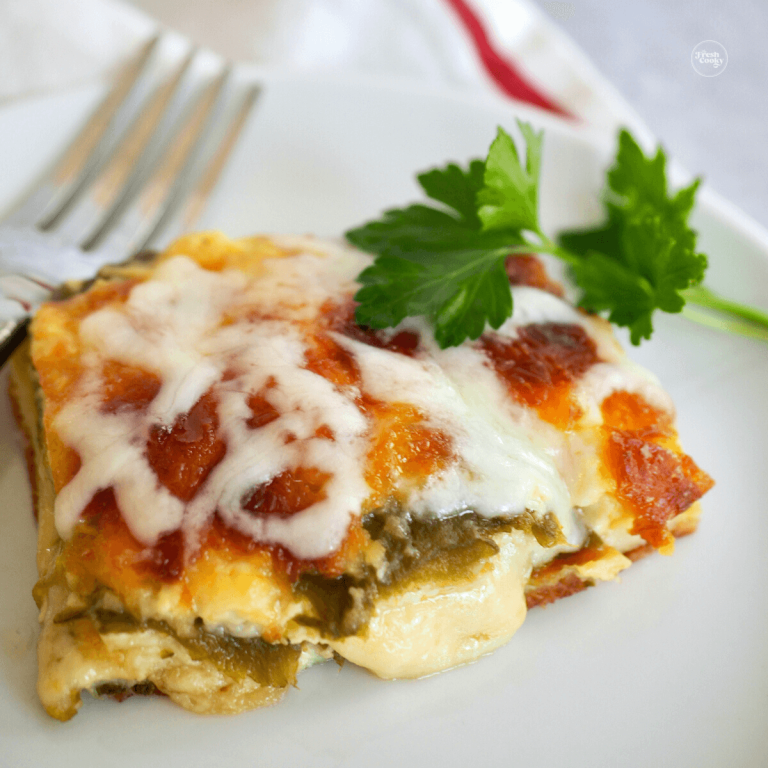 Easy Chile Relleno Casserole
Best Chile Relleno Casserole is an easy, delicious vegetarian dish made with Monterey Jack cheese stuffed whole roasted chiles, topped with an egg, milk batter, topped with more cheese, then baked to fluffy perfection. Easily adapted to be gluten free.
Click stars to rate now!
Print
Pin
Save
Saved!
Rate
Ingredients
2-3

4 ounce cans

whole roasted green chiles

or one large 27 oz can for a double batch. Rinsed, patted dry and seeds removed. May also sub 2-3 small cans of chopped green chiles

½

lb

Monterey Jack Cheese

sliced into sticks (or try other cheese, pepper jack, cheddar, cotijo)

2

large

eggs

½

cup

all-purpose flour

or substitute with a good 1-1 all purpose gluten free flour

1

teaspoon

kosher salt

and pepper if desired

2

cups

milk

I used whole milk

Extra cheese grated for sprinkling on top
Instructions
Preheat oven to 350° F and grease a 9×9 inch baking dish (or 8×11).

Rinse chiles in cold water, scraping out seeds and the inside veins (leave seeds in if you desire a hotter dish). Cutting cheese into narrow sticks, place 1-2 sticks inside each chile and then place in greased baking dish.

Beat eggs in bowl, gradually adding flour, salt and milk whisking until smooth. Pour over chiles and sprinkle with grated cheese.

Bake 1 – 1 ½ hours or until browned and firm. Serve immediately
Notes
This recipe is super versatile.
I've doubled the chiles and cheese but kept the batter the same.
Doubled and tripled the recipe baking in a large casserole dish.
Used 2-3 (4 oz) cans of diced green chiles instead of whole chiles, poured them in the dish, with diced chunks of cheese or shredded cheese. Turned out great!
Make Ahead | You may assemble this dish up to 1 day ahead of time, covering and refrigerating. When ready to bake, remove from fridge and allow to sit on counter for 20-30 minutes before baking as directed above.
Freezer Friendly | Bake as directed allowing to cool completely. Cover with plastic wrap or foil and freeze, freezes well up to a month if covered well. Allow to thaw overnight in fridge, then reheat in 250-300°F oven covered with foil until heated through or may be reheated by the slice in the microwave.
Nutrition
Serving:
1
serving
|
Calories:
383
kcal
|
Carbohydrates:
20
g
|
Protein:
23
g
|
Fat:
24
g
|
Saturated Fat:
14
g
|
Polyunsaturated Fat:
1
g
|
Monounsaturated Fat:
7
g
|
Trans Fat:
0.01
g
|
Cholesterol:
158
mg
|
Sodium:
1079
mg
|
Potassium:
280
mg
|
Fiber:
1
g
|
Sugar:
7
g
|
Vitamin A:
769
IU
|
Vitamin C:
3
mg
|
Calcium:
590
mg
|
Iron:
2
mg