As an Amazon Associate, I earn commissions from qualifying purchases (
disclosure policy
).
Hello fellow foodies! I hope you all had a wonderful Thanksgiving celebration and are eagerly entering into the Christmas season. Congratulations to Crystal who won the Emile Henry pie dish giveaway!
Our boys are back at school; the last few weeks of their college semester, ugh — finals, remember those!? I sent them some of the party recipe I'm sharing below; it got a thumbs up from them both! I am considering sending them a care package from Spoonful of Comfort, a company I love — check out all of their holiday packages! Something for everyone!
The Friday after Thanksgiving went up to a ranch in the mountains and cut down our Christmas tree, it was a fun afternoon. We love Singing Springs Ranch in Evergreen, where the owner, Christina or one of her adult kids greets you with a friendly smile! If you are local, I cannot recommend them enough!
It was a nice quiet weekend and I put away all of our Fall decor and decorated for Christmas, more on that below.
Simple Christmas Decor and Charlie Brown Tree
We love our Charlie Brown Christmas tree! I've mentioned the past few years, it's SO much easier to decorate since it can't really hold as much decor and I love using these fairy lights all OVER our house. They have remotes so it's easy to turn them on and off, but since they are LED, I leave many of them on all the time. Loads of settings and color choices to choose from.
I am leaning much more towards minimalist when it comes to decorating and have been scaling back a bit each year. It might not look like it. but truly, I am!
The one area I didn't skimp on this year is our front porch; from the fresh cedar garland I picked up at Costco (a steal!!) to my little porch pots (which still need a bit more filling out) and of course I cannot forget my Delivery Drivers Snack Station (check out the post for ideas)– have you printed your free Delivery Driver Printable?
New recipes to help you host like a pro
I have a great variety of new recipes to show you this week. One healthy, one fun and gift-able and one super festive and a few things I didn't send out last week!
Oven Roasted Crispy Sweet Potatoes and Broccoli
We all need a few go-to simple vegetable recipes. What I love about this one is it takes minutes to prep and tastes like a restaurant quality veggie side dish.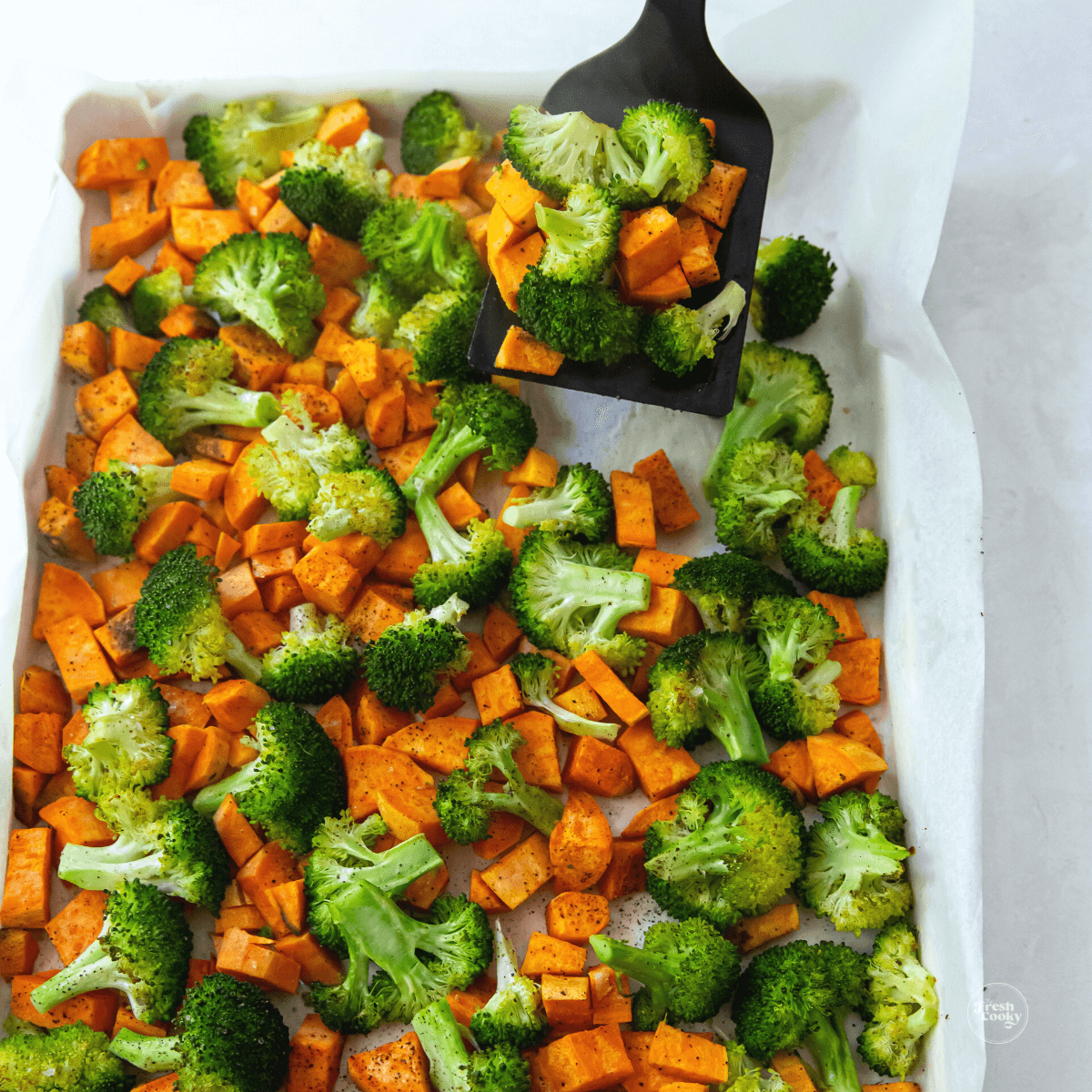 Christmas Snack Mix (with free printable gift tags)
During the holiday season I love baking up something wonderful, putting it in pretty packaging and giving to people I respect, admire, love and appreciate. If I could smush something through the internet into your hands, I would!
When my boys were young I would make this Christmas Reindeer Chex Mix and package it up and bring it to their school Christmas parties. Who doesn't love Muddy Buddies!?!?
Print out these FREE printable Chex Mix gift tags to customize your treats!
My recipe is a little different as it has a touch of cookie butter in it along with peanut butter, but you can easily leave it out — or make it peanut free if you choose! Check it out!
Festive Christmas Margarita Recipe
I love bright red, festive holiday cocktails! Don't imbibe? No worries, I give easy adaptations for a cool mocktail as well! Hibiscus and Pomegranate are what flavors this festive Jingle Juice! Make it by the glass, pitcher or the punch bowl! You are welcome!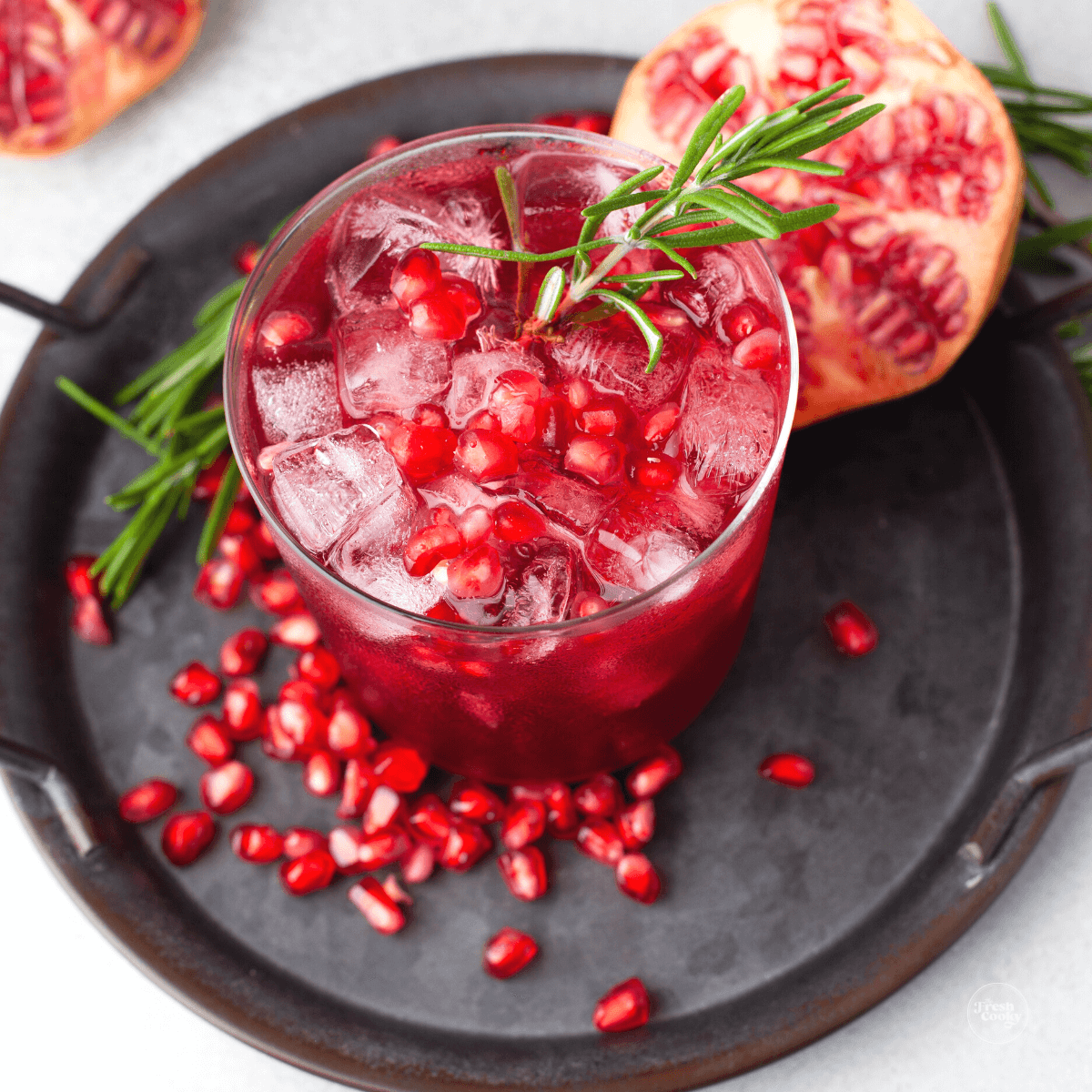 What you missed!
Even though I took some much needed time off for Thanksgiving! I still had a few recipes in queue!
Completing the trifecta of Air Fryer Turkey recipes are these crispy Turkey Legs, always in season! No holiday required.
Plus I updated my Best Cookbooks for the year as well as my picks for the best Advent Books!
Easy Crispy Air Fryer Turkey Legs
Golden brown on the outside and tender and juicy on the inside, these easy Air Fryer Turkey Legs are perfectly rubbed with a smoky seasoned butter and air fried in no time! Yielding tender, juicy and crispy skinned turkey legs.
Best Cookbook Gift Ideas + Gift Pairing for 2022
30 of my favorite cookbooks and some top selling cookbooks as well. Plus gift ideas to pair with your cookbook.
Best Family Advent Devotionals & Calendars for 2022
A list of The Fresh Cooky's Best Family Advent Devotional Books for 2022, from simple daily devotionals, family friendly activities and stories and more deep, in depth studies for women and men.
Recipes You are Loving
I received so many great comments over the holiday weekend. Thank you, keep them coming! It makes my day and really helps the blog! Here is what was "flying off the proverbial shelves!"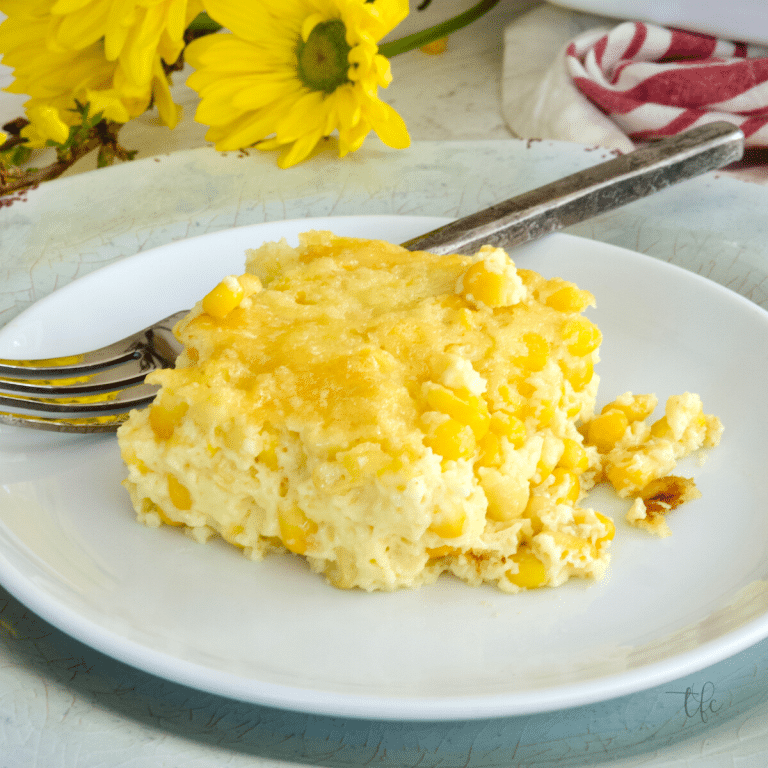 Easy Corn Casserole without Jiffy
Coming in at #1 with over 20,000 views! I'll be honest, not everyone loves this, but those who are looking for a not too sweet, light and soft side dish will LOVE this recipe.
Reader Review "Delicious!! Just the consistency I was looking for! Very light with just a touch of sweetness! My new go-to for corn casserole. Also reheated perfectly!" Amanda
Best Turkey Giblet Gravy Recipe Without Drippings
Reader Review "OMG this is the best gravy I've ever had in my whole life! I put giblets I bought separately in into the broth, let it hang in the refrigerator for two days and just finished it. Smooth and so flavorful 😋" Deborah
Best Cranberry Cream Cheese Dip
This 4-ingredient Cranberry Cream Cheese dip is not only easy, is perfect for the holiday season.
Reader Review "I love the sweet and savory flavors in this dip! Totally perfect for the holidays or anytime your craving a delicious appetizer! Can't wait to make this again, thanks so much for the recipe!" Kathryn
Best Traditional Shortbread Recipe
Super simple, just 4 ingredients, make traditional finger style or press into a pretty holiday mold!
Reader Review "Really good. Make twice now. And easy." ~Diane, Pinterest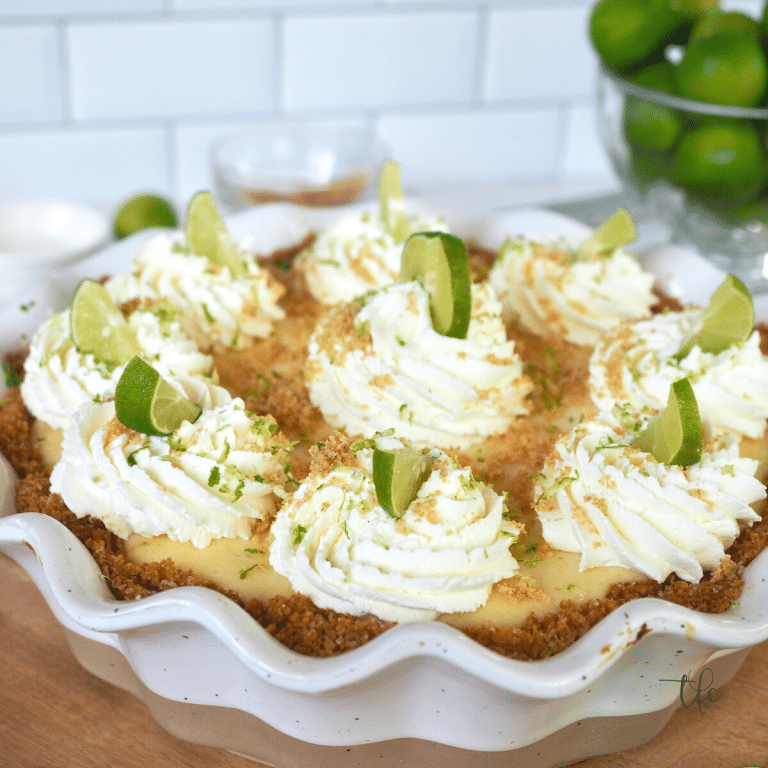 The Best Key Lime Pie | A Traditional Key Lime Pie Recipe
This is the BEST Key Lime Pie, so easy too!
Reader Review "My family loves this pie and were disappointed I didn't make it for Thanksgiving! Thanks for sharing this great recipe!" ~Karen
The Best Holiday Family Games 2022
Loads of simple, inexpensive family holiday games! Get the family off the couch this holiday season and play some games!
Healthy Leftover Turkey Recipes
So many delicious, creative and wonderful recipes featuring leftover turkey!!
No Bake Chocolate Pie
It's pie season! I have the easiest, most scrumptious no bake chocolate pie recipe for you with options for personalization.
Reader Review: "This tastes like the no bake chocolate pie my grandmother made that we've never been able to replicate. SO GOOD!" ~Erin
Best Gooey Cinnamon Rolls
Tender, better than Cinnabon ooey and gooey Cinnamon Rolls dripping with brown sugary cinnamon insides and topped with this luscious cream cheese buttercream.
Reader Review: "This recipe was FANTASTIC! They turned out perfectly!" ~Shannon, Pinterest
Chocolate Chip Cookies Copycat Crumbl
Reader Review: "Thank you for this amazing recipe! You nailed it! Absolutely delicious cookies that are even better than Crumble! I appreciate the high altitude suggestions as well. I used raw turbinado sugar instead of granulated sugar and arrowroot powder (I was out of corn starch) and they came out perfectly! My husband said they truly taste like a $5 bakery cookie – crispy on the outside & warm gooey goodness on the inside. Thank you for all your efforts in your test kitchen to get this keeper of a recipe!" ~Amy
Weekly Inspiration | One of my favorite people
Anna led music at the church we attended for years! She's an amazing musician and gifted songwriter. Her first Christmas album has been released, with one of my our favorite Christmas songs! Check it out; Here He Is. The links are on Spotify, but it's also available on iTunes and Apple Music!
And a friend sent me this song by Crowder that is the perfect start to the Christmas season! Be a "Thanks Giver" this season!
>>>It's my goal to be generous, kind, joyful and oh so patient this holiday season. Join me!<<<
Let someone in line in front of you, smile and talk to those around you, give up your seat or your parking place and get the benefit of blessing someone as well as getting a little exercise.
Buy the Salvation Army bell ringer a coffee, surprise the person behind you in the drive-through line by paying for their order, keep gift cards to places like McDonald's in your car to give to the person on the street.
One person can make a difference! Let's be the difference this Christmastime!
As always, thank you for returning each week, sending encouraging notes, comments and supporting me! I am blessed beyond measure and I thank my Lord and Savior for each of you!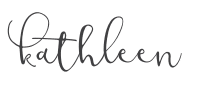 P.S. I have loaded a bunch of my new favorite kitchen gadgets, tools and more into my Amazon shop — some I own, some are on our wish list!
Thanks for visiting The Fresh Cooky's Amazon Shop