As an Amazon Associate, I earn commissions from qualifying purchases (
disclosure policy
).

Hiya friends!
Are you ready for some farmers market fresh recipes? Gardens are bursting with herbs, fruit and veggies just waiting to be made into something scrumptious.
Today I am talking about herbs, fresh vs. dried and how to use them, convert them and bloom them; AND the very best buttermilk ranch dressing, plus we'll talk about healthy and easy recipes for college students, and finally in case you froze some or are lucky enough to have a little bit of fresh rhubarb left, a brand new rhubarb recipe.
Fresh vs. Dry Herbs
If you are like me there often times when you just don't have a garden full of fresh herbs, though I do try and grown at least a large container with fresh basil, mint, thyme, parsely, cilantro, oregano and rosemary, my main go to fresh herbs.
But what happens when you need a fresh herb and can't find it? For instance, I was making my world famous Buttermilk Ranch Dressing (okay, maybe not world famous) and went to two stores trying to find fresh dill, nothin'! So I knew I needed to substitute dried dill, but how much do you use?
I thought you might be having similar issues, so here are the basics from my research, but the bottom line is in savory recipes start small and build up, taste test, you can always add more to your liking, make it yours!
Fresh-to-Dried Herb Conversion
Here is a simple fresh-to-dried herb conversion:
1 teaspoon of dried herbs for every 1 tablespoon of fresh herbs.
Use three times as much fresh herbs when the recipe calls for dried and ⅓ of the amount of dried herbs when the recipe calls for fresh.
Of course there are exceptions to the 3:1 rule:
Garlic | Use ½ teaspoon of garlic powder for every clove of fresh garlic in the recipe.
Basil | 1 teaspoon of dried basil for every 2 teaspoons of fresh basil.
Ginger | For every teaspoon of freshly grated ginger root, substitute ¼ teaspoon dry ground ginger.
Onion | Substitute 1 teaspoon onion powder per medium fresh onion.
Sage | 1 teaspoon dried sage for every 7 fresh leaves or 2 teaspoons minced fresh sage.
Thyme | Sub ¾ teaspoon ground thyme for every 6 sprigs or 1 tablespoon fresh thyme.
Rule of thumb when substituting dry herbs for fresh herbs is use dry herbs in soups and slow cooked recipes. For fresh, uncooked recipes, like salad dressings, appetizers and dips, using fresh herbs will always give you a better flavor pop!
How to bloom spices
Have you heard the term "bloom" your spices? It simply means tossing your spices and dried herbs in a hot oil in order to release and boost their flavor. Also since the spices and herbs now flavor the oil it was bloomed in, it will not easily dilute in a liquid or water based mixture.
And now for a FANTASTIC brand new recipe, that I can't believe I am just now putting on the blog…sorry about that!
Homemade Buttermilk Ranch Dressing
Wait, this is no ordinary buttermilk ranch dressing, there is no mix, it's made entirely of fresh, all natural ingredients and it is beyond restaurant quality and far superior to store bought ranch!
I hope I've piqued your curiosity, because not only is this buttermilk ranch dressing super delicious, but it's gluten free, low carb and is made in minutes!
Click the button below to access the recipe for Buttermilk Ranch Dressing
Healthy Recipes for College Students
As my own son prepares to leave for his second year in college, we start talking food. And while he is still on the food plan, he enjoys cooking things in his dorm/apartment. If you don't have college kids, you might know of someone who does, share these tried and true, healthy and easy recipes for college kids with your kids and friends.
Got Rhubarb?
It's pretty late in the season to still be harvesting rhubarb, however; if you are lucky enough to have fresh rhubarb or froze some, then this brand new super moist Rhubarb Bread should be on our baking list!
My favorite tool of the week has to be my trusty, knife. If you don't have a good sturdy, quality knife, it's time to invest in one. You don't have to spend thousands of dollars, I use this knife for just about everything (except cutting watermelon, cutting tomatoes and maybe filleting a fish.
As always, I am so appreciative of you and honoring me by allowing me in your inbox each week!
Take a minute, and shoot me your ideas or categories by easily commenting below, or send me a quick email kathleen @ thefreshcooky.com (spaces removed of course, we do that so bots do not find our email!)

Popular TFC recipes on the blog and on Pinterest, these are tried and true with many reviews!
P.S. Did you know that clicking the links to the recipes on the blog is what ultimately provides the means for me to bring you fresh, new recipes each week! FREE TO YOU!
Browse through my recipe index, you will see morning sweet treats, 30 Minute Meals and Dinners of all sorts, sensational sides and of course drinks and desserts!
Visit The Fresh Cooky's Amazon Shop
And I leave you with my favorite verse for the week, such a great reminder for me.
"Don't be obsessed with getting more material things. Be relaxed with what you have. Since God assured us, 'I'll never let you down, never walk off and leave you,' we can boldly quote, God is there, ready to help; I'm fearless no matter what. Who or what can get to me?" Hebrews 13:5-6 (MSG)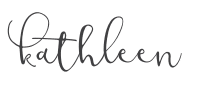 P.S. Be sure to browse through last weeks Fresh Fridays for more great recipes!