This recipe for Tropical Mango Berry Salad is the bomb! Loaded with the freshest, sweetest summer fruit it's the perfect fruit salad for any breakfast, brunch or tea, and even for dinner. Try it for Easter, Mother's Day, a summer barbecue, potluck or any occasion you want a light and fresh, all-natural fruit salad.
TROPICAL MANGO BERRY SALAD
A tropical delight, bursting with flavor and colors with a zesty lemony zing, lightly sweetened with honey and the natural sweetness of the mangos and berries.
The Low Down on Mangoes
Well, at least how to tell if a mango is ripe and more importantly how do you get at that fresh, soft, juicy, OH-SO-FLAVORFUL flesh!
GET FREE RECIPES

FROM THE FRESH COOKY DELIVERED RIGHT TO YOUR INBOX!
How do you tell if a mango is ripe? The mango should not be hard, but should yield gently to a little pressure, like an avocado.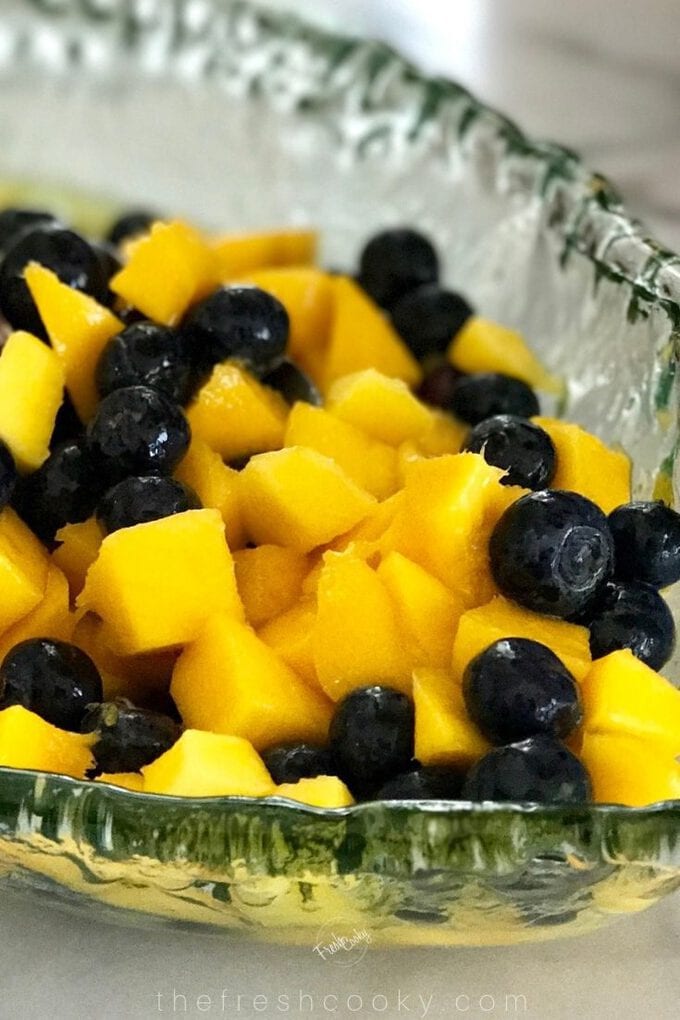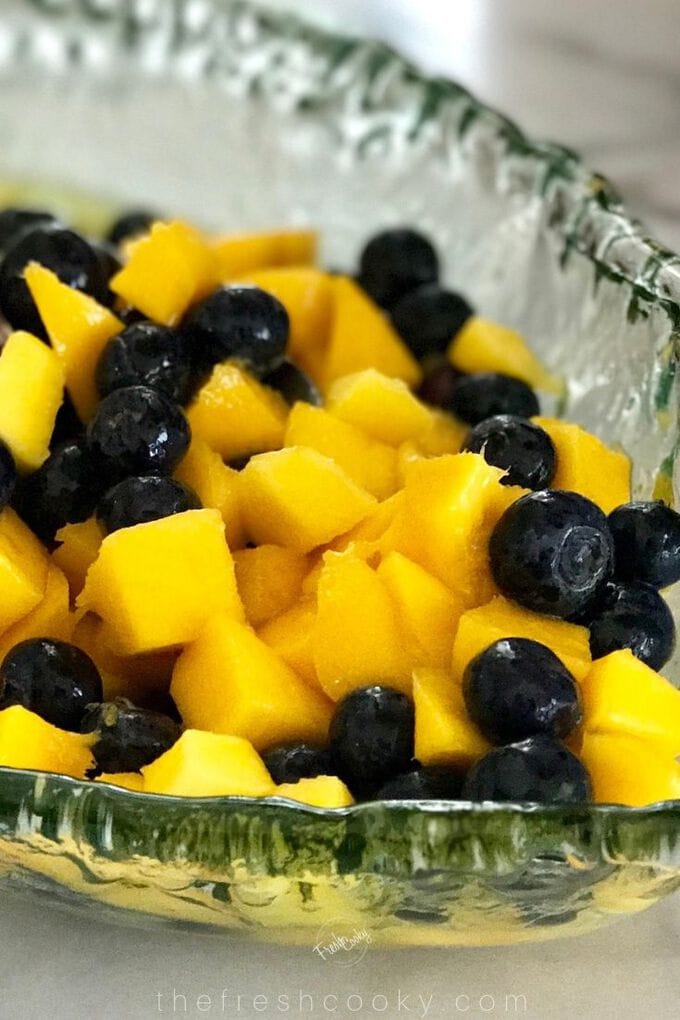 Some people are intimidated by cutting a mango, it's easier than you think, let's give it a go. After washing your mangoes, stand it up on end with the stem facing you, mangoes are slightly wider where the flesh is, slice straight down, turn the mango and do the same thing on the other side.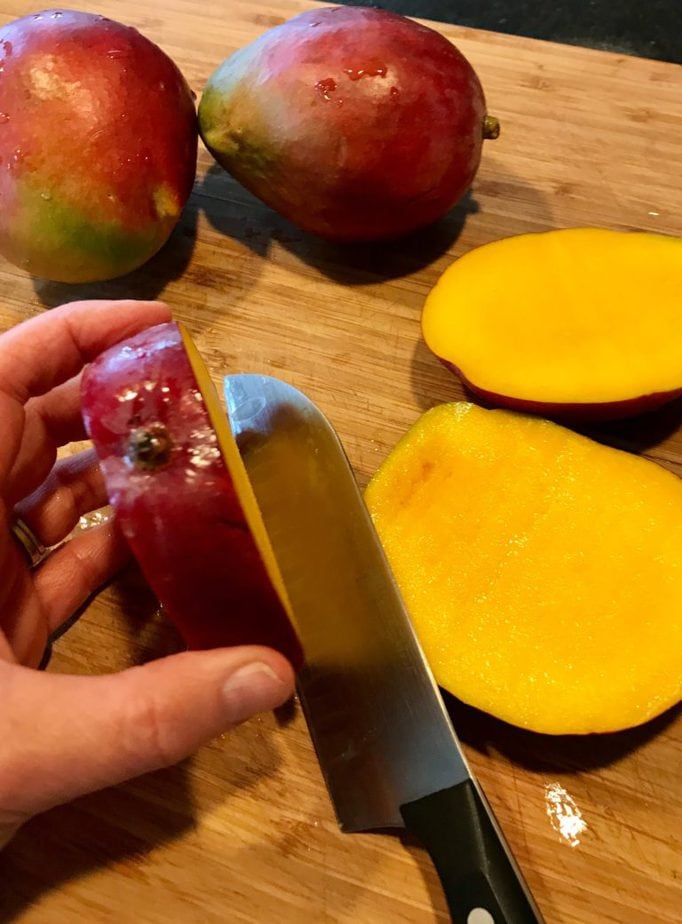 If the seed isn't too big, slice "around" the seed to get a smidge more mango. Here's the seed, big buggers aren't they!?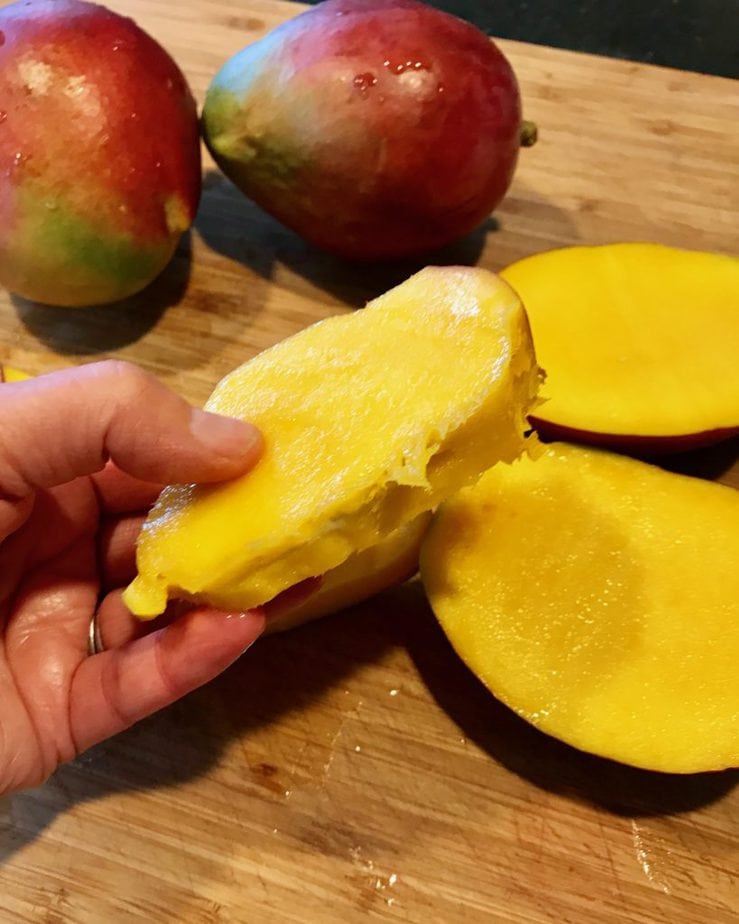 Next, slice your "halves" into slices. And slip your knife just below the skin and the flesh and then chop your slices into bite size pieces. Place in bowl, wash blueberries, drain and pour into bowl.
Zest your lemon (give a microplane a try – – citrus zesting, grating cheese, grating nutmeg or ginger) if you don't have one, just use the small side of a cheese grater.
Juice your lemon and add to the zest. And if you haven't tried this squeezer, you'll quickly learn it's one of my favorite kitchen tools!
Add honey to your slurry mixture…
Next add your orange juice to your slurry and stir; you can certainly do fresh squeezed, but I did use bottled here! Pour over your mangoes and berries.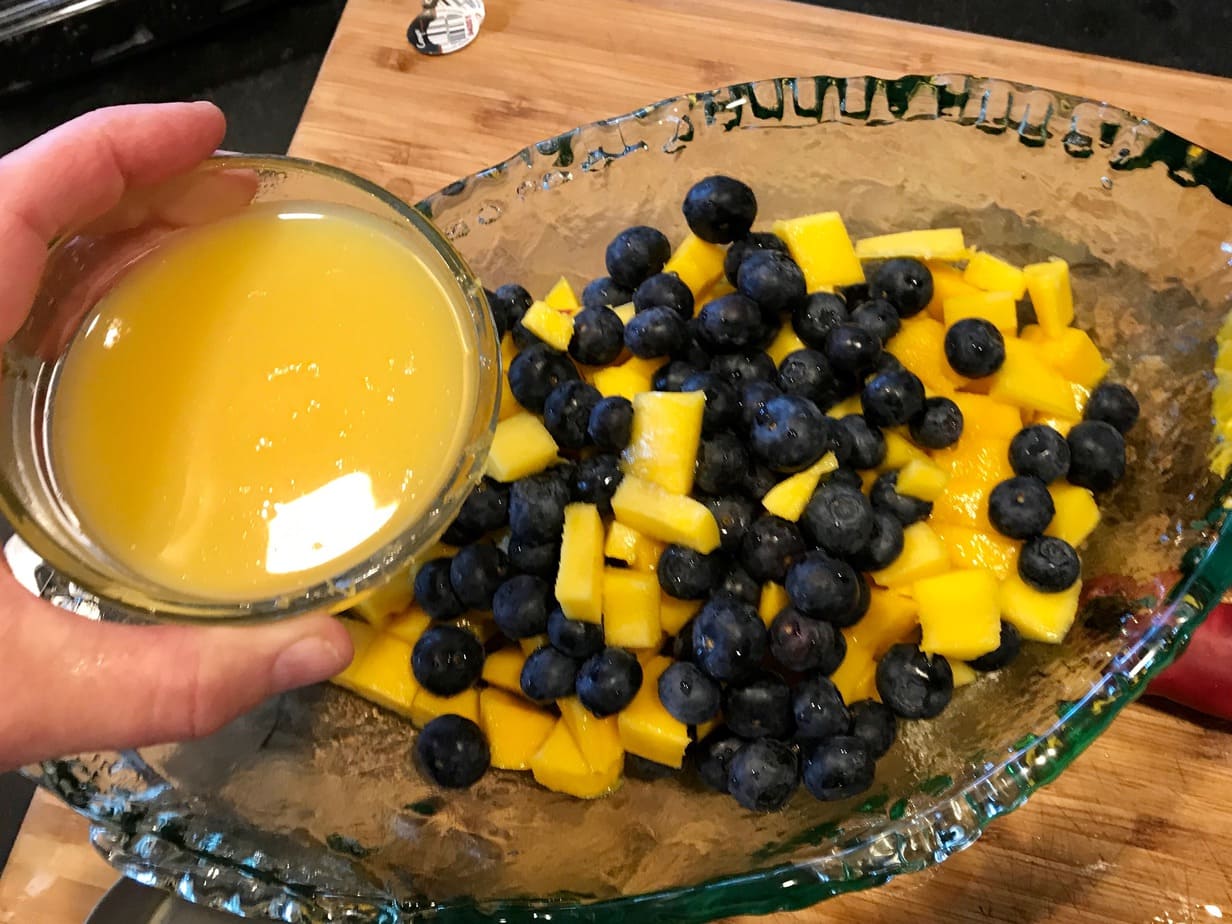 Gently stir to mix, allow to sit for an hour or two for the flavors to mesh. If making ahead for more than an hour, refrigerate until ready to serve.
GET FREE RECIPES

FROM THE FRESH COOKY DELIVERED RIGHT TO YOUR INBOX!
If desired, add additional berries and some fresh mint. Delish by itself or with additional berries. As always, make it your own!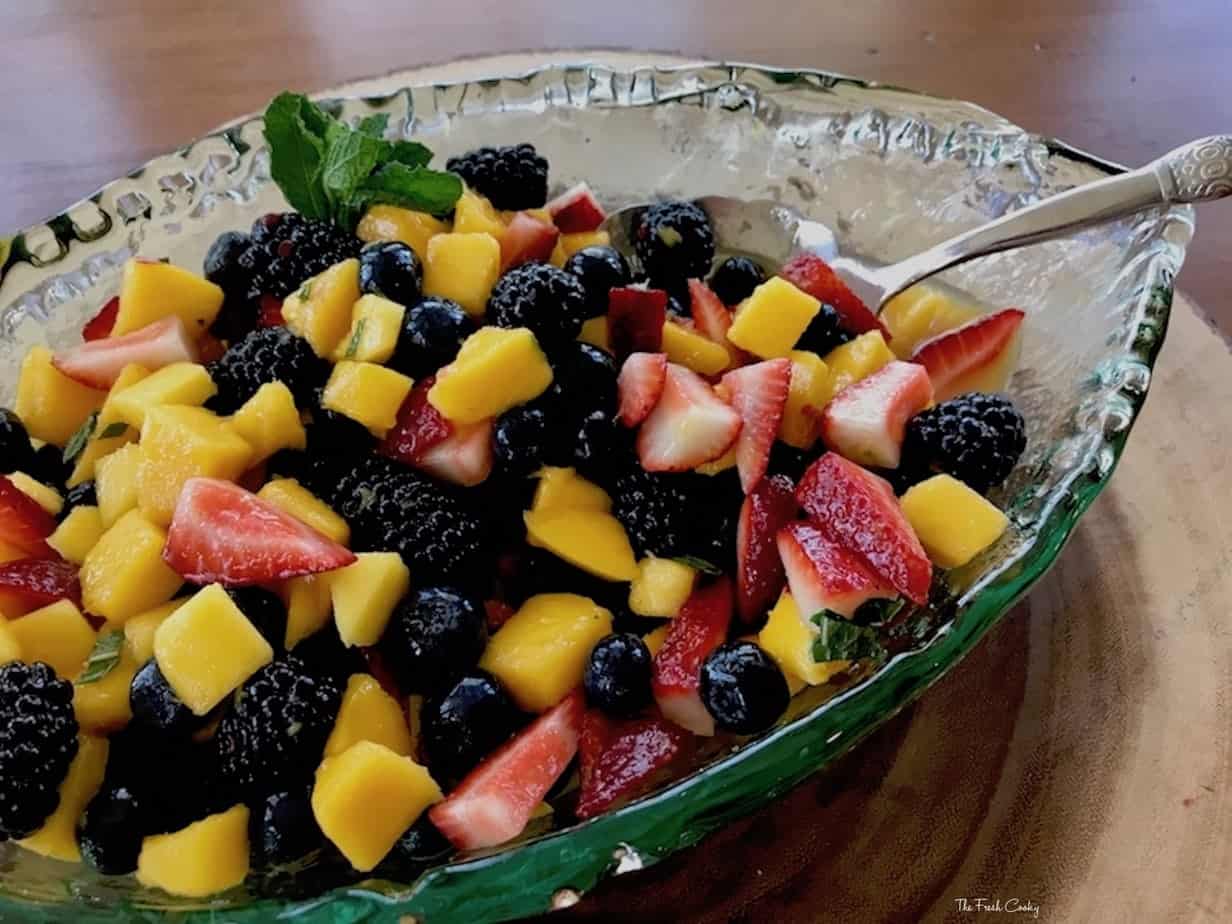 Pair this beautiful salad with Coconut Lime Chicken and Cilantro Lime Rice and you have a lovely spring or summertime meal!
I'm telling you this is one amazing tasting fruit salad, different and more zesty, lightly sweetened and vibrant than any I've ever had!!
Enjoy this recipe for Tropical Mango Berry Salad? Please leave a comment and rate the recipe in the recipe card.
Hashtag any recipes you make from The Fresh Cooky #thefreshcooky or tag me @thefreshcooky on Instagram to be featured on our stories!
Tropical Mango Berry Salad
A vibrant ultra fresh fruit salad bursting with summer ripe mangoes & berries, dressing in an all natural light lime dressing that's sublime!
Ingredients
3 ripe mangoes, washed and diced
2 pints blueberries (or if using other berries, reduce by a pint)
2-3 Tablespoons honey (as desired)
1 lemon, including zest and juice from half
½ cup orange juice
1 pint blackberries (optional)
1 pint strawberries, sliced (optional)
Instructions
Place cut mangoes (see post for how to) and wash berries placing in a bowl.
Grate zest from lemon into small bowl. Squeeze ½ of the lemon and add to zest. Add honey, to taste, sometimes if mangos and berries aren't too sweet you'll need a bit more, finally add ½ cup orange juice to zest.
Pour dressing all over the fruit, tossing gently to cover and if time, refrigerate a couple of hours.
Recommended Products
As an Amazon Associate and member of other affiliate programs, I earn from qualifying purchases.
Nutrition Information:
Yield:

8 servings
Serving Size:

1 ser
Amount Per Serving:
Calories:

198
Total Fat:

1g
Saturated Fat:

0g
Trans Fat:

0g
Unsaturated Fat:

1g
Cholesterol:

0mg
Sodium:

22mg
Carbohydrates:

49g
Net Carbohydrates:

0g
Fiber:

7g
Sugar:

40g
Sugar Alcohols:

0g
Protein:

3g
The nutritional information is estimated and may not be entirely accurate.
LOVE WHOLESOME DELICIOUS RECIPES? COME FOLLOW ALONG!
Share a picture and tag it #TheFreshCooky so we can see it.
GET FREE RECIPES

FROM THE FRESH COOKY DELIVERED RIGHT TO YOUR INBOX!