Labor Day weekend, the "end of summer", so to speak; the thermometer doesn't usually agree! How will you spend it? Laboring around your house, getting chores done, heading to the pool one last time before it closes? Driving to the mountains, lake or ocean?
BACK-TO-SCHOOL FREEZER MEALS
I've compiled five fabulous and fresh meat marinades that are sure to please! They freeze beautifully! If you plan it right, you can easily use one marinade and double each recipe, giving you a total of 10 freezer meals! Woot-woot!
Back-to-school should mean we have more time on our hands right? And yet, the first month of school is filled with evening events, try-outs, Back-to-School nights, practices, and more. Everything seems to ramp back up and I find myself staring into the mess of my refrigerator and freezer, wondering what in the world I'm going to make for dinner, mind you it's 5:00 o'clock when I'm doing this…and we have to be somewhere by 6! Eee-gads! My mom says that, I love that expression!
The first week of school I was motivated to clean out my freezer. You know, those items that are covered in frostbite that you can no longer identify them and you wonder why you even wasted precious freezer space?
I have the best intentions and the worst follow-through. So I cleaned out a couple of shelves and got busy with several recipes that are tried and true along with a few new ones that sounded like they would taste good. I hope this inspires you to make up a few main courses that thaw quickly and turn your "What's for dinner" into "Come to the table, dinners ready!"
Here are the quick links to the recipes if you don't have time to read the whole post.
What I love about these freezer meals is that while the weather is still nice, these are all very barbecue friendly.
QUICK THAW
They thaw quickly (really just an hour or two), quicker if you need to, placing the baggie in a warm water bath. As long as you have a couple of sides at the ready, they come together fast and make a nice hearty and fresh meal.
Here they are in my freezer, just waiting for that day when I don't have any time and haven't even thought about dinner!
How to Freeze Cookies for Lunches
The next day I made some ready-to-go cookies as well!
Here I have Chewy Chocolate Chip Cookies (some already baked and frozen dough balls, ready for the oven) as well as Brownie Sandwich Cookies! Great to drop into a lunch box!
As you can see, my leftover ice cream cake, panko bread crumbs, a few frozen meals…see I'm normal, sort of, well you know what I mean!
TIPS for Freezer Meal Prep day:
Purchase your meat the day of or day before and keep in fridge until ready to use.
DOUBLE UP! As long as you are taking the time, most of these recipes require little or no extra effort if you want to double the meat. A little marinade goes a long way, so don't be shy about splitting these up using the amount of meat your family will use. Generally you need about 1 cup of marinade to marinate enough meat for 4-5 people; most of the recipes make about 2 cups.
Review ingredients on all recipes, make a list and shop for fresh ingredients or any you may not have on hand.
Clear out a shelf or drawer in your freezer in order to freeze meals; it's best if the meals freeze flat while freezing, that way they stack more compactly and efficiently.
Have plenty of gallon sized freezer bags and don't forget to write on them before you fill!
Fill your sink with hot soapy water, as you finish using dishes, throw (not literally) them in the sink for quick washing and re-use.
Use bowls (these work well) that you can fold the baggies over or use one of these nifty little gadgets, a baggie holder!
When prepping ingredients check to see if they are needed for any other recipes and prep it all at one time, then set aside.
If desired, print out a copy of the recipe for each item and keep in freezer with frozen meal, that way on cooking day you aren't searching for how to cook it, or just write simple instructions directly on the baggie.
If you have a small family (like mine of 4) or small people who don't eat much, these meals can all be made into two meals each! That's quite a yield for a few hours of prep.
This first one is inspired by my mother-in-law. This is a tangy, Asian inspired pork marinade that is delicious and simple; full of flavor. She likes to cut her pork up into little chunks and BBQ, but I just decided to be lazy and use a whole pork tenderloin.
As a retired home economics teacher boy can she cook, I sure do love her! I only made one slight tweak to her recipe and used fresh ginger and garlic as opposed to dried, as I had both on hand, but I will give you both options, it's equally delicious. Give Betty's Pork Marinade a try, it will become a favorite!
Pair it with steamed broccoli or fresh corn on the cob and some steamed rice (white or brown) using the juices to pour over the rice.
Thai spice infused chicken, tender, juicy, with just the right amount of spice, not overwhelming. Use chicken thighs, breasts or tenders! I'm kind of obsessed with using coconut milk to marinate my chicken these days, it's healthy and makes the chicken oh-so-tender. You don't taste the coconut at all, I'd know it too, because my non-coconut loving family would definitely let me know!
I made this Thai Coconut Chicken early the other night, it was one of those crazy nights, where everyone eats at different times. As we were running out the door to get our older son to swim team tryouts, I sliced up his Thai Chicken and put it on a french roll, sprinkled a little cheese on top and warmed it up for a quick and healthy on-the-go meal. He loved it! Oh and he made the team!
Pair it with a red baked potato, sautéed summer squash and zucchini and you have a complete meal.
Flank steak is a relatively simple cut of steak to barbecue, it doesn't take long and it's a delicious, tender and somewhat elegant meat to serve. Though I think it does need a good marinade. I loved this idea for Balsamic Flank Steak because you have both your salad dressing as well as the marinade all in one! You could also roast some yummy summer veggies (zucchini, summer squash, tomatoes, onions, peppers) and drizzle a little balsamic over them to serve!
Pair this Balsamic Flank Steak with a fresh salad (using the leftover balsamic dressing), flaky biscuits and some juicy watermelon; a simple weekend or weeknight meal.
YUM! Coconut Lime Chicken has most certainly become one of our family fav's! It is so bright with the tartness of the lime, married with the mellowness of the coconut milk. Melts in your mouth! Don't be afraid to swap out the Italian parsley for cilantro, I go back and forth, equally delish!
Pair it with Cilantro Lime Rice, a crisp Caesar salad, green beans or other veggie of choice.
Once again this Asian inspired flank steak will melt in your mouth. Another family favorite, this Marinated Flank Steak is so simple and easy to throw together, and having it all prepped in the freezer, makes it even easier to put a healthy meal on the table in no time! Easily doubled!
Pair it with baked sweet potatoes, crispy asian slaw (it's okay to buy bagged salads, I do!) and you've got a beautiful meal; for your family and/or company!
That's it, five fantastic dinners that can be ready in a flash! All of them easily doubled; in no time you can have 10 meals at the ready in your freezer for those busy nights.
Just click on the name of each item for links to each recipe!
And if you are looking for other back-to-school ideas, give these lunch box ideas a try!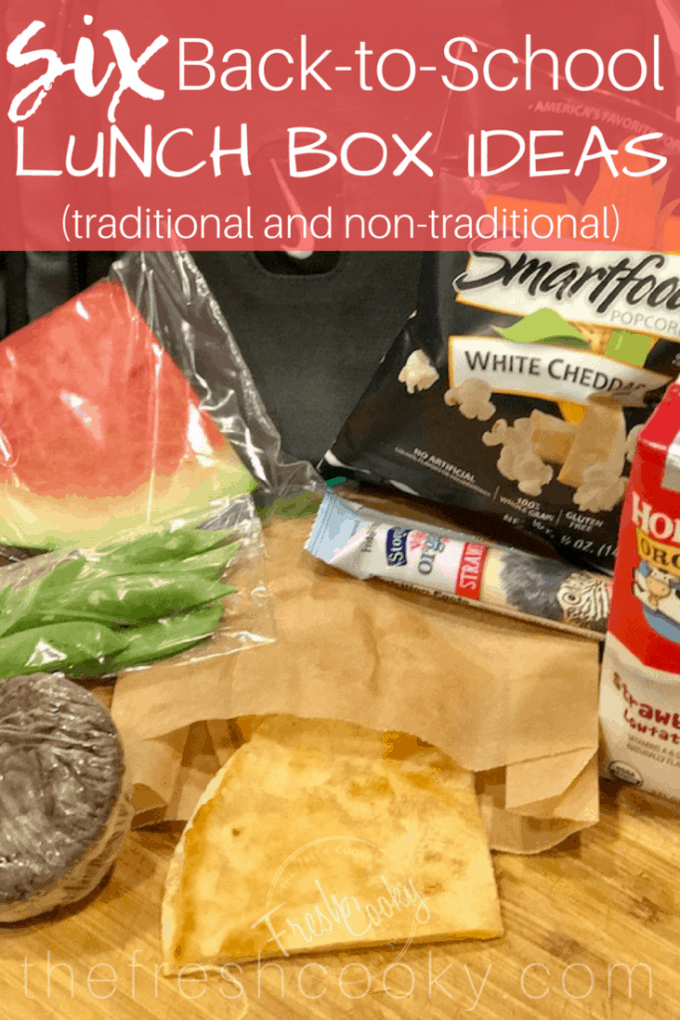 Happy Labor Day, I hope you enjoy a reprieve from your labors and enjoy some of the last days of summer, fall's a comin'!
Oh and after you make all these wonderful meals, make yourself one of these simple margaritas to sip on while you throw something on the barbie!
If you try any of these recipes, be sure to tag @thefreshcooky on Instagram and hashtag #thefreshcooky and/or comment below.