The Best Bison Burger Recipe with Caramelized Onions
As an Amazon Associate, I earn from qualifying purchases. Please read my disclosure policy.
A restaurant-style bison burger recipe with caramelized onions are amazing — afraid of bison, don't be! Tender and juicy. Or try ground turkey, chicken, or beef burger! Plus easily convert to gluten-free, Paleo, Keto and Whole30! These are the best juicy burgers around!
Have you ever had a bison burger before though? It is the best burger, a juicy bison burger that is not gamey, it is lean and so delicious, especially when amped up a bit with a few ingredients! Serve with these amazing Air Fryer Potato Wedges.
You might enjoy these delicious summertime salads to go with your bison burger! Asian Ramen Noodle Salad, Sun-Dried Tomato Pasta Salad or this yummy Tropical Fruit Salad.
Why You Will Love this Recipe
Lean ground Bison meat makes a tender, amazing burgers.
Super simple, with a few spices to make your flavorful bison burgers mixture
Best bison burgers I've ever made. I make these about once a month. Have shared with numerous friends who said best burgers they have ever made!!

Donna ~ Happy Reader
This recipe was originally posted in 2017 and I've updated the content and pictures for a better reader experience, the recipe has stayed the same.
Simple Ingredients
Ingredients, directions and nutritional information in the printable recipe card at the end of the post.
Ground Bison | I buy mine from Costco and Whole Foods, I like to buy grass-fed bison and prefer American bison, also try ground beef, chicken or turkey
Panko bread crumbs | Panko is lighter and crisper than regular breadcrumbs, use gluten-free if trying to keep GF
Spices | Use dry mustard, onion powder, seasoning salt, a touch of garlic powder and a little black pepper
Worcestershire sauce | Adds a punch of amazing flavor, make sure Gluten-Free if that's important
Ketchup | Adds delicious, but subtle flavor
Cream | Use heavy cream or ½ & ½, this adds moisture and helps bind the mixture
Cheese | Use your favorite, try aged cheddar, Swiss, Pepper Jack, even Blue Cheese (that's my fave)
Pretzel Rolls or other hamburger roll of your choice
Caramelized Onions | Don't worry I show you how in the recipe
Best Onions for Burgers
I love caramelized onions on my burgers, after all if I show up to a restaurant and a Patty Melt is on the menu, I shut the menu, decision made! Soft, buttery, caramelized onions are in my opinion the best onions to put on your burgers! No harsh bite, doesn't leave you with onion breath and oooh are they delicious! My favorite onions are sweet onions or a red onion works too!
Back to our regularly scheduled post about burgers!! Have you ever tried bison or elk? They both make DELICIOUS Juicy Burgers! Bison is more readily available in the grocery stores and Costco here in Colorado, but if you can get your hands on ground elk, go for it! Or of course try ground beef, turkey or chicken as well!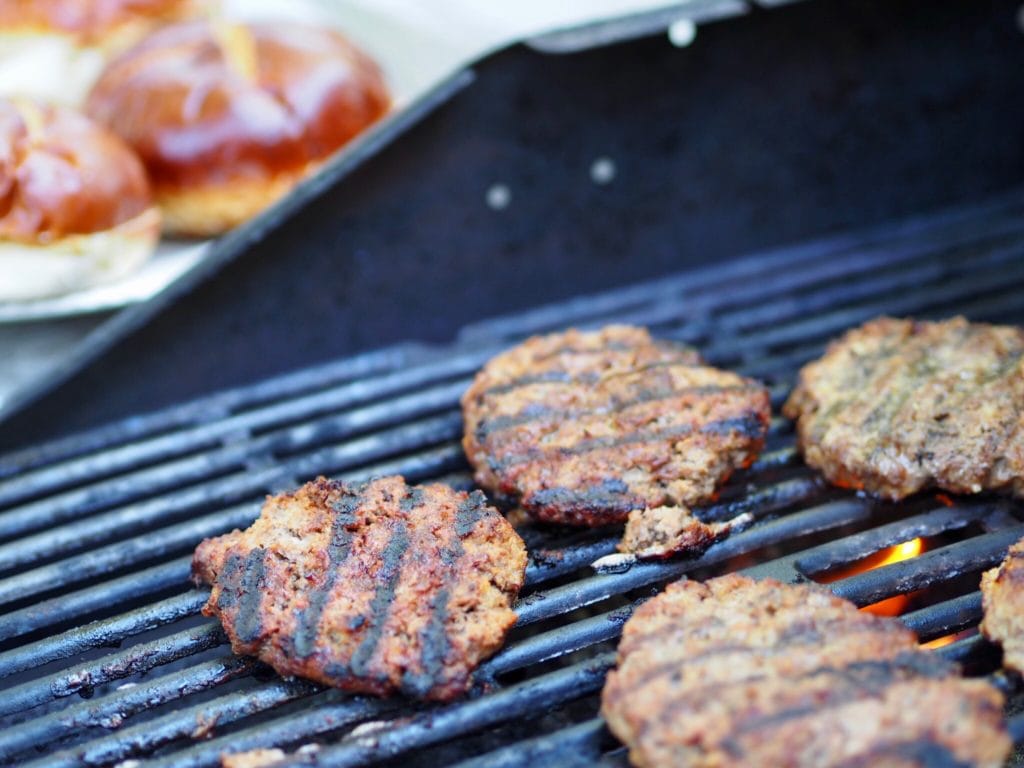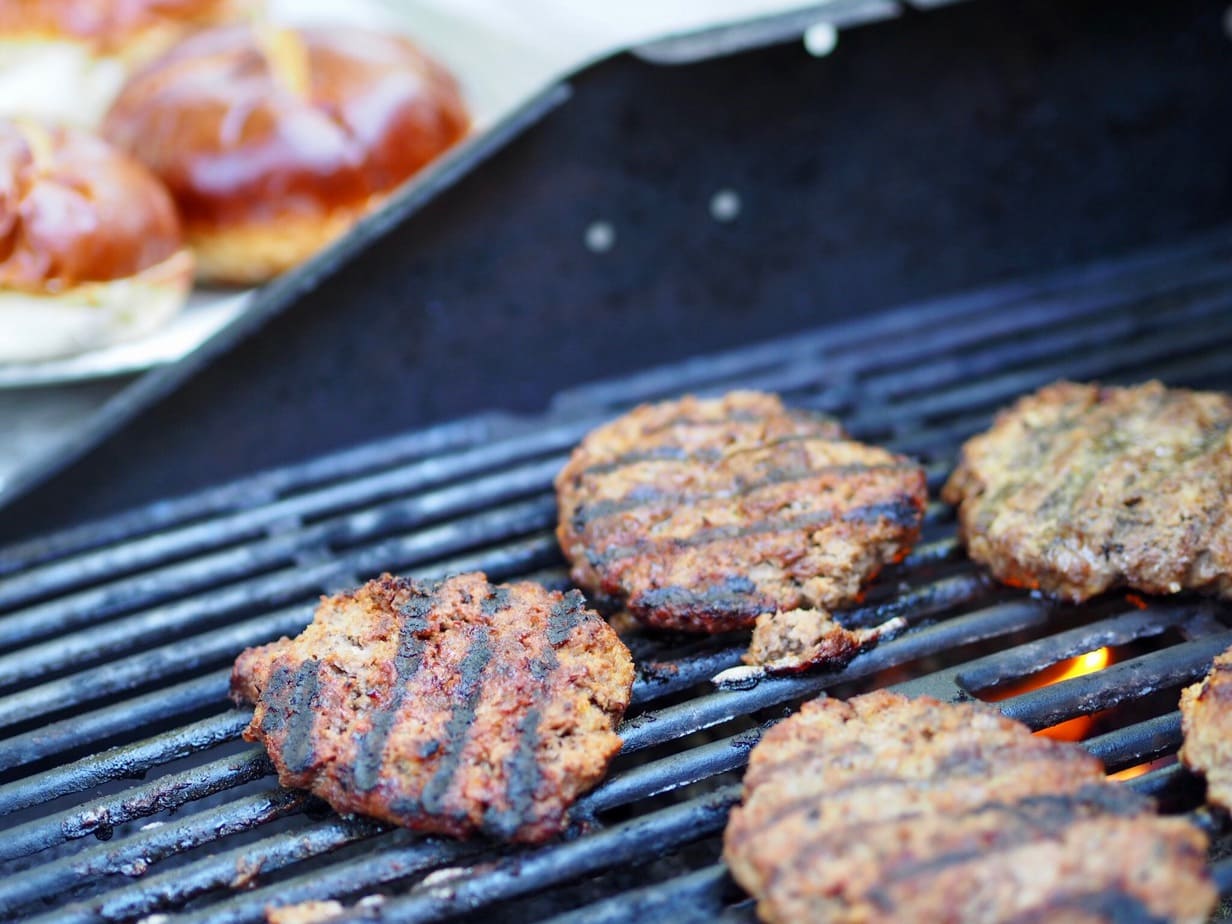 Make these burgers with other ground meat
I love bison, it's so lean and flavorful! Some people think it's gamey, I don't and I think I'm slowly converting my husband…because he really likes these bison burgers!
You can certainly swap out beef or ground turkey or chicken for that matter, for the bison, they are just as good!
If you haven't tried bison, give it a whirl, it's leaner, healthier, and SO delicious!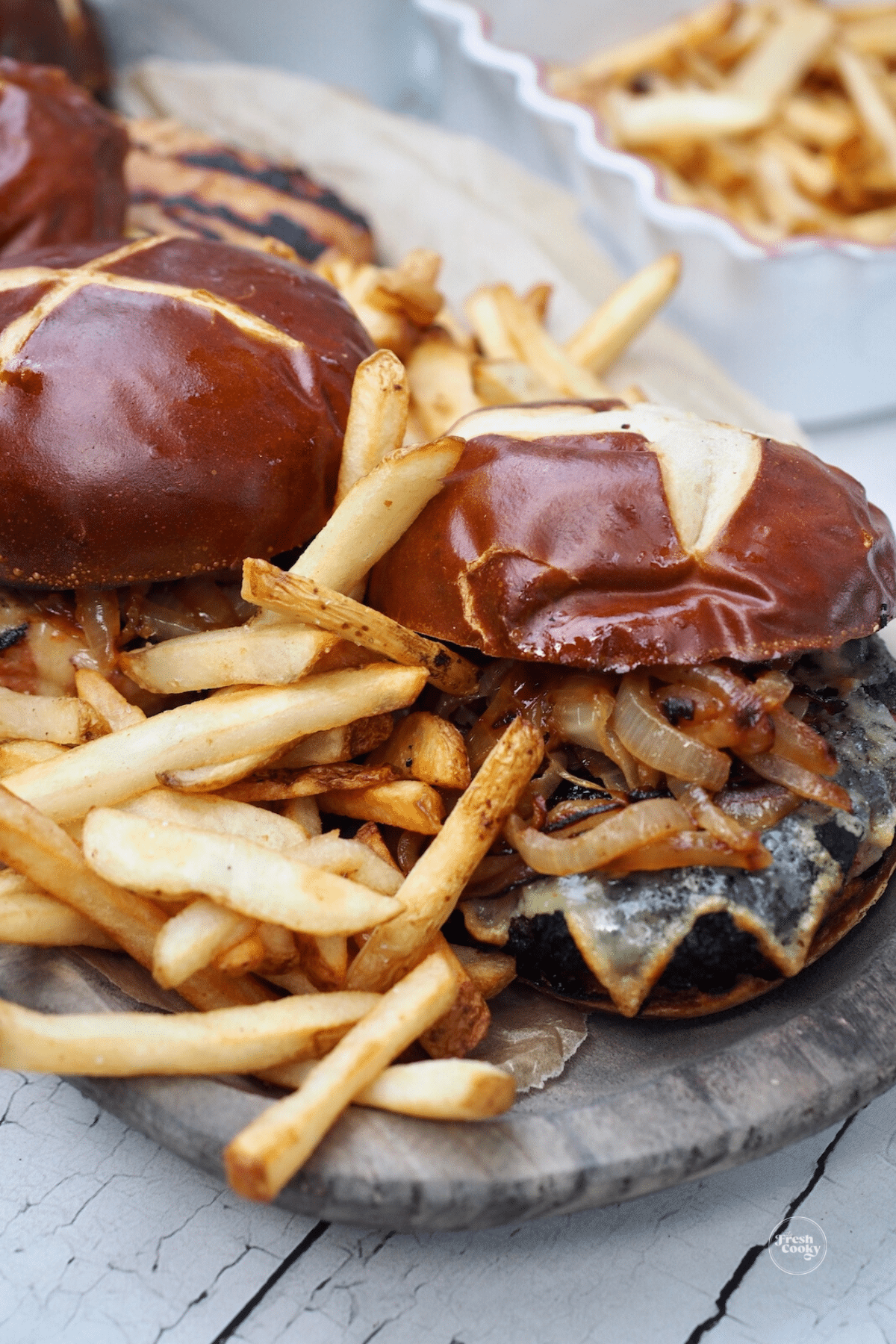 I love bison, it's so lean and flavorful! Some people think it's gamey, I don't and I think I'm slowly converting my husband…because he really likes these bison burgers!
Frequently Asked Questions
Can I make these burgers with other ground meats?
You can certainly swap out beef or ground turkey or chicken for that matter, for the bison, they are just as good!
If you haven't tried bison, give it a whirl, it's leaner, healthier, and SO delicious!
How should bison burgers be cooked?
Grilled or in a skillet. Because bison burgers are so lean, you need to be careful you do not over cook them. Grill on a lower heat and watch carefully. Or fry in a skillet with a little butter or oil.
How do you keep bison burgers from falling apart?
It's true, they are so lean that they can easily fall apart, which is why we add the cream and Panko to the mixture. This helps bind the ground meat together.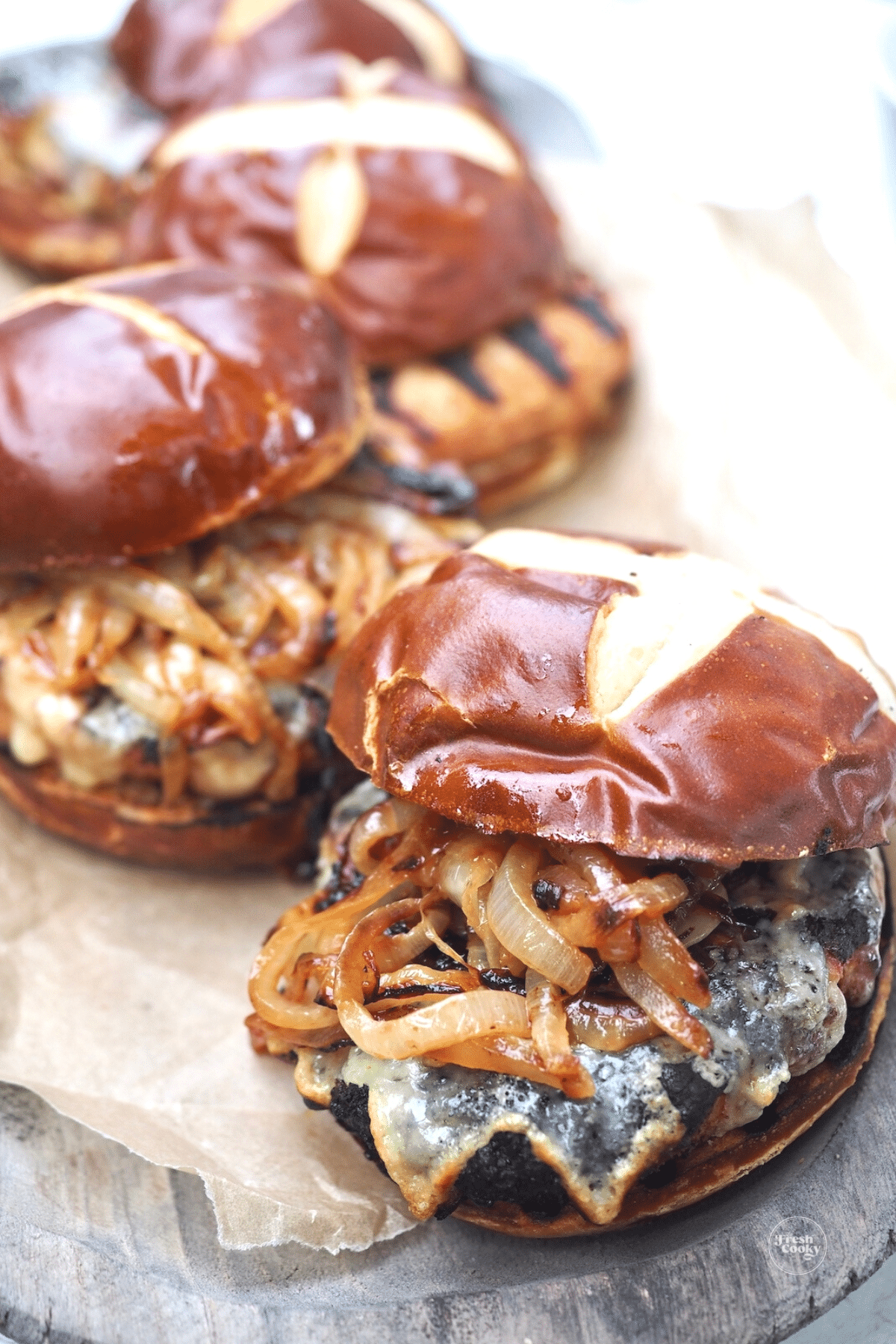 7 Top Tips for the Best Bison Burger Recipe
Take 5 minutes to add a few key ingredients for the juiciest burger ever!
Thumbprints work! When forming burgers, make a well in the center of the patty, this allows for shrinkage and helps the burger cook evenly.
Allow the burger mixture to "mingle" while you prep your grill, get your sides and toppings out, etc.
Use tools from your kitchen to make uniform burgers; like the lid to a mason jar (small for sliders, large for regular), but there's nothing wrong with the old fashioned way, shaping with your hands!
Make sure your grill is clean, oiled and hot! Kind of a no brainer. Especially if you want grill marks!
LID OPEN! Leave the lid to your grill open, not only so you can keep an eye on things, but also so you don't end up smoking the burgers.
Once cooked, remove burgers to a plate and let them rest again for a few minutes before serving. This allows the juices that would have normally escaped to return to the burger.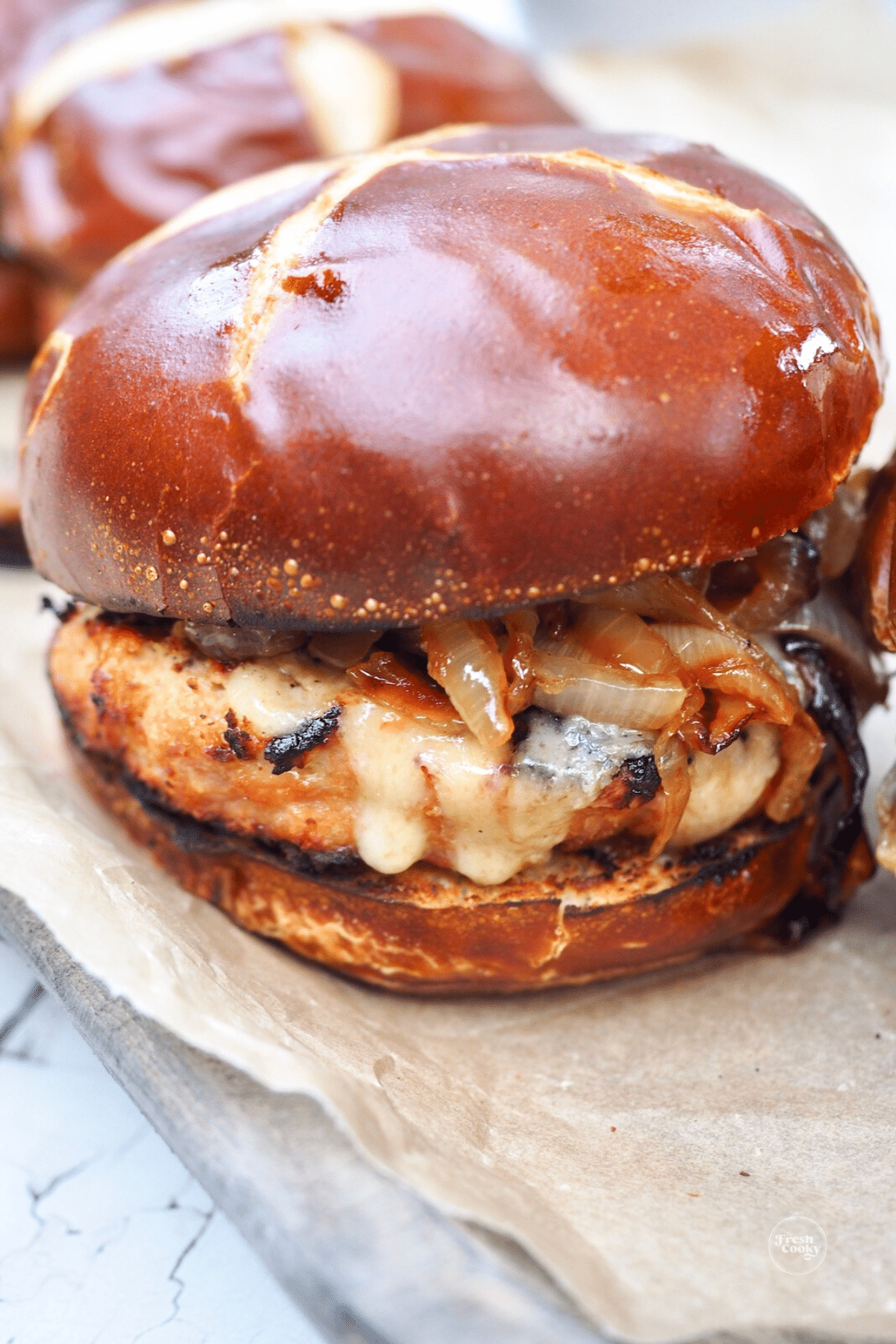 A Guide to Knowing When Your Burgers are Done
Everyone likes their burgers cooked differently. Me, I used to be a "burn it baby" kind of burger eater, but in my later, more mature years I've come to enjoy burgers that aren't hockey pucks and can even tolerate a smidge of pink, just a smidge mind you.
So how do you know when your burgers are done? Here is a fabulous and simple guide from DELISH on temps and tips for the best, perfectly cooked burgers.
I've started using a meat thermometer more frequently, takes a lot of the guesswork out of when your meat is done. This brand one of my favorites and it won't break the bank either, for the Cadillac version, try this one. Internal temperature should read 140 degrees F for medium rare up to 160 degrees F for well done. Try to shoot for the 150 degree range.
How to Make the Best Bison Burgers
Plop your ground bison in a large bowl and add Panko bread crumbs (Gluten Free if needed), spices and combine bison with mixture.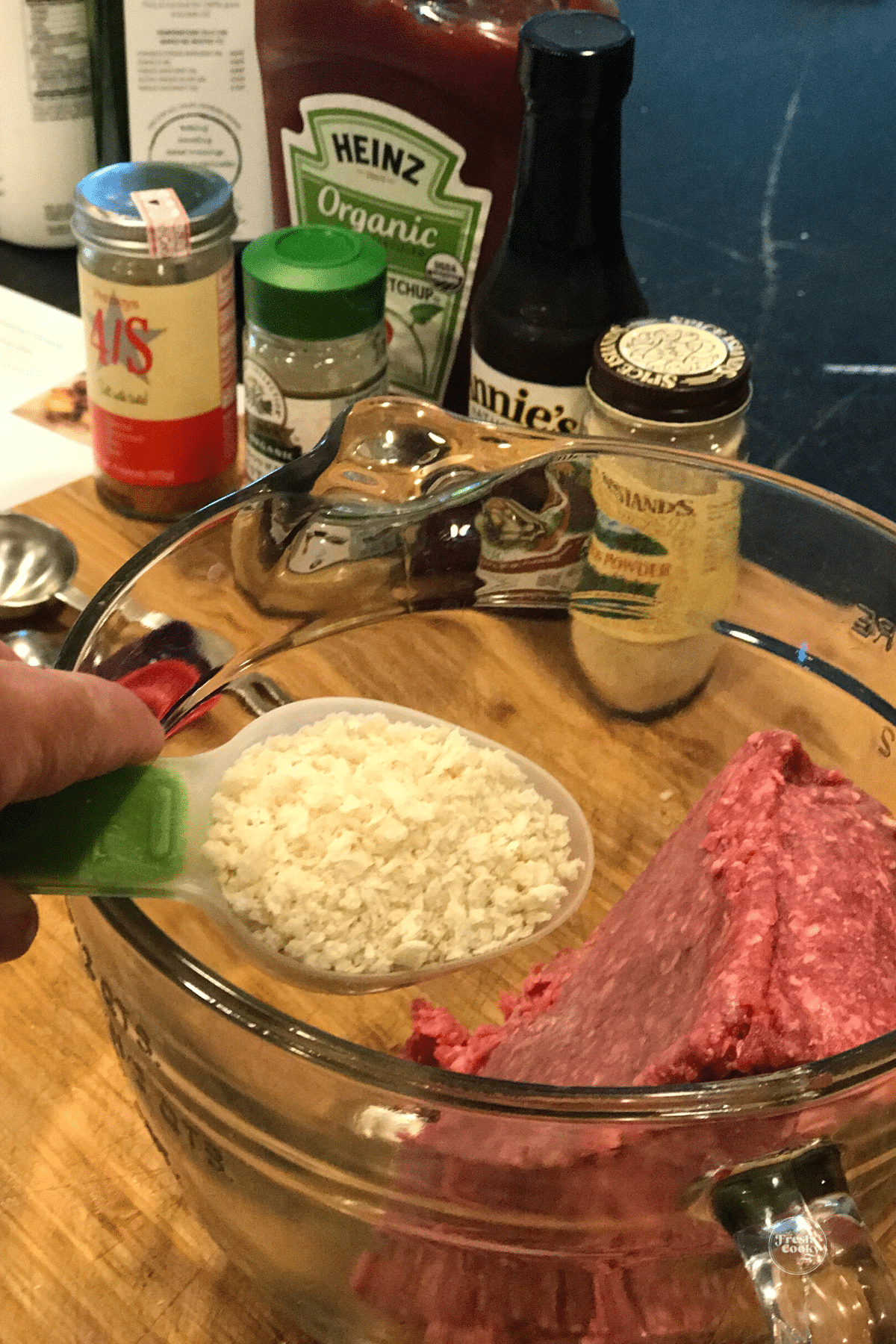 Mix in dry mustard, onion powder, seasoning salt, Worcestershire, ketchup and cream.
Mix well and form into 4 or 5 patties, makes about five ¼ lb burgers (our bison comes in 1.25 lb packages, if your meat only comes in 1 lb, packages you don't need to adjust a thing, they will taste just fine). Or if you need 6 burgers, it's fairly easy to stretch this recipe to another burger.
Why Make a Well in a Burger Patty
Using the back of a tablespoon or simply your thumb, squish an indent into the center of each patty forming a little well. This enables the burger to cook more evenly and prevents significant shrinking.
Plus it creates a great well to pour a little more Worcestershire sauce into, totally optional. Allow burgers to rest at room temp while you caramelize the onions and gather your toppings and condiments.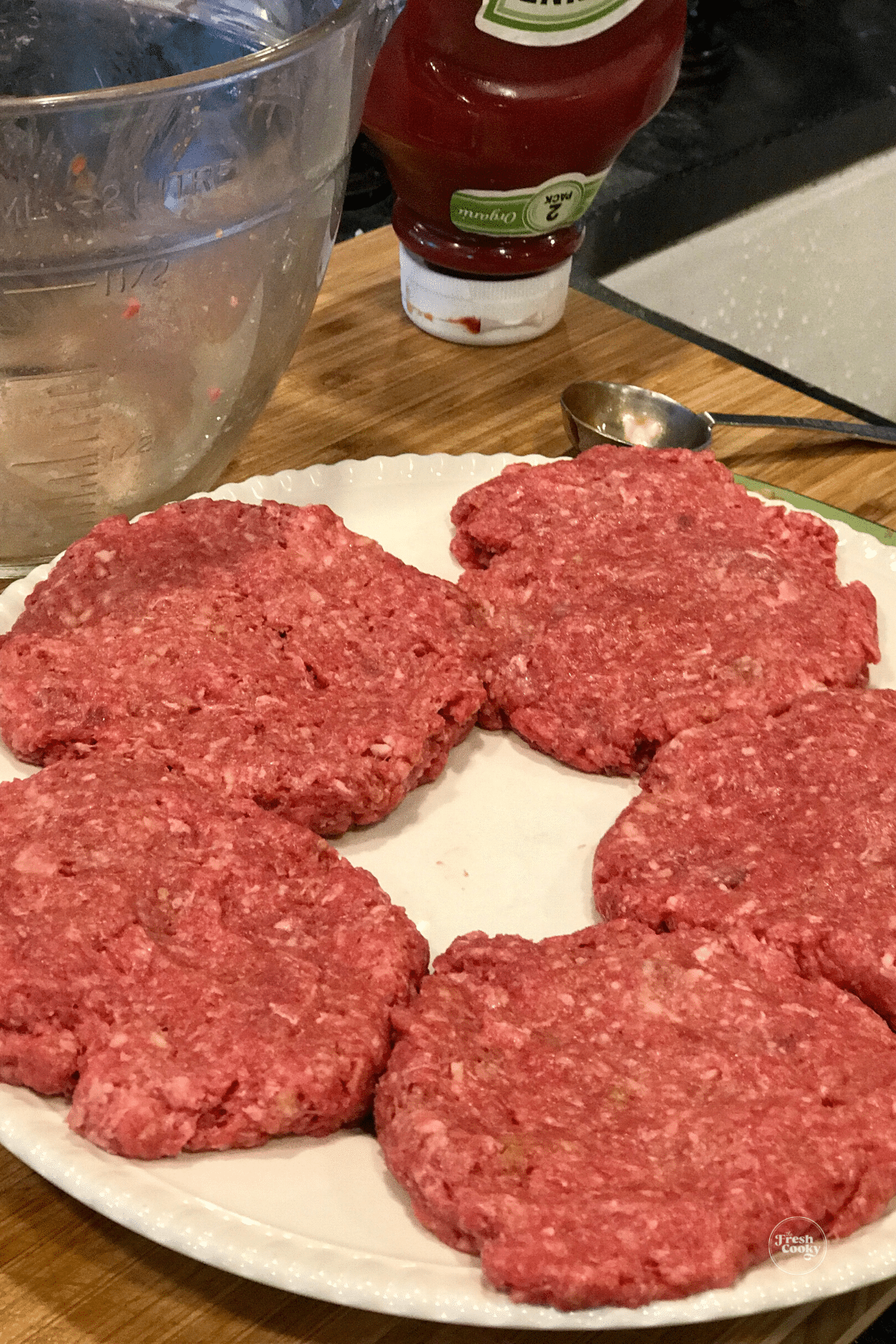 How to Saute Onions
In a pan, on medium-high heat, add a tablespoon of olive oil and a tablespoon of butter.
Slice onions and toss into the hot oil/butter in a skillet, I love using cast iron for grilled onions. Cover, reducing temp to low and stir occasionally until beautifully caramelized and they have made your home smell so wonderful that your people come from hither and yon to see what in the world you are making!
Can you tell I love caramelized onions, their natural sweetness is brought out by slow cooking. Adding such scrumptious flavor! Cook, covered for about 20 minutes over medium to low heat.
About the last 10 minutes of caramelizing, start your grill or get your grill pan ready on the stovetop to cook the bison burger recipe.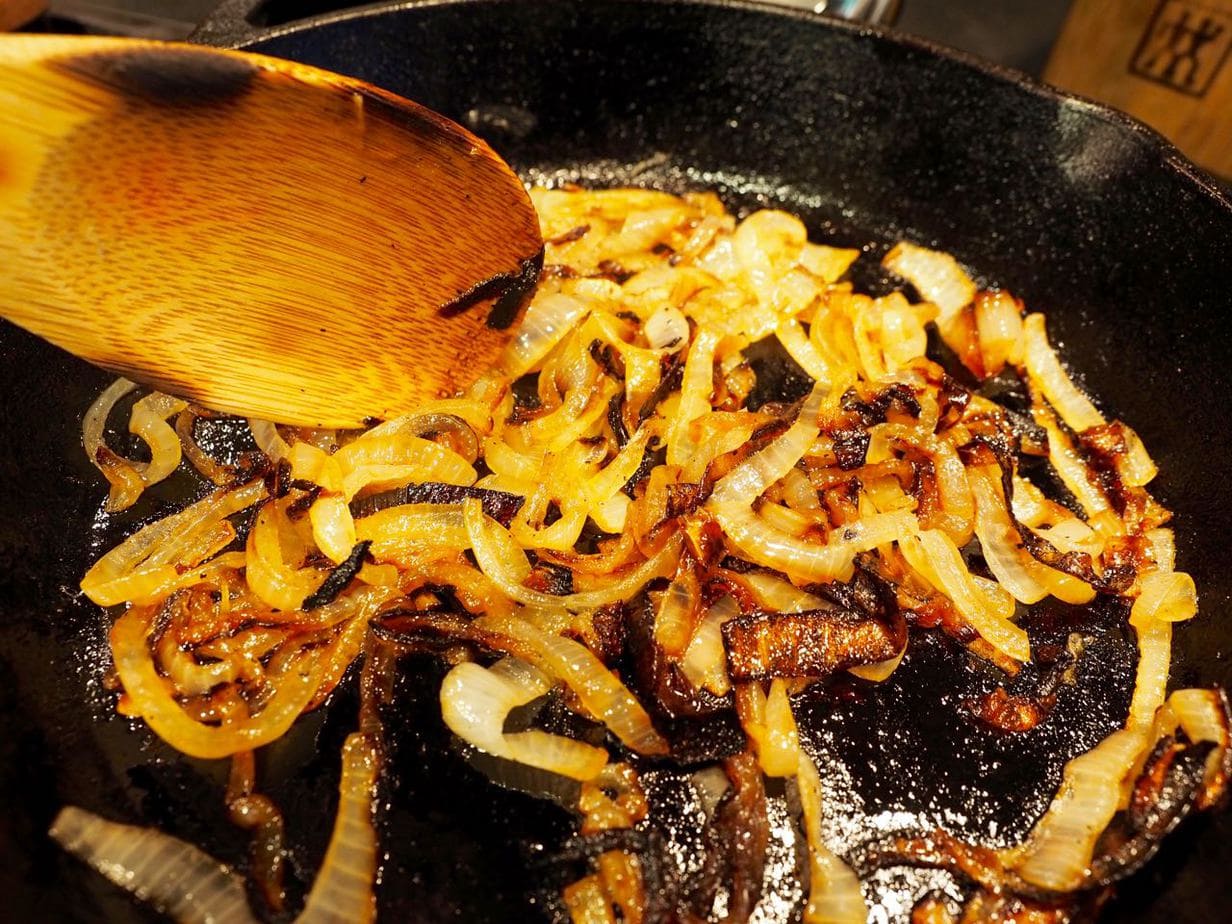 Cooking Time
Grill or pan fry your burgers about 5 minutes over medium heat for medium to medium well burgers. You might want to add a splash of butter or avocado oil to the pan if pan frying instead.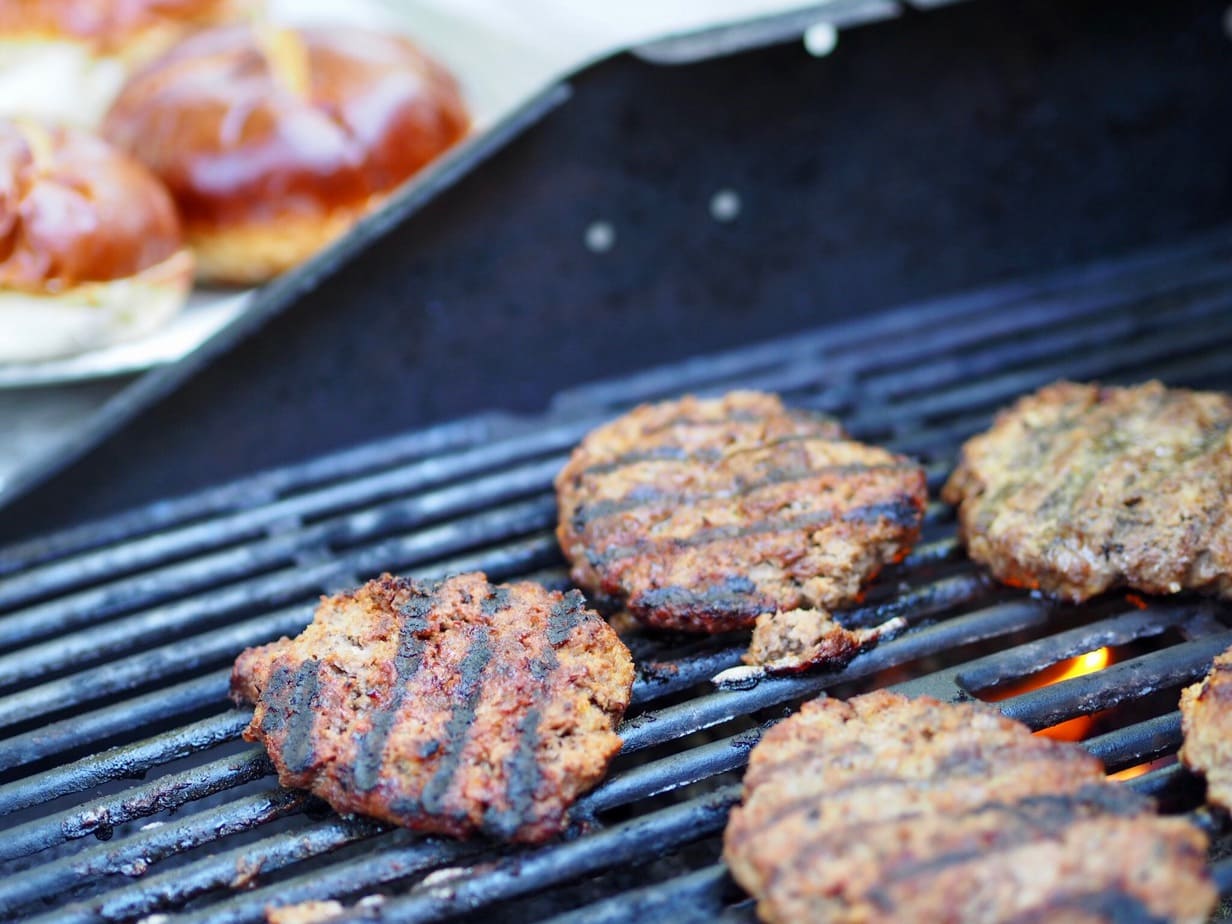 Flip and grill 3-4 minutes longer, add a slice of your favorite cheese during the last minute of grilling. Allow to rest for a few minutes to allow juices to fully absorb.
If desired, get out your griddle and slather a little butter onto your buns; grill on medium-high heat for a few minutes until golden, remove. Or place on the grill just until grill marks show on inside of buns.
These burgers are super lean, don't overcook them…this coming from a girl who likes her red meat dead, but seriously, don't overcook them you will have a tough burger.
When you flip them they tend to crumble a bit, but have no fear, just use a nice large spatula and get under it fast. If you lose a little piece, just pluck it out when you are ready to serve and place on the bun and then add your favorite toppings, finishing with you top bun.
Place burger on pretzel roll or your favorite hamburger bun (or go bun-less), spoon on some of those wonderful onions and voilà! A lovely, juicy, so very flavorful bison burger!
Bison burger patties are a great alternative to regular burgers.
Serve this bison burger recipe alongside with sliced cucumbers, carrots and tomatoes, or maybe some kettle chips, or tater tots, fries or watermelon…you get the idea.
Variations
Use kosher salt in place of the seasoning salt.
Replace Ketchup with BBQ sauce.
Add a splash of hot sauce
By the way, this would be lovely paired with this Mile High Mud Pie or the Best Chewy Chocolate Chip cookies.
More Recipes You'll Love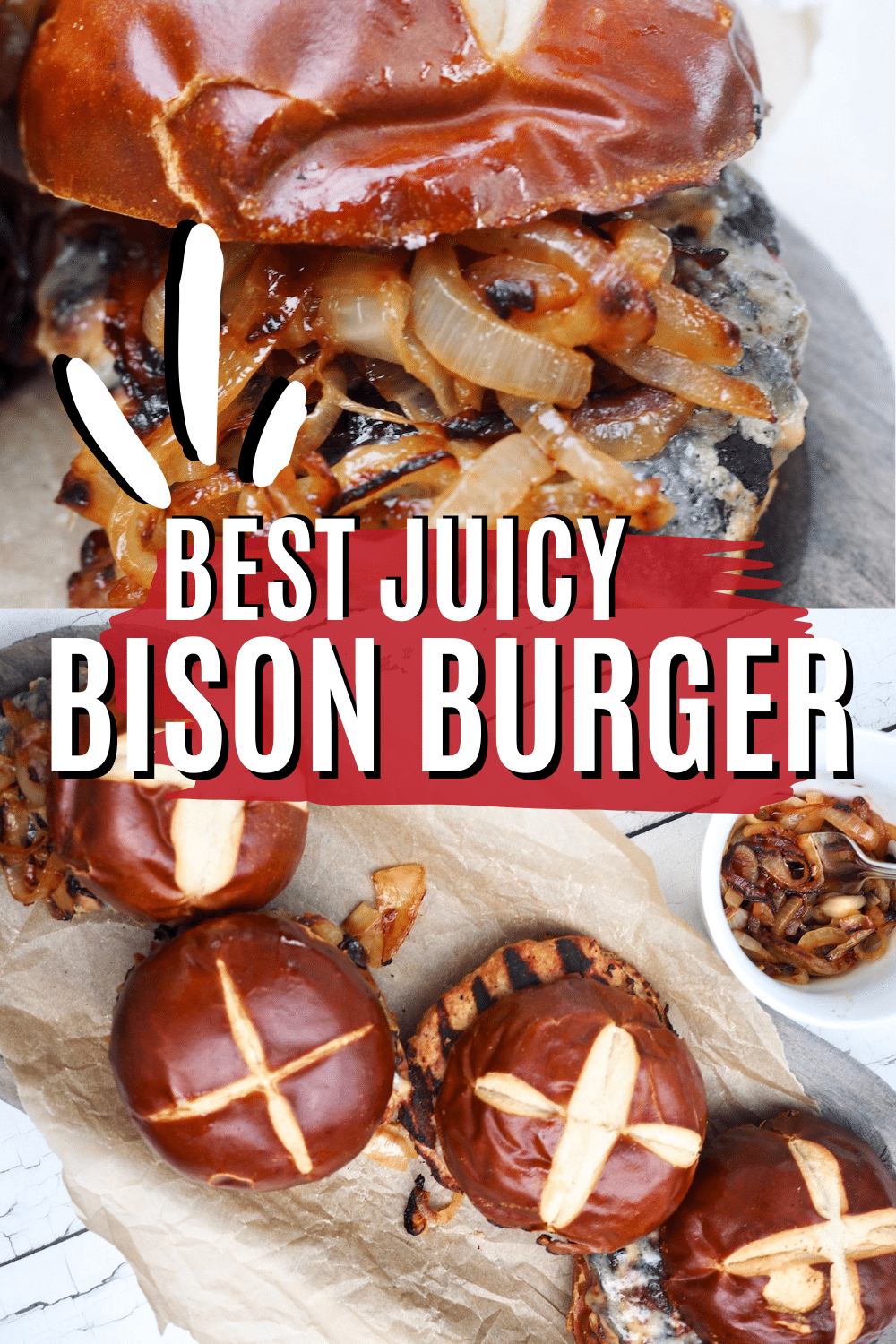 Gluten-Free, Whole30, Paleo and Keto Bison Burgers
Gluten-Free | Omit or replace breadcrumbs with GF Panko and replace bun with lettuce wrap or GF bun
Whole30 & Paleo | Omit breadcrumbs, replace cream with water, careful of your Worcestershire sauce or omit, omit ketchup, replace with clean tomato paste, no cheese, check seasonings and omit if needed. Replace bun with lettuce wrap.
KETO | Omit panko, watch ingredients in condiments and seasonings, replace bun, wrap with lettuce and it will be an amazing bison burger recipe.
I hope you loved this bison burger recipe — if you did, would you share your creation on Instagram, Facebook and Pinterest? And be sure to comment below!
Like this recipe?
Don't forget to give it a ⭐️⭐️⭐️⭐️⭐️ star rating and comment below the recipe!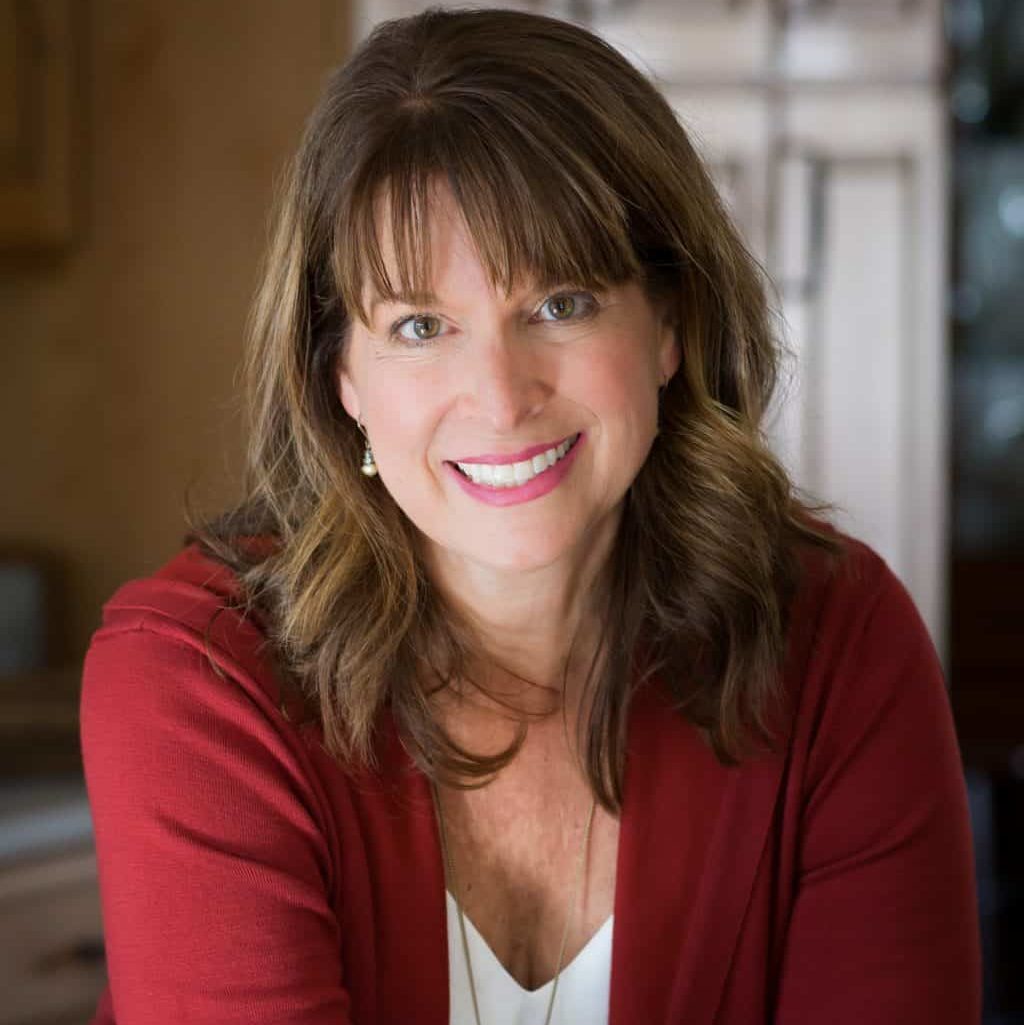 About Kathleen Pope
Recipe Innovator | Food Photographer | Food Writer
Hi, I'm Kathleen Pope. Here at The Fresh Cooky you will find easy, mostly from-scratch, trusted recipes for all occasions. From speedy dinners to tasty desserts, with easy step-by-step instructions. I am here to help teach you how to make mouthwatering recipes without spending hours in the kitchen. Read more about Kathleen here.