As an Amazon Associate, I earn commissions from qualifying purchases (
disclosure policy
).
Oh Hi! How are you? So what is it about May that makes us all a bit crazy? Maybe it's just me, but I find myself scrounging through the freezer (at 5:52 pm), praying I have something that will provide nourishment for our family, in about 30 seconds. Anybody else? Don't leave me hanging!
If you are a mom or dad with school age kids you know what I am talking about. The older I get, I keep thinking May will slow down, but it doesn't, it hasn't. Watching my friends who are further down the empty nesting road than we are, it doesn't seem to change — I get the idea that they put an accelerant in the water in the month of May!
This was my to-do list this week, some I accomplished – lots I did not:
Order cap and gown for graduating senior ✅
Go through thousands of photos, picking just the right ones without turning into a puddle of tears ✅
Make photo collage for After Prom ✅
Cheer your senior on during the last swim of his career, check out my Instagram to see his last race ✅
Plan grad party with friends ✅
Buy spring annuals and plant (the pickings were pretty slim last week) ✅
Order mulch
Get the car washed
Get my nails done (priorities!) ✅
Plan for family coming into town for graduation ✅
Reconcile business accounts, process quarterly reports
Make bath salts for bridal shower I am co-hosting ✅, coming soon!
Test and shoot several recipes for Lemon week this month ✅
Create new recipes, update old recipes, interact with readers, write blog posts, and send email to my readers ✅✅✅
Sip my favorite spring beverage, watch an episode of Doc Martin (we get the discs from our local library), fall into bed, read for a bit — sleep, wake, repeat!
So your week may not quite look like mine, but I know that you are busy too; maybe you are busy spring cleaning, planting, weddings, graduates, summer planning and so much more. I just feel like May stretches us to capacity!
What does this have to do with food?
So what in the world does this have to do with food blogging? I wanted to give you my top 5 last minute dinner recipes! And I would love to hear your favorite last-minute recipes too!
Rhubarb Season
Is your rhubarb coming into season? I have not had luck getting any plants to take, but I have neighbors who are generous with their rhubarb each year — give these delicious rhubarb recipes a try, including my newest — Old Fashioned Rhubarb Cake.
That's about it, by this time next week we will have graduated our youngest and have a house full of family and friends!
I am, as always so very grateful that you allow me in your inbox each week AND that you actually click through and read these posts. I would love to hear what your favorite last minute dinner ideas are, pop down to the comments below and share! Or reply to the original email.
Weekly Inspiration
We have been reading through the One Year Bible and there is a daily blog that goes along with it, each day he shares a song that goes along with the readings. This week, one of the songs was a great reminder, it's an oldie-but-goodie! Friends.
Reflecting on the incredible friendships our boys have developed in our neighborhood through the years, it's especially meaningful to me — friends are friends forever; when the Lord is the Lord of them!
May your week be fertilized with truth, sprinkled with grace and showered in love!
I am eternally grateful for you,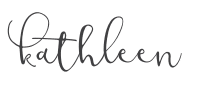 P.S. Be sure to browse through last weeks Fresh Fridays for more great recipes!
Visit The Fresh Cooky's Amazon Shop