As an Amazon Associate, I earn commissions from qualifying purchases (
disclosure policy
).
Boost your immune system with these amazing three, tasty Immune Boosting Recipes.
DELICIOUS IMMUNE BOOSTING RECIPES
What do Bone Broth, Veggie Broth and Elderberry Syrup have in common? How does immune boosting, inflammation busting, antioxidant loaded, cold and flu preventing, digestion helping sound? And those are just a few of the benefits in these marvelous homemade concoctions, plus they all taste fantastic and have multiple uses!
JOIN THE FRESH COOKY ON PINTEREST
Before sugar plums start dancing, turkeys are basting, pies begin baking, cookies are rolling…first, let's work on boosting our immune systems, because full confession, I love all things Thanksgiving and Christmas, especially all of the wonderful goodies and foods, but I do recognize that we need to keep our systems running and it's a known fact that sugar depresses the immune system.
THREE IMMUNE BOOSTING AND TASTY RECIPES YOU CAN MAKE IN A WEEKEND
Immune Boosters | Cold and Flu Fighters
This recipe for Beef Bone Broth is one of the most powerful superfoods there is and is extremely nutrient rich. In a relatively short period of time you will be sipping on this amazing broth or using it for soups and stews. Easily convert this bone broth to Chicken Bone Broth.
Delicious, nutritious, immune-boosting, gut-healing vitamin and mineral rich vegetable broth! Perfect to sip, use in soups, stews or anywhere you use veggie broth.
A spoonful of Homemade Elderberry Syrup every day will help boost your immune system, preventing and treating flu and colds. Instant Pot or Stovetop
Plan for it, or save it for after the new year, when we all decide to eat healthier, but I encourage you to try and make at least one of these before the holiday season. Let's arm ourselves for the upcoming flu and cold season with these immune boosting recipes.
IF YOU GET SICK, HERE ARE SOME GREAT FEEL BETTER RECIPES
Even more Immune Boosting Recipes
Try these incredible immune boosting recipes as well! I am all about tasting good, healing with food, gut health and balance in our lives!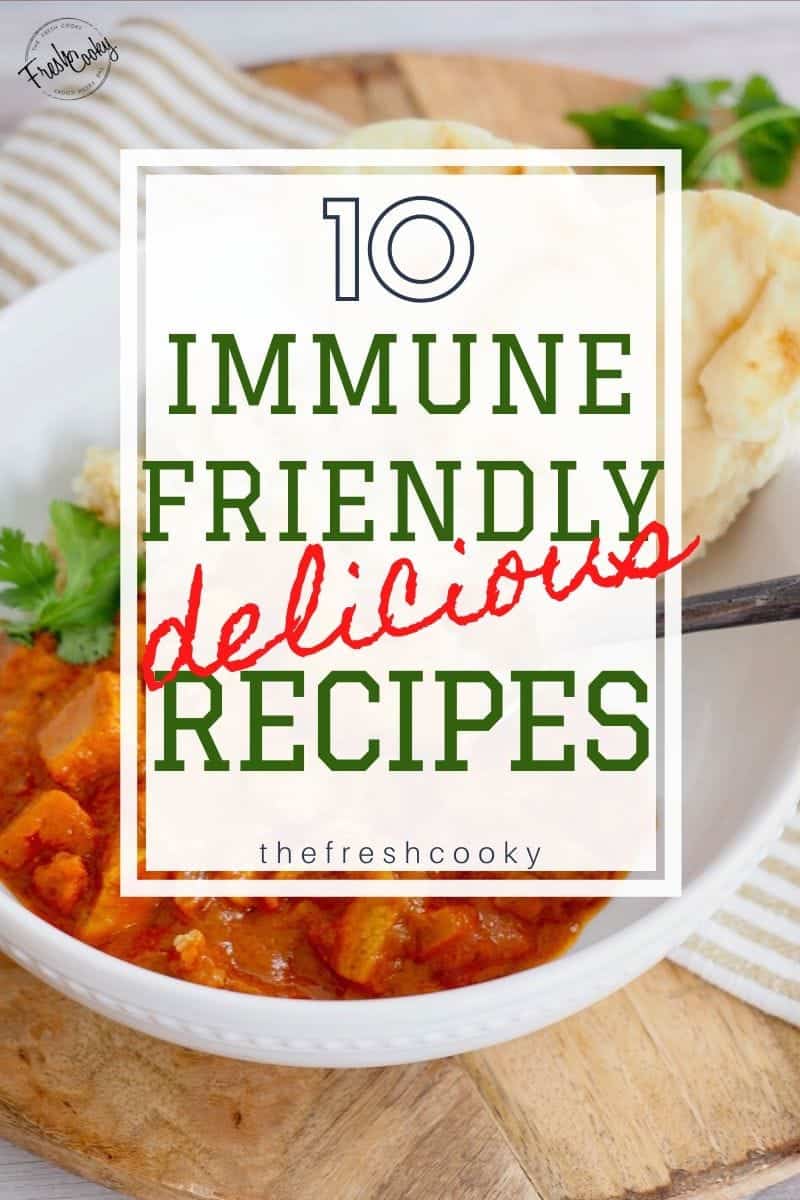 JOIN THE FRESH COOKY ON PINTEREST
I hope if you have never tried making your own broth, you'll give a couple of these recipes a try! Stay healthy, eat well, laugh lots!
May the Lord bless and keep you, may He make His face shine upon you, may He give you rest when you are weary, strength when you are weak, hope when you are hopeless.