As an Amazon Associate, I earn commissions from qualifying purchases (
disclosure policy
).
Happy Friday Friend!
We have had an exceptionally cold and snowy December and January for Colorado. Everywhere I go, people are chatting about the fact that we still have snow on the ground, from early December, plus a few extra storms. I know that's normal for much of the country — it is not for us, we get snow, we have a beautiful 50-60 degree day, it melts, snow, rinse and repeat.
In My Life this Week
On these snowy days, when the thermometer is blue; I try and find ways to perk up our house. I love this beautiful vignette that I change with the seasons, many of the items stay the same, some fresh herbs, a potted fern and my aloe and succulent plant, but I try and change out something that is bright, fresh, colorful — reminding me there is hope for new life, for Spring.
Some day I will do a post on how to make your own, but until then, enjoy my friend Lynn's post on how to make a Living Centerpiece and this fun post about growing herbs indoors, from Yvonne from Stonegable (a gorgeous blog you will love!). Loving these herb windowsill pots.
I am happy to see Friday this week — nothing major, just a week filled with tax prep, several appointments, Quarter 1 planning, photographing recipes, writing recipes and total squirrel syndrome! I have just not been engaged as much as I would like to be this week and have been all over the board, feeling very unproductive.
However; I've actually accomplished a lot of things that needed to be done, just not what I had planned, I need to camp out on that. What are your tricks for staying on task, I'd love to hear!
What's Cooking
New on the blog this week is a fabulous recipe for Pigs in a Blanket >> did you know that almost every country has a version of Pigs in a Blanket? They do, but they vary widely, check out the pigs in blanket varieties!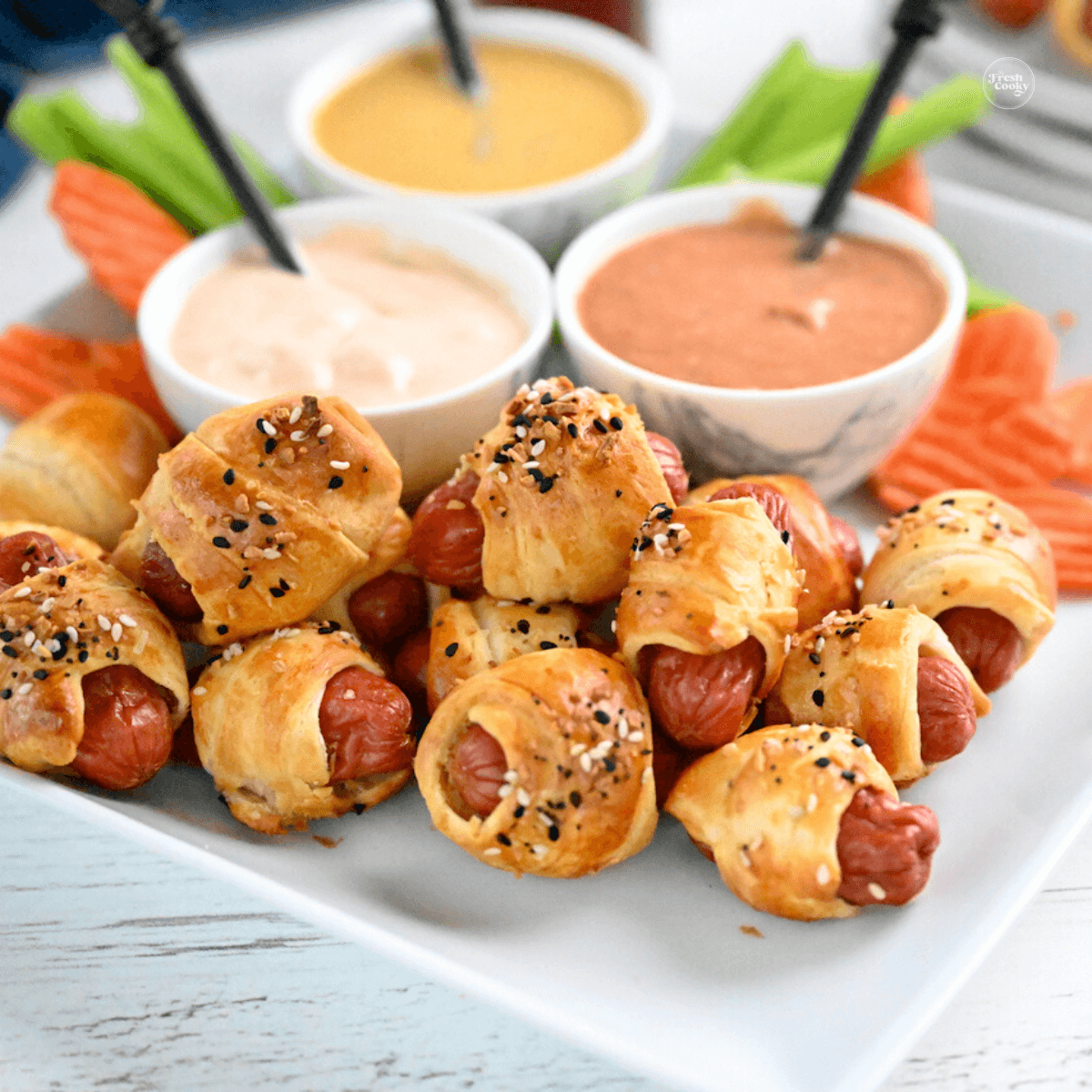 Valentine's Day is just a few weeks away — what will you make your sweetie? Or your Galentine's or your co-workers, your kids, or your grandkids? These Heart Shaped Donuts are made even easier with canned biscuits and canned frosting — I made them in the air fryer, but also tested them in the oven too! The best part, they are ready in about 30 minutes!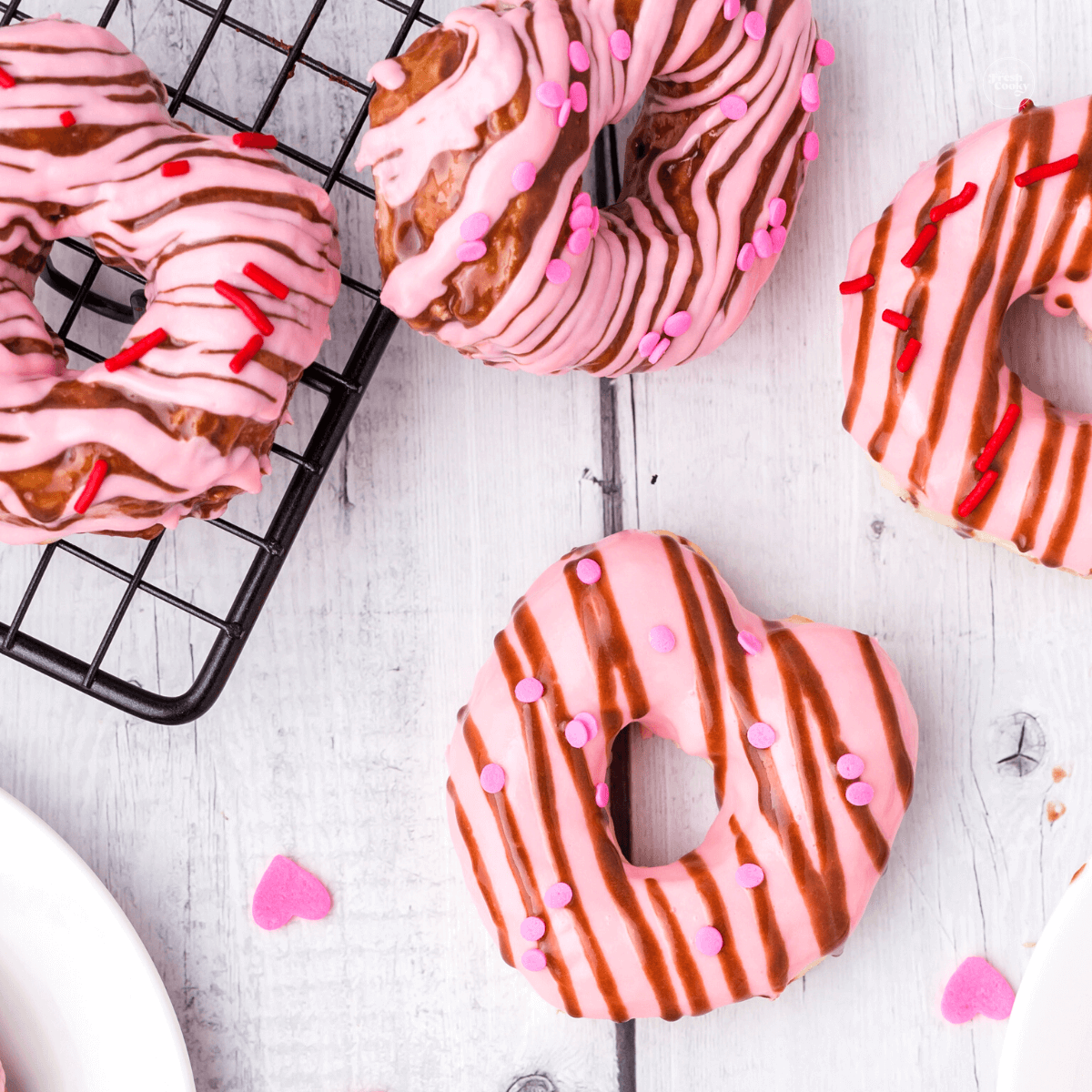 What We're Eating
Each week I typically make some of my own recipes. They are recipes that are favorites of mine, but maybe don't get so much love — some need to be updated, but the recipes are still spot on! Give them a try!
We enjoyed my Colorado Green Chile (great for meal prep) over these easy Enchiladas, with some Spanish Rice — oh it's my dream dinner right there! We may have washed it down with these easy 4 ingredient margaritas.
I also re-made my Sugar Cookie Fudge I featured last week, because I realized after chatting with some of my recipe testers that this fudge is fabulous anytime of year, just change up the sprinkles! I split it into 4 smaller bowls, stirred in sprinkles for different occasions, poured into mini loaf pans and let it harden. DREAMY!
Leftover Sugar Cookie Mix Cookies
In addition, since you have leftover sugar cookie mix, I wanted to test and see if you could make a batch of cookies from it! WINNER!
Use the rest of your sugar cookie mix, mixed with ½ stick of butter (4 tablespoons) and 4 tablespoons of cream cheese for soft fluffy cookies. Mix well, refrigerate until firm (about 2 hours) bake in 375 degree F oven on a parchment lined pan for 10-11 minutes! Makes 12 cookies! No waste and two desserts!
What I'm Loving & What's On Sale
Around this time of year, I need a few pieces to refresh my wardrobe, since I have some trips coming up, I need easy to pack, comfy and cute!
I just ordered these based on others who love them — Wide Leg Travel Pants (comfy & light) and I might live in these slim leg pull on pants and these Serious Sweat Pants (with pockets) dressier than sweat pants, but still comfy (both on sale). And this sweater is surprisingly darling! From Walmart! And I am seriously considering purchasing these fun chunky mules!
While I don't typically decorate for Valentine's day, I am loving this Beaded Rope with Heart, and these sweet pillows.
Did you know that Walmart now carries the Gap Home line? Love these (inexpensive) pillows.
Weekly Giggle
This is very true some days! This just made me laugh.
What Readers are Saying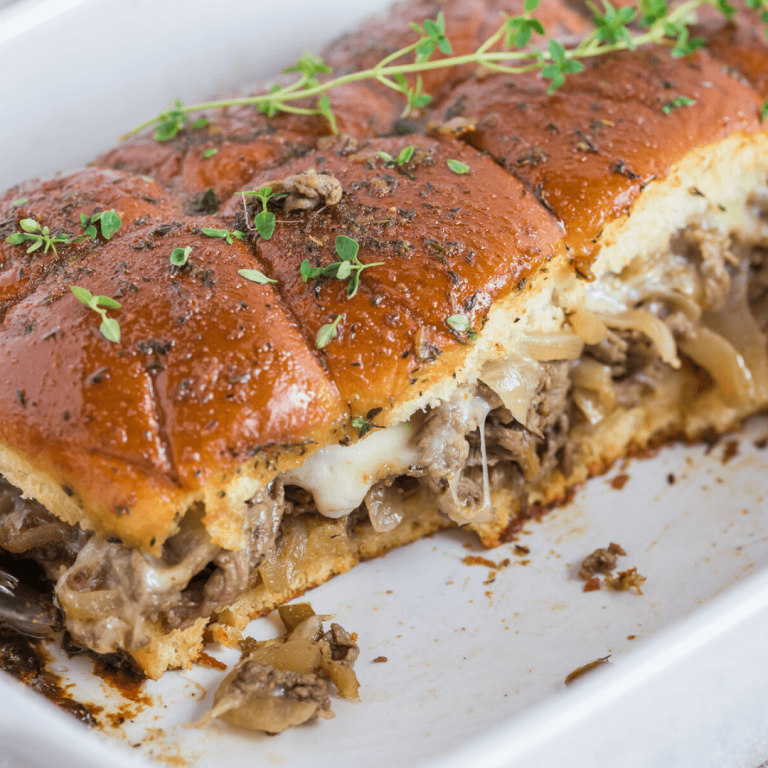 Philly Cheesesteak Sliders Recipe
"I made these for a football party. I was told I need to put this on the list for every sports ball game. The few left overs that were left, went home with guests. Thank you!" ~Rebecca
Cheddar Biscuits (biscuits or skillet bread)
"Seriously how have I not made these before now!! So delicious, so easy. We are all about the bread in our family, and these are our new favorite!!" ~Patty
The Best Key Lime Pie
"The best key lime pie!!! Have to try and it's soooo easy!! Please don't underestimate the sour cream it works!!" ~Ava
Weekly Inspiration
We have a family in our house church who are going through some very hard times. At our women's Bible study today, one of my friends sent this song to our mutual friend as a way of encouragement, it's one of my favorite songs.
Read and absorb the words, especially if life is hard right now.
Grateful to serve you,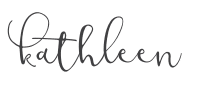 P.S. Be sure to browse through last weeks Fresh Fridays for more great recipes!
Visit our Updated Amazon Shop