Andes Mint Fudge Brownies
As an Amazon Associate, I earn from qualifying purchases. Please read my disclosure policy.
This recipe for Andes Mint Fudge Brownies is a simple way to make minty brownies. The mint is not overwhelming, but adds a lovely, fresh, hint-O-mint. This one pan brownie recipe is perfect anytime of the year for the mint-chocolate loving people in your life.
While chocolate is not usually my go-to sweet; weird I know…I do find a chewy, fudgy, gooey brownie terribly hard to resist; make it a mint brownie…drool city! Just look at that melty, minty Andes Mint Fudge Brownie shot below.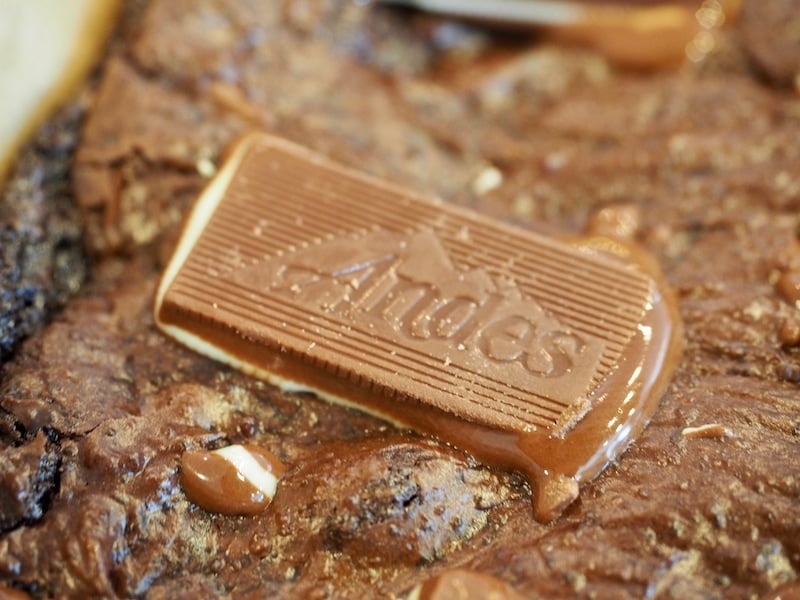 Ready to bake? Begin by unwrapping your packages (purchase two) of Andes Mints; chopping the first full package of mints.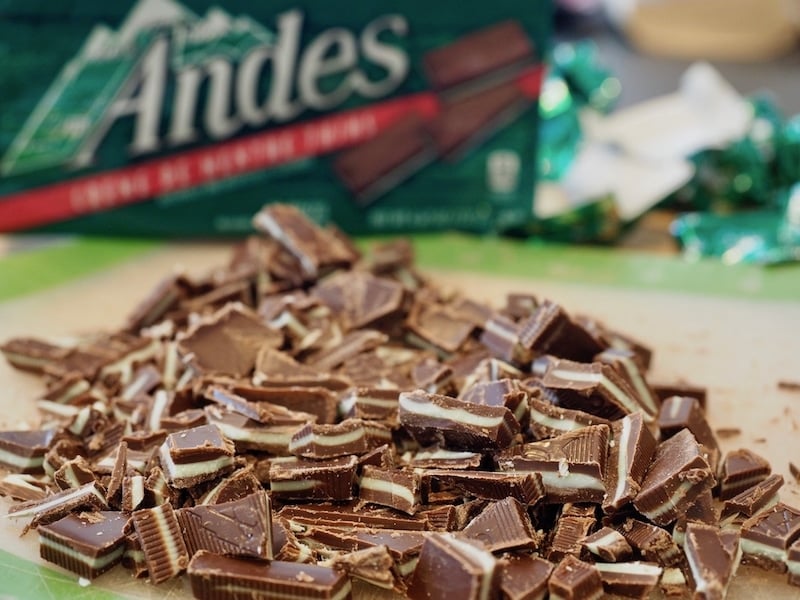 Next we'll make the batter by making these Basic Fudge Brownies (how-to in the link, but the recipe is provided below). For these mint brownies I did use both dark and regular cocoa powder to enhance the minty-chocolatey-ness.
BASIC FUDGE BROWNIES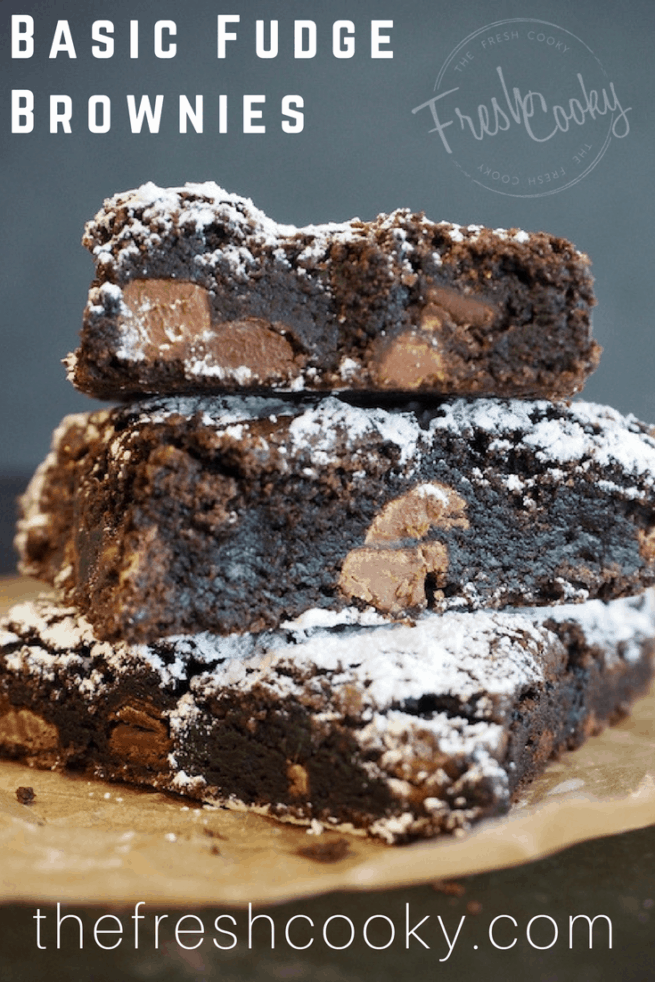 How to Make Andes Mint Fudge Brownies
During the mix-in stage (chocolate chips), replace 1/2 cup of chocolate chips with 1 heaping cup of chopped Andes Mints for a total of 1 1/2 cups (1/2 cup chocolate chips, 1 heaping cup Andes mints, chopped), reserving balance of chopped mints for topping.
Stir gently to combine and pour into parchment lined, sprayed 13×9″ pan.
Spreading the batter evenly to edges of pan, it will be very thick!
Bake brownies in preheated 350° oven for 25-30 minutes. DO NOT OVERBAKE. Edges will just start pulling away from pan, center will have a dull finish.
Once you pull the pan of brownies out of the oven, evenly place the Andes Mints (unwrapped of course) onto the top of the warm brownies.
As you can see in the above picture, the heat of the brownies will quickly melt the chocolate. Wait about 5 minutes, then using an off-set spatula, gently spread the melted Andes Mints creating a dreamy minty chocolate shell on the brownies.
Allow the topping to set up for 20-30 minutes or so, then sprinkle on reserved chopped Andes Mints.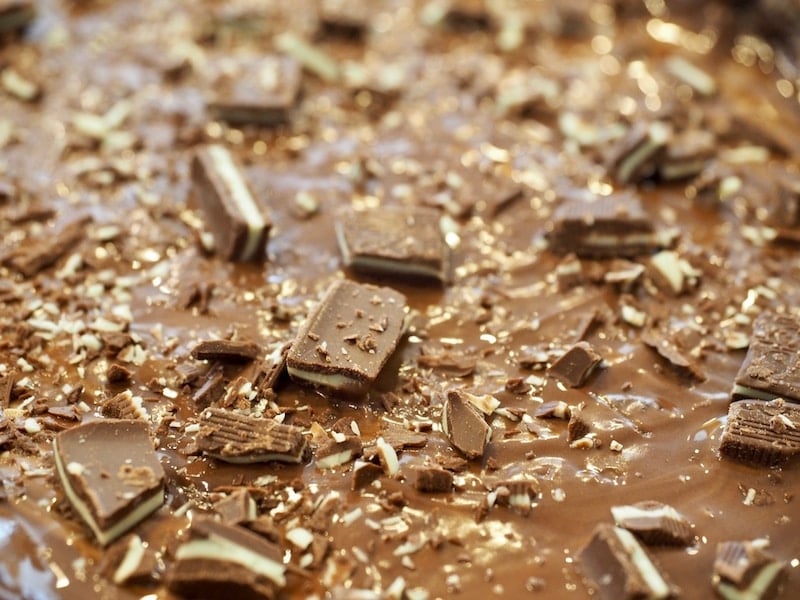 Allow the brownies to cool completely on a cooling rack.
To easily to cut brownies, refrigerate brownies for 20-30 or more minutes after cooling completely. Using the parchment paper, remove brownie slab from pan onto a large cutting board and slice into squares.
MAKING MINI MINT BROWNIE BITES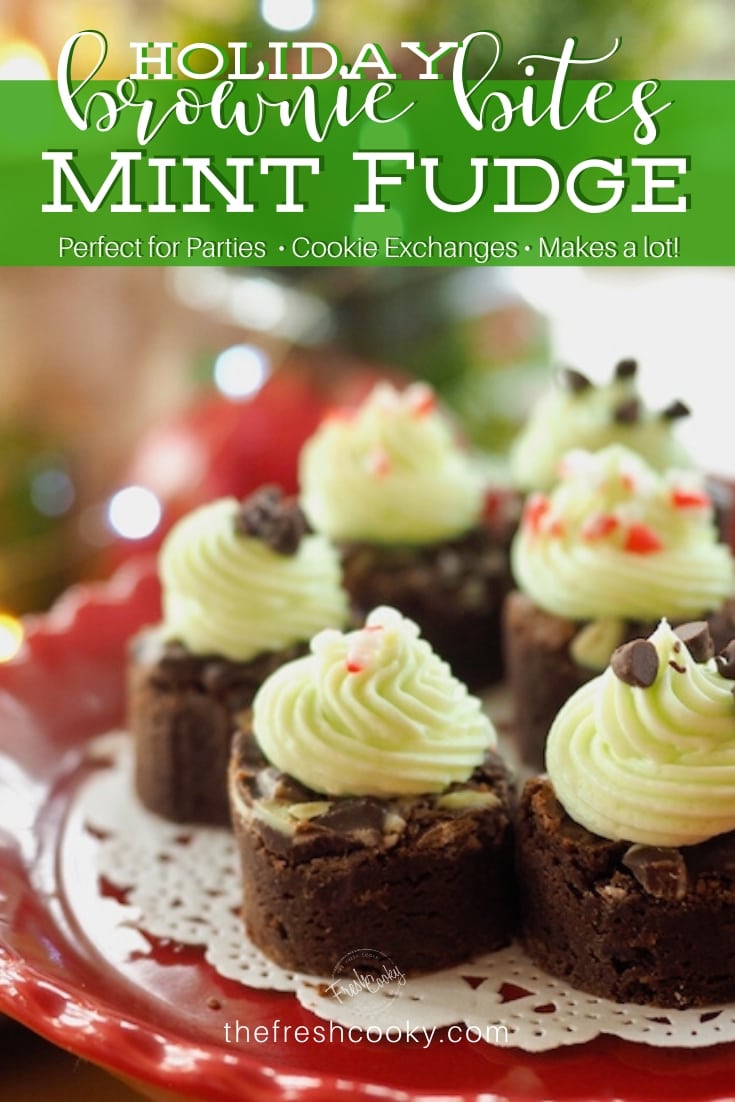 Or using a 1 inch round cookie cutter, cut mini bites from the brownie. Keep the cookie cuts close to each other to minimize waste…but don't throw away the "guts"; store in fridge or freezer and use on ice cream, for snacking, in lunch boxes.
Make up some of my amazing vanilla buttercream frosting, add a teaspoon of mint flavoring (optional) as well as a few drops of of green food gel, not too much you just want to tint it lightly.
Place in piping bag and swirl a kiss onto brownie bites, sprinkle with your favorite sprinkles. I used some mini chocolate chips and some crushed peppermint.
Just look at those beautiful, chewy, fudgy, minty, über chocolatey brownies!!
Enjoyed this recipe? Give these recipes a try!
Robin Egg Whopper Brownies
Browned Butter Sugar Cookie Bars with Salted Caramel Frosting
Espresso Brownie Bites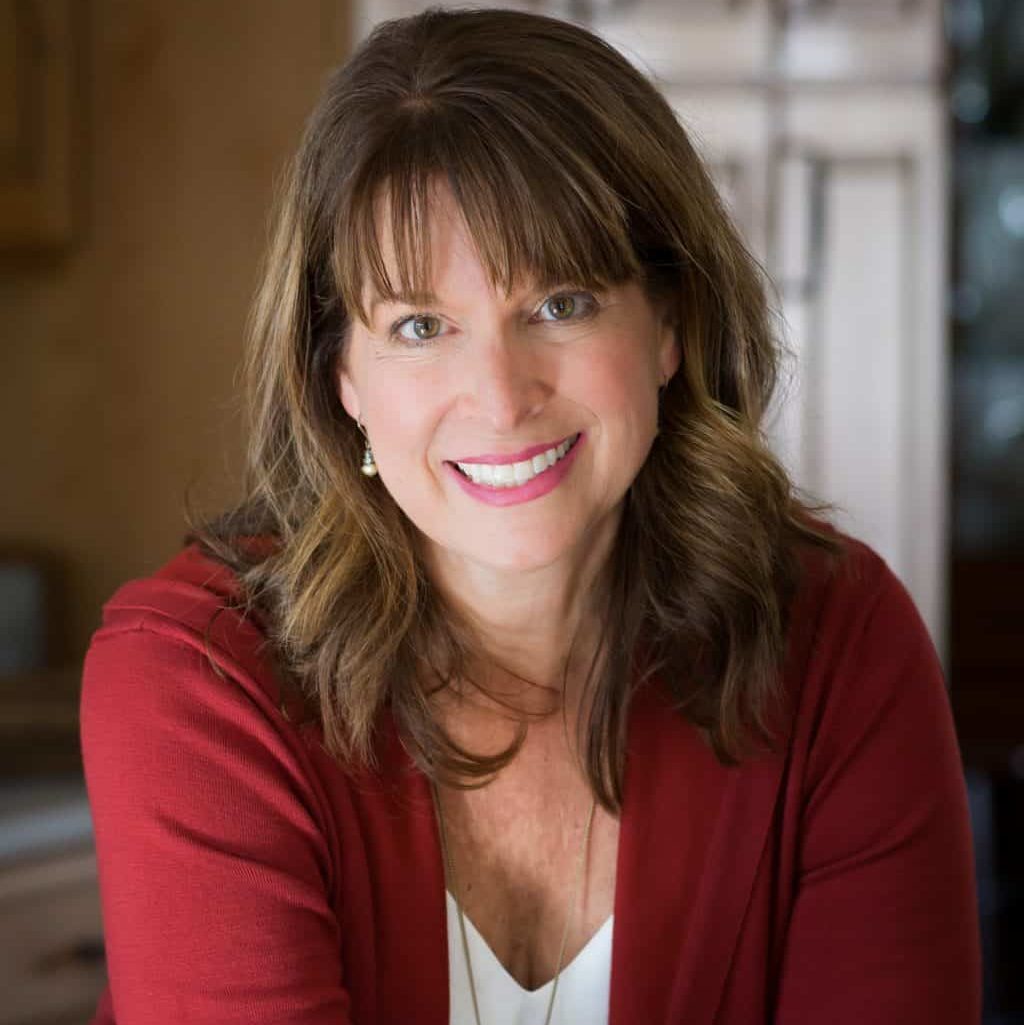 About Kathleen Pope
Recipe Innovator | Food Photographer | Food Writer
Hi, I'm Kathleen Pope. Here at The Fresh Cooky you will find easy, mostly from-scratch, trusted recipes for all occasions. From speedy dinners to tasty desserts, with easy step-by-step instructions. I am here to help teach you how to make mouthwatering recipes without spending hours in the kitchen. Read more about Kathleen here.