Caraway Home Cookware Honest Review 2023
As an Amazon Associate, I earn from qualifying purchases. Please read my disclosure policy.
Today I am sharing my honest review for Caraway Home Cookware, ceramic non-stick pots, and pans. I'll answer your questions, like, are Caraway pans worth it? Does Caraway stand up to the hype? Are they durable and really non-stick? Is Caraway nontoxic and much more?
I have been seeing these beautiful, colorful Caraway pots and pans on social media, in stores, and advertised in various places, and I was intrigued. I reached out to Caraway, and they sent me this gorgeous set of non-stick pots and pans to try. The opinions in this honest review of Caraway home cookware are entirely my own.
Why Are Caraway Pots and Pans Different?
Non-Stick | Caraway Pans are genuinely non-stick, with a slick, ceramic surface.
Beautiful | Clean, modern lines and a beautiful choice of colors.
No Harmful Chemicals | Caraway products: no PFAS, PTFE, PFOA, or tongue-twisting chemicals.
What's included in the box of Caraway Pots and Pans
I was so impressed with the packaging when I received my Caraway set. Not only was everything undamaged, but the presentation is beautiful, and you receive a few bonus items when purchasing as a set. In addition to the above pans, the set included:
Fry Pan
Saute Pan + Lid
Sauce Pan + Lid
Dutch Oven (saute pan lid fits the Dutch oven as well)
Cork Trivets: 2 High-end cork trivets protect your countertops, tables, and work surfaces from hot pans. They also work well, providing protection when nesting your Caraway pans.
Sturdy canvas lid holder: This beautiful, heavy-duty canvas lid holder protects the lids from scratching and organizes them beautifully, self-sticking hooks also included.
Magnetic Storage: These storage units are nifty, they stick magnetically to one another, making for neat and safe storage of your pans in a deep cupboard or on the countertop.
Cleaning Sponge: For when you cannot get a stubborn stain off, simply wet this sponge, rub and presto.
What I love about Caraway Home Cookware
All of their pots and pans are designed with beautiful stainless steel handles that are both easy to grip and include a small 'bump' on the underside of the pan. This thoughtful feature serves as a natural indication to avoid holding the cookware beyond that point, as it may be hot and pose a burn risk.
Beauty & Function | As a home chef, I love that these pans are easy to use, non-stick, and come in various colors, complementing any home kitchen.
Non-Toxic Ceramic Finish | I love that Caraway pans are nontoxic, PFAS, PTFE, and PFOA FREE!
Easy to Clean | This is a big one, the food literally slips out, cool the pan and simply wash in warm soapy water with a non-abrasive sponge and it's clean.
Non-Stick | Many pans out there claim to be non-stick, and they still have sticking points. Caraway pots and pans are truly non-stick; foods quite literally slip out; in fact, as I have tossed hashes in the pans, I've had to learn not to use quite so much wrist action since it's so slippery. Just a gentle flick of the wrist does the trick.
Less Oil and Heat | Because ceramic naturally holds heat more efficiently, you cook at a reduced heat compared to other pans. At most, 1-2 tablespoons of oil or butter is needed.
What I don't like about Caraway
As I mentioned earlier in the post, since this is an honest review of Caraway cookware, I need to share a few things that I don't like about their pots and pans.
Cost |They are more expensive than other sets of quality cookware; remember though, cookware is an investment.
No Pointy Edges | Okay, all non-stick pans require using plastic, silicone, or wooden utensils. I cook so much with cast iron, I am used to using whatever I want without worrying about scratching or messing up the surface. I've had to re-train my family and myself.
Dishwasher Resistant | While Caraway doesn't outright tell you that these pots and pans are not dishwasher safe. They do tell you as with most nonstick surfaces, continual use in the dishwasher can affect the longevity of the non-stick coating. And since they clean so easily, it leaves more room for that casserole dish in the dishwasher.
Staining | My set is cream color, which is a bit harder to keep clean, but is so pretty in photos 🙂 . Most pans, over time, will have some staining on the exterior and maybe even the interior. Please take a look below for how to get stains out.
Baby It | I have read other reviews about etching, paint coming off the outside of the pans, darkening, and losing its non-stick properties. While I haven't experienced this, I have only used these pans for a few months.
How much do Caraway Pans Cost?
Caraway home cookware is pricier than most sets, but similar to high-end alternatives. The best deal, of course, is when you purchase Caraway home cookware set rather than individual pieces. The set cost is $395, saving you $105.
How long do Caraway pans last?
There are many naysayers out there that Caraway or any non-stick pans for that matter, only last 1-3 years. It's true that eventually, ALL non-stick pans lose their non-stick coating over time. While I have only been using my Caraway pans for a few months, with the correct usage and care, your pans should last you a long time. Preheat the pan, use oil or butter, use soft non-scratch utensils, cool the pan and hand wash.
Remember, these are not cast iron pans that will be handed down for generations, but with proper care you will enjoy these pans for years to come.
Caraway vs. Scanpan
Some have compared Caraway cookware to GreenPans, and since I don't own a Green Pan, it was better to compare to the Scanpan, which I own two of.
Similar to both the Greenspan and Scanpan, which are both nontoxic and non-stick; Scanpan is:
Patented ceramic-titanium coating allows for using metal utensils in their professional series.
Nonstick technology is 100% PFOA-free and provides easy release and fast cleanup.
Pricing is almost identical, with their full ScanPan professional set coming in around $500 at Williams and Sonoma (on sale).
I have experienced a few etches in my Scanpan and have not experienced this with Caraway.
Dishwasher Safe while it is not recommended with Caraway pans.
Clean-ability – Both Caraway pans and Scanpans will darken over time on the bottom if not kept clean and scrubbed.
Caraway ceramic pans construction
Non-Toxic | Caraway's mineral-based coating shields your clean and healthy ingredients from toxic chemical leaching.
Heavy-duty aluminum base with a mineral-based ceramic coating.
Thoughtful Packaging | Recycled cardboard with zero plastic bags.
Modern Design | The pans look is sleek and modern, with a light interior making it easier to monitor your foods while cooking.
Where is Caraway Cookware made?
Caraway pots and pans are made in China, I try and buy USA made whenever possible. The pans were designed and created in New York, by founder and CEO Jordan Nathan.
Are Caraway pans worth the cost?
Yes, they are functional, beautiful, nontoxic and useful. However; if they lose their non-stick properties quickly over time, I would not consider the cost worth it.
Ultimately, you need to determine that yourself, based on your personal usage and budget.
Caraway Bakeware
As of writing this review, I haven't had the opportunity to test the Caraway bakeware products, but I'm eager to give them a shot.
Frequently Asked Questions
Is Caraway dishwasher safe?
No, they are not dishwasher safe, if you want your non-stick ceramic coating to last, do not put your pans through the dishwasher, they clean up easily with warm, soapy water.
Can you use Caraway on induction cooktops?
Yes, unlike other non-stick ceramic pans that cannot be used on induction cooktops; Caraway's heavy aluminum steel plate is magnetic, which makes them compatible with induction cooktops.
Is Caraway oven safe?
Yes, all Caraway pots and pans are oven safe up to 550° F, they are not broiler safe.
My Caraway pans are sticking?
Due to the ceramic nature you do not need higher heats on Caraway pans, keep the heat between medium-low for the best non-stick properties.
Are Caraway pans easy to clean?
While they are not recommended in the dishwasher, simple handwashing in warm soapy water usually cleans the pan.
Where can I purchase Caraway Cookware?
Caraway cookware is sold on their website and retailers like Amazon, Crate and Barrel, Nordstrom (on sale now), and The Container Store.
Discounts on Caraway
I haven't seen many discounts on Caraway, although they often have a 10% sale on their site. But keep an eye out during Amazon's Prime Days in July for sales, Nordstrom Half-Yearly Sale, Black Friday sales and more.
Fresh Tips
Pre-heat the pan no more than 90 seconds on medium-low heat before adding oil or butter.
Avoid using non-stick sprays or aerosol spray oils, as they gum up the pan. I like using this oil sprayer to spray my pan or add a swirl of avocado oil.
Right Tools | Use soft utensils in the pan, silicone-tipped tongs and spatulas, and I love these wooden utensils. Just make sure they don't have any rough edges.
Moisture in the Pot | The lids keep moisture in the pots and pans; when lifting the lid off, if it is okay for the moisture to go back into the pan, lift at a slight angle while over the pan. If you do not want the moisture, lift the lid straight up and move to a sink where you can release that moisture.
Too Hot to Handle | When using your Caraway pots and pans in the oven, use a hot pad, pot holder, or heavy dishtowel as the handles get hot.
Return Policy for Caraway Home Cookware
Caraway offers a 30-day hassle free return and refund policy for all of their products purchased from Caraway directly, as well as exchanges. Including a one year warranty, you can email them at help@carawayhome.com
Top Tips for Keeping Your Caraway Pans Clean
Avoid temperature shock – Allow your cookware to cool completely before running under cold water, sudden and significant temperature changes will reduce their lifespan.
Handwash – Everyone hates handwashing, but these pans clean up so easily you (and your kids) won't even mind! Keeping them out of the dishwasher will prolong their non-stick longevity.
Cleaning – Basic cleaning for the inside of the pans requires warm, soapy water and a non-abrasive sponge. For stronger stains or residue, scrub lightly with 1 cup water, 2 tablespoons baking soda, and ½ cup of white vinegar (it will have a strong foaming, so do this in the sink). Alternatively, you may simmer some soapy water over low heat.
Exterior Stains | Use a stronger sponge with high-strength detergent, or try using the Caraway sponge with warm water, similar to the Magic Eraser.
How to saute vegetables
A few tips for how to saute vegetables using the Caraway saute pan; pre-chop your veggies, and preheat saute pan over medium heat; add a little butter and oil and toss in the veggies, stirring until softened to desired crispness. I love using my saute pan for veggies; you get the most beautiful caramelizing and browning – you might try these amazing Hibachi vegetables.
One Pot Recipes to make in your Caraway Pans
I've so enjoyed using these easy-to-clean pans. I've made my homemade pizza sauce, and it literally wiped clean, browned Italian sausage for this Chicago Deep Dish Pizza.
How to saute vegetables
Do you need a saute pan / find a perfect pan for it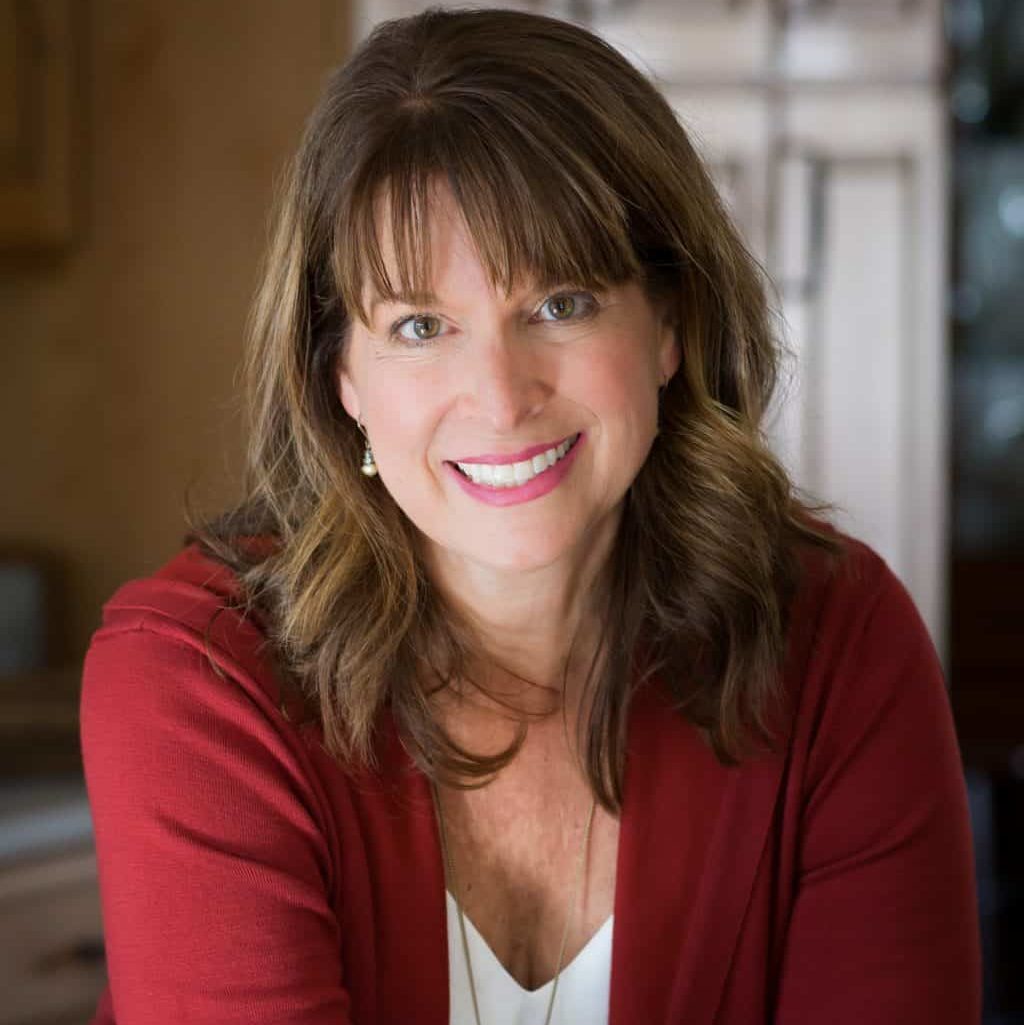 About Kathleen Pope
Recipe Innovator | Food Photographer | Food Writer
Hi, I'm Kathleen Pope. Here at The Fresh Cooky you will find easy, mostly from-scratch, trusted recipes for all occasions. From speedy dinners to tasty desserts, with easy step-by-step instructions. I am here to help teach you how to make mouthwatering recipes without spending hours in the kitchen. Read more about Kathleen here.