Disclosure I am a participant in the Amazon Services LLC Associates Program, an affiliate advertising program designed to provide a means for us to earn fees by linking to Amazon.com and affiliated sites, this post may contain links. At no cost to you!
This recipe for Pumpkin Curry Soup is inviting, delicious and sooooo easy to make. A creamy, vegetarian soup, filled with mushrooms, broth, pumpkin and spices; bursting with autumn flavors to warm you on a chilly fall day. Autumn's ultimate chilly day soup! Pair it with a crisp salad and some crusty bread for a light lunch or dinner.
CREAMY PUMPKIN CURRY SOUP
I discovered the recipe in a cookbook that I picked up on a trip to Jackson Hole, called Jackson Hole Cooks, it's filled with great recipes. It appears to be out of print, which is a shame as there are fabulous recipes throughout, I looked and you can still purchase second hand on Amazon. I've tweaked it to fit my tastes and textures!
I meet with a group of women who get together and scrapbook once a month, we're all digital scrapbookers who scrap on Mac's; I had the great pleasure of hosting this past week and made this delicious soup for our lunch, paired it with a salad and roasted pumpkin seeds. Mmmm, good!
FOLLOW THE FRESH COOKY ON PINTEREST FOR MORE GREAT RECIPES
Sadly, my boys both turned their noses up to it, and I discovered that my husband of almost 19 years doesn't like pumpkin! What!?? I had no idea, I think he's been gracious to me all these years I've served him pumpkin pie, pumpkin bread, or anything pumpkin. The things you learn and still I'm still learning! Side note, don't ever stop studying and learning about your spouse.
Some-day (I kind of wish they'd add that day to the week, right? Saturday, Sunday, Someday), I want to play with the ingredients so that I'm not using pumpkin pie mix, but pure pumpkin puree instead; replacing the premixed spices, sugar, etc. with spices of my own and reducing the sugar content, I think it will be quite simple to do, but until then, this whips up really quickly and nicely!
This makes a lot, so use a larger stock pot than I did (I used a 4 qt pot), it was almost overflowing by the time I added all of my ingredients. I bet you could easily halve this recipe, but, what the heck, make the whole thing and surprise a neighbor or coworker with lunch the next day!
How to Make Creamy Pumpkin Curry Soup
Start by melting your butter over medium-high heat, then reduce temperature slightly, add chopped onions and mushrooms,* stirring frequently, sauté until tender, about 5 minutes. I'm actually not a mushroom fan, it's a texture thing, but I really do like the flavor of mushrooms, so if they are ground up in a recipe, I'm just fine!
TIP* I bought pre-sliced 'shrooms, but feel free to slice and clean 'em yourself if you prefer.
Measure the flour and curry powder; the curry isn't very strong, so if you like it stronger, feel free to increase the amount.
Toss in your all-purpose flour* and curry powder into onion/mushroom mixture and stir until well blended and golden brown.
TIP | Easily make it Gluten Free by simply subbing regular flour for GF All-Purpose flour!
Reduce your heat to medium and gradually pour in your vegetable broth, while stirring. 1 carton is 4 cups (32 oz), the recipe calls for 6 cups, so either use another ½ carton or they do sell 4 packs of 8 oz single serving containers of veggie broth. If you are okay with it not being vegetarian, you can always use chicken broth for the additional 2 cups.
GET FREE RECIPES

FROM THE FRESH COOKY DELIVERED RIGHT TO YOUR INBOX!
TIP | If you use half of another carton, pour leftovers into 2-8 oz plasticware "cups" and freeze for future recipes. Run warm, to hot water over the bottom of the frozen broth (keep your hand or lid under) until the frozen broth slides out, then simply add to your favorite soup or stew.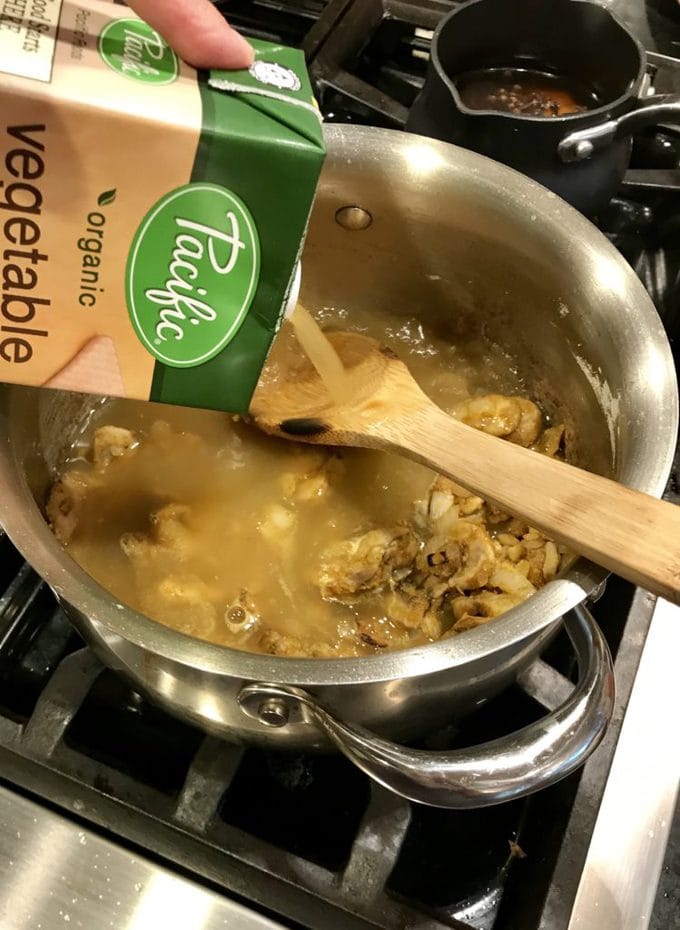 Stir well to blend. Bring mixture to a boil, then stir for 2 minutes until mixture has thickened slightly.
For a creamier soup, once mixture has thickened, use an immersion blender (I have one similar to this one) and blend until smooth. Or place a couple cups in a blender at a time and blend until smooth, carefully return to the pot.
Next add your pumpkin pie mix…
Then add evaporated milk. I bet this would be delicious with coconut milk too! Also on my try list.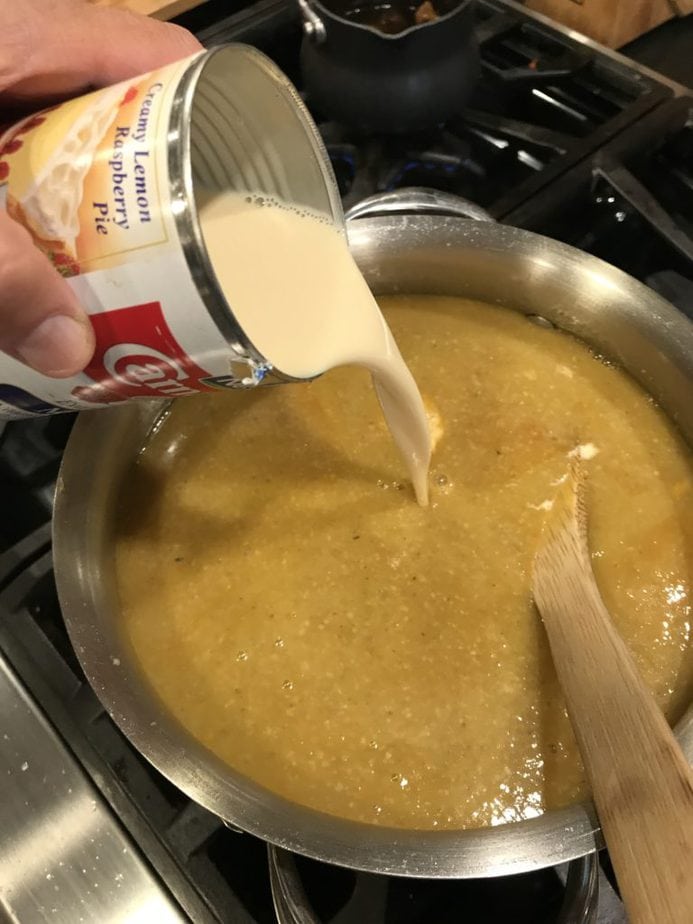 Add your sea salt and pepper and heat through. Ladle into cups or bowls and garnish with toasted pumpkin seeds (see below) and a tiny swirl of creme fraiche, sour cream or greek yogurt, if desired.
How to Toast Pumpkin (Pepita) Seeds
To toast your own pumpkin seeds, heat a pan to medium-high heat, toss in your raw pumpkin seeds.
Shake the seeds around while they heat, the heat will release the oils in the seeds. Some will actually plump slightly and pop…
…keep shaking the pan around so that they don't burn and they toast evenly.
As you hear them "snap, crackle and pop" you know they are close to done, sprinkle with a little sea salt toss, toss around, remove from heat.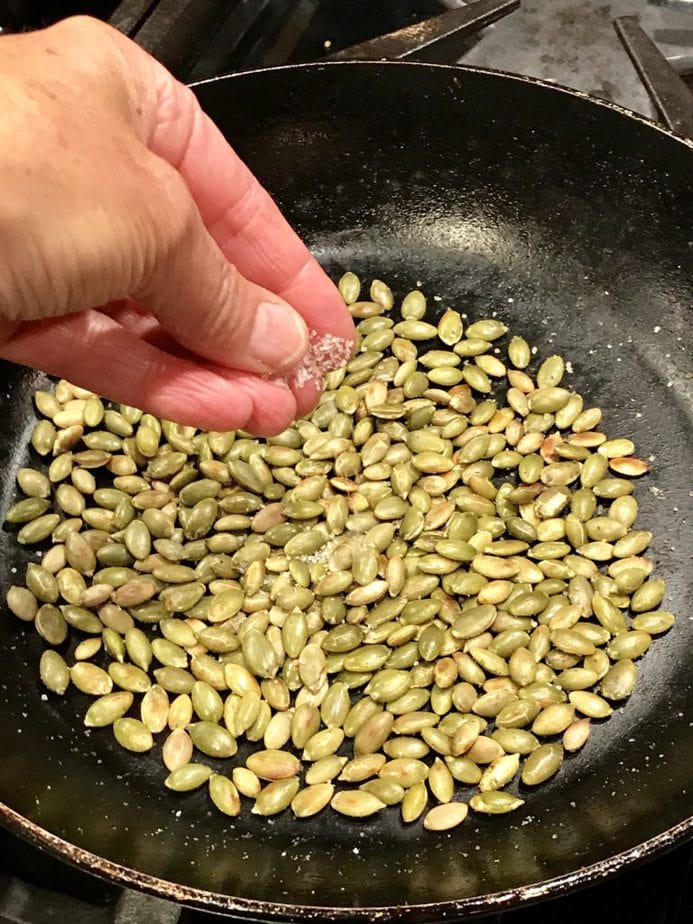 Sprinkle a tablespoon or so onto the top of the warm soup. Use the toasted pumpkin seeds warm or cold, or eat by the handful, they are yummy warm from the pan!
Let me know if you make tweaks and how it tastes!!
If you enjoyed this recipe, give these other comfort foods a try!
Coconut Curry Chicken Cauliflower Soup or Maple Pumpkin Scones
Enjoy this recipe? Please leave a comment and rate the recipe in the recipe card.
Hashtag any recipes you make from The Fresh Cooky #thefreshcooky or tag me @thefreshcooky on Instagram to be featured on our stories!
Print
Creamy Pumpkin Curry Soup
Author:

Prep Time:

10 mins

Cook Time:

15 mins

Total Time:

25 mins

Yield:

12

servings

1

x
Category:

Soup

Cuisine:

Autumn Soups
---
---
---
---
Recipe Card powered by
LOVE WHOLESOME DELICIOUS RECIPES? COME FOLLOW ALONG!
Share a picture and tag it #TheFreshCooky so we can see it.
GET FREE RECIPES

FROM THE FRESH COOKY DELIVERED RIGHT TO YOUR INBOX!