Looking for a cool recipe to make for a hot summer evening? Give these Greek Quinoa Bowls a try with layers of fresh and bright veggies, feta cheese, quinoa (of course) and an amazing Romesco sauce!
Well, I survived this week, VBS has been FANTASTIC, in fact it went so smoothly our team kept wondering what we were forgetting??!! There are a lot of opportunities for things to go wrong with over 235 kids and 116 youth and adult volunteers! Have you ever been part of something like a VBS, a large event with loads of amazing volunteers? I've had the privilege of doing so over the past 25+ years for various organizations and while it's hard work, the reward of seeing people come together for a larger purpose, well it is humbling, life-changing and amazingly rewarding.
The downside is, it's a super busy week and the last thing I want to do is make myself lunch each day or come home and make a nice dinner. My dogs are barkin' if you know what I mean! The fallout is that I've been eating horribly this week; lack of planning, early mornings, crazy busy week, we've all been there, so I'm ready for something healthy. But good, really, really good. This recipe initially takes a bit of effort, but once you make it you have a weeks worth of delightful meals.
Look at these lovely, vibrant colors! Quinoa, crisp veggies and a lovely Romesco sauce, I'll be honest, I have actually never had or made a Romesco sauce until I made this a couple of months ago. So you should try it if you haven't never made it before, it's quite simple, low cal and filled with flavor. If you haven't had a chance to browse around the Closet Cooking blog, you should, he has some wonderful recipes on his blog! I made a few slight changes to the recipe, to match my tastes, give it a try, make it your own!
Start with a couple of pretty red peppers and a Roma tomato, I had an extra half from another recipe, so just threw it in, it can't hurt right? Slice pepper in half, removing seeds. Slice tomato in half.
Preheat oven to broil*, but place pan on middle rack. Put peppers on [amazon_textlink asin='B0049C2S32′ text='cookie sheet' template='ProductLink' store='thefreshcoo0a-20′ marketplace='US' link_id='7cdf2de6-78d8-11e8-aecd-f1b7f7e19342′] cut side down and tomatoes cut side up. Place a couple of cloves of garlic amongst the peppers and tomatoes, drizzle it all with a little olive oil and sprinkle with a little salt.
TIP | Don't want to turn your oven on? Using a cast iron pan or [amazon_textlink asin='B00008GKDN' text='griddle' template='ProductLink' store='thefreshcoo0a-20′ marketplace='US' link_id='a2f0f7ac-78d8-11e8-b0b5-49334c4762c8′], foil or a cookie sheet you don't care much about, use your BBQ to roast the veggies. Heat to about 450° and follow the above instructions, watch them a little closer.
Bake for 20-25 minutes until tomatoes are slightly browned, but not charred, about this like. Remove tomatoes and set aside.
Now we're grilling, or charbroiling…let the peppers and garlic (if not too dark) bake a bit longer, but get them nice and charred, you'll pull the skin off once they are done.
Remove them from the tray and place on a  plate or in a plastic baggie for about 10 minutes to separate the skin from the flesh. Cover with plastic wrap and let them "sweat" for a bit.
Once they are cooled, peel away the charred skin from the flesh, remove the papery part of the garlic cloves to reveal the subtle softness of the garlic as well.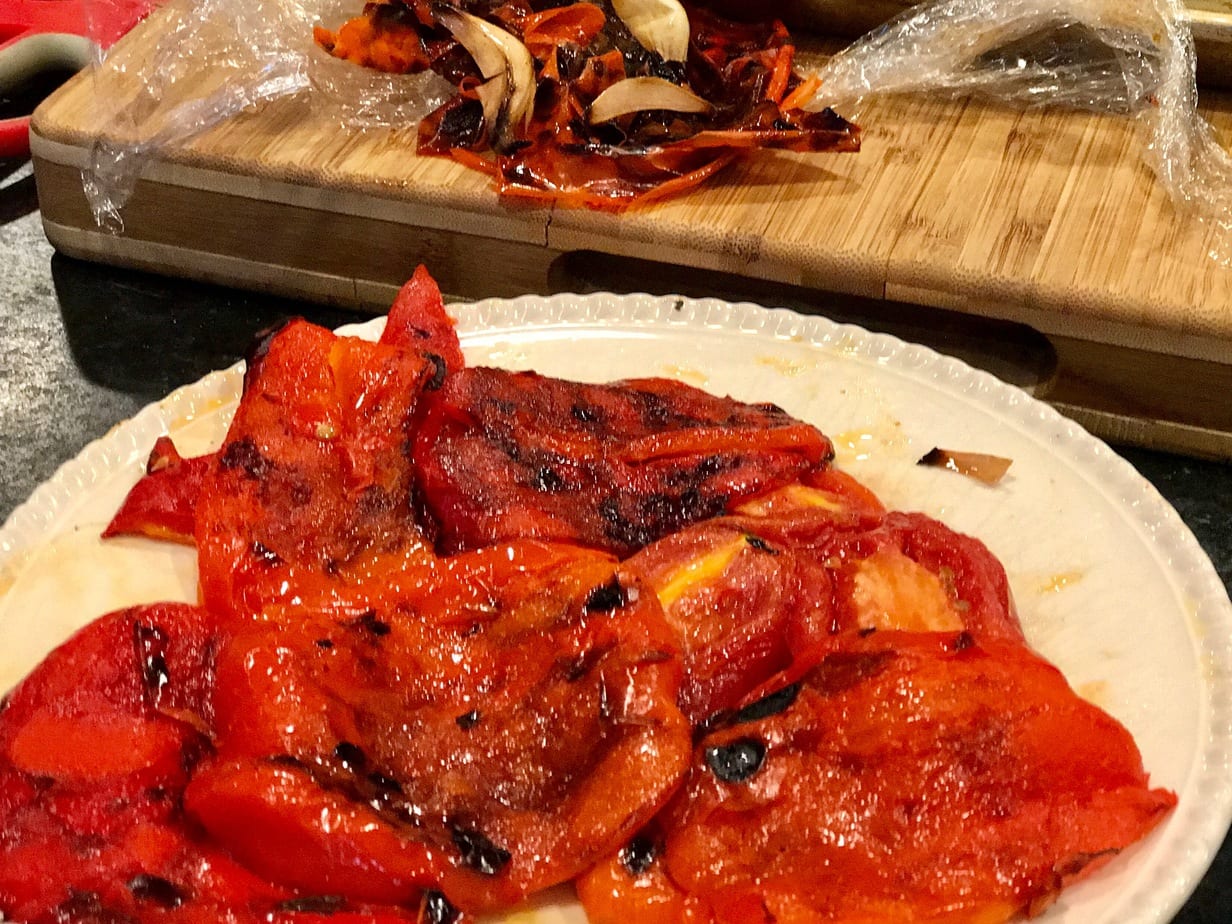 Gather your ingredients for the Romesco sauce, spices, roasted peppers, tomatoes, garlic, lemon, [amazon_textlink asin='B071X4F645′ text='almonds' template='ProductLink' store='thefreshcoo0a-20′ marketplace='US' link_id='0b3f43ac-78d6-11e8-bd43-615f6fc84b65′] and [amazon_textlink asin='B0060JMVM0′ text='olive oil' template='ProductLink' store='thefreshcoo0a-20′ marketplace='US' link_id='d28264c5-78d8-11e8-9a39-0fd5e091f4ef'].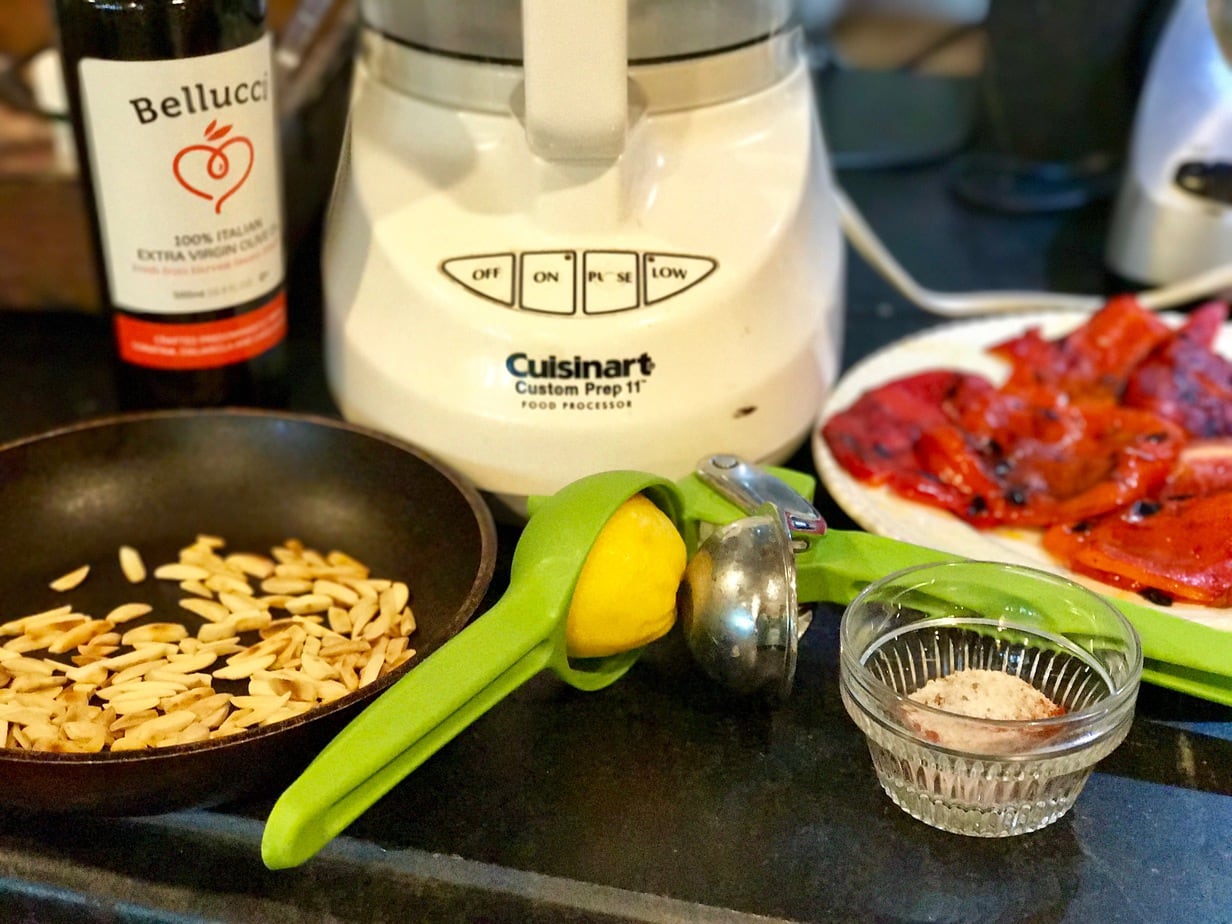 Place them all in the bowl of a food processor.
Whir it up several times, on low drizzle in your olive oil and puree well.
Make sure it is nice and smooth, then if making ahead of time, store in airtight container, refrigerating until ready to use.
Beautiful isn't it!?
Now cook up your quinoa while your Romesco is cooling. I happened to have some leftover vegetable broth, but water is just fine too, just season it with some salt if desired.
Gather and chop your ingredients that you would like on your Greek Quinoa bowl. I like tomatoes, cucumbers, [amazon_textlink asin='B000WM2WWK' text='artichoke hearts' template='ProductLink' store='thefreshcoo0a-20′ marketplace='US' link_id='293f0322-78d6-11e8-809a-dfacb79ea481′], feta cheese, [amazon_textlink asin='B0001K5LZI' text='kalamata olives' template='ProductLink' store='thefreshcoo0a-20′ marketplace='US' link_id='3a2de29a-78d6-11e8-b9a2-4fca72f5bc55′], avocado, lemon, and personally beets, not very Mediterranean but I love them and they add a wonderful sweetness with a little crunch.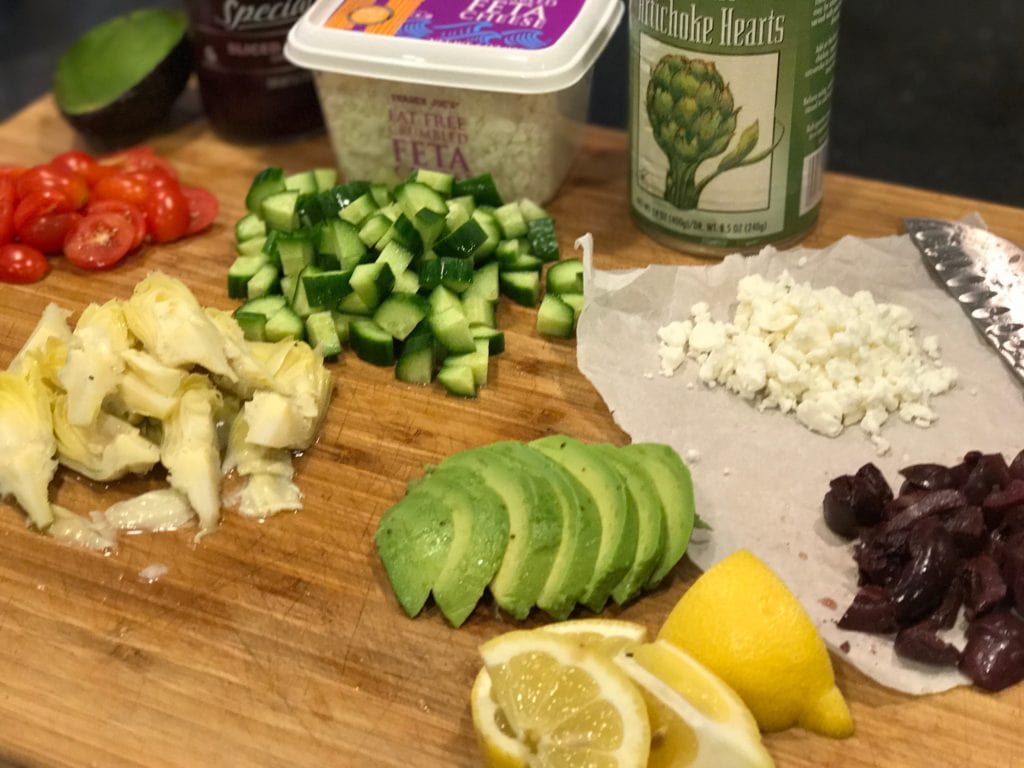 Once your quinoa has cooled (doesn't have to be cold, but cooled is nice). Place a ½ cup of cooked quinoa in a bowl or on a plate…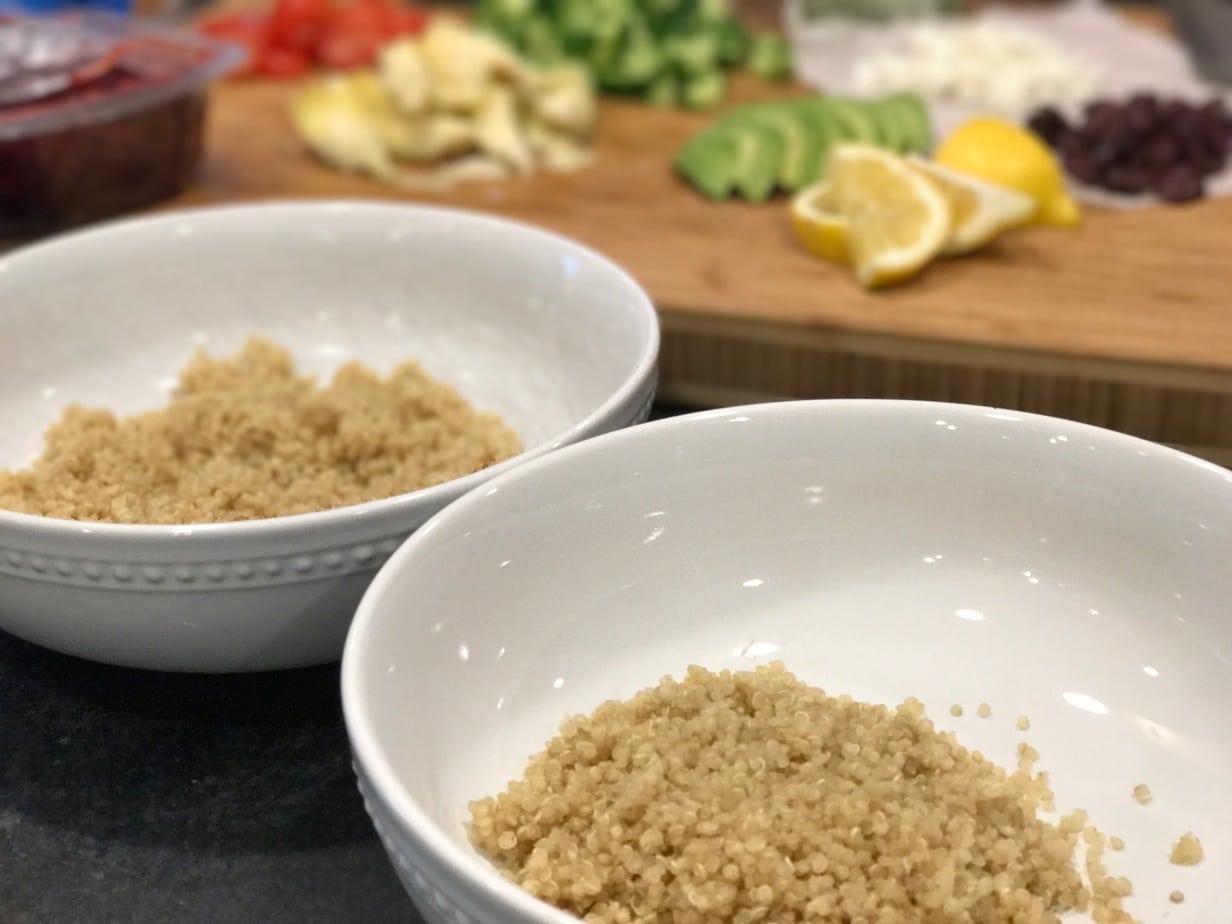 Then add each of the toppings desired by the plate or bowl until you have used them up. I put together two servings worth, enough for my husband and I to eat for lunch, place the balance of the quinoa and Romesco sauce in the fridge and made up bowls or tupperware for the next few days!
Place a nice dollop of Romesco sauce in the middle, place a lemon wedge on and drizzle a little balsamic vinegar over the whole thing…delish!
Notice no beets in my husbands in the back! He loves beets, but man don't be putting them cold or pickled in his salads!
Delicious all by itself or serve with a couple of fresh pita triangles. Opa!
If you enjoyed this salad, give these other fresh recipes a try:
Slow Roasted Veggie Pasta
Summertime Shish-Kebabs
Hearty Cobb Salad
Print
Greek Quinoa Bowl
Author:

Prep Time:

20 mins

Cook Time:

20 mins

Total Time:

40 mins

Yield:

4

-

6

bowls

1

x
Category:

Healthy Salad

Cuisine:

Greek Cuisine
---
Description
Bright, fresh, healthy and satisfying quinoa bowl, hearty enough for dinner, light enough for lunch.
---
Scale
Ingredients
Romesco Sauce

2

large red bell peppers, cut in half or quarters, seeds removed

1

large plum tomato, cut in half

2

–

4

cloves of garlic, in skins

¼ cup

slivered almonds, lightly toasted

1 tablespoon

lemon juice

2 teaspoon

s smoked paprika

⅛

–

¼

teaspoon cayenne pepper

1 teaspoon

salt
For the Bowl

1 cup

quinoa

1 ¾ cup

water (or broth)

1

avocado, sliced or diced

1 cup

tomato, diced (I like grape tomatoes or another plum tomato)

1 cup

cucumber, diced (I like English, wash and keep their skins on)

1 cup

artichoke hearts, in brine or marinated, chopped

½ cup

kalamata olives, sliced or chopped

¼ cup

feta cheese (crumbled)

2 tablespoon

s fresh parsley, chopped (optional)
Lemons, sliced
---
Instructions
For the Romesco Sauce
Place the cut red peppers face down on lightly oiled pan
Place the cut tomatoes cut side up
Toss on 2-4 cloves of garlic in skins
Drizzle a little olive oil over the tops of peppers, tomatoes and garlic.
Sprinkle a little salt over the top
Broil with the pan in the middle of the oven for 15-20 minutes until tomatos start to look a bit shriveled and dry, lightly brown.
Remove to a plate and return peppers and garlic to oven, broil for a few more minutes until peppers are nice and charred.
Once charred, remove from oven and place on a plate with tomatoes and garlic and cover with plastic wrap, let sit to cool for about 10 minutes.
Peel back charred skins on peppers and paper skins on garlic.
Put peppers, garlic and tomatoes into food processor bowl (or a blender), pulse until blended.
Add toasted almonds, lemon juice, spices and pulse.
Drizzle in olive oil while pulsing and puree until smooth.
Taste and adjust seasonings.
While peppers are roasting, start quinoa. Bring water or broth to boil, add quinoa, return to boil, reduce to simmer, cover and simmer for about 15-20 minutes, until liquid has been absorbed and the little "tails" come out of the quinoa.
To Assemble the bowls
¼ cup quinoa, per bowl or plate
Place desired amount of chopped veggies on top of quinoa, add crumbled feta cheese, if desired, add some shredded or chopped beets, spoon a few tablespoons of Romesco sauce in the middle and drizzle with balsamic vinegar.
Squeeze a lemon slice if desired.
---
Notes
Too hot to turn your oven on? Fire up your grill and roast your peppers, tomatoes and garlic on the grill using foil, a cast iron pan or griddle or an old cookie sheet. Heat to about 450 degrees, watch closely.
Copyright 2017 | The Fresh Cooky | Greek Quinoa Bowls
Recipe Card powered by
If you try this recipe, be sure to tag @thefreshcooky on Instagram and hashtag #thefreshcooky.
Note: This page may contain Amazon affiliate links. If you purchase one or more of the products after clicking one of my links, I receive a small commission (the price you pay is not affected).
RECOMMENDED FOR THIS RECIPE!
[amazon_link asins='B00YBP918M,B000YA8R6U,B071X4F645,B00UA9G4TW,B01MEEGB4Q' template='ProductCarousel' store='thefreshcoo0a-20′ marketplace='US' link_id='f2f479f1-78d7-11e8-a53d-1708fa459b5d']