Greek Quinoa Bowls with Romesco Sauce
As an Amazon Associate, I earn from qualifying purchases. Please read my disclosure policy.
Healthy, bright and tasty Greek Quinoa Bowls with layers of fresh and crisp veggies, feta cheese, nutty and protein packed quinoa and a delicious Romesco sauce!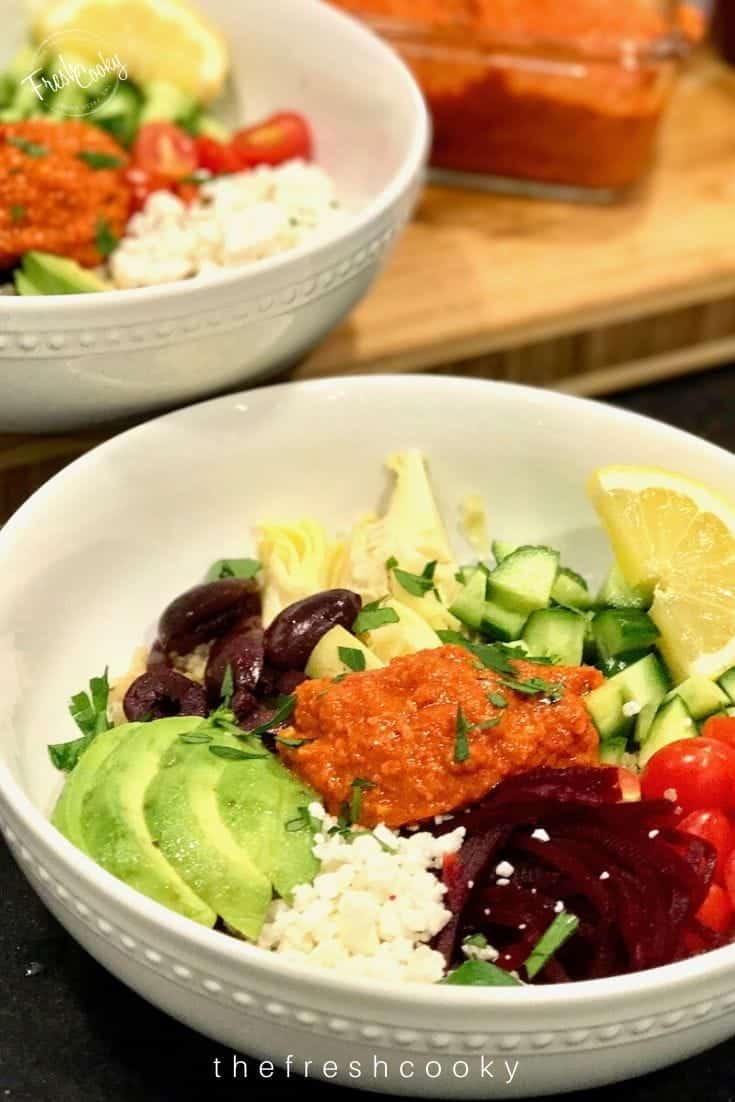 What is Romesco Sauce?
Glad you asked, it was new to me as well. Originating from Tarragona, Catalonia, this Spanish thick and hearty tomato-based sauce was used by fishermen in this area to be eaten with fish. Oh and it just so happens to be gluten free and vegan.
//This post originally published June 2017, updated January 2020//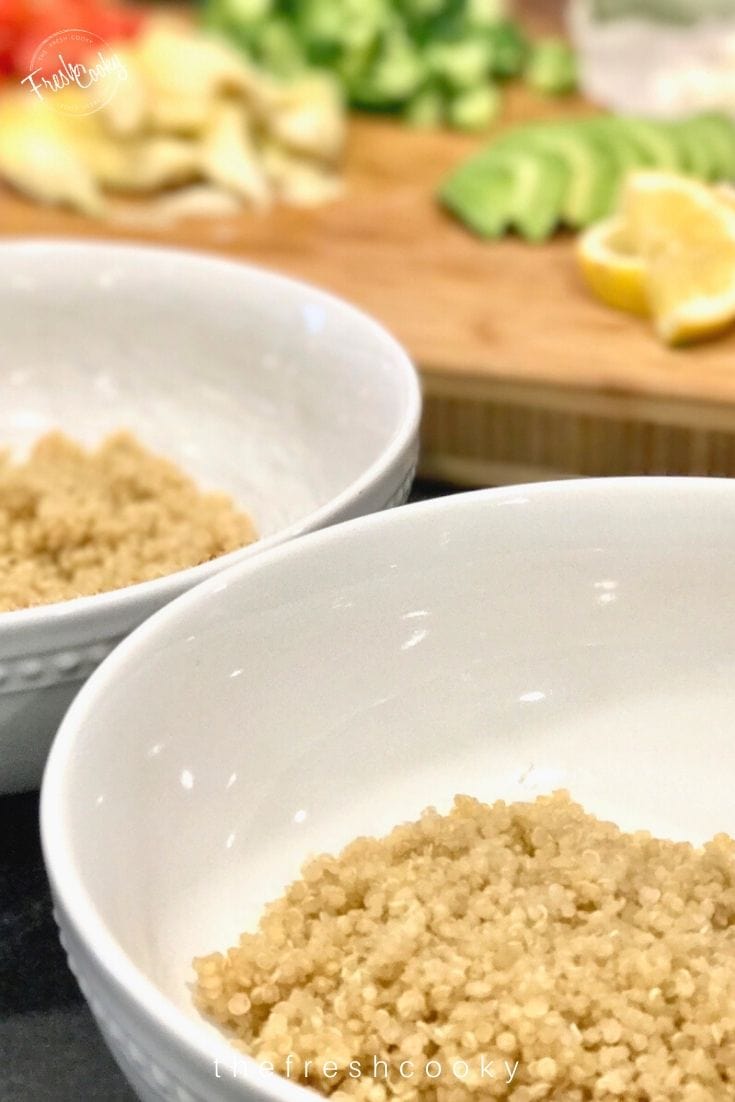 This is an ideal meal for weekly meal prep! Portion it out for lunches over the week, keeping your belly full, your mind sharp and your body fueled.
What is Romesco Sauce Made of?
A delicious, robust sauce, made with roasted red peppers, tomatoes, garlic then blended with almonds and olive oil. It's seriously, AHMAZING stuff and can be used in so may ways, hot or cold!
Other Uses for Romesco Sauce
Try it slathered atop any fish
Swirl a spoonful into soups, like this Beef Minestrone
Spread on top of grilled chicken or a tender steak
Schmear on a sandwich — ooh thick slice of mozzarella, beefy steak tomato slice, some basil and this sauce! WOW!
Stir into any pasta dish
Romesco Sauce Substitutions
Sure, home roasted red peppers are the best, but you could substitute a jar of (12 oz) roasted red peppers instead.
Fresh Roasted Tomatoes are delicious, but hey, I get it! Try using a small can of roasted tomatoes, preferably plum tomatoes.
Add a dash of cayenne pepper (or if you like it hot, up to ½ a teaspoon)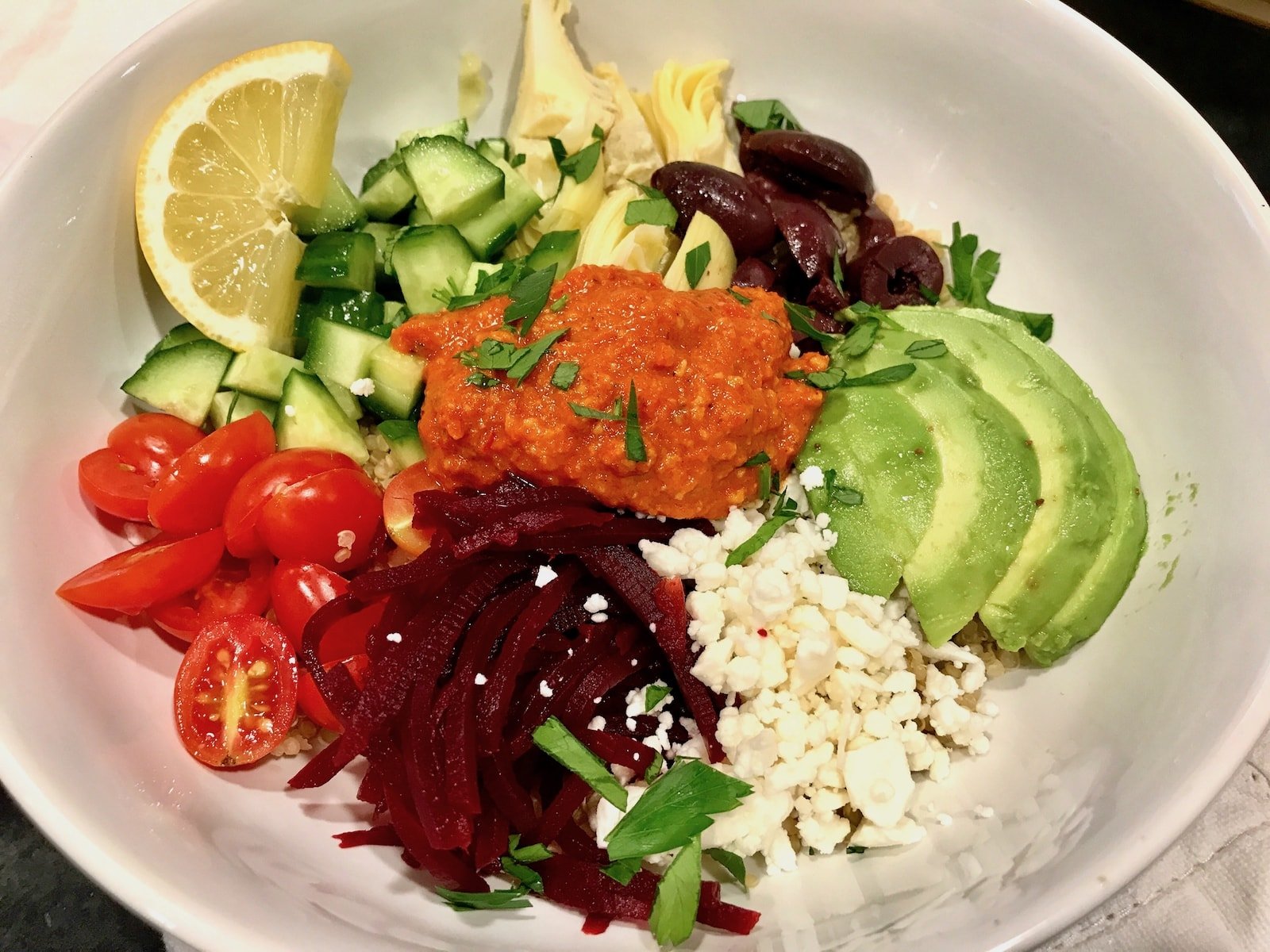 How Long Does Romesco Sauce Last
Another beautiful part of this sauce is it's longevity and versatility. Refrigerated it lasts up to 1 week, frozen up to 6 months. Try freezing in small tupperware or an ice cube tray and transferring to a baggie. Perfect to toss into soups, stews and sauces. Or thaw and use for this recipe and others.
How to Make Romesco Sauce
Start with a couple of pretty red peppers and a Roma tomato, I had an extra half from another recipe, so just threw it in, it can't hurt right? Slice pepper in half, removing seeds. Slice tomato in half.
Preheat oven to broil*, but place pan on middle rack. Put peppers on a cookie sheet cut side down and tomatoes cut side up. Place a couple of cloves of garlic amongst the peppers and tomatoes, drizzle it all with a little olive oil and sprinkle with a little salt.
COOKS TIP | Don't want to turn your oven on? Using a cast iron pan or, foil or a cookie sheet you don't care much about, use your BBQ to roast the veggies. Heat to about 450° and follow the above instructions, watch them a little closer.
Bake for 20-25 minutes until tomatoes are slightly browned, but not charred, about this like. Remove tomatoes and set aside.
Now we're grilling, or charbroiling…let the peppers and garlic (if not too dark) bake a bit longer, but get them nice and charred, you'll pull the skin off once they are done.
Remove from the tray and place on a plate or in a plastic baggie for about 10 minutes to separate the skin from the flesh. Cover with plastic wrap and let them "sweat" for a bit.
This recipe has been adapted from Closet Cooking
Once they are cooled, peel away the charred skin from the flesh, remove the papery part of the garlic cloves to reveal the subtle softness of the garlic as well.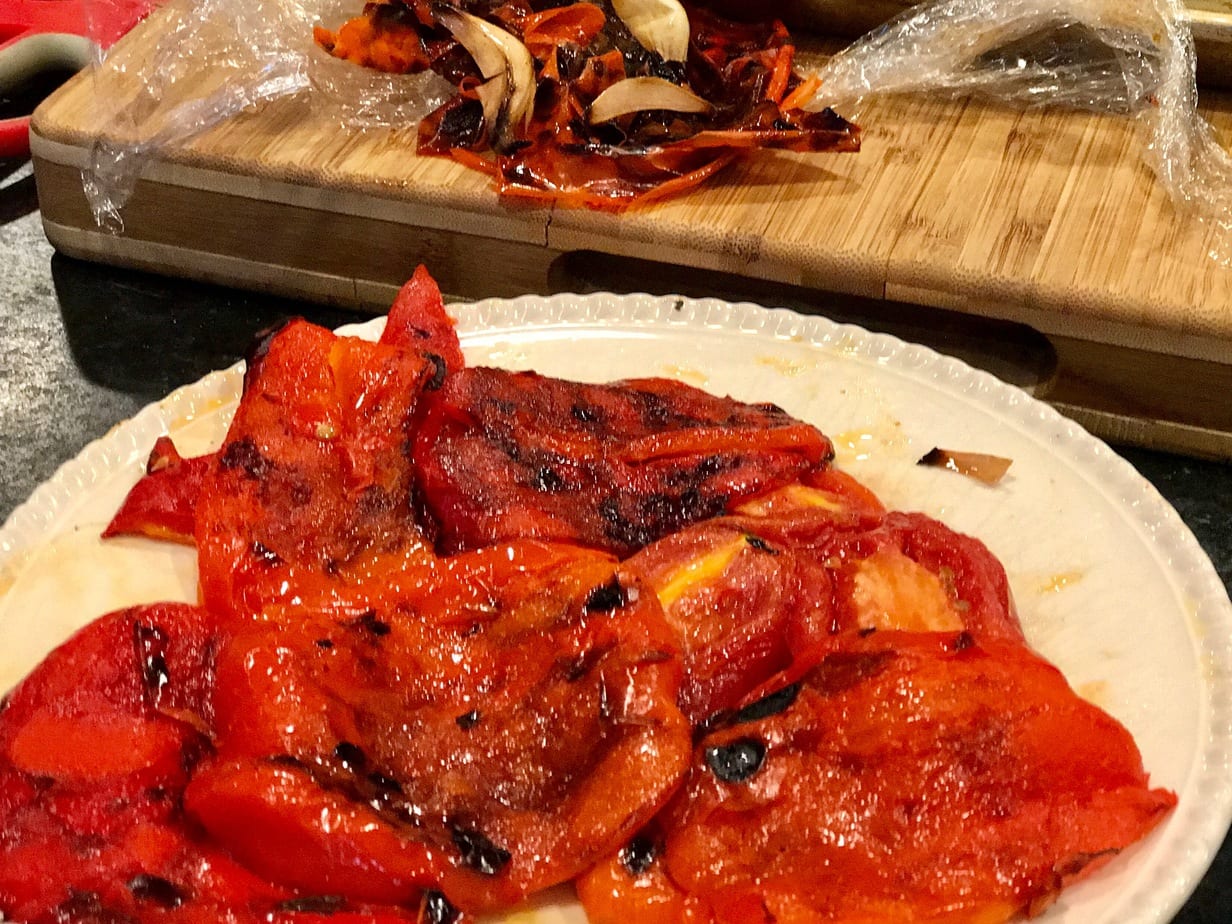 Gather your ingredients for the Romesco sauce, spices, roasted peppers, tomatoes, garlic, lemon, almonds and olive oil.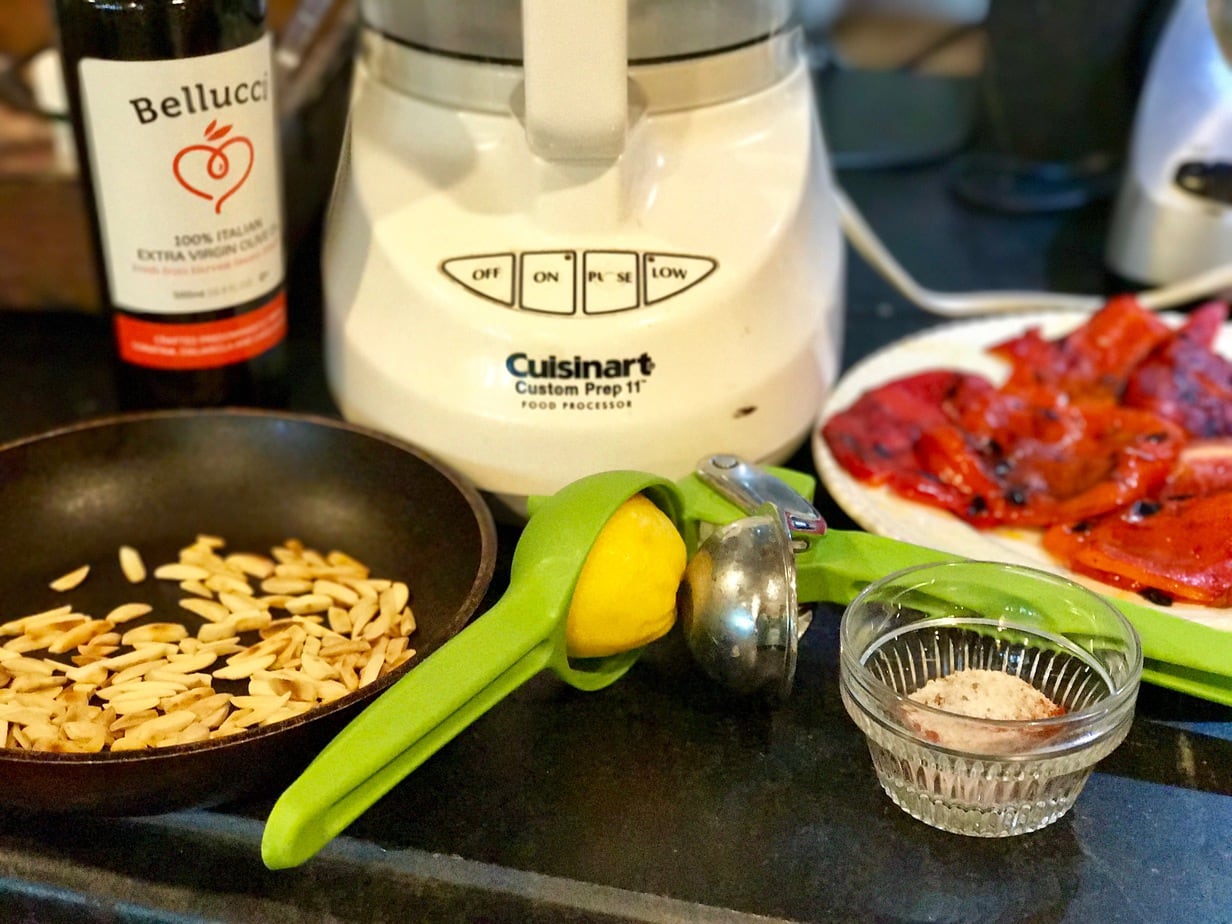 Place them all in the bowl of a food processor or blender.
Whir it up several times, then turn on low and drizzle olive oil and puree well.
Make sure it is nice and smooth, then if making ahead of time, store in airtight container, refrigerating until ready to use.
Beautiful isn't it!?
ASSEMBLING GREEK QUINOA BOWLS
Cook the quinoa while your Romesco is cooling. I happened to have some leftover vegetable broth, but water is just fine too, season with a little sea salt, if desired.
Chop desired topping ingredients for the Greek Quinoa bowl. I like fresh tomatoes, cucumbers, artichoke hearts, feta cheese, kalamata olives, avocado, lemon, avocado and personally beets, not very Mediterranean but I love them and they add a wonderful sweetness with a little crunch.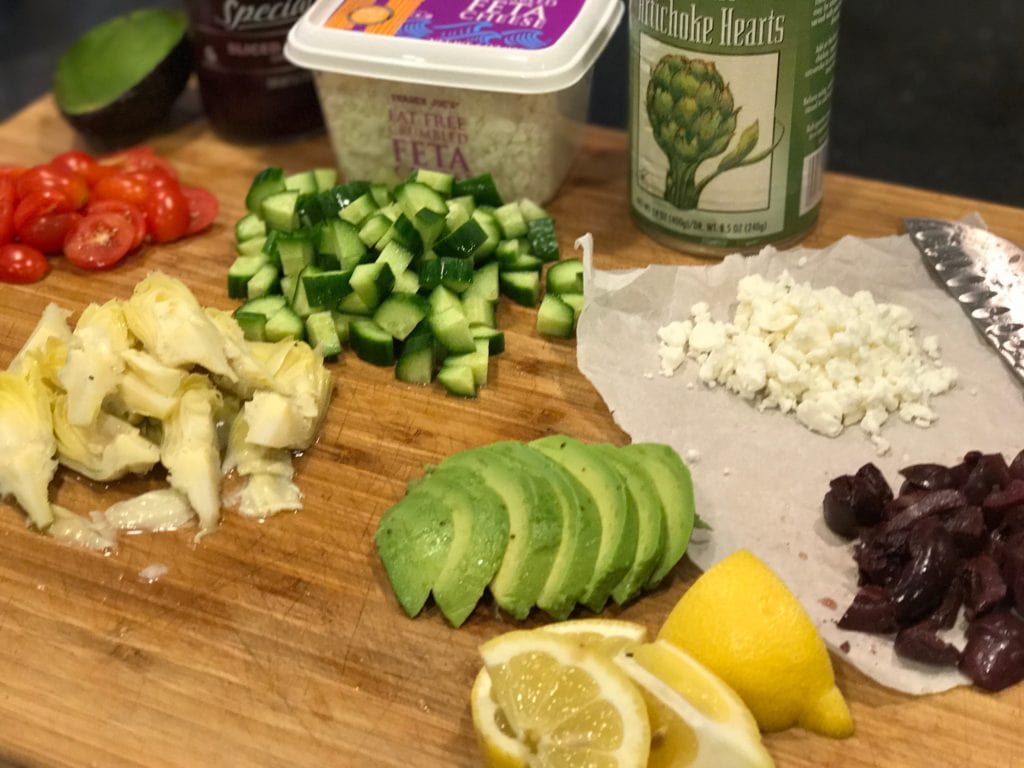 Once your quinoa has cooled (doesn't have to be cold, but cooled is nice). Place a ½ cup of cooked quinoa in a bowl or on a plate…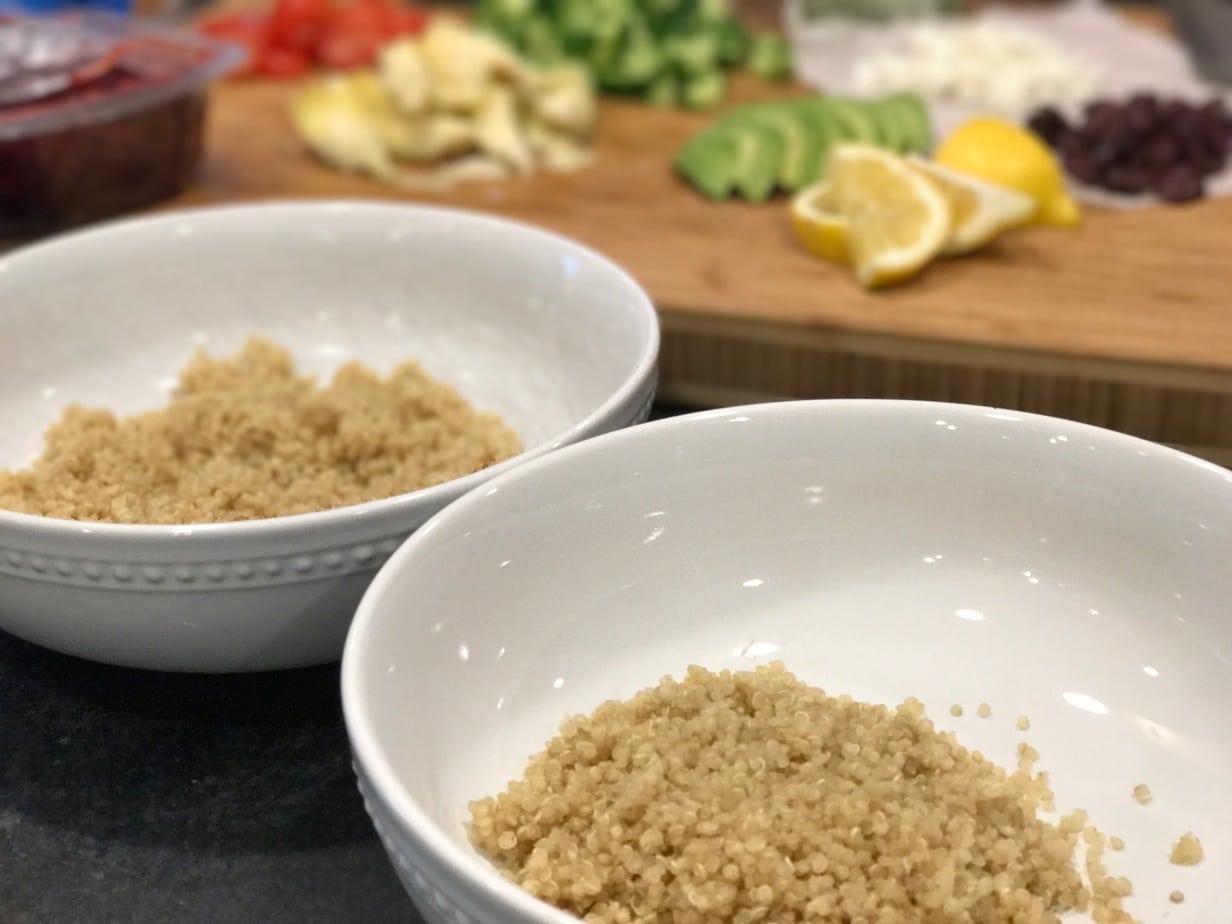 Then add each of the toppings desired by the plate or bowl until you have used them up. Or portion them out in storage containers for lunch for the week! BAM! Lunch is done!
Place a nice dollop of Romesco sauce in the middle, a lemon wedge on the side and drizzle a little balsamic vinegar over the whole thing…delish!
How to Serve Romesco Sauce Greek Quinoa Bowls
Serve alone or with fresh pita triangles
Try substituting goat cheese for feta for a milder taste
Omit feta cheese for a vegan meal
Try making some of these easy pickled red onions to place on top
Make some Naan to take it over the top
Pair with this crisp and refreshing Cucumber Cooler Cocktail.
If you enjoyed this Greek Quinoa Bowl, give these other fresh recipes a try:
Slow Roasted Veggie Pasta
Summertime Shish-Kebabs
Hearty Cobb Salad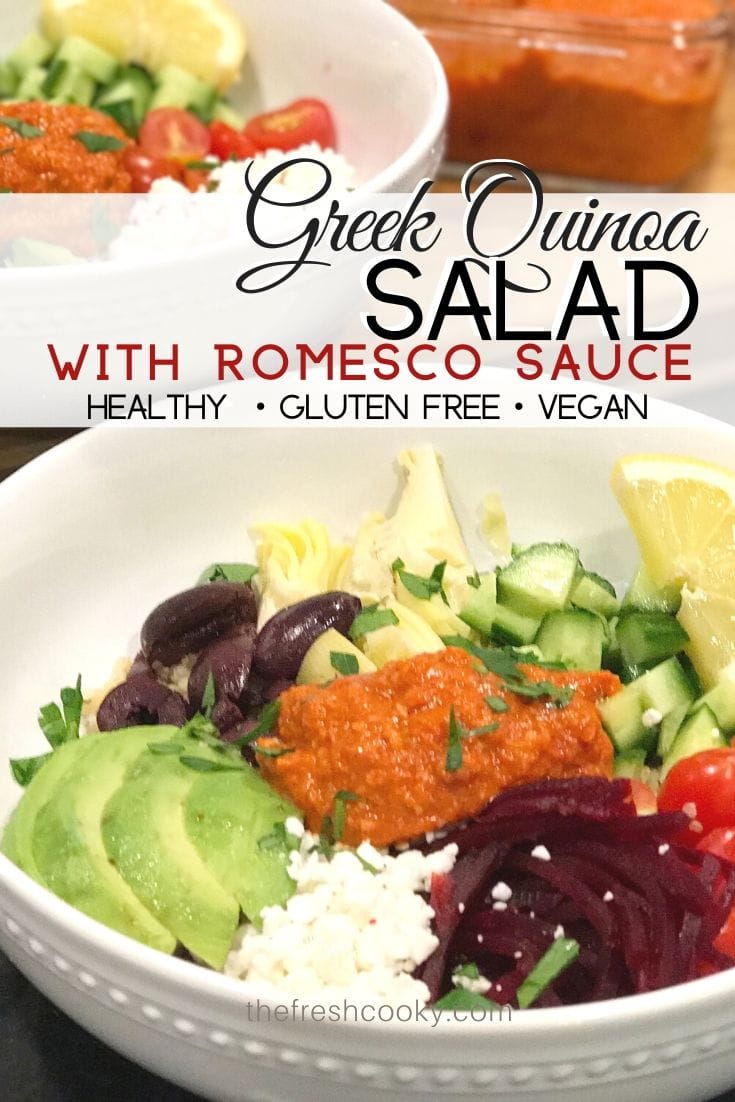 Like this recipe?
Don't forget to give it a ⭐️⭐️⭐️⭐️⭐️ star rating and comment below the recipe!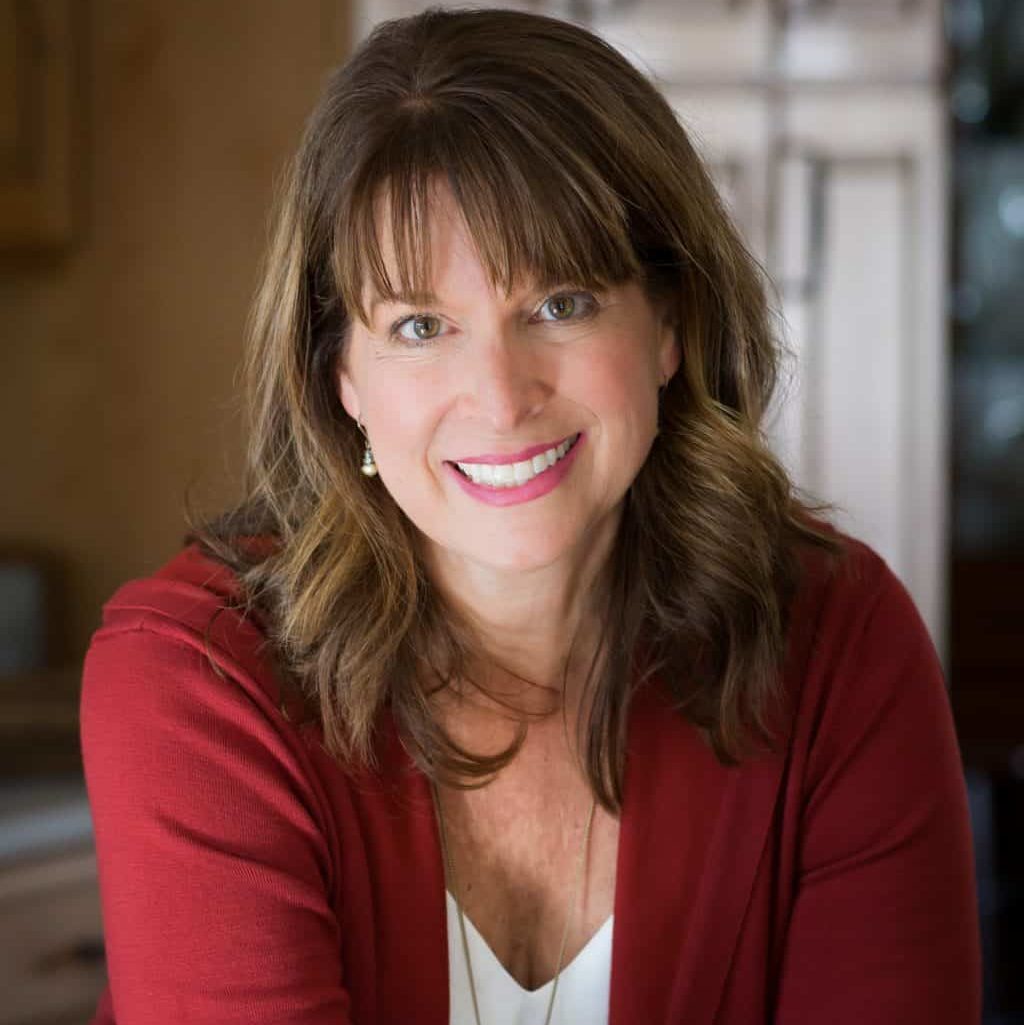 About Kathleen Pope
Recipe Innovator | Food Photographer | Food Writer
Hi, I'm Kathleen Pope. Here at The Fresh Cooky you will find easy, mostly from-scratch, trusted recipes for all occasions. From speedy dinners to tasty desserts, with easy step-by-step instructions. I am here to help teach you how to make mouthwatering recipes without spending hours in the kitchen. Read more about Kathleen here.