As an Amazon Associate, I earn commissions from qualifying purchases (
disclosure policy
).
Welcome to this weeks Fresh Fridays newsletter! Packed with fresh recipes, helpful tips, a peek into my life and a touch of inspiration.
By the time you read this we will "officially" be empty nesters! A bittersweet time for sure, we have been looking forward to this time, however; there is something that tugs on a mother's heartstrings when she takes her "baby" to school. More about that below.
In today's Fresh Fridays I bring you a brand new recipe you are going to ADORE! An easy weeknight meal, plus ways to make for two! Be on the look out in my new recipes for the "TIPS FOR TWO" section, with this logo.
And lastly, I thought it would be fun to recap the books we've read this summer. So many good reads! Get the scoop below!
Use the links below to easily navigate to your favorite section!
New Today! Philly Cheesesteak Sliders Recipe
I am so very excited to bring this recipe to you. This no fuss, no muss recipe is going to become a favorite!
With tender shaved steak (and options to use other economical meats), caramelized onions and peppers and gooey cheese, these baked cheesesteak sliders are perfect for a quick weeknight meal, game day appetizer, family game night, tailgating or an end of summer BBQ.
Just click the button below to take you to the easy recipe!
More Sliders & Shaved Steak Recipes
If you have not discovered shaved steak, you are in for a treat. Trader Joe's is my favorite as it uses the classic Ribeye cut of steak. Super tender, paper thin and oh so delicious.
Target, Kroger and many other grocery store chains also carry this shaved steak. If you cannot find it, just ask your butcher, he can always shave it for you!
Empty Nesters at Last
My husband and I got married later in life (check out our story in my Cinnamon Rolls recipe) and because of that we didn't waste time starting a family — we are looking forward to rekindling our love story, spending time together, traveling and not worrying about who is coming home when! 🙂
I know that kids move home; certainly our boys come home for holiday breaks and summers too, and maybe even for a season after college; so not fully and truly empty nesters, but I will take it for now.
I think what makes it easier is knowing that our boys are ready; they are mature young men, ready to be independent and fly. I believe we have raised them well; with strong morals, confidence, independence, strong faith and hopefully some humility — taught them common sense and critical thinking.
It is scary and exciting to bump your kids out of the nest and then watch them stretch those wings out the first time — and hopefully catch the wind and soar! It's an honor to be their parents but you can bet that I'll be spending time on my knees.
To all of my friends who are taking a child off to school for the first or the last time, I am with you! I am here for you! Reach out to me, we can laugh, cry and share our fears together! Remember I answer all of my emails and comments personally — because YOU are so important to me!
Summer Reading List
I read all the time, but like many, I like to try and read a bit more in the summertime. Here is a list and my quick review on the books my husband and I have read this summer.
Weekly Inspiration | You need this song!
I have had this song on repeat this week! Love it, if you have a moment watch the video — oh and Dante Bowe's voice! Oh my! God Really Loves Us by Crowder, Dante Bowe and featuring Maverick City Music.
I so appreciate you for your support and coming back week after week! I hope you know you are loved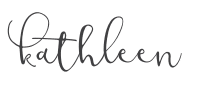 P.S. Be sure to browse through last weeks Fresh Fridays for more great recipes!
Visit The Fresh Cooky's Amazon Shop