As an Amazon Associate, I earn commissions from qualifying purchases (
disclosure policy
).

---
Hi Friends, not a whole lot going on this week in the food department, but a whole lot in the heart department.
With Fat Tuesday coming up this week, I have a fun, quick little nod to Mardis Gras to share with you. I think you will like them, easy, quick Mini King Cake bites.
My focus has been elsewhere this week as our pastor's daughter passed away last Friday, pitching in where we could to serve this beautiful family as they mourned, grieved their daughter and sister.
At her memorial service yesterday, I was struck by something her oldest brother shared, "don't say she was taken too young or her life was too short, her life was to the exact moment God planned all along".
Never has death held so much hope! Hearing the stories of Sarah's short 23 years on earth, her desire to share with others the hope we have in Jesus, the courageousness, bravery she faced in her battle with cancer. I know that her life will continue to impact others for years to come.
I have never been to a service where there was so much encouragement, hope and joy intermingled with honesty, tears and grief. I was honored to know Sarah Rose for a little over a year, we met just as she was diagnosed. In her quiet, but insightful ways, she taught me to listen more, be more courageous, share my faith more boldly.
Watching her tender heart, unflappable character, the way she stepped into the uncomfortable, the unknown, taking it all in stride — always with a big, beautiful Sarah smile! How can I not be encouraged? I hope you will be encouraged today.
Read to the end, Ann Voskamp wrote a beautiful email this morning that I know will encourage you.
---
What's New in the Kitchen
Easy mini King Cake bites are the perfect way to portion control your Fat Tuesday celebrations! Be sure to check out the secret behind these quick and easy mini cinnamon rolls.
---
I updated an older recipe this week for this easy, 10 minute Honey Teriyaki Sauce recipe — a great marinade, drizzle on fish, in rice bowls, stir-fry and so much more!
You woke up to that new headline too — one we've been seeing looming on the horizon for the last several months, and l'm with you — my heart cracked too.

In the face of pain, may the people of God be found at their post, on their knees in prayer.
Because we know prayer isn't just the least we can do,
and prayer isn't all we can do,
but prayer is ultimately the most important work we all can do.

Because it's calling on the One who slays all the dark, wins us all back from the mess, and cuts right through all the impossible knots of desperate things.

Where there is an invasion on earth, may our prayers war an all-out invasion on the powers and principalities, "against the rulers of the darkness of this world," (Eph. 6:16)

Though missiles rain from the sky this morning, rain down Your mercy, Lord.

Though black smoke rises, our prayers rise higher, surer, greater.

Though explosions shatter and gunfire rattles, we hold our ground in the face of pain and we move toward the suffering, our hands reaching with bold solidarity.

Ours is a tired world, Lord, weary of suffering, weary of the dark, weary of all the heartbreak, ours is a tired world, weary for hope — raise us up with the indomitable certainty that this world is a broken one and You alone are our unwavering hope, King Jesus.

Lord, hear our cry:

Comfort children who cry terrified, give courage to mothers who gather to calm, strengthen leaders who stand steady to find a way of peace.

For those who need to flee — may they find our arms a safe haven.

For those who are hungry — may they find our open hands offering bread for today and living bread for all eternity.

For all the limping, weary and wounded — may they find us holding on to each other, because when we live like we all belong to each other — we answer so much of the longing in the world…even our own.

And for all those who despair, both near and far — may they find our hands and feet today to be those of King Jesus, we who get to be His very good body of peace in a hurting world today.

Ann Voskamp
Yes, this post was a little different than most, but I hope if it did anything, it reminds you of where our eyes should look when we find ourselves lost, hopeless, frightened. Our hope is in the Lord. This verse below was one of Sarah's favorites and I hope it brings you hope today.
"Therefore we do not lose heart…For our light and momentary troubles are achieving for us an eternal glory that far outweighs them all. So we fix our eyes not on what is seen, but on what is unseen since what is seen is temporary, but what is unseen is eternal." 2 Corinthians 4:16-18
Song of the week
Enjoy this beautiful, classic hymn by Shane and Shane.
I love you kind comments, encouragement and questions! Pop down below or reply to the email.
With joy and hope,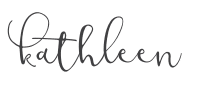 P.S. Be sure to browse through last weeks Fresh Fridays for more great recipes!
Visit The Fresh Cooky's Amazon Shop