Healthy Crunchy Ramen Noodle Salad
As an Amazon Associate, I earn from qualifying purchases. Please read my disclosure policy.
An addictive, easy Healthy Ramen Noodle Salad, a coleslaw if you will. Loaded with bright flavorful veggies and with ramen noodle crunch along with cashews and sesame seeds, holds up well under heat and is dressed in a reduced sugar sweet-sour dressing.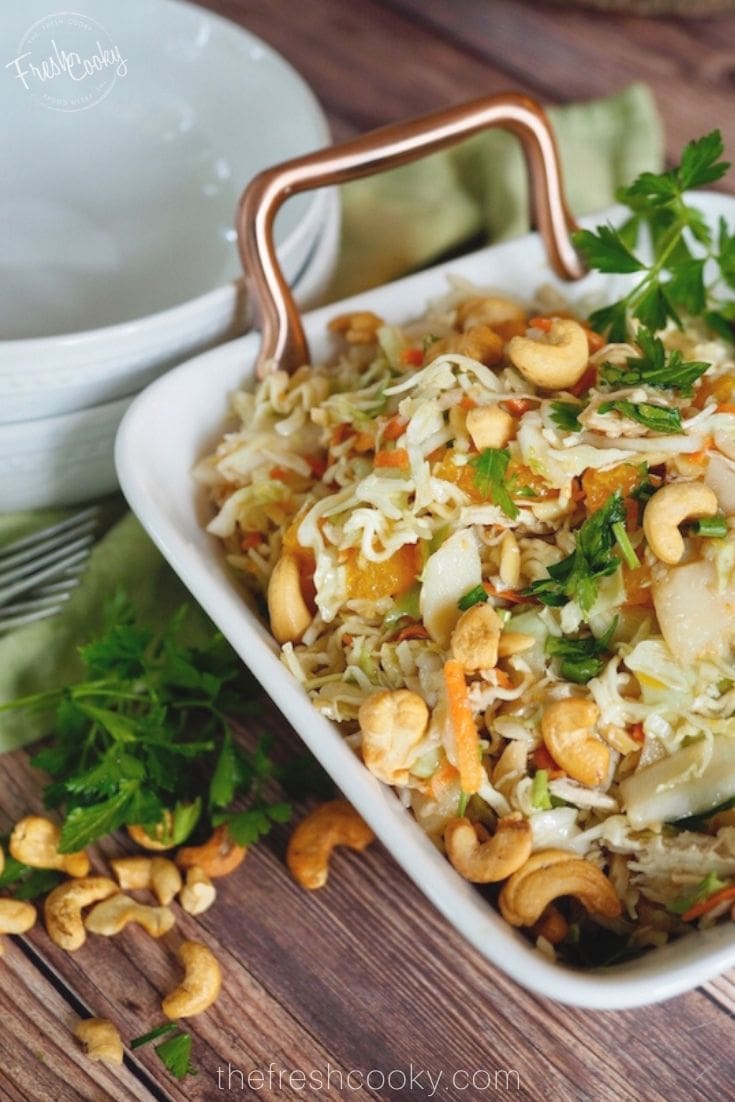 Make it for dinner or a luncheon, add shredded chicken, toss in some crunchy water chestnuts, peanuts, cashews or chow mein noodles to enhance it even further, I have even put in diced fresh avocado!
I love this wildly popular salad recipe, it holds up well in most types of weather and stays crispy and fresh long after other salads have wilted. So what makes this one different?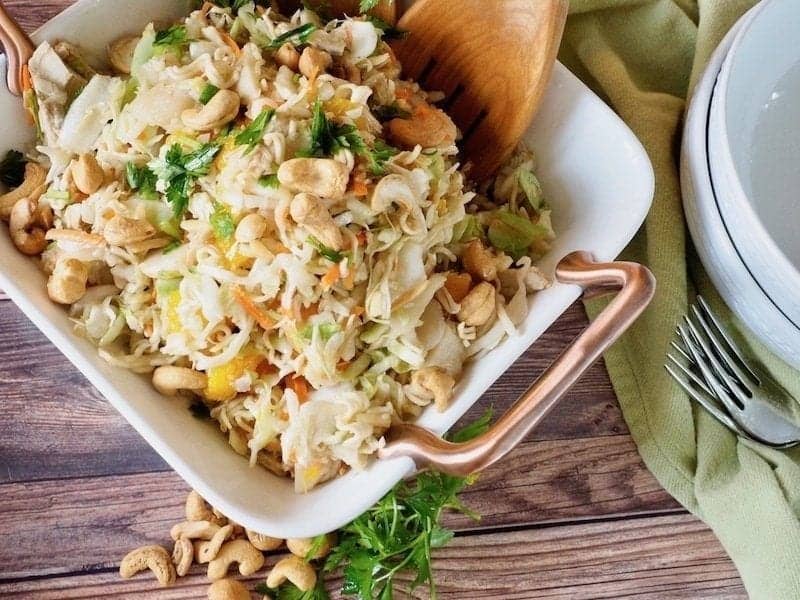 All-natural ingredients, that's what! I have a personal vendetta against MSG and other ingredients I can't pronounce, this recipe uses simple ingredients that you most likely have in your pantry or fridge without sacrificing taste!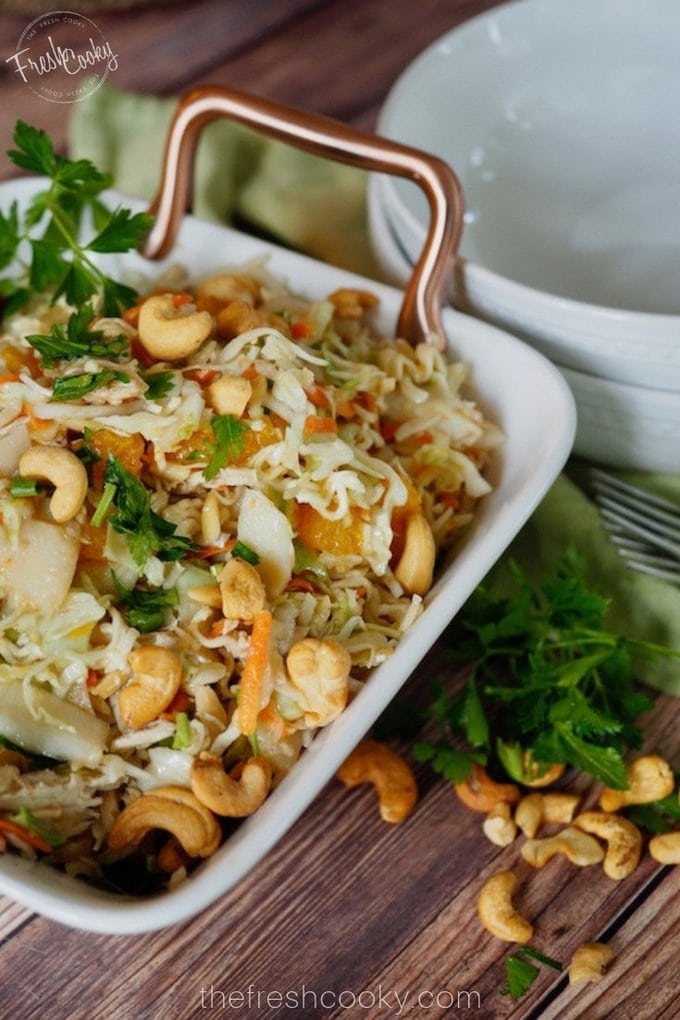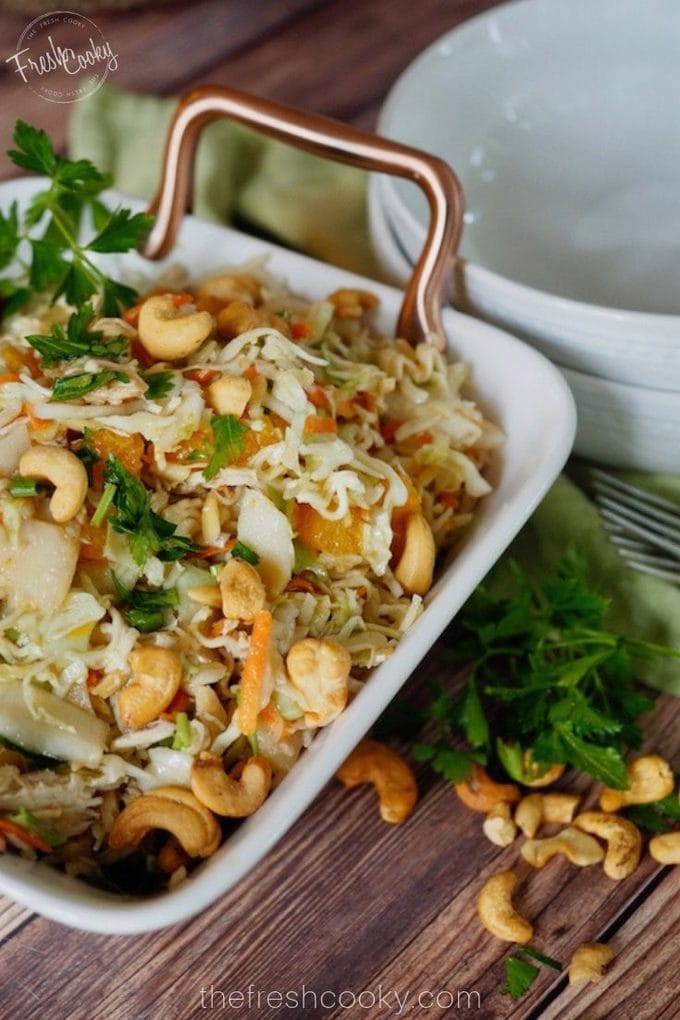 How to Make Healthy Asian Slaw Dressing
Many of the recipes call to use the packet from the ramen noodles in the dressing. We call those "Cup O' Sodium" in our family, have you read the ingredients?! EW! I have recently found these Organic Ramen Noodles and they work beautifully for this dish and they are a decent meal, in a pinch.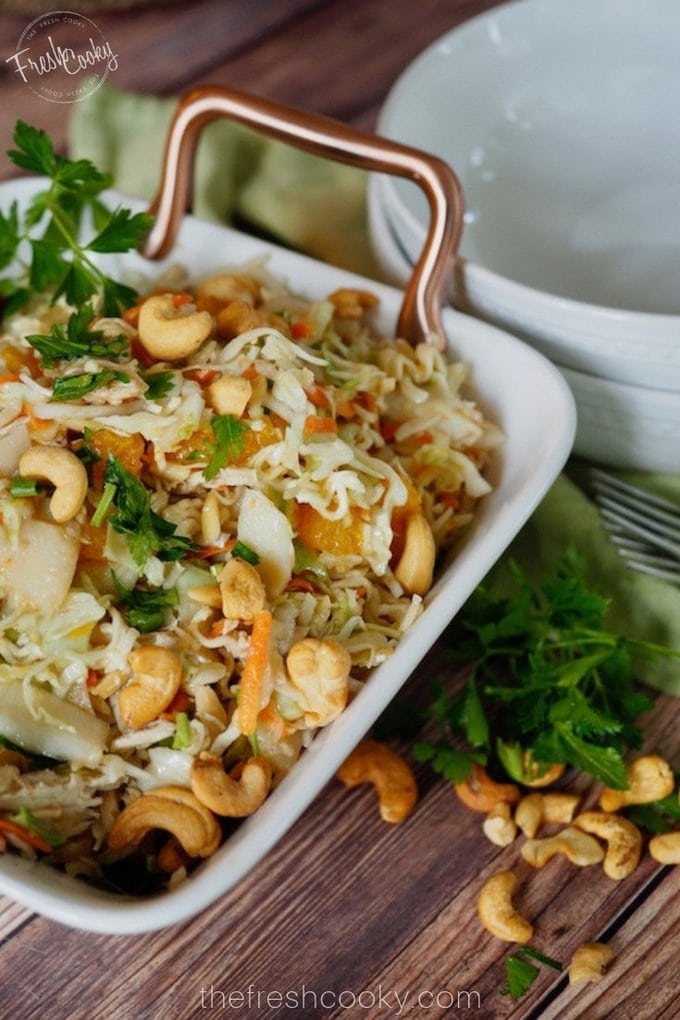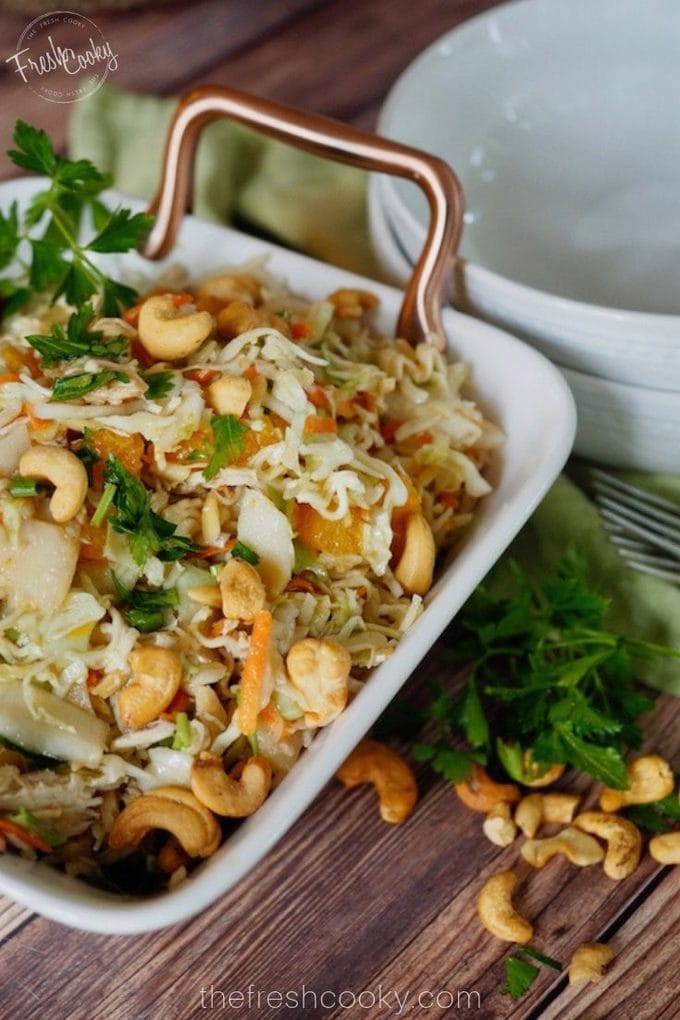 But I digress back to the dressing, place all of your dressing ingredients into a mason jar with a tight fitting lid, shake wildly; it will still separate, but at least you have a start.
I used Bragg's Liquid Aminos in place of Soy Sauce, but you can use any good Tamari or Soy Sauce (or GF).
You can use any mild oil, I do love Grapeseed Oil and Avocado oils.
Please don't replace the Toasted Sesame Oil — if you have never cooked with it, you are in for a treat!! And it stores beautifully in the fridge.
I love the mildness of Rice Vinegar, but it can be replaced with white wine vinegar, regular vinegar or apple cider vinegar (it will have a stronger vinegar taste with ACV).
All Natural Asian Salad Dressing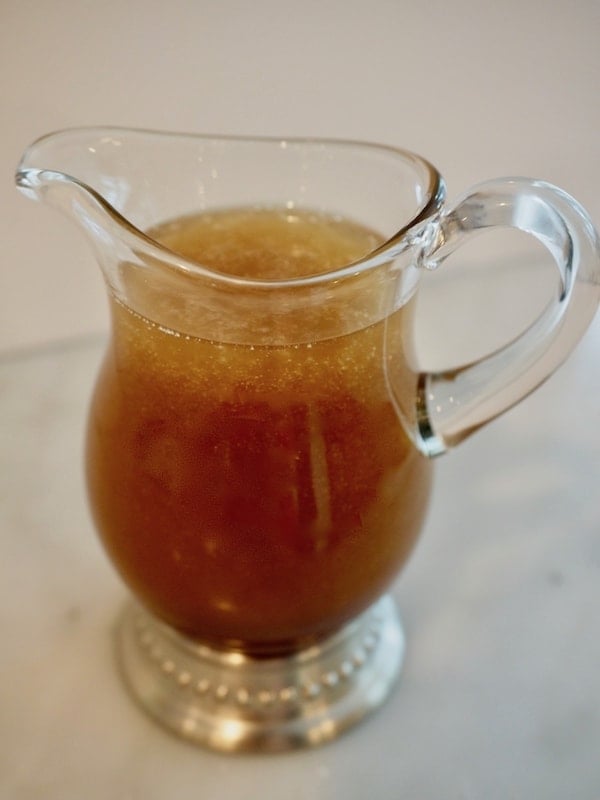 Before you put that jar in the fridge though, use it to gently crush the ramen noodles, you don't want them smashed to smithereens, but small, even chunks. Now go put the bottle in the fridge, sorry, I've been told I'm bossy!
Please preheat your oven to 350° — note, the please!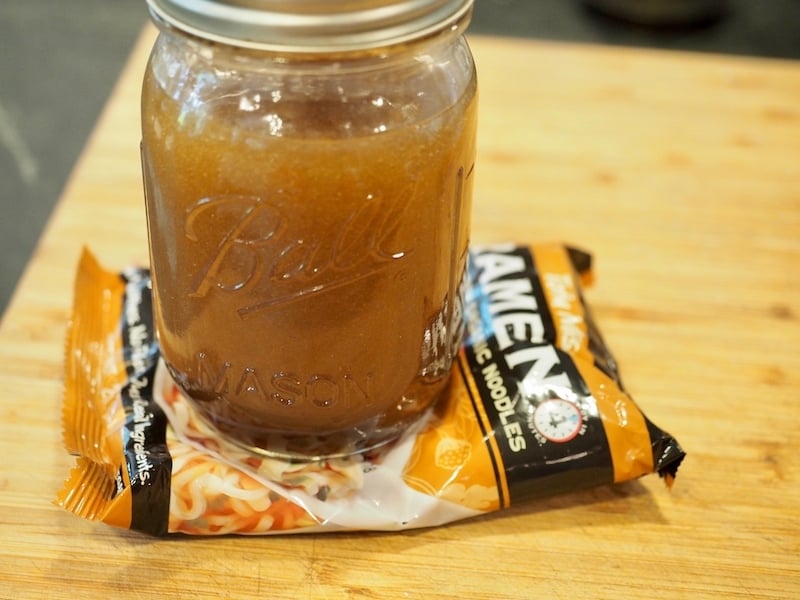 Next for the BEST part, the "CRUNCHIES" as I call them.
Making Crunchies!
Measure out the slivered almonds and the sesame seeds and place on a small sheet pan, I love (it's well loved) my quarter sheet pan!
Toast in 350° oven for 5-7 minutes, shake them about half way through, you want them lightly toasted.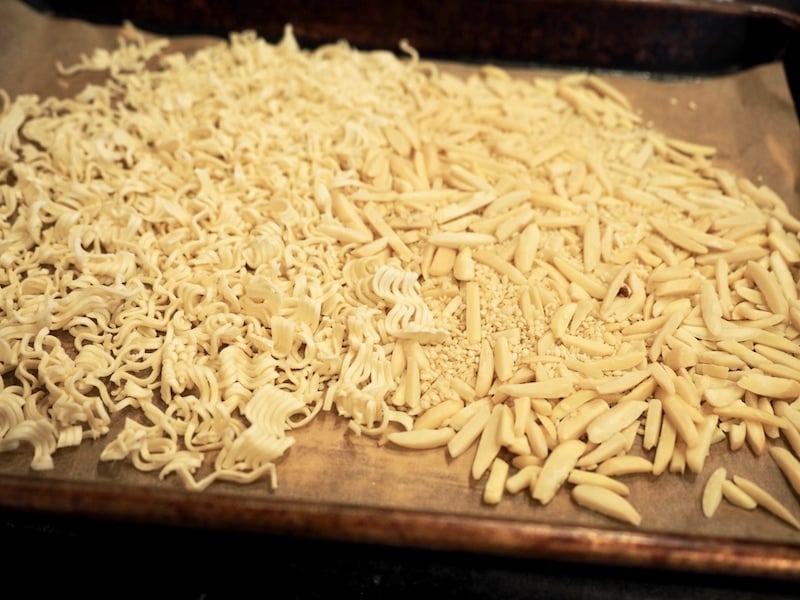 Once your "crunchies" are toasted, set aside to cool completely, it won't take long.
ASSEMBLING THE SALAD | COLESLAW
Place your shredded cabbage into the bowl. I like to go a little crazy sometimes using a package of larger shredded cabbage and a package of the angel hair cabbage. I'm kind of wild like that! Of course you are more than welcome to shred your own, I was going to put some purple cabbage in this and forgot to buy some! That would bring out some great color and nutrients!
Chop your green onions, and if your mandarin oranges are on the larger side like mine were, cut them in half, drain them before placing in salad.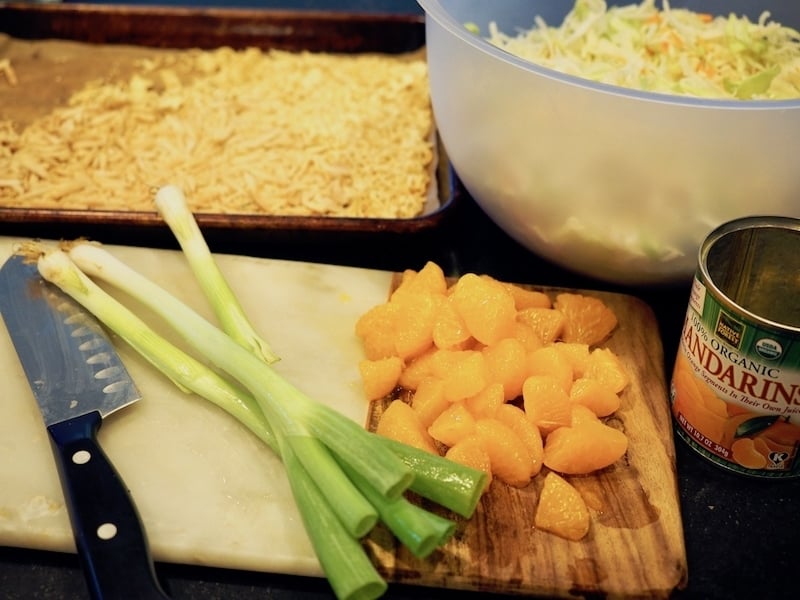 I use one of my
covered bowls
for the salad, so it can marinate, then I spoon the salad into a pretty serving bowl when ready to serve. Although, if you are traveling with the salad, these bowls are tops!
Do you like water chestnuts? Now is a good time to toss them in the salad. I did a rough chop on mine, I love their watery crunch. And if you are adding chicken to make this heartier, add it now, shredding it a bit into bite size pieces.
Toss in your cooled "crunchies" and then pour your dressing over everything; like all coleslaws, initially it may not seem like enough, but as the cabbage shrinks and absorbs the dressing it will be more than enough.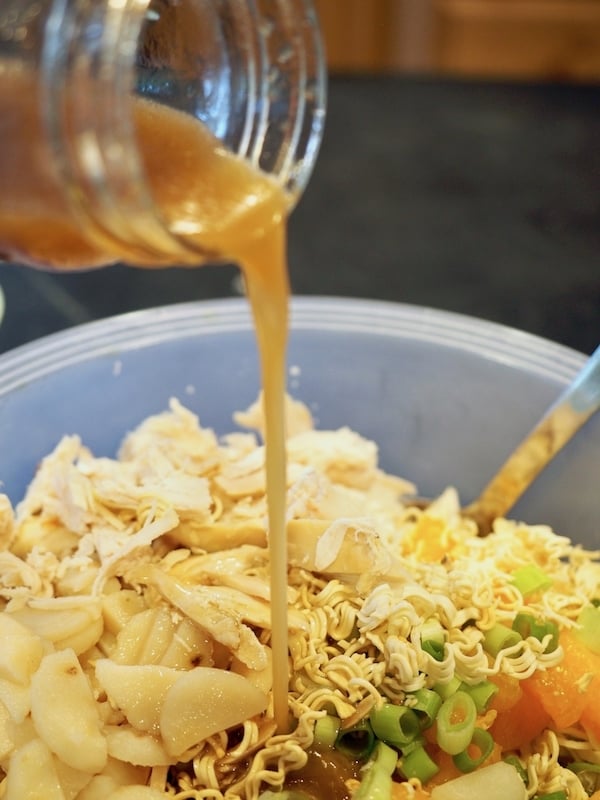 Give it a good mix. Cover the container and refrigerate for about an hour before serving, it can withstand longer if need be, heck it's even decent the next day, though starts bordering on leftovers for me.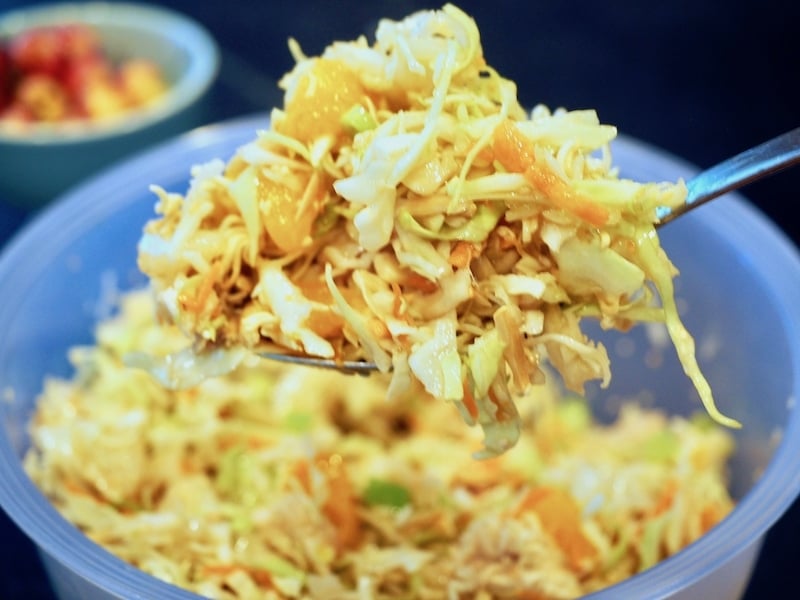 When ready to serve, sprinkle a little fresh chopped cilantro and maybe some roasted cashews on top.
This is a wonderful side dish with or without the chicken and easily makes a full meal with the chicken. Wonderful for a luncheon, potluck, picnic, party, or barbecue!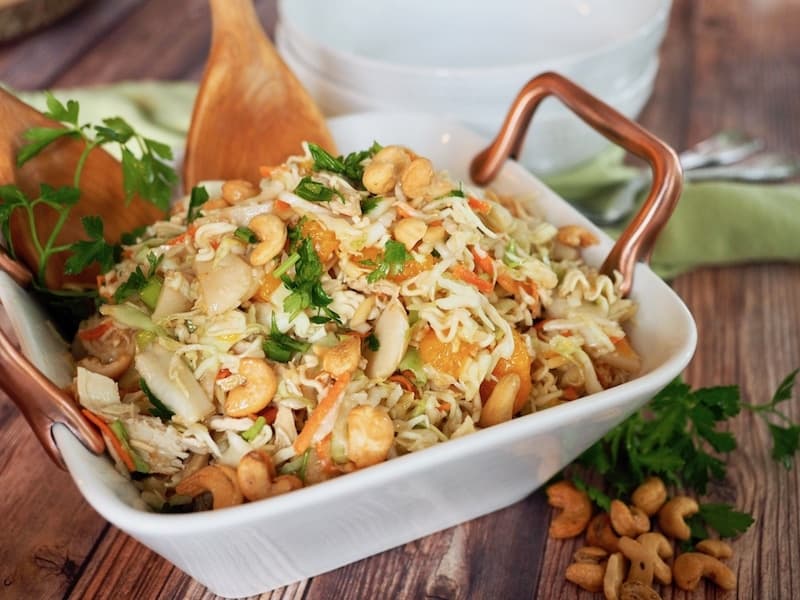 Want to make this even heartier? Add some shredded chicken, you'll thank me later!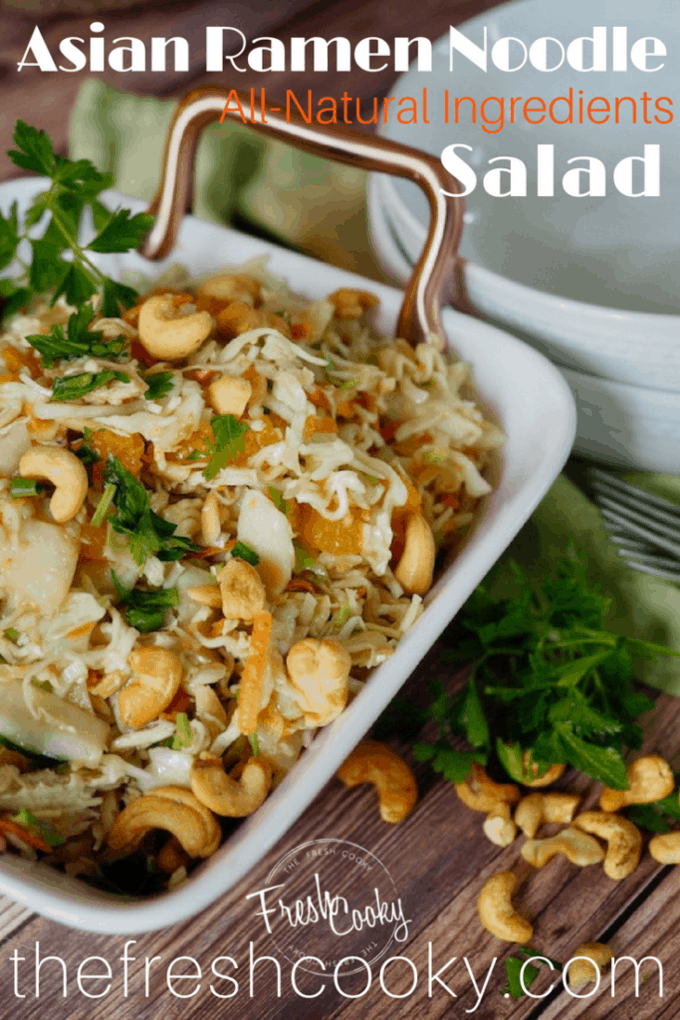 Try these other delicious recipes along with this Asian salad:
Like this recipe?
Don't forget to give it a ⭐️⭐️⭐️⭐️⭐️ star rating and comment below the recipe!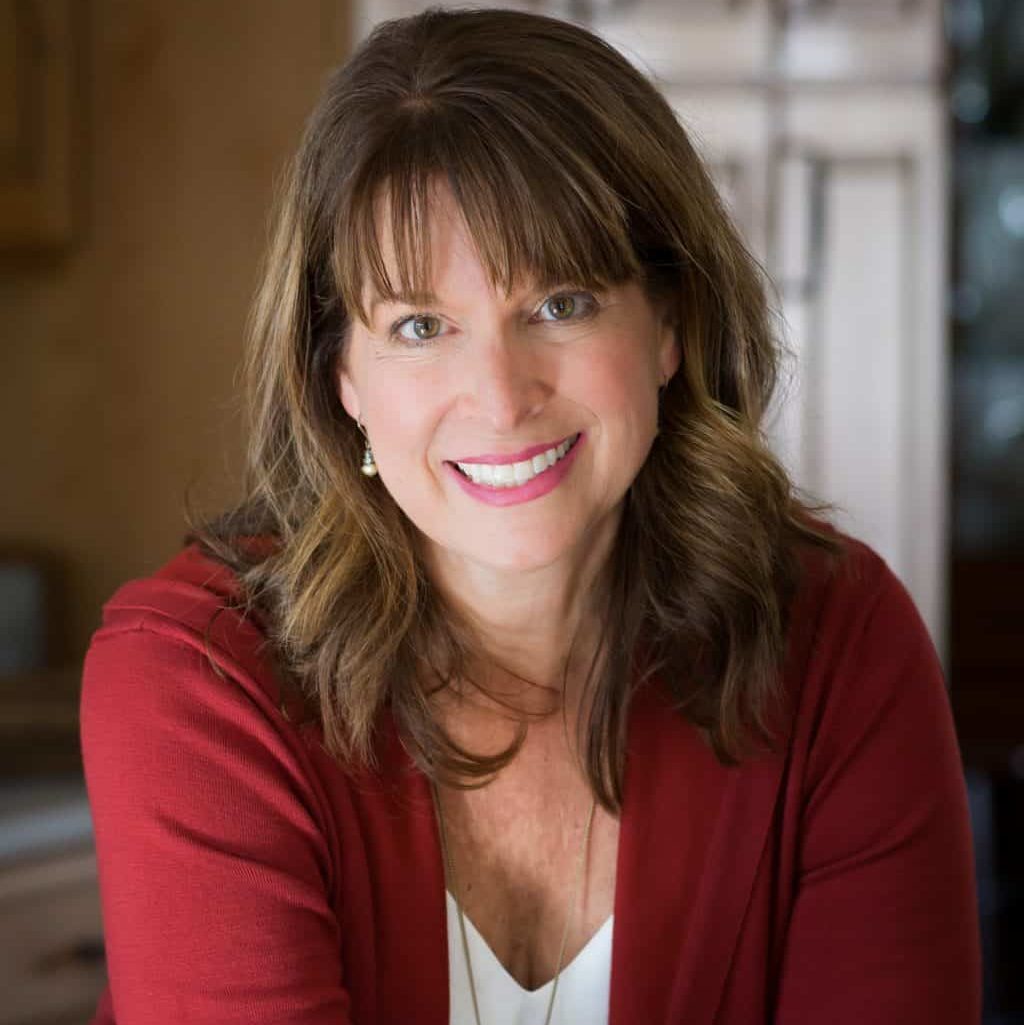 About Kathleen Pope
Recipe Innovator | Food Photographer | Food Writer
Hi, I'm Kathleen Pope. Here at The Fresh Cooky you will find easy, mostly from-scratch, trusted recipes for all occasions. From speedy dinners to tasty desserts, with easy step-by-step instructions. I am here to help teach you how to make mouthwatering recipes without spending hours in the kitchen. Read more about Kathleen here.