As an Amazon Associate, I earn commissions from qualifying purchases (
disclosure policy
).
These gooey cinnamon rolls are so very simple, before you know it (with a little patience), you'll have a sweet, soft bread with buttery, cinnamon, with ooey-gooey centers topped with an amazing, fluffy Cinnabon frosting; a clone of a Cinnabon!
These are my signature rolls, people have been known to request them when we are coming for a breakfast or brunch. Soft, fluffy, stuffed with buttery cinnamon goodness; homemade cinnamon buns with a rich, creamy and easy cream cheese frosting.
If you love breakfast sweets as much as my readers (and my family) then you have to try these recipes; Pumpkin Honeybun Cake, Blueberry Crumble Cake and this simple Fall Breakfast Charcuterie Board; a grazers dream! And don't forget this equally delicious Chocolate Stuffed Monkey Bread!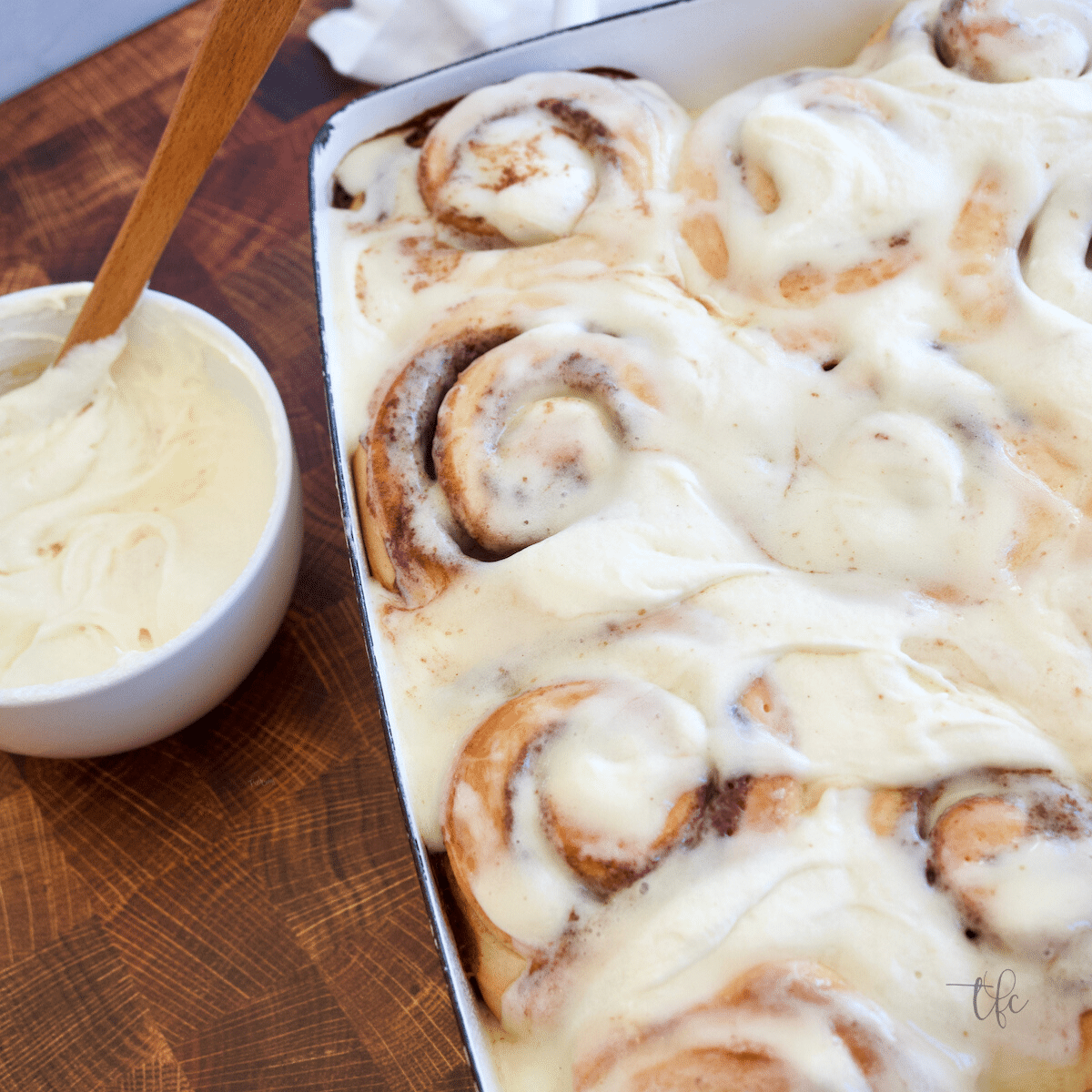 I enjoy giving precise details in my recipe posts to lead my readers through any questions. If you're just here for the printable recipe, you can Jump to Recipe to head straight there!
"I can not say enough about this recipe!! I was skeptical. Nothing on Pinterest seems to ever turn out exactly like the pictures. These are absolutely incredible! Turned out EXACTLY like the pictures and recipe showed! My cinnamon rolls always have turned out dense and dry. I genuinely wasn't hopeful. It was for Christmas morning and I had a back up plan in mind but these were pure perfection! These will now be a Christmas tradition in our family forever. After I cut them for the second rise i put them in the fridge to rise overnight. Set them out while everyone was opening presents. Then baked them while the table was being set for breakfast, coffee was being brewed and frosting was being whipped up. They are out of this world!"
Crystal
Reader
Do you like funny stories? Well I've got a whopper for you, this one almost cost me my husband!
Brad and I had been dating about a year and a half and I was hoping and praying that he would soon ask me to marry him. One weekend, Easter weekend as a matter of fact, we had planned on going skiing for closing day at Vail.
The Story Behind Ooey Gooey Cinnamon Rolls
I was all good with that, was all ready to ski when he arrived, except he threw me a curve ball when he asked if I would pack an overnight bag, just in case we got snowed in. Yeah right, in April? Late April? "Wait", I say with a rather panicked tone to my voice, "tomorrow is Easter, I have to be back tonight to start my cinnamon buns, I always bake cinnamon rolls for my family!"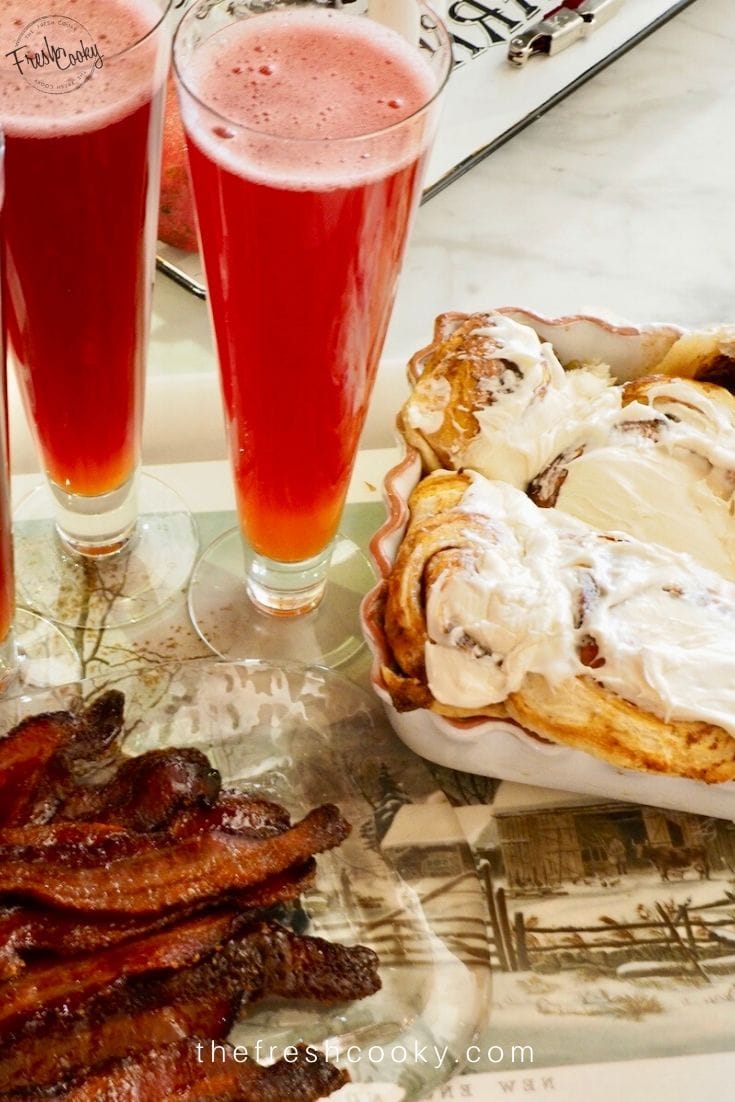 He could see the look of terror on my face that he would even ask me this, I stammered and stumbled through the fact that we had to be back home that night, I couldn't let my family down and not bring my ooey-gooey cinnamon rolls, Easter depended on it! I actually argued with him for awhile, seriously, what was wrong with me, I must not like last minute changes or something!
He naturally suggested we could just buy cinnamon buns the next morning if we did get stuck in the mountains. WHAT!? ARE YOU KIDDING ME, I don't BUY cinnamon rolls…I could tell he must love me, A LOT! He took my "freaking out" and urged me to get my bag and we'd figure it out as we go.
Keep Reading for Recipe or use the "Jump to" recipe button at the top of the post.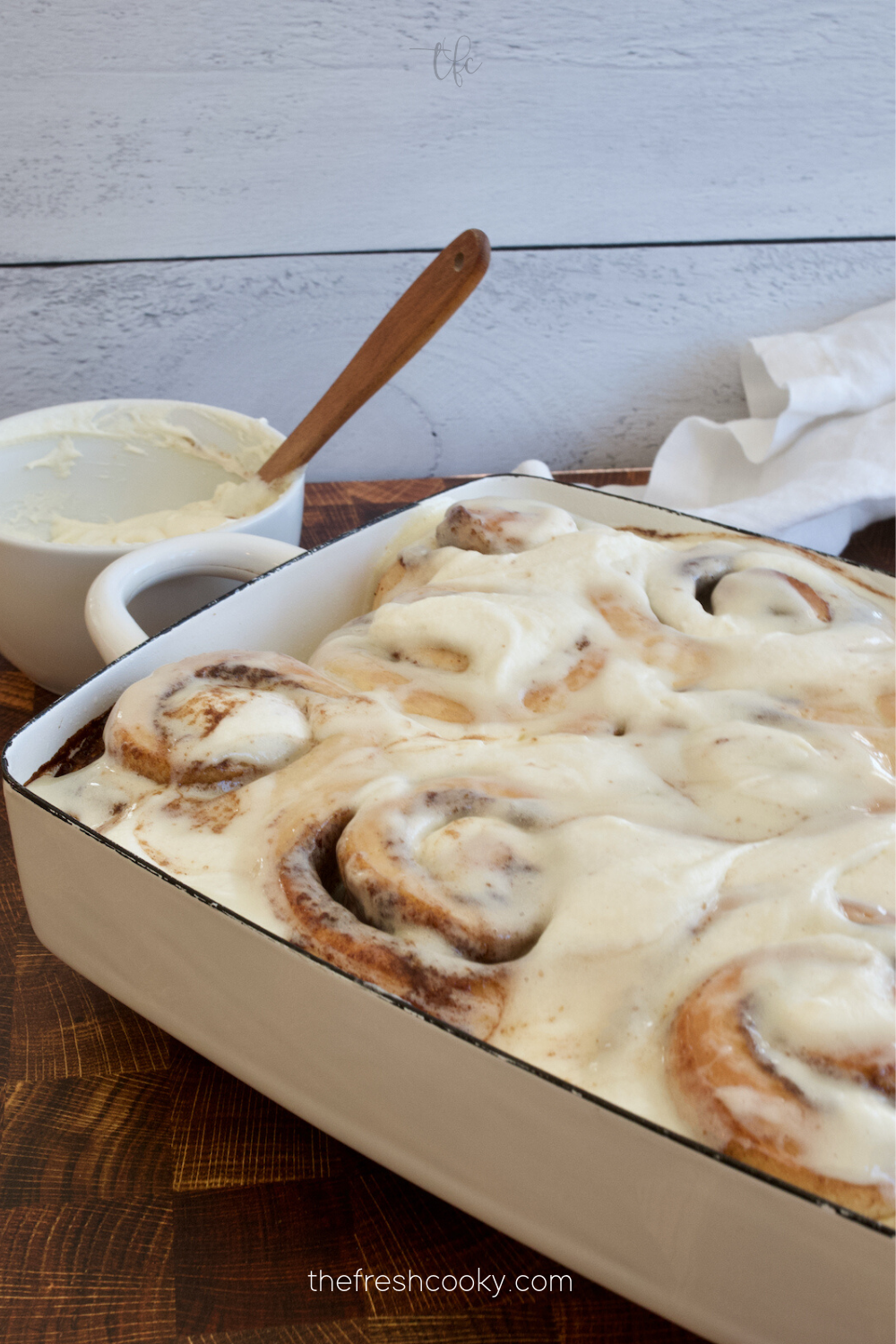 An old-fashioned love story
What I didn't realize was that my dear, sweet, gentle, kind-hearted, loving and wonderful soon-to-be-husband had called my Dad (in Florida) to ask his permission to marry his 35 year old daughter. AND he had driven all the way to Boulder (an hour) to ask my Mom the same thing. My whole family knew I was getting engaged and I was worried about not bringing cinnamon rolls!! Sheesh!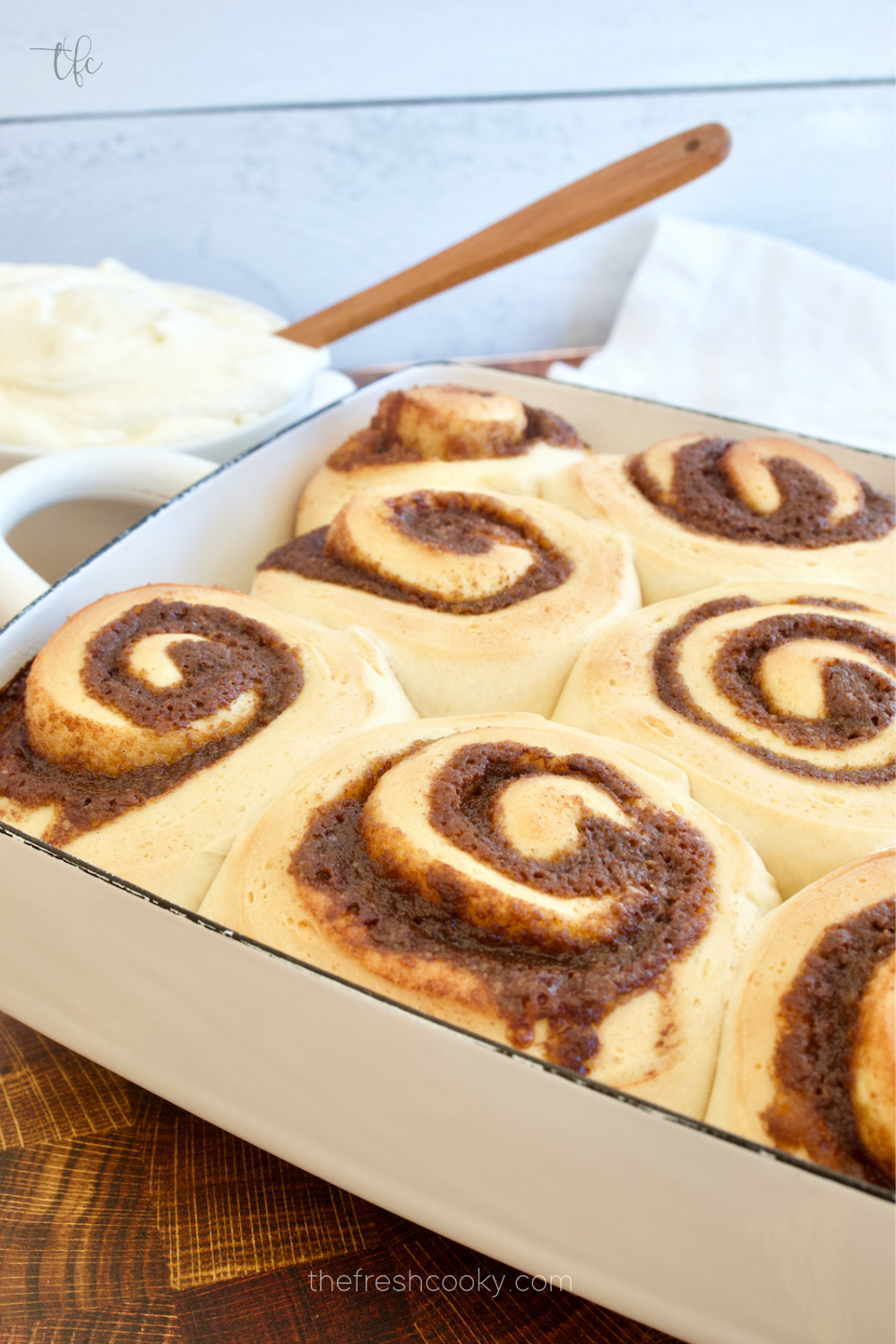 Cinnamon Buns, An Engagement Story
He had planned to propose to me atop Vail mountain. Enter a freak spring snow storm that closed the mountain due to thunder and lightning. He spent the day trying to secretly rearrange all his plans to accommodate this twist! Our God has a great sense of humor!
That evening, after a lovely dinner, we traipsed through Lionshead. While tromping through heavy wet snow (over a foot) I started hearing the strains of a song being played. Specifically Van Morrison's "Have I Told You Lately That I Love You." I thought that was so sweet, but things still didn't click.
Brad said, how much he loved that song, as do I, it was kind of our song. He then walked me out to the bridge and with half dollar sized snowflakes gently falling, got down on one knee in that heavy, wet snow and said "I want to be your life-long companion — to love and serve the Lord alongside you — and to walk through this world with you…will you marry me?" By this time I had completely forgotten about my must-make cinnamon buns (finally!) and I said "YES!"
We were indeed snowed in as they had closed Vail pass and was I grateful for that change of clothes he insisted I bring. We showed up at my parents house with store bought cinnamon rolls in hand!!
For several years I continued to make my grandmother's overnight cinnamon rolls (it has become the family joke), but now I've learned that you can make them the morning of, no overnight necessary!
Whatever you do, don't let something as trivial as a favorite recipe or tradition alter your relationship with people, in the end it's about the people, not the food!
Thanks for hanging with me through that story, I love engagement stories, each one is unique, I'd love to hear yours! But let's get going on these wonderful ooey-gooey cinnamon rolls.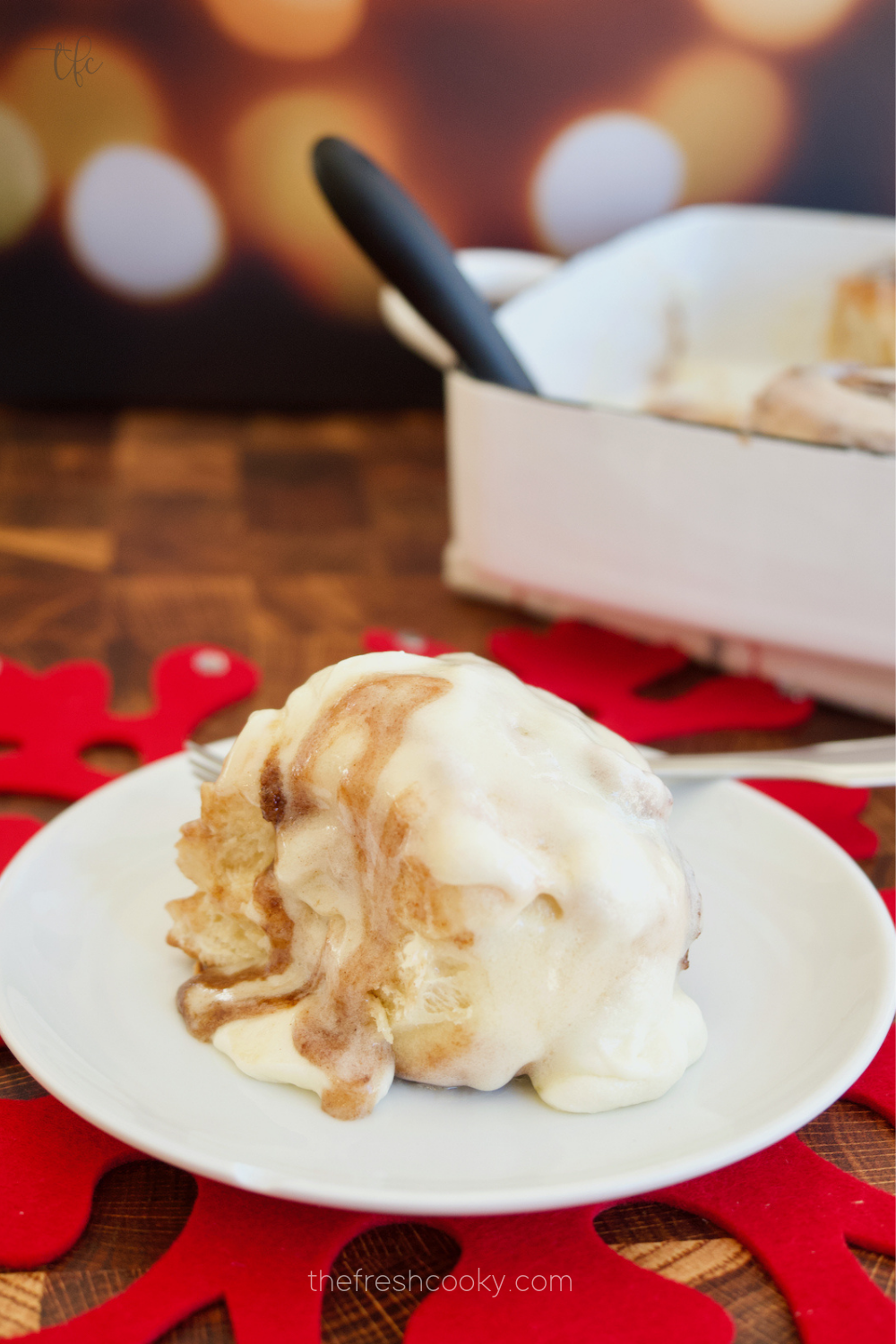 Ingredients for Cinnamon Buns
Cinnabon Dough Recipe
WHOLE MILK | You can use other percentages, but I do love using whole milk.
BUTTER | no substitutions here
SUGAR | I use all-natural cane sugar in almost all of my baking
BREAD FLOUR | In a pinch, you can make with all-purpose flour, but bread flour will yield the most chewy, tender homemade cinnamon buns.
YEAST | Doesn't matter if it's fast acting or regular, package or jarred!
EGGS | If you need to bring to room temp, submerge in warm (not hot) water for 5-8 minutes.
Cinnamon Bun Filling
BROWN SUGAR | I use light brown sugar, but you could certainly use dark brown too, or a combo of brown sugar and granulated sugar.
CINNAMON | well they wouldn't be cinnamon buns if you didn't have cinnamon would they!
BUTTER | Use the real stuff here, nothing soft coming out of the fridge
Cinnabon Frosting
BUTTER | once again, use the real stuff here, not a place to skimp!
CREAM CHEESE | I use both regular or Neufchatel is fine (room temperature)
POWDERED SUGAR | The heart and sweetness of Cinnabon frosting
OTHER STUFF | Vanilla extract (ever make your own, a must try!), Salt (yup, just a pinch) and a little milk if needed.
How to make Ooey-Gooey Cinnamon Rolls
Step 1 | Heat Milk Base
Place your milk, room temp butter, sugar and salt in a small saucepan and heat on very low, stirring occasionally.
Heating to 120° F (49°C), careful it gets hot really fast, your butter might not be fully melted, that's okay. If you get it too hot (greater than 130°F/54°C), just give it a couple minutes to cool down, you don't want to scald your yeast.
Take out 2 additional sticks of butter and your cream cheese to soften while you are making your dough.
Step 2 | Make Dough
While your milk, sugar, butter mixture is heating, measure out 2 cups of the flour into the bowl of your mixer, add the yeast and mix gently.
Slowly pour the warm milk mixture into the flour and yeast mixture, mixing on low. Note my full cup of coffee in the corner and a jar of marshmallow fluff, not sure what that was for! Must have been making Whoopie Pies later!
Add room temperature eggs* to the flour and milk mixture and the rest of your flour.
Once your dough is mixed thoroughly, replace your paddle attachment with the "J" hook and let it knead the dough for you, about 5-10 minutes until smooth and elastic.
Don't have a kneading hook? Place the dough on a floured surface and get your upper body workout in for the morning, kneading the dough for the same amount of time, tossing in a little more flour if it gets too sticky.
BAKING HACK | Forgot to take your eggs out of the fridge the night before, like I always do? No worries, run warm, not hot water into a bowl and place eggs in bowl to bring to room temp, takes about 5-7 minutes.
Step 3 | Rest Dough, Let Rise
Grease a bowl with a teaspoon of oil, using a paper towel spread oil around bowl, plop dough in and turn over covering dough with oil. Cover with plastic wrap and place in a warm spot for about 15 minutes to rest.
Warm rising spot? Preheat your oven on its lowest setting, then turn off oven. Place the dough in the now warm, but turned off oven. If your oven has a "proofing" setting, place on that setting and let rise for 15 minutes.
Step 4 | Make Filling
Meanwhile in a small bowl, combine the brown sugar and cinnamon with a fork and set aside.
Once the dough has rested for about 15 minutes, place on a floured surface and roll out into roughly an 18 x 21 inch rectangle.
Next spread the ½ cup softened butter, evenly onto the dough, I like using an offset spatula.
Spread cinnamon sugar mixture evenly over the top of the butter within about ½ inch of the edges.
UPDATE | I still make these as shown above, but sometimes, I melt the butter, combine with the cinnamon filling mixture and evenly spread the cinnamon and brown sugar mixture on the dough.
Starting with the long edge, roll tightly into a log.
Using a little water, rub along the edge of the dough and pinch edges together to get a good seal.
Slice into 10-16 even rolls, if you want to get all perfectionistic you can measure your log.
I usually eyeball it and adjust if needed.
Place in greased (buttered or non-stick spray) 9×13 pan or line with parchment paper, with space between each roll.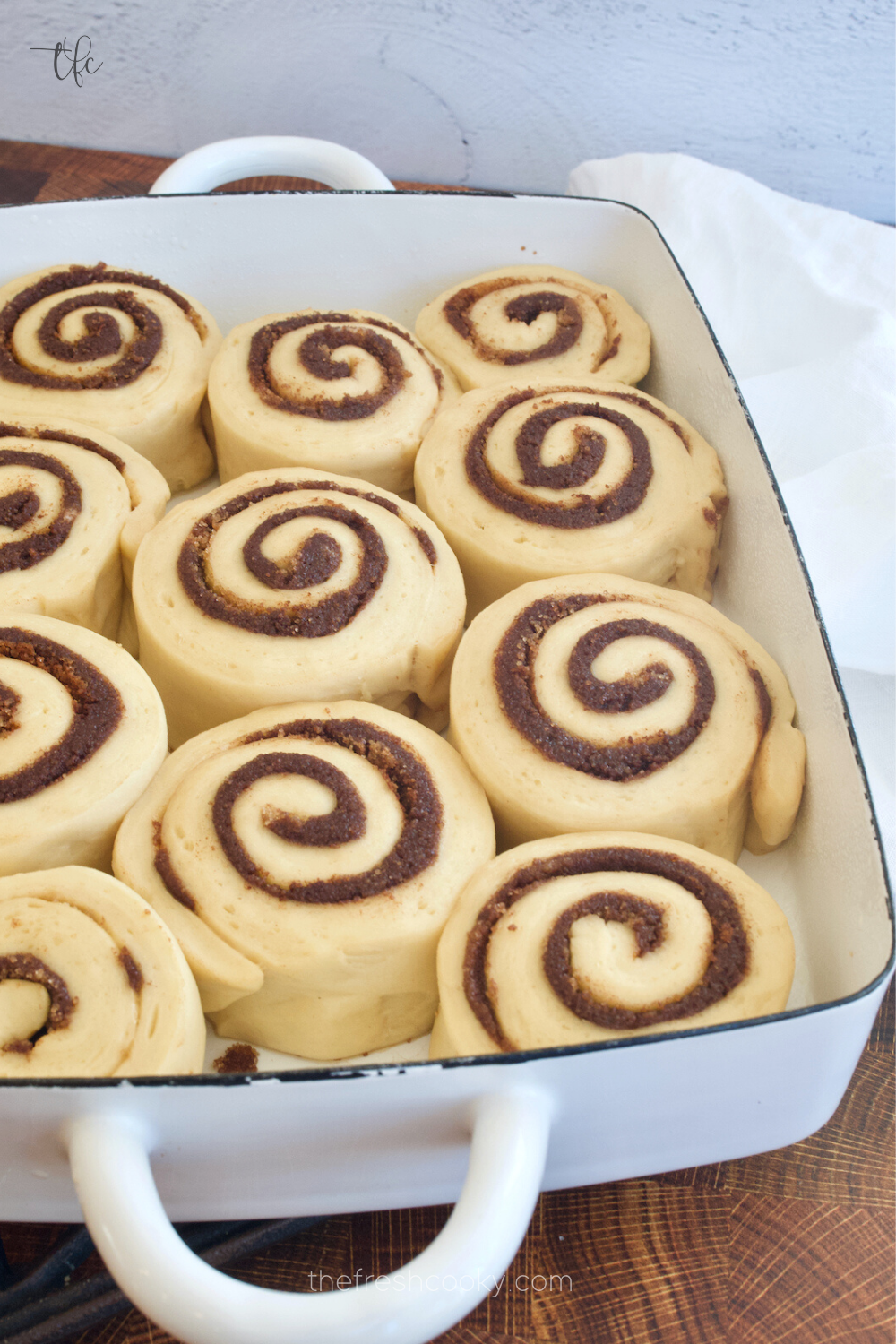 Cover with a damp tea towel or plastic wrap and return to that warm place to rise until nearly doubled, about 45 minutes.
Preheat oven to 400° (375 if using a dark or glass pan), remove rolls before preheating. They have now doubled in size!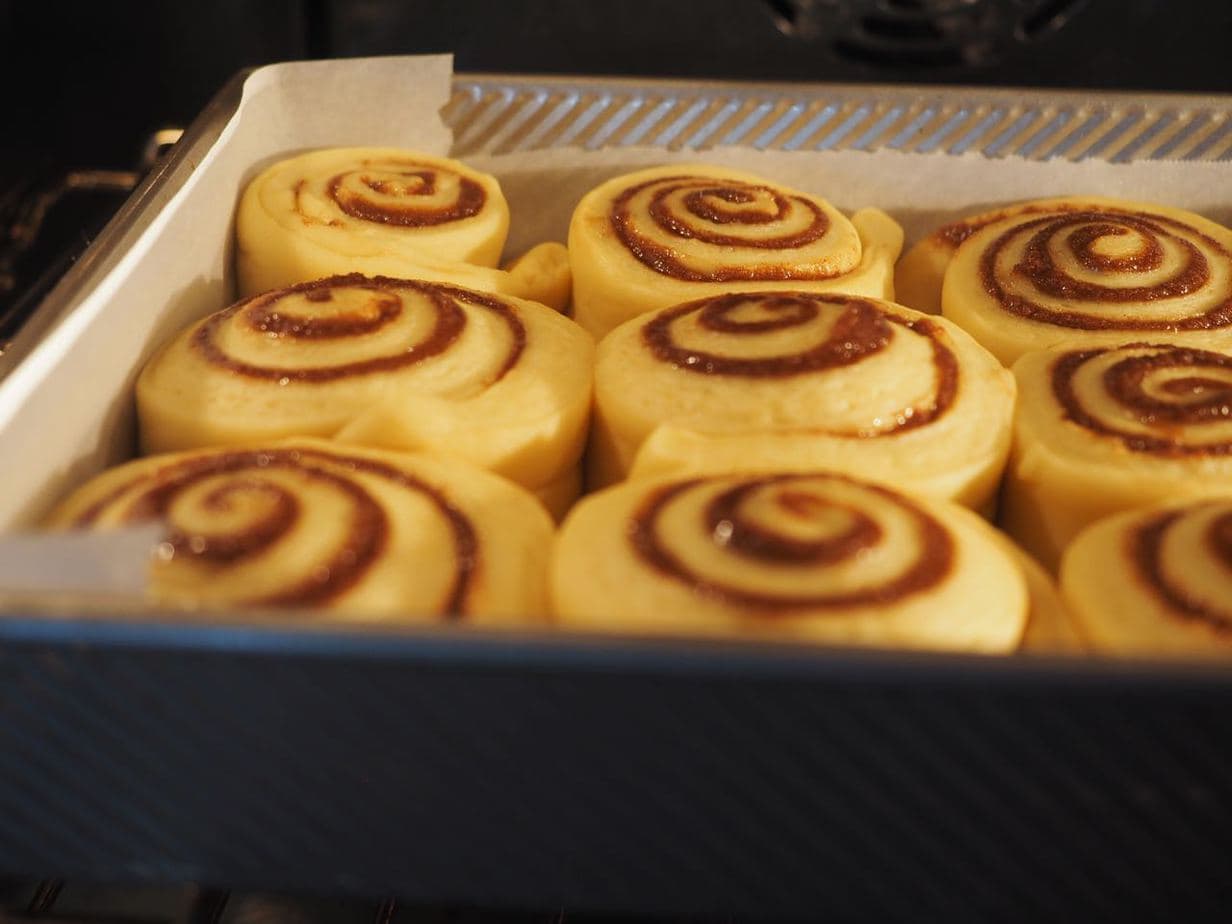 Bake about 12-15 minutes, don't over-bake, if anything under-bake slightly until risen and slightly golden.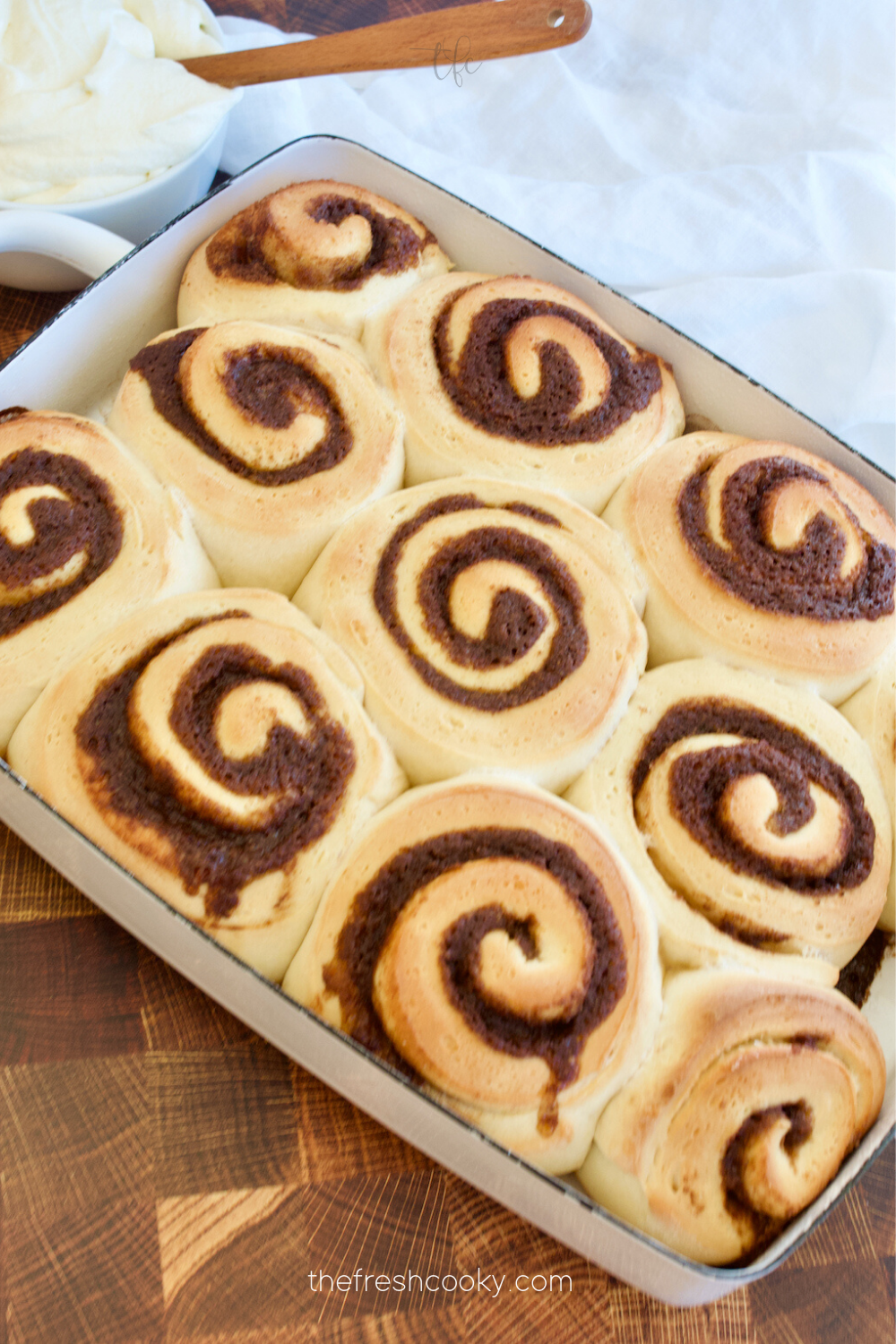 How to make Cinnabon Frosting
In a large mixing bowl whip together butter, cream cheese until smooth, add powdered sugar, vanilla and pinch of sea salt; beating until smooth and fluffy, if needed add a teaspoon or so of milk or cream.
Smother over the tops of warm rolls, serve immediately. Or spread on rolls individually.
Frequently Asked Questions
Can I start Cinnamon Rolls the night before?
YOU BET! Make the recipe up to the sliced roll stage, cover tightly with plastic wrap and put in refrigerator overnight. They will rise slowly, take out in the morning bringing to room temp and making sure they are doubled, preheat your oven and bake.
What type of flour is best for homemade Cinnamon buns?
Since you are making sweet bread, bread flour is best! Available at most grocery stores, bread flour will ensure your ooey-gooey cinnamon rolls are soft, fluffy with the perfect rise. However; in a pinch I've used all-purpose flour, and it still turns out well, maybe not as fluffy.
Can I refrigerate unbaked cinnamon roll dough?
Yes, they will continue to rise slowly in the refrigerator. Be sure to cover tightly with plastic wrap and bring to room temperature (at least 30-60 minutes) before baking.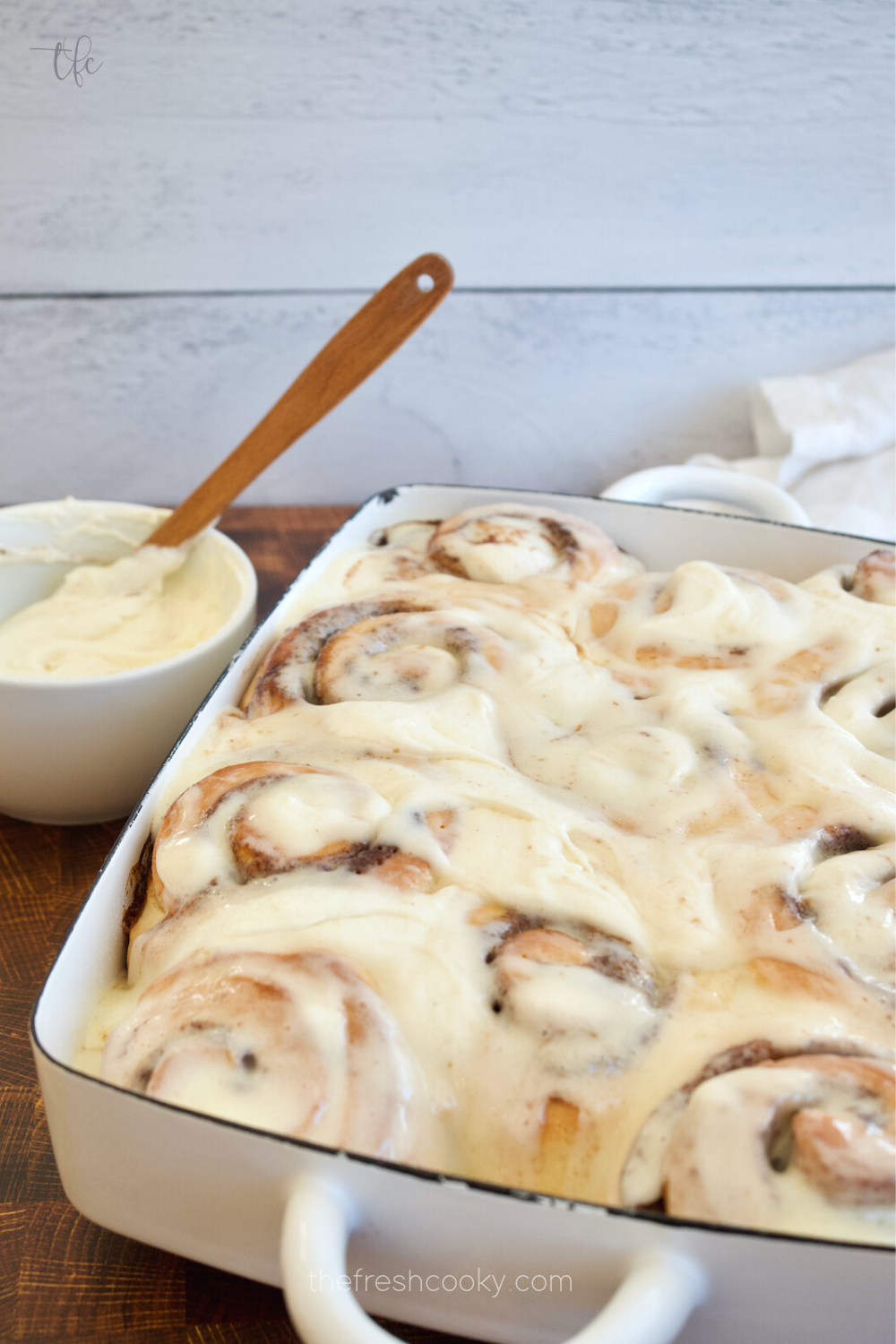 Also great for Easter are these super easy, light and fluffy yeast rolls! Give them a whirl!
Bonus: Candied Bacon Recipe
Want to make a truly decadent treat? Add this simple and amazing Brown Sugar Bacon to your menu.
Preheat oven to 400°. Line a rimmed sheet pan with foil. Set an oven safe cooling rack inside the prepared pan and set aside.
In a shallow dish, place about ¼ cup brown sugar. Dredge thick bacon slices in the brown sugar and arrange the bacon on the rack. Bake in the preheated oven until crisp, about 20 minutes. Transfer to a serving plate and serve immediately.
You may also throw in a teaspoon of chili powder or a sprinkle of cayenne into the brown sugar, if you like a little heat.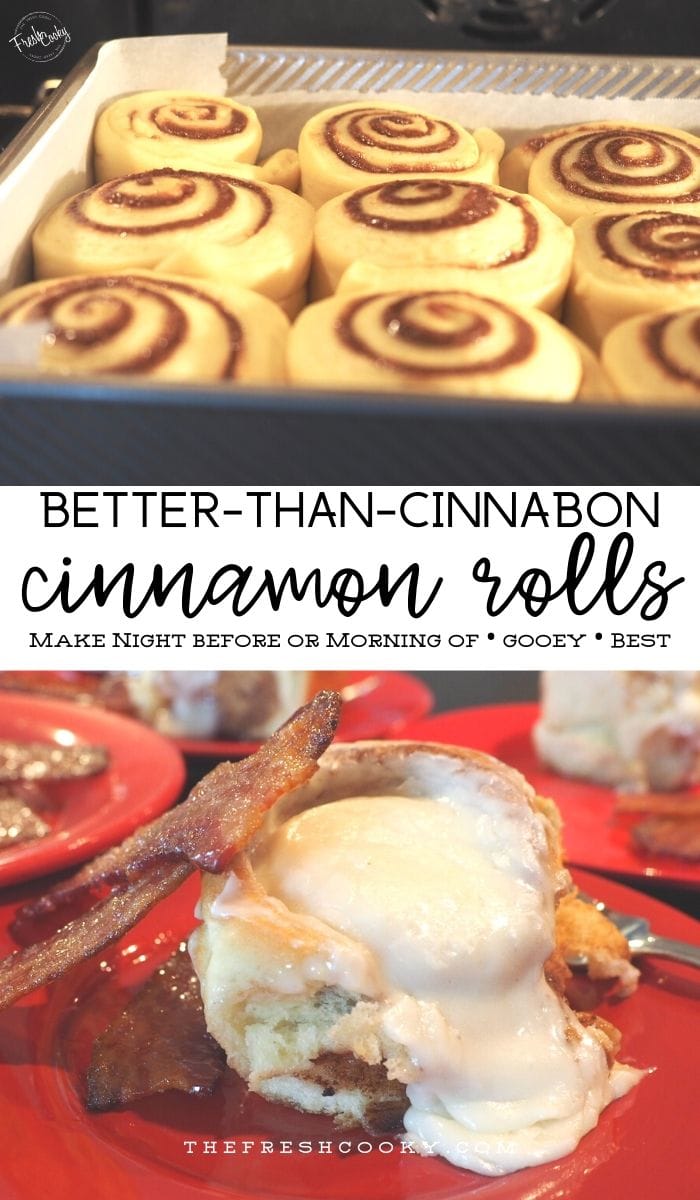 Looking for more great breakfast treats?
Breakfast is champion in our house, especially during the holidays or on a lazy weekend. Check out all of our breakfast recipes, below are a few of our favorites.
I hope you loved this incredible recipe for Gooey Cinnamon Rolls, it will become your favorite too!
Gooey Cinnamon Rolls with Cream Cheese Frosting
Tender, better than Cinnabon ooey and gooey Cinnamon Rolls dripping with brown sugary cinnamon insides and topped with this luscious cream cheese buttercream.
Click stars to rate now!
Print
Pin
Save
Saved!
Rate
Ingredients
DOUGH
1

cup

milk

whole is best

⅓

cup

butter

room temperature (don't substitute)

½

cup

all-natural cane sugar

or white sugar

½

teaspoon

salt

4 ¼

cups

bread flour

plus extra for rolling (may use AP Flour if necessary)

2 ¼

teaspoons

active dry yeast

or one package

2

large

eggs

room temperature*
FILLING
1

cup

brown sugar

packed, or combination of granulated and brown sugar

3

tablespoons

ground cinnamon

½

cup

butter

softened (don't substitute)
FROSTING
½

cup

butter

softened

8

oz

cream cheese

regular or neufatchel is fine (room temperature)

2-3

cups

powdered sugar

1

teaspoon

vanilla

pinch

of salt

1-2

teaspoons

of milk or cream if needed

optional
Instructions
MAKING THE CINNAMON ROLLS
Remove butter, eggs and cream cheese from fridge, allow to come to room temp for recipe.

Combine milk, butter, sugar and salt in small saucepan and on low, bring to about 120°. Careful it can go from warm to hot fast. If too hot (greater than 130 degrees), let sit until cools slightly. Butter may not be completely melted, that's okay.

While milk is warming, place 2 cups of bread flour and yeast into bowl of mixer and gently mix to combine.

Slowly pour in milk, butter, sugar mixture into flour and yeast mixture, mixing on low.

Add room temperature eggs and the remaining 2 ¼ cups of flour, mixing well to combine.

*Forget to take your eggs out, place in bowl of warm (not hot) water for 5-7 minutes)

After mixing the eggs and all flour in well, replace paddle attachment with J hook for kneading, knead for 5-10 minutes on a low setting, until dough is smooth and elastic. If the dough is too sticky (sticking to the sides of the bowl) after a few minutes, then add a tablespoon more of flour at a time, util it's tacky, but not sticky. The dough should be soft and smooth.

Don't have a kneading attachment, turn dough onto floured surface and knead for same amount of time.

Put a teaspoon of oil into a medium bowl and using a paper towel spread it all over the bowl. Plop your dough into bowl and turn to "grease" top and bottom, seal with plastic wrap and set in warm place for 15 minutes to rest. I set my oven on the proof setting at about 75 degrees. If no proof setting, turn your oven on to 100 let it preheat, then TURN OFF, then place dough inside for first resting.

Meanwhile, mix together packed brown sugar and cinnamon well in a small bowl, set aside. Or if desired, mix together very soft butter, sugar and cinnamon until it makes a spreadable paste. Sometimes I microwave for 20 seconds to make it easier to spread.

Once dough has rested, turn onto floured surface and roll out into 18×21 inch rectangle, roughly. Spread with ½ cup softened butter. Spread brown sugar and cinnamon mixture evenly, spreading to within ½ inch of the edges. Or if you combined cinnamon, sugar and butter, spread evenly over the dough.

Roll, from long side tightly and pinch edges to seal, using a little water on seams if needed. Cut into 10-16 evenly sized rolls and place in greased or parchment lined 9×13 pan. Cover with clean, damp tea towel (or plastic wrap) and allow to rise in warm place for about 45 minutes, until almost double.

Preheat oven to 400°, 375 if using a dark or glass pan. Bake rolls about 12-15 minutes until slightly golden. While baking or during rising time, make frosting.
FROSTING
Place butter, cream cheese in mixing bowl, blend until smooth. Slowly add powdered sugar beating on low until incorporated, add vanilla and salt, blend until smooth. If needed add a teaspoon of milk or cream if too thick. Amount of powdered sugar depends on taste.

Smother warm rolls with frosting and allow to sit for a few minutes before serving.
Notes
TIP: Forgot to take your butter out, try putting it in microwave for 8-10 seconds to soften.
Need a warm place for the dough to rise? Preheat your oven on lowest temp and turn off before placing rolls in to rise, or if you have a proof setting on your oven use that. Be sure to remove your rolls prior to preheating your oven.
BROWN SUGAR CANDIED BACON
1 lb thick nitrite/nitrate free bacon
¼ – ⅓ cup brown sugar
Cayenne or Chili Powder (optional)
Brown Sugar Sticky Bacon
Preheat oven to 400°. Line a rimmed sheet pan with foil. Set an oven safe cooling rack inside the prepared pan and set aside.
In a shallow dish, place about ¼ cup brown sugar.
Dredge the thick bacon slices in the brown sugar and arrange the bacon on the rack.
Bake in preheated oven until crisp, about 20 minutes. Transfer to a serving plate and serve immediately.
Optional | Mix in a teaspoon of chili powder or a sprinkle of cayenne if you like a little heat.
OVERNIGHT INSTRUCTIONS
Make recipe up to second rise after slicing rolls. Place a piece of plastic wrap over pan tightly, place in fridge overnight until morning. When ready to bake, while oven is preheating, remove rolls from fridge for 30-60 minutes allowing to come to room temp and doubling in size. Bake as directed.
Freezing Rolls
Sometimes I don't make up the entire pan. Place unused cinnamon rolls (dough) onto a parchment lined sheet and flash freeze for 1-2 hours. Remove and place in tightly sealed container or baggie, squeezing out as much air as possible.
When ready to bake, remove from freezer, placing in pan overnight (or at least 8 hours) in fridge, covered with sprayed plastic wrap. Remove from fridge and allow to sit at room temperature while preheating the oven. Remove plastic wrap and bake as directed.
OR place in pan of frozen rolls in warm place (70-80 degrees) and allow to thaw and rise until doubled on counter, will take 6-8 hours. Bake as directed.
Nutrition
Serving:
1
roll
|
Calories:
400
kcal
|
Carbohydrates:
59
g
|
Protein:
7
g
|
Fat:
16
g
|
Saturated Fat:
9
g
|
Polyunsaturated Fat:
5
g
|
Cholesterol:
64
mg
|
Sodium:
215
mg
|
Fiber:
2
g
|
Sugar:
32
g