Sweet Molasses Brown Bread Rolls
As an Amazon Associate, I earn from qualifying purchases. Please read my disclosure policy.
Soft and chewy, these Sweet Molasses Brown Bread Rolls are simple and scrumptious. A touch of molasses and honey, healthy whole wheat flour give these rolls amazing texture and great flavor, similar to Outback or Cheesecake Factory Brown Bread.
Welcome to Freaky Friday created by the talented Michaela of An Affair from the Heart; plus she's fun and the bonus; great recipes! Go and check her blog out.
Freaky Friday is a blog hop that a bunch of my blogger buddies and I do once per season, this being the "Winter Edition". The theme of this blog hop is all things we love to eat in the winter, and for me that means, bring on the bread!
Secretly assigned to another blogger; this round we were able to choose from any of their recipes!
Then today, all at the same time, we reveal our recipe and assigned blogger. It's a great way for us to get a fantastic new recipe and for you to meet some new food bloggers you may not have otherwise ever met! Scroll down to the bottom for a list of all of the bloggers, but go slow; you do not want to miss this!
My assigned blogger is Julie who blogs at Hostess at Heart! She and I have a lot in common; our passion for hostessing, inviting people into our homes and enjoying great food, our love of bread, oh and the overuse of exclamation points!! 🙂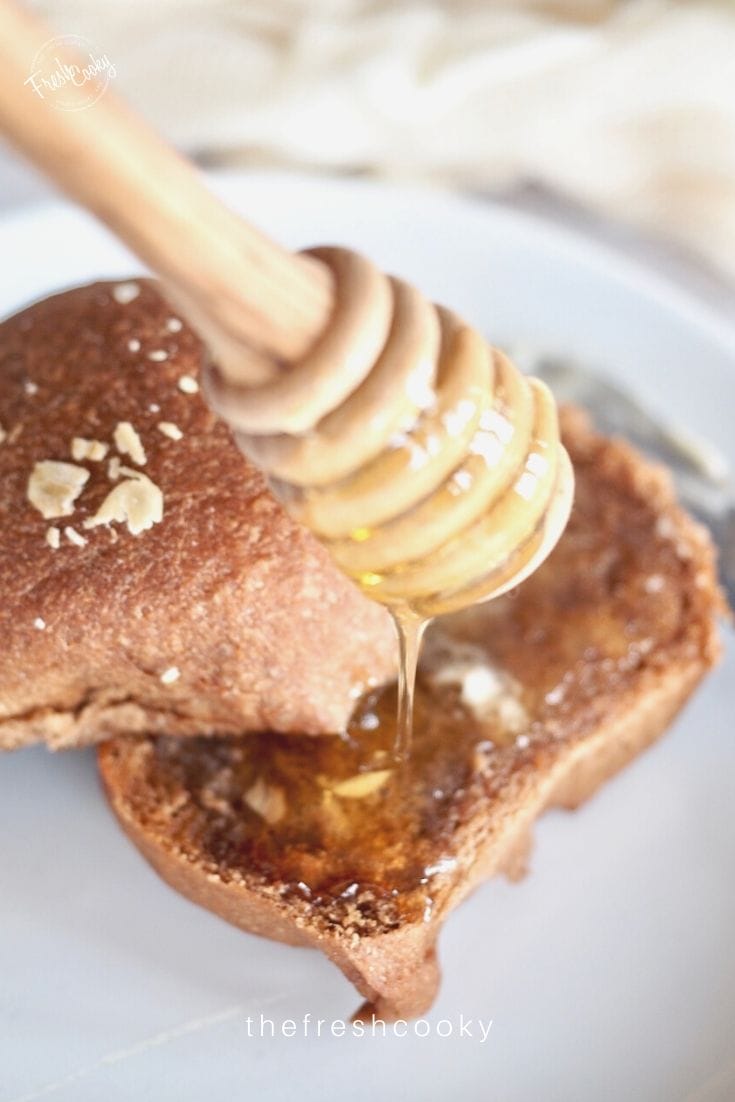 Julie doesn't shy away from from anything, she has great "how-to's" like this How to Spatchcok and Carve a Turkey, or these AMAZING Double Chocolate Muffins.
But I am always envious of all of Julie's incredible bread recipes, and so I knew that one of her bread recipes was what I needed to make.
I actually made two recipes and let my family decide, I made the Dark Chocolate Banana Bread (picture below) along with these Sweet Molasses Brown Bread Rolls.
We had a taste test, they loved both recipes, but being the children of a food blogger, said, "Mom we love them both, but the rolls go great with so many recipes, people need this recipe."
Use them for sandwiches, soups, stews, chicken, or just about anything! It didn't hurt that they love Cheesecake Factory brown bread and these are a great copycat recipe!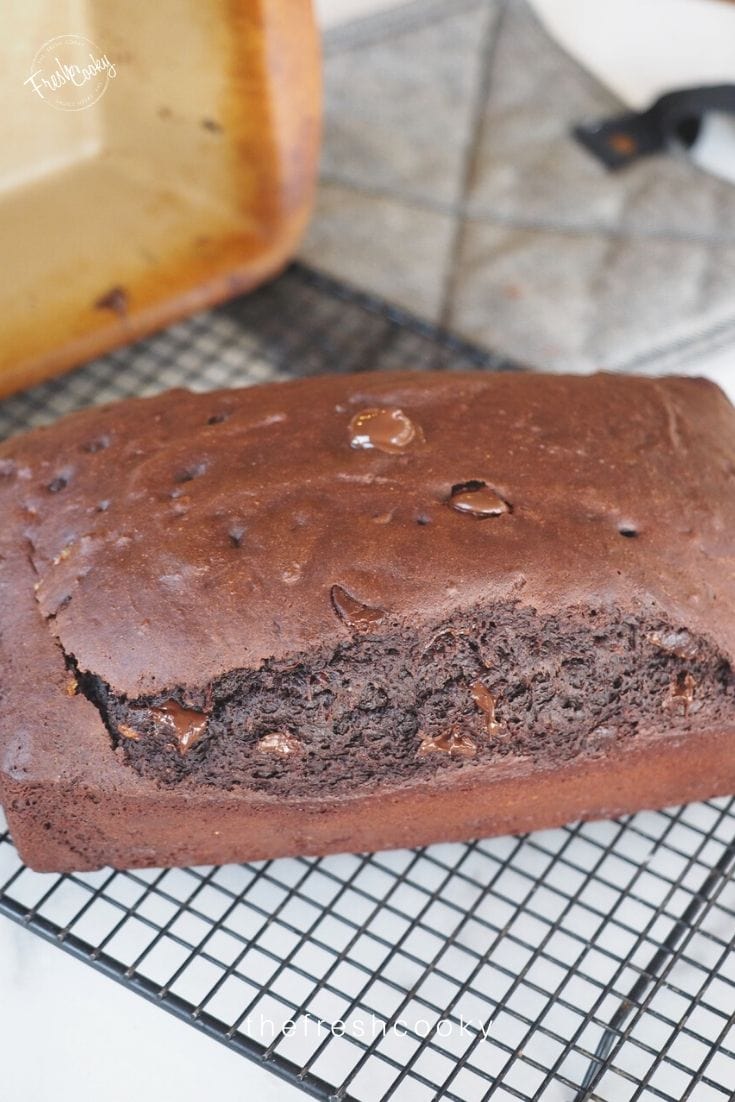 Ingredients for Sweet Molasses Brown Bread Rolls
4 teaspoons active dry yeast (make sure it's not expired)
1 cup warm water (110 degrees F)
1 egg (see below*)
¼ cup honey (I love using local honey)
3 tablespoons molasses (I used organic)
2 tablespoons cocoa powder (I used organic Dutch processed)
1 teaspoon kosher salt
¼ cup brown sugar
2 cups all-purpose flour (I use unbleached)
1-2 cups whole wheat flour
cornmeal or rolled oats (optional)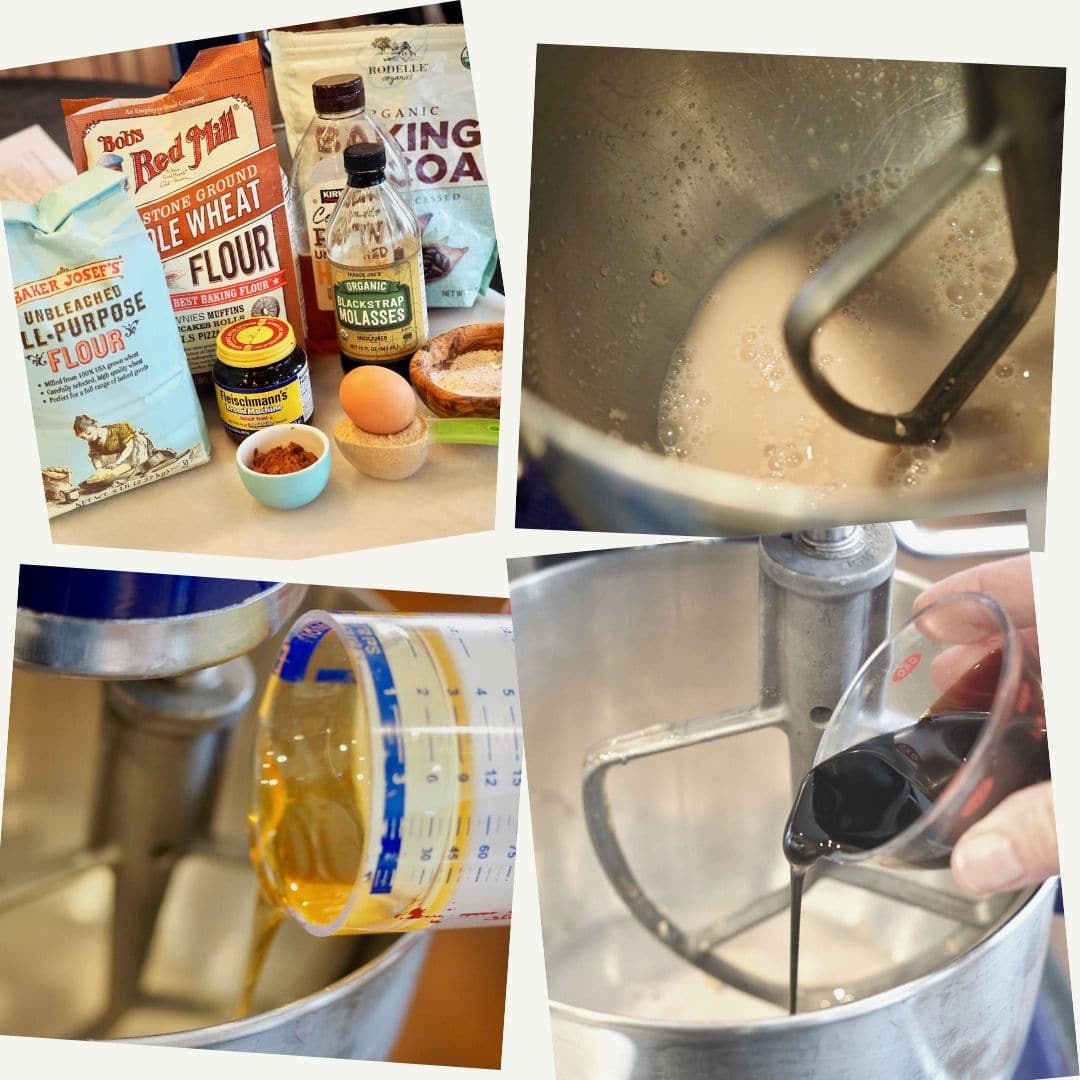 How to bring eggs to room temperature
I often forget to bring my eggs to room temperature, and we keep our house kind of chilly in the winter time, so I often resort to this method. Submerge eggs in warm (not hot) water and allow to sit for 10 minutes. Room temp eggs!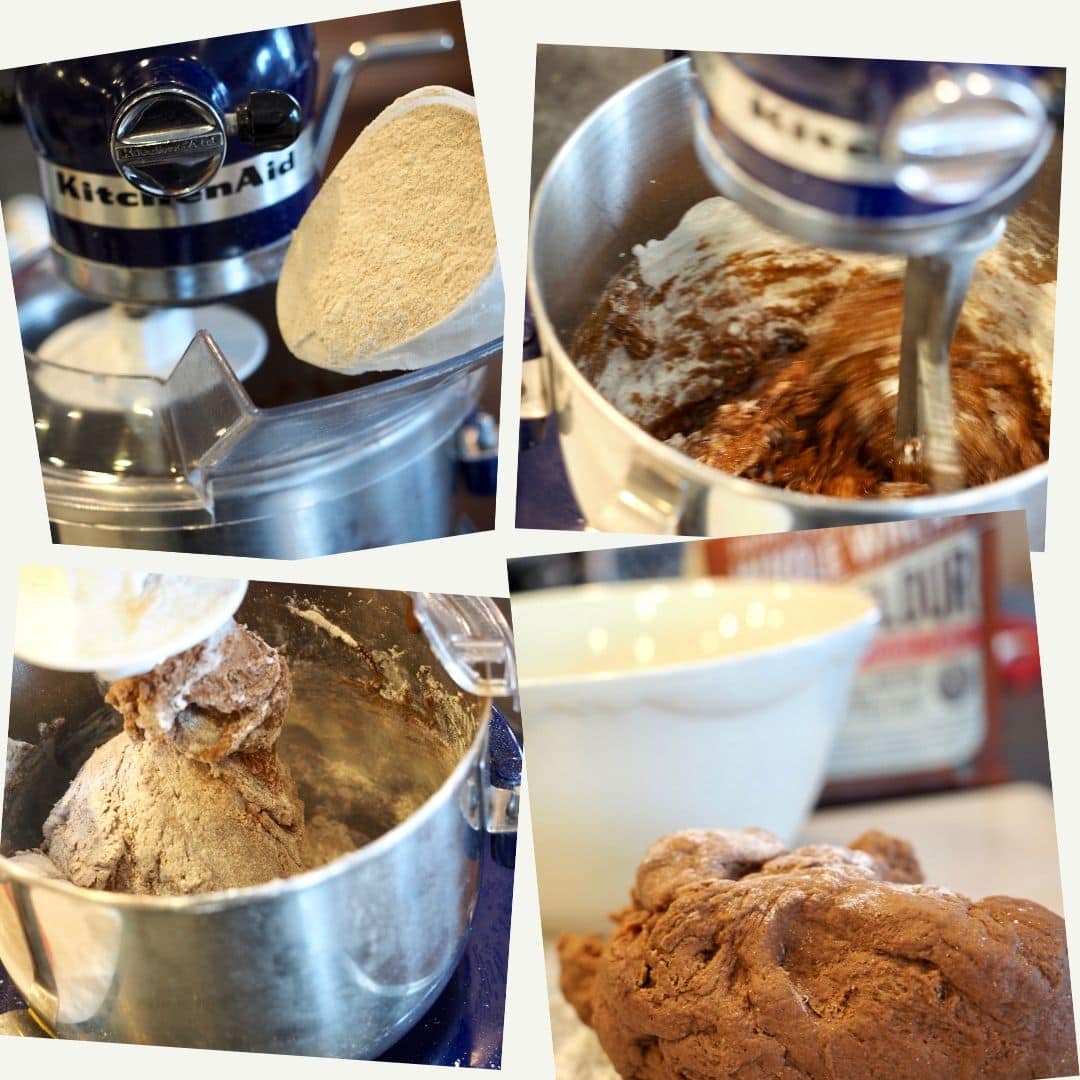 High Altitude Adjustments for Easy Brown Bread Rolls
A few notes for those of us living at high altitude.
When adding the whole wheat flour, add one cup a bit at a time, then slowly add only enough of the second cup until the dough starts to ball and leaves the sides of the mixing bowl.
While adding the first cup of whole wheat flour, I also added 2 teaspoons of water.
Note that the dough will be very stiff, but work with it! It will be amazing!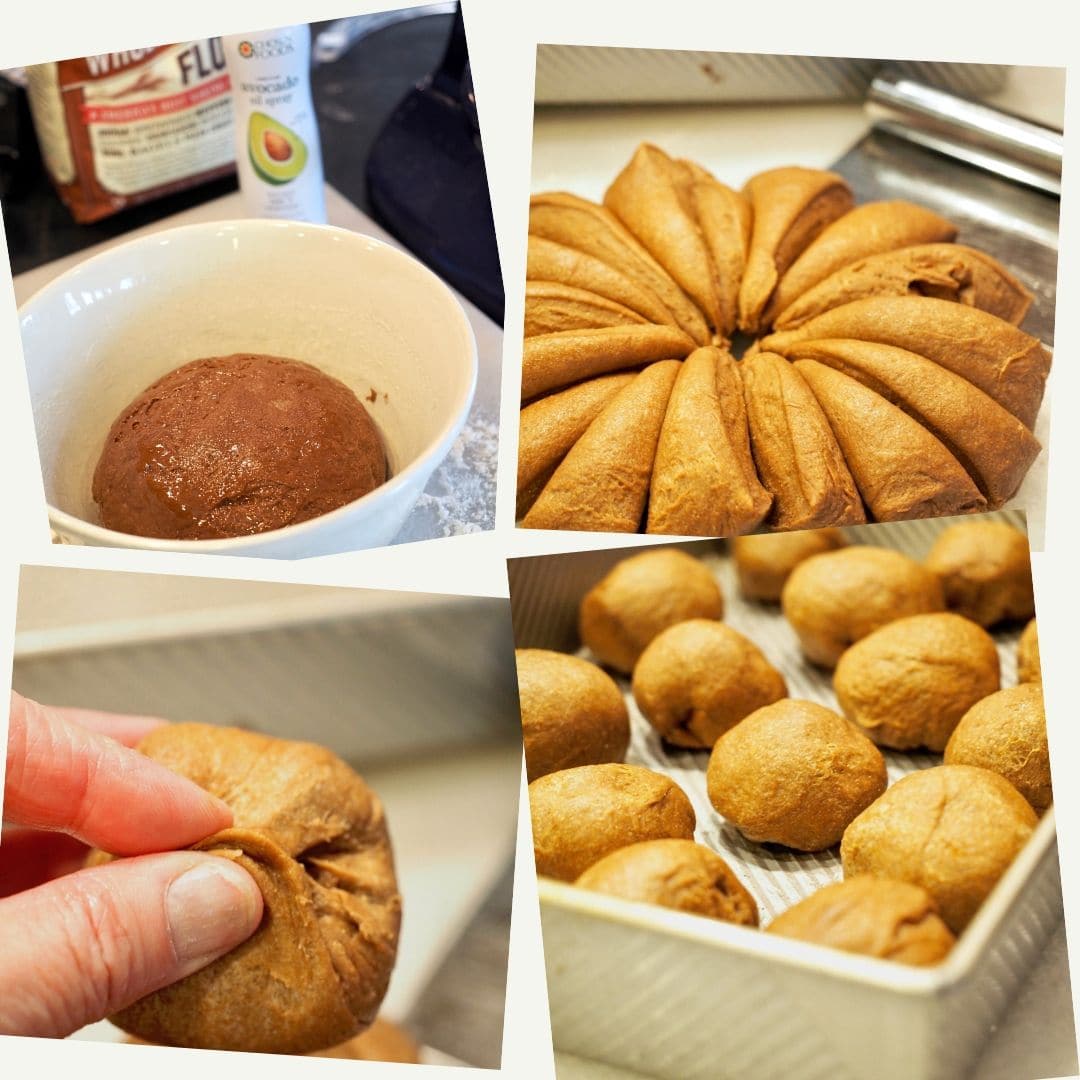 How Do You Make Easy Brown Bread
I adore brown breads, like this Russian Black Bread, which isn't really black, but brown and oh so warm and yummy!
But what makes them brown? Typical brown bread recipes have one or more the following to make them brown: molasses, honey, cocoa powder or espresso powder, rye flour and/or whole wheat flour.
Copycat Cheesecake Factory Brown Bread
What does Outback and Cheesecake Factory use to make their bread brown?
With a little googling, they use cocoa powder, molasses, and caramel or brown food coloring (ew for the last two), I like to use all-natural products, which we have done here!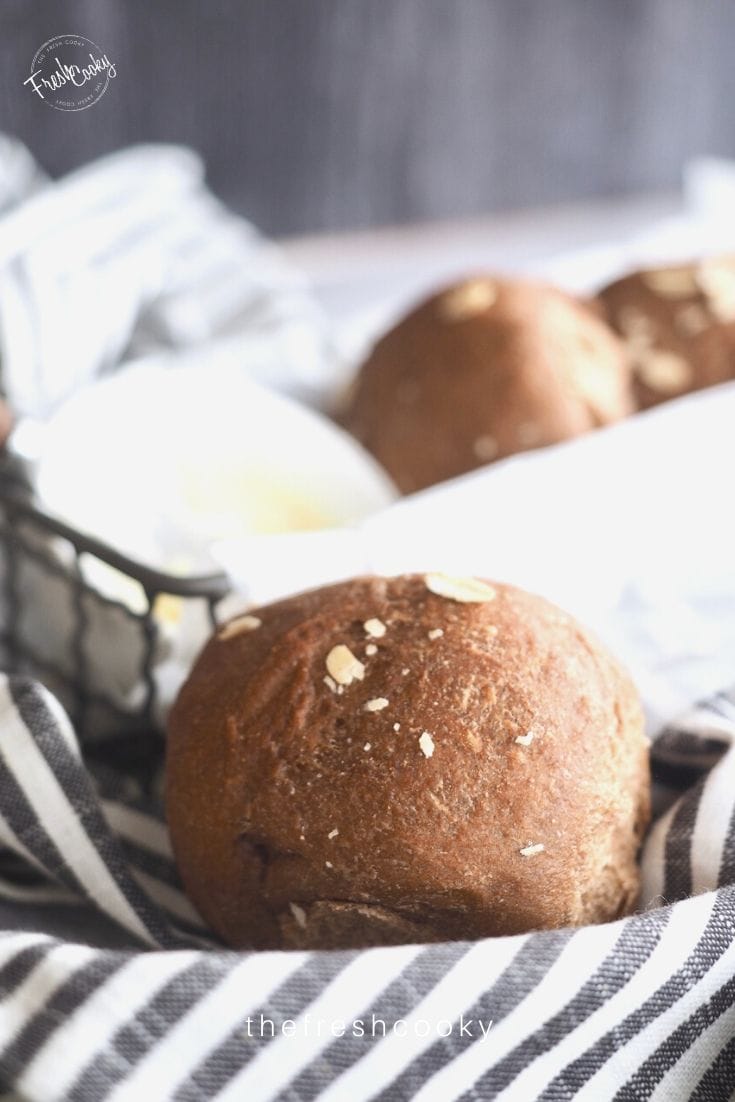 Brown Sugar Butter for Homemade Brown Bread rolls
We devoured these homemade brown bread rolls so quickly and the rest I froze that I didn't make the Brown Sugar Butter like Julie did, but the recipe is included in the printable recipe card below. Looks and sounds mouth-watering!
They are just as delicious with simple butter and honey!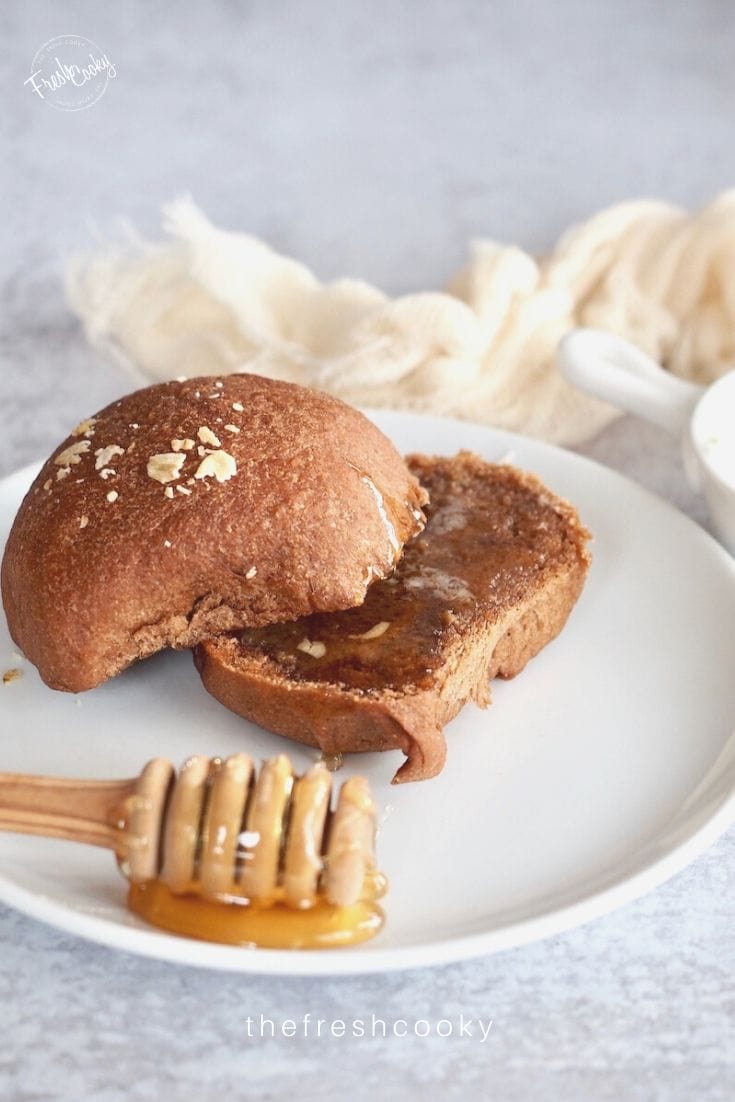 Can I Freeze these Easy Brown Bread Rolls Recipe?
All breads freeze well, just make sure that they are completely cooled before wrapping tightly in parchment or plastic wrap and then seal in a freezer baggie.
How to Re-Heat Yeast Rolls
Remove desired number of rolls from freezer, allow to thaw on counter while preheating oven.
Preheat oven to 300-325 F degrees
Wrap rolls in aluminum foil or place on quarter sheet pan and cover with foil.
Heat until warm, about 15 minutes
Don't forget to PIN to your Favorite Bread Board!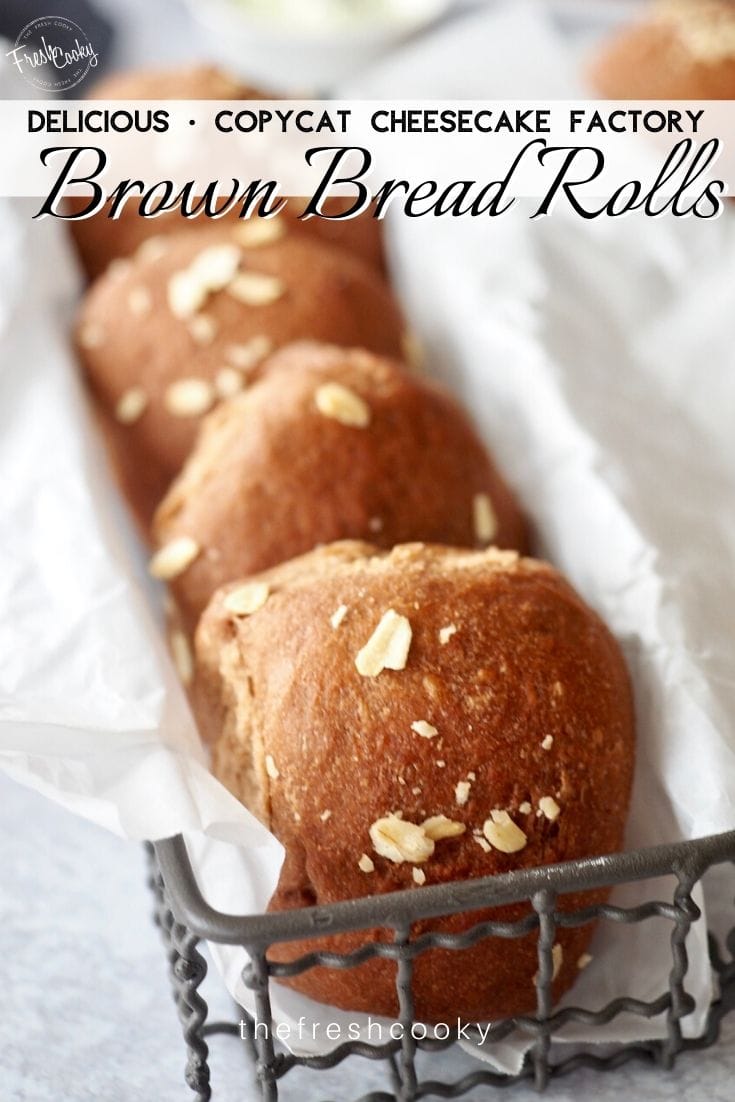 Take a look at all of our 2020 Freaky Friday Winter Edition Recipes:
Tell me how you enjoy these rolls!?
Goes great with! Savory Beer Beef Stew, Easy Jambalaya of course with your holiday turkey and wash it all down with this easy and delicious 4 ingredient Margarita.
Like this recipe?
Don't forget to give it a ⭐️⭐️⭐️⭐️⭐️ star rating and comment below the recipe!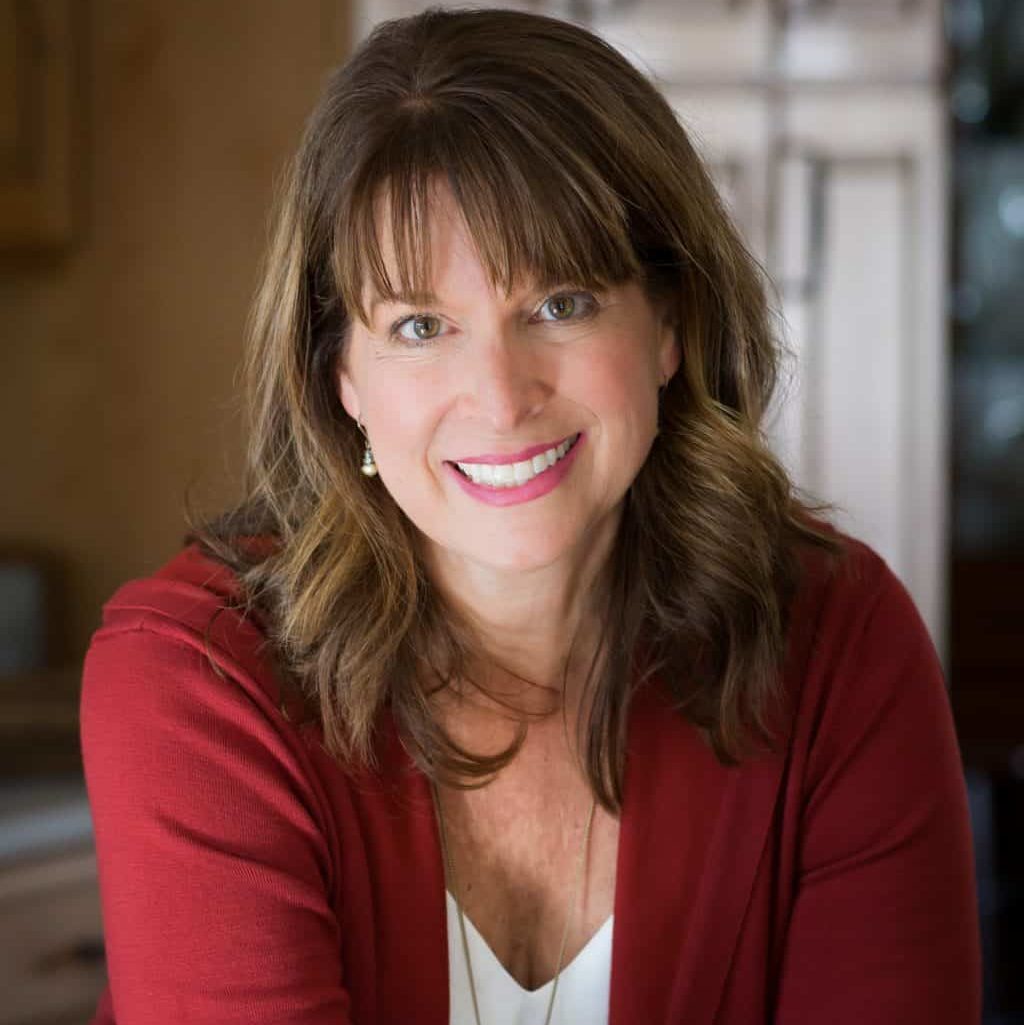 About Kathleen Pope
Recipe Innovator | Food Photographer | Food Writer
Hi, I'm Kathleen Pope. Here at The Fresh Cooky you will find easy, mostly from-scratch, trusted recipes for all occasions. From speedy dinners to tasty desserts, with easy step-by-step instructions. I am here to help teach you how to make mouthwatering recipes without spending hours in the kitchen. Read more about Kathleen here.