Southern-Style Green Beans
As an Amazon Associate, I earn from qualifying purchases. Please read my disclosure policy.
Homemade Southern-style green beans are a staple of the holiday celebrations in my home and I made them even quicker! Parmesan makes them rich and cheesy, and they have just the right amount of crunch from crispy bacon, fried onions and toasted almonds. It's my take on green bean casserole with bacon!
I'm always amazed at how simple ingredients are so tasty when combined! Instead of the traditional canned green beans recipe, I've replaced "cream of" soup with a few fresh and flavorful options.
I also have other scrumptious side dishes to choose from, like this Cheesy Asparagus that only takes five minutes of prep time! And if you love balsamic like I do, check out my Roasted Brussels Sprouts with Honey. If you're in the mood for a classic, my family loves these Creamy Roasted Garlic Mashed Potatoes and this Broccoli Au Gratin recipe.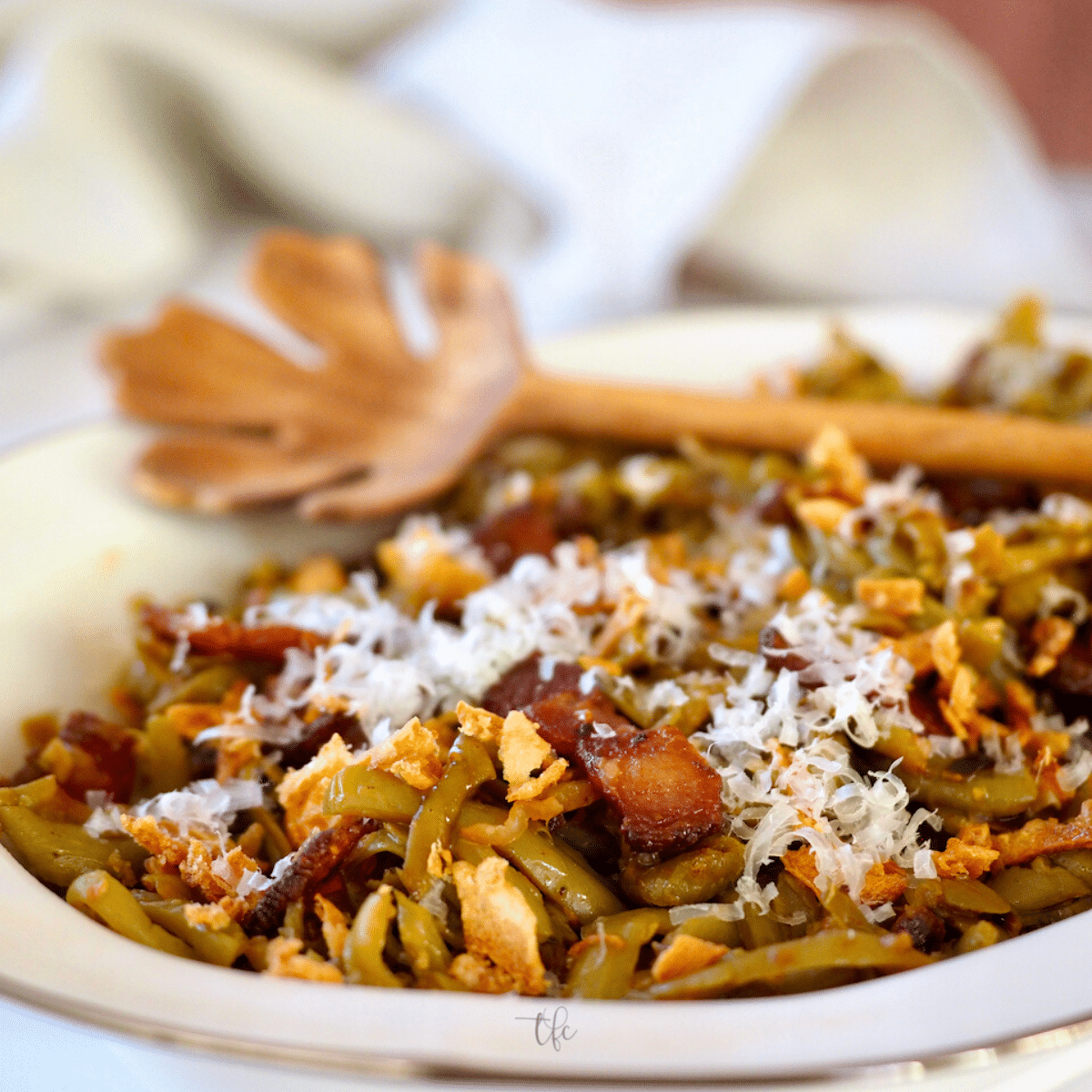 True confession: as much as I love the taste of fresh vegetables, I love canned green beans — I blame it on our elementary lunch lady! To make it a smidge healthier, I do use organic canned french style green beans.
Why you will love this Canned Green Beans recipe
QUICK! | it doesn't get much easier than opening a few cans of green beans, doing a bit of chopping and off you go!
Classic Southern style green beans without any fuss.
Because there is bacon in this canned green bean recipe! Thick, crispy, delicious bacon! And because you assemble it all at the last minute, it stays crispy.
No Canned Soup | Think of it as a deconstructed green bean casserole with bacon.
Goes great with turkey, ham or beef! Read how to cook spiral ham without drying it out.
Primary Ingredients for Southern Green Beans
The full ingredient list and instructions are included in the printable recipe card at the bottom of the post.
Canned Green Beans | All you need to do is drain the liquid! I prefer the French Style variety, which are longer and thinner. See variations for using fresh or frozen green beans.
Bacon | My favorite is a thick slice variety. Your local butcher can point out the best ones if you prefer sweet or smoky flavors
Butter | For a dairy free substitute, use vegan sticks or olive oil instead!
Garlic | I use a garlic mincer to make this job fast and easy, or if I am really in a rush, I love Trader Joe's minced garlic.
Red Pepper Flakes | These are optional, but if you like a little heat, sprinkle red pepper flakes in with the shallots.
Shallot | These have a complex flavor of sweetness and tang, but are milder than other onion varieties.
Parmesan Cheese | It's worth buying a wedge to grate over these Southern-style green beans.
Garnish | Organic French Fried Onions and toasted sliced almonds are the perfect optional toppings for this dish! But if preferred, keep two small bowls filled with both and let your guests decide what they want on top!
Instructions
Cook the bacon pieces in a large skillet until it's crispy. Drain the pieces on paper towels, reserving a little bacon grease.
Return the pan to the stove with your choice of fat. If you don't want to use leftover bacon grease, use additional butter or olive oil instead.
Sauté the garlic and shallots until they begin to caramelize, about 4-5 minutes, adding red pepper flakes if desired. Then, return the bacon to the pan.
Add in the drained, canned green beans, tossing until everything is hot and combined.
Garnish your dish with your freshly grated Parmesan and French fried onions or almonds if desired, or both!
Variations
You can easily make this green bean casserole with bacon recipe with fresh or frozen (thawed) green beans. But honestly, this recipe is delicious with canned! Seriously! Cook the green beans until your desired tenderness. I would keep the bacon out until the last minute as well since they will need to cook a bit longer.
Turkey bacon is another option, but you'll need to use butter and/or olive oil since there won't be enough bacon grease.
No Bacon? Use real bacon pieces or bacon bits instead!
Instead of almonds or crispy onion topping, try toasted walnuts or pecans!
Kick up the heat! Love it spicy? Add red pepper flakes when sautéing the shallots and garlic, black pepper is also delicious. I typically do not add any salt as the canned green beans are salty enough, but taste and see!
TFC Pro Tips
Pro Tip 1 | Caramelizing onions is easily done by keeping your skillet at a medium heat and leaving them alone. You can stir occasionally to prevent any sticking, but too much stirring will prolong the process.
Pro Tip 2 | Bacon is easiest to chop when it's fresh out of the refrigerator. Stack the slices, slice into thinner strips, then cut those into smaller pieces.
Pro Tip 3 | Easily double or triple this recipe for Southern-style green beans depending on how many guests you'll be serving.
Frequently Asked Questions
How do I prepare Southern-style green beans with fresh veggies?
Wash and trim both ends of the beans. Thinner ones are younger and more tender, while thicker ones may need to be sliced lengthwise. You can also steam them for a few minutes before adding them to your skillet. Cook them until your desired softness or crispness.
What is the difference between Southern Style Green Beans and Arkansas Green Beans with bacon?
In my research, I discovered that most southern-style green bean recipes are pretty basic and simple; green beans cooked in some kind of pork fat and topped with crisp bacon. Whereas Arkansas green beans with bacon are a bit more of a sweet salty taste, with a little brown sugar and soy sauce added in.
Can I make this canned green beans recipe ahead of time?
While the finished dish is best served immediately, you can start your prep in advance! Crisp the bacon and cook the shallots and garlic, then remove from heat and set aside, keeping the bacon separate so it doesn't get soggy.

Keep the pan covered or transfer the mixture to the refrigerator if you'll be assembling more than a few hours later. Then, warm garlic/shallot mixture on the stove before continuing with the recipe!
Storage
Store any leftover Southern-style green beans in the refrigerator. To reheat, heat a skillet over medium heat, once hot, toss green beans in pan until heated through. It will not be as fresh and crisp, but should work well. But hopefully you won't have any leftover!
Recommended Equipment for Southern-Style Green Beans
A few tools will make this canned green bean recipe even easier, if that's at all possible!
Skillet | This is my favorite skillet and I use it for just about everything! Using a deep 10-12 inch skillet is best, especially if it has a cover.
Garlic Mincer & Knife | I am sure you have a favorite, this one is mine – I use it for almost every job in my kitchen!
Colander | A colander is a must, I like this one because it's sturdy and won't tip on you – also great to strain canned beans for recipes like this Firecracker Chili!
Whether you make this recipe with canned, frozen or fresh green beans, I can safely say that you will love it! Southern comfort food at it's finest!
More Holiday Recipes
Check out all of my holiday recipes here and don't forget his fabulous Turkey Buying & Roasting Guide!
Don't forget dessert
Be sure to leave a comment below and if you LOVE IT? PIN IT!
Like this recipe?
Don't forget to give it a ⭐️⭐️⭐️⭐️⭐️ star rating and comment below the recipe!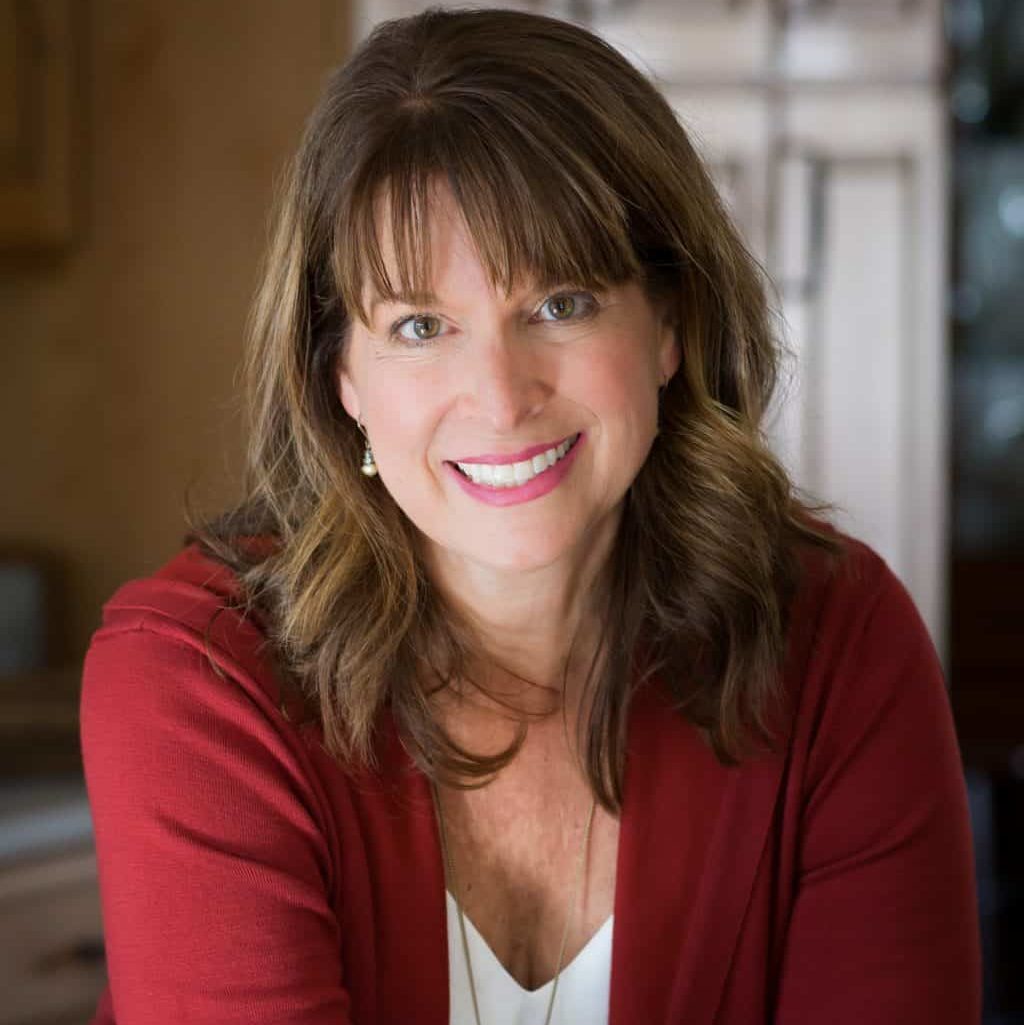 About Kathleen Pope
Recipe Innovator | Food Photographer | Food Writer
Hi, I'm Kathleen Pope. Here at The Fresh Cooky you will find easy, mostly from-scratch, trusted recipes for all occasions. From speedy dinners to tasty desserts, with easy step-by-step instructions. I am here to help teach you how to make mouthwatering recipes without spending hours in the kitchen. Read more about Kathleen here.