Robin Egg Whopper Brownies
As an Amazon Associate, I earn from qualifying purchases. Please read my disclosure policy.
What's better than rich, chewy, fudgy brownies? How about malted milk ball, gooey, chocolate frosted Robin Egg Whopper Brownies!! Perfect for a special chocolate lovers Easter treat!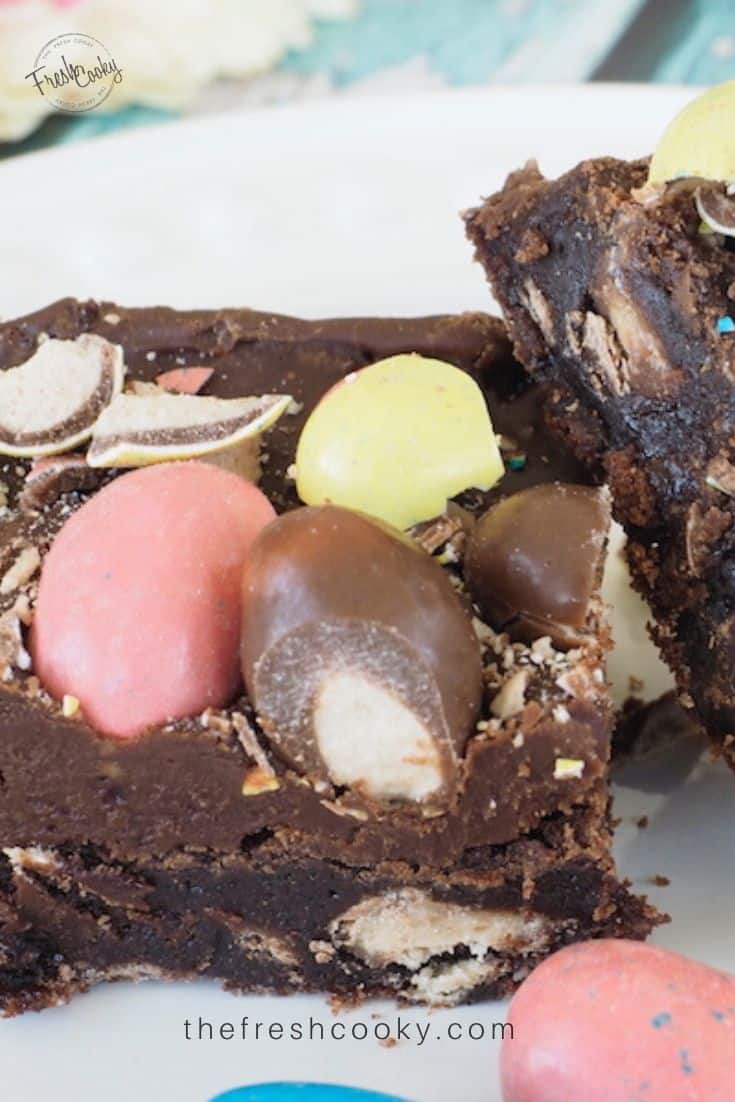 Confession time — I LOVE Robin Eggs! I know, I know, they are horrible for you! But they are my one indulgence at Easter and I buy the big mongo bag of them! My family loves them too! In fact, if I want them to last, I have to hide the bag and portion control the rest of my family. Anyone else like that?
I made these brownies for my son's Swim Team, I think they were a hit, all I heard was "I think they liked the brownies, Mom." Teen boys! Can you relate?
ROBIN EGGS ARE MY FAVORITE!
I used a mixture of Whoppers and Robin Eggs for these, using Whoppers in the batter and the Robin Eggs as a decorative topping. The chocolate from the Whopper Eggs melts into the batter making it even more ooey-gooey!
Start by rough chopping your Whoppers or Robins Eggs. The Whoppers Eggs (substitute regular Whoppers if you can't find the eggs), are much easier to chop than the Robin Eggs. If you decide to use Robin Eggs, place them in a heavy duty baggie and crush them using a heavy cup, rolling pin, bottle, can or jar. Rough chop about 2/3 of the bag, reserving some to snack on and to use for decoration.
Next we'll make the batter by making these Basic Fudge Brownies (how-to in the link, but the recipe is provided below)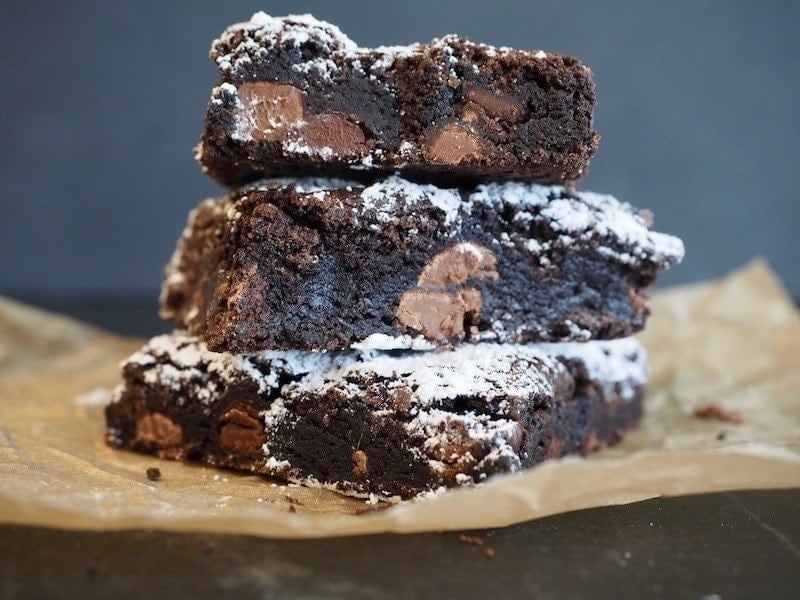 During the mix-in stage (chocolate chips), replace 1/2 cup of chocolate chips with 1 cup of chopped Whopper Eggs (or plain Whoppers or Maltesers) or Robins Eggs for a total of 1 1/2 cups (1/2 cup chocolate chips, 1 heaping cup whoppers)
Stir to combine and pour into parchment lined, sprayed 9 x 13 inch pan. Spreading the batter evenly to edges of pan, it will be very thick!
Bake brownies in preheated 350° oven for 25-30 minutes. DO NOT OVERBAKE. Edges will just start to pull away from pan, center will have a dull finish. Cool on cooling rack while you prepare your frosting.
How to Make Fudgy Frosting
This is a very quick and simple frosting, totally optional, but why wouldn't you??
Melting butter in a medium saucepan over medium-low heat. Stir in cocoa powder and remove from heat. Pour in powdered sugar and whisk to start combining, then add milk, starting with 3 tablespoons, adding more if needed. My favorite kitchen tool! This mini measuring cup!!
Using a whisk, stir until smooth, then add vanilla and sea salt. Whisk until all lumps are gone and it's a smooth glossy mixture.
Pour over warm (or cooled) brownies, spreading to edges. Cool for 15-20 minutes before adding crushed Robin Eggs.
For the decorative ultimate topping, place roughly 1 cup of Robin Eggs in freezer baggie and using something heavy (bottom of solid glass, mallet, wine bottle or juicer — haha, like I did!) gently pop the eggs to crush them. They crush pretty easily, they just don't chop with a knife so easily. They kind of slip and slide all around.
Spread over the top of the brownies, adding a few whole Whopper Eggs as well, if your family didn't eat them all.
Allow to cool completely, you might want to refrigerate for an hour or so, this will firm them up, making cutting much easier. Using the parchment paper, lift out from pan and place on cutting board. Cut into desired sizes.
Messy, malty, chocolatey, brightly colored, Easter brownie fudgy goodness!
Check out these other Easter Inspired Recipes and Posts
Sharing on Meal Plan Monday and Weekend Potluck!
Like this recipe?
Don't forget to give it a ⭐️⭐️⭐️⭐️⭐️ star rating and comment below the recipe!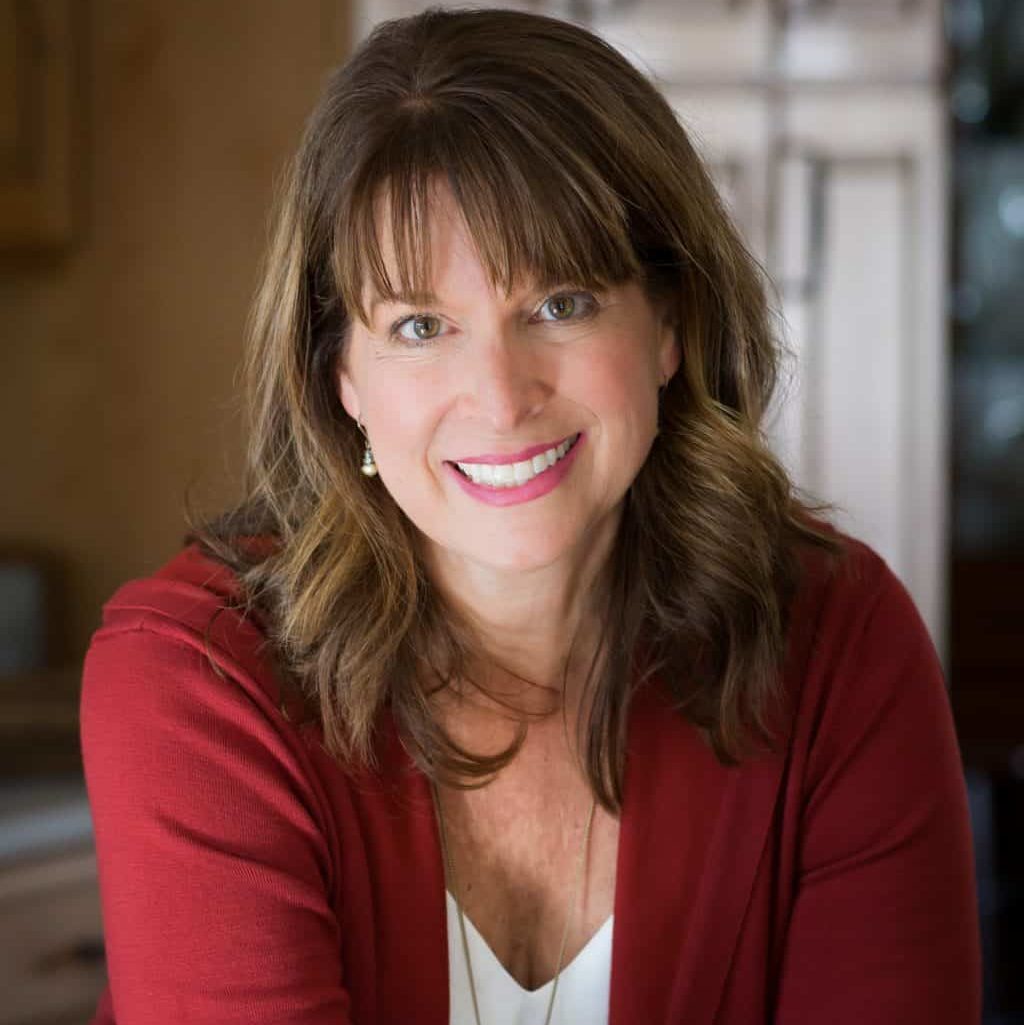 About Kathleen Pope
Recipe Innovator | Food Photographer | Food Writer
Hi, I'm Kathleen Pope. Here at The Fresh Cooky you will find easy, mostly from-scratch, trusted recipes for all occasions. From speedy dinners to tasty desserts, with easy step-by-step instructions. I am here to help teach you how to make mouthwatering recipes without spending hours in the kitchen. Read more about Kathleen here.