Five ingredients — that's it, just five simple and basic ingredients to this AMAZING, creamy, no-cook, old-fashioned homemade chocolate ice cream! Keep it basic or get creative with your mix-ins, regardless this is an amazing ice cream.
OLD FASHIONED HOMEMADE CHOCOLATE ICE CREAM
JOIN THE FRESH COOKY ON PINTEREST
This is the perfect cool frozen treat any time of year, ice cream is not just reserved for the hot months in our house, are we alone in our ice cream loving family? Truly, you might find this Mile High Mud Pie in our freezer anytime of year.
Everyone needs a couple of basic ice cream recipes, this one uses a traditional ice cream maker vs. the no-churn type. I'm torn between the ease of no-churn ice cream and the amazing creaminess of a churned ice cream. Both are scrumptious, both have their advantages — maybe you could host an ice cream block party! Everyone bring their favorite ice cream! Wouldn't that be fun!
GET FREE RECIPES FROM THE FRESH COOKY DELIVERED RIGHT TO YOUR INBOX!
Did I mention I'm not a fan of chocolate ice cream? Yes, it IS true; never been a fan, just don't like the flavor for some reason, BUT this creamy chocolate ice cream is a different story! My people had to hide it from me! Just kidding….kind of. 😉 The key to decadent and rich chocolate ice cream is in the cocoa powder, splurge a bit here, it's so worth it! This is my favorite!
LIST OF INGREDIENTS FOR OLD FASHIONED CHOCOLATE ICE CREAM
That's it, were you expecting more? Well truly, that is it! BUT, (there is always a but it seems) if you want to add mix-ins, I share some suggestions below!
RECOMMENDED TOOLS TO MAKE OLD FASHIONED HOMEMADE CHOCOLATE ICE CREAM
Grab your batter bowl and whisk (or use a hand mixer) together milk, cocoa powder, vanilla until cocoa powder and sugar are dissolved and combined. About 2 minutes. Pour in heavy cream, whip or whisk well, another 2-3 minutes until thickened and no sugar granules can be seen.
Refrigerate your ice cream base for 30 minutes or longer, prior to placing it in the ice cream freezer. By allowing it to hang out in the fridge, it will help it freeze faster, greatly improve the texture AND allows the cocoa powder to get to know the milk and the cream.
Before pouring your ice cream base into the ice cream freezer, stir it again one last time — a nice gentle stir to ensure everything is mixed well. Then pour into your ice cream freezer and follow the directions on your ice cream machine. Mine takes about 20 minutes.
WHY IS MY ICE CREAM SO SOFT?
Ice cream straight from the machine is a soft serve texture. For firm, scoopable ice cream, pour soft ice cream into a chilled (I put my container in the freezer while the ice cream maker is on) loaf pan or container. Cover and tuck in the back of your fridge.
The longer you let it hang out, the harder it will be, a couple of hours will yield firm on the edges, soft in the center. Overnight or longer, firm, scoopable ice cream. But who's kidding who, this stuff is fabulous straight from the machine or days later!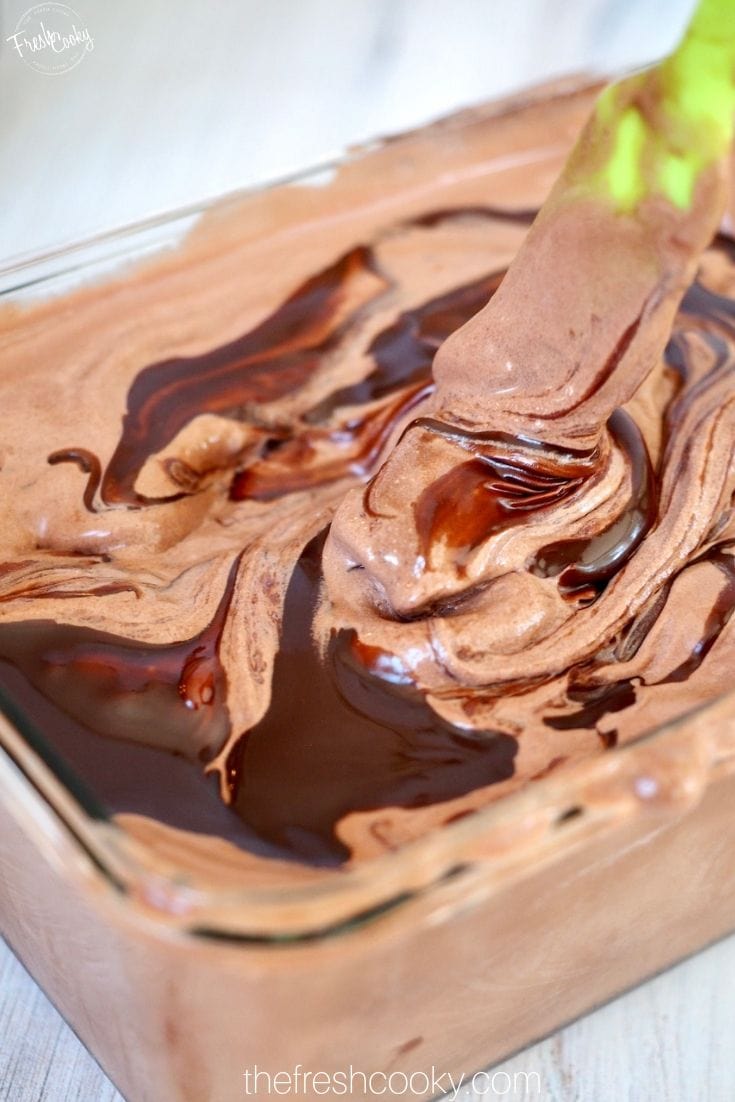 Mix-In Suggestions
Let me know how you eat your old fashioned homemade chocolate ice cream!?
Sharing on my favorite link parties! Full Plate Thursday | Meal Plan Monday | Weekend Potluck
Enjoy this recipe? Please leave a comment and rate the recipe in the recipe card.
Hashtag any recipes you make from The Fresh Cooky #thefreshcooky or tag me @thefreshcooky on Instagram to be featured on our stories!
JOIN THE FRESH COOKY ON PINTEREST
LOVE WHOLESOME DELICIOUS RECIPES? COME FOLLOW ALONG!
Share a picture and tag it #TheFreshCooky so we can see it.
GET FREE RECIPES

FROM THE FRESH COOKY DELIVERED RIGHT TO YOUR INBOX!