Milk Stout Fudge Brownies with Irish Cream Buttercream
As an Amazon Associate, I earn from qualifying purchases. Please read my disclosure policy.
A recipe for rich Milk Stout Fudge brownies with a delicate stout reduction that enhances the chocolate, notes of vanilla, brown sugar & coffee.
These fudgy brownies are topped with a thick layer of decadent Irish Bourbon Cream buttercream and topped with a sprinkle of flaky sea salt. The perfect treat for your St. Patrick's day celebration. Try one and you'll be dancin' an Irish jig; sure and begorra!
More delicious Irish recipes to try at the end of the post.
First, I feel I must write a disclaimer on this post; I am not Irish, pretty sure not even a teensy bit.
But I have numerous Irish friends, my best friend since Kindergarten is Irish, my cousin married into a very Irish family, I sure love to listen to the beautiful Irish brogue, and visiting Ireland is most definitely on my bucket list; so I'm not sure why I feel the need to explain, I just do. Maybe it's to encourage you regardless of your ancestry to give these a try…
Kind of weird putting beer in a brownie, right? Even if you are not a beer lover, or maybe not a stout kind of beer lover you will love these brownies!
And feel free to use other dark beers in place of the milk stout, I used Left Hand Brewing Co. Milk Stout Nitro which is a dark, rich beer, with chocolate, coffee, and vanilla notes.
Can I Use Other Beer
Yes, gives these varieties of beers, or your favorite!
Chocolate Stout
Vanilla Porter
Guinness (now you're talking!)
What Can I Substitute for Stout Beer in a Recipe
Replace the stout with caramel or coffee instead to get the same flavor, but without the alcohol or beer-like aftertaste.
Use 1 tablespoon of caramel for every 1/2 cup of stout or use 1 cup coffee for every 1 cup of stout. (source)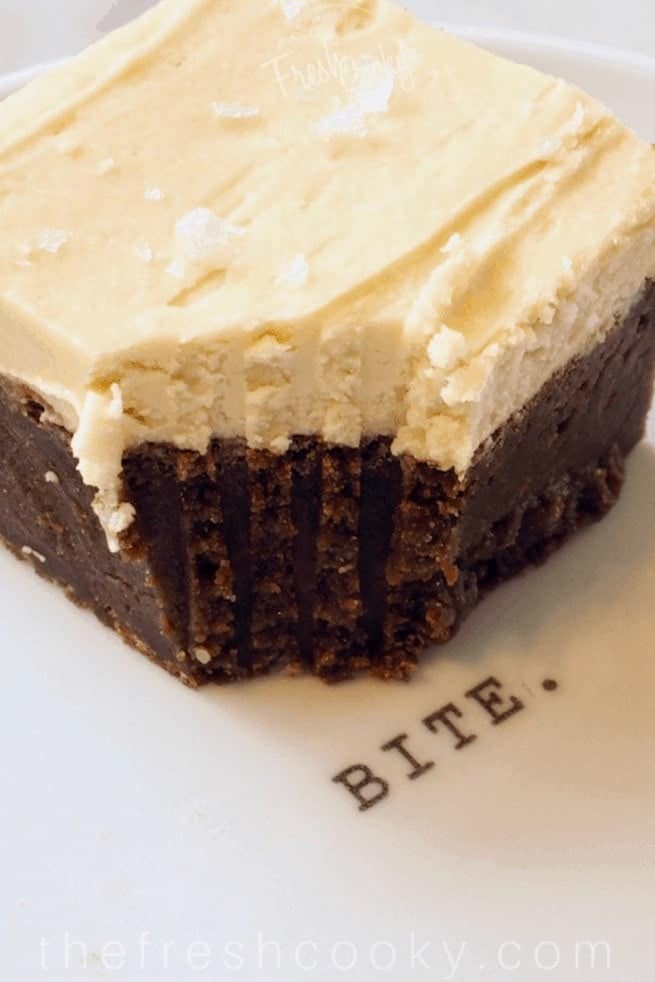 No need to buy an entire six-pack for this recipe; many stores these days (like Trader Joe's) sell individual bottles of craft beer.
But if you do like a beer with hints of roasted coffee, brown sugar and vanilla cream, then buy a 4 or 6 pack, because you will want to enjoy a cold, frothy mug with your beer beef stew, or shepherd's pie or banger's and mash and maybe even your Milk Stout Fudge Brownie!
HOW TO MAKE MILK STOUT FUDGE BROWNIES
Preheat oven to 350° and line an 8×8 baking pan with parchment paper (or foil) leaving a couple inches of overhang. Spray with a little cooking oil, set aside.
Add the stout (beer) to a small saucepan and bring to a boil, reduce heat to a simmer. Simmer until reduced to about 1/4 cup. It'll take about 5 minutes — don't walk away, you don't want it to burn. Swirl occasionally. When reduced, set aside to cool.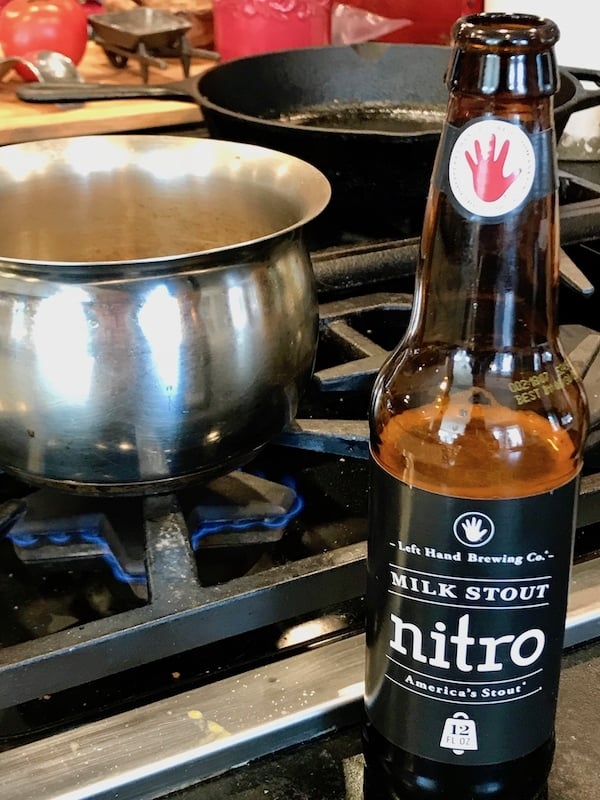 In a medium saucepan, bring 1-2 inch of water to simmer, place a heat proof bowl that fits on the top of your saucepan (these Pyrex bowls work the best in my experience).
Cut butter into 1″ chunks; add to the heat proof bowl, toss your chocolate chips on top of the butter; carefully set the bowl over the simmering water (making sure the water doesn't actually touch the bottom of the bowl).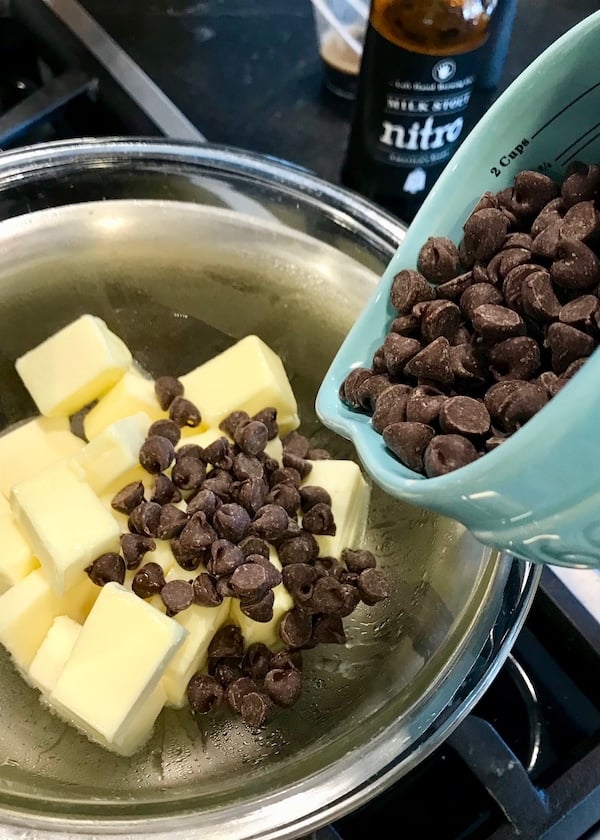 Stir occasionally, until mixture is melted and smooth.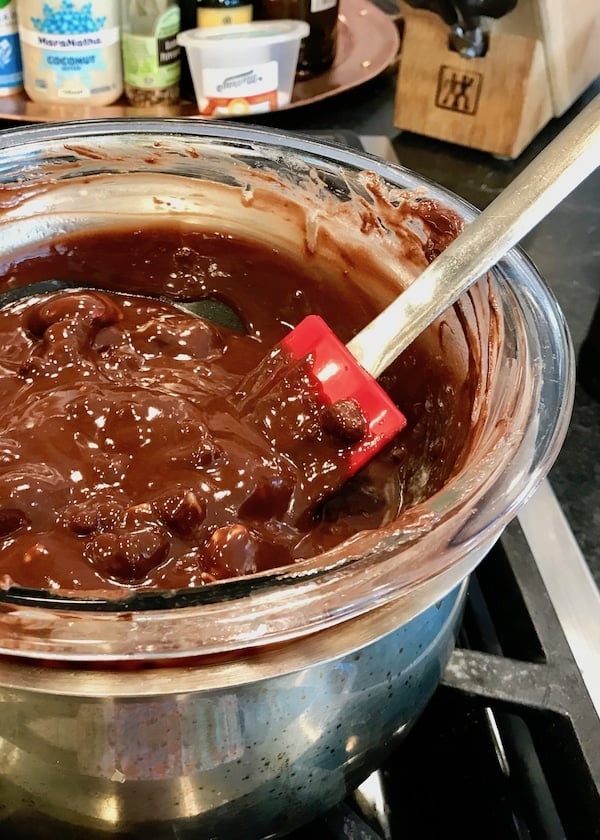 Carefully transfer the melted chocolate mixture to a mixing bowl and allow to cool for 5-10 minutes, you want it warm, not hot. To test, stick your knuckle in the mixture.
Add all-natural cane sugar, vanilla, and sea salt to the chocolate mixture and stir to combine.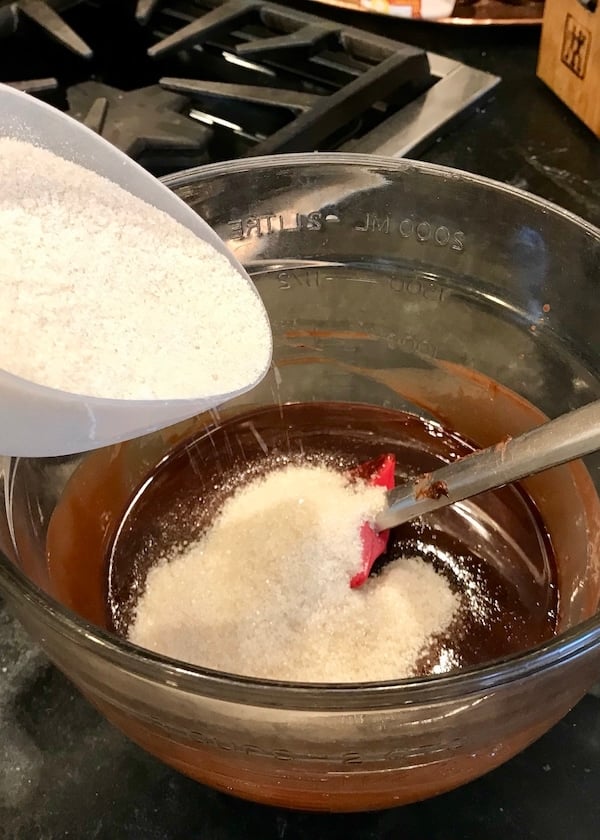 Pour in reduced stout (beer) and mix to combine.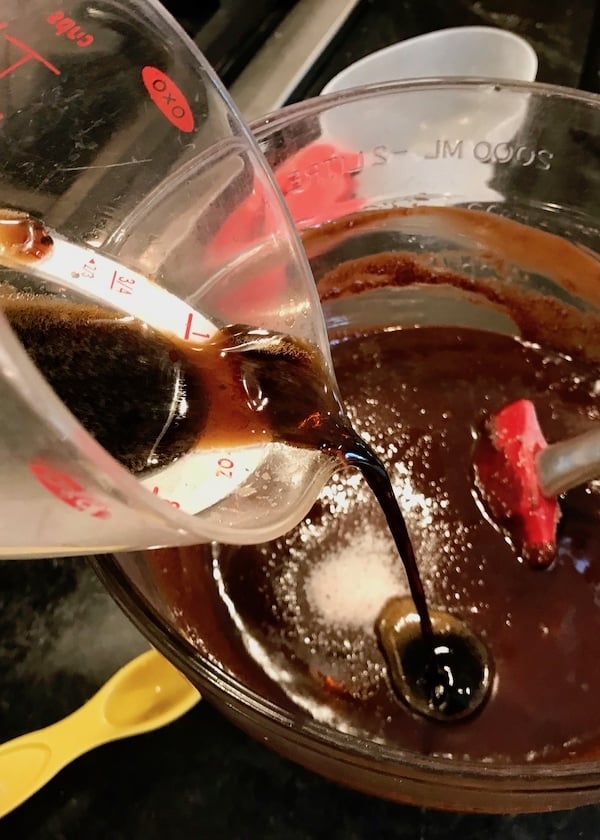 Crack eggs into a small bowl (I love these), removing any shells, then add eggs to batter, one at a time. Mixing well after each addition, just until combined.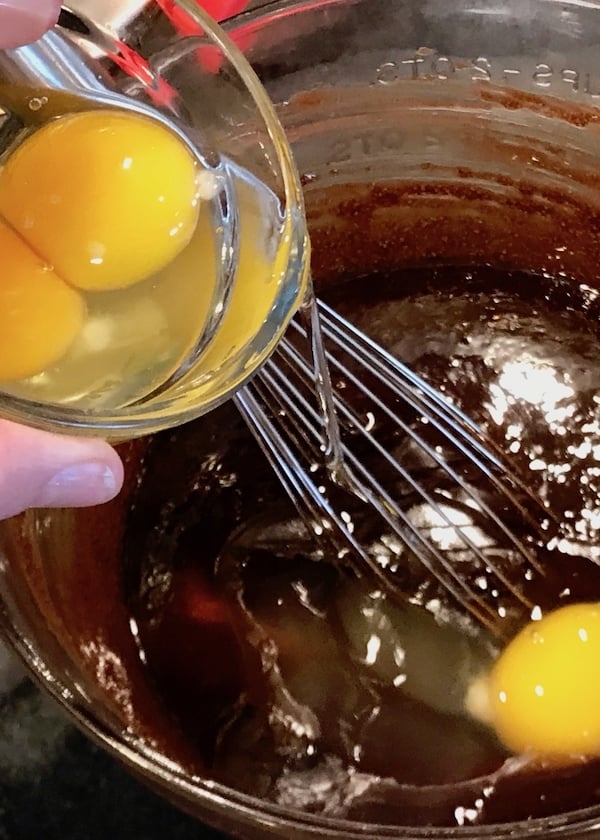 Add in all-purpose flour and fold gently until flour is no longer visible and if desired, 1 teaspoon of espresso powder.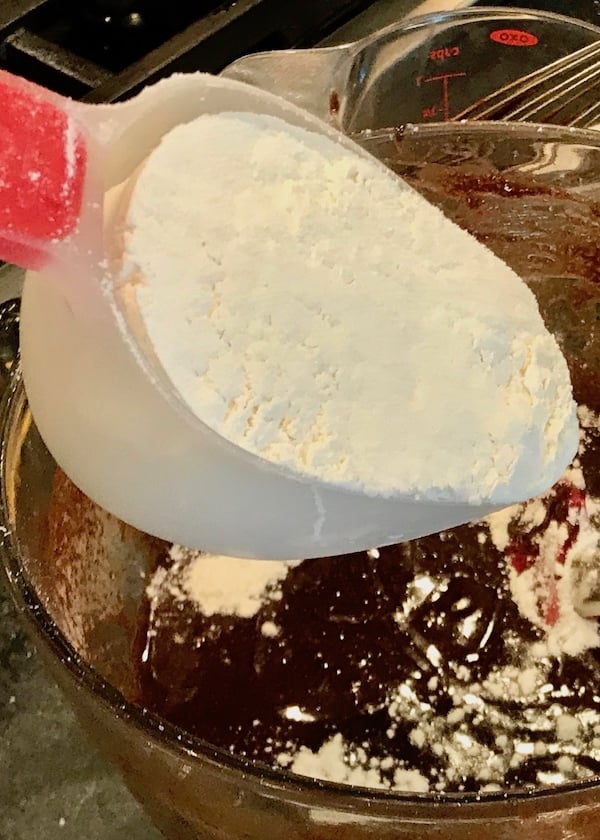 Pour batter into prepared pan, smoothing batter evenly in pan.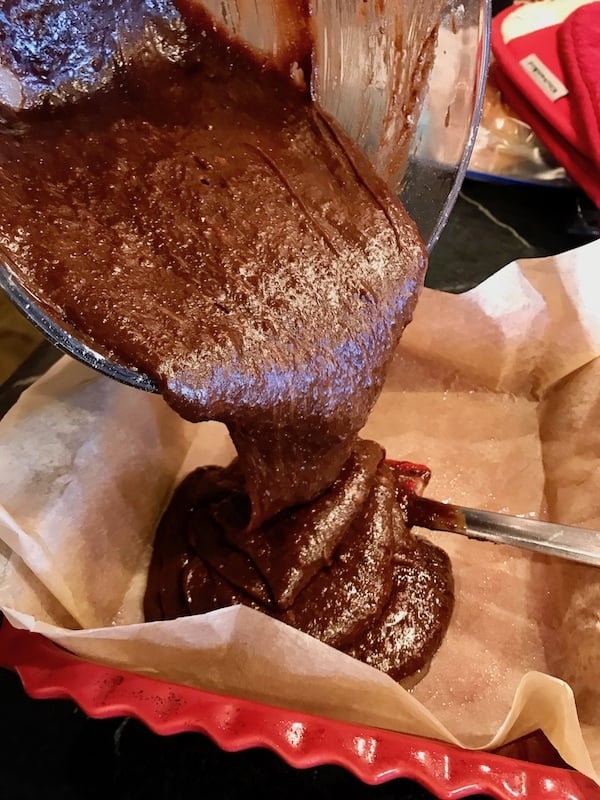 Bake Stout Brownies for 40-55 minutes (check at 40) until toothpick inserted comes out clean or with a few crumbs. If using a dark or glass pan, reduce your oven temperature to 325°.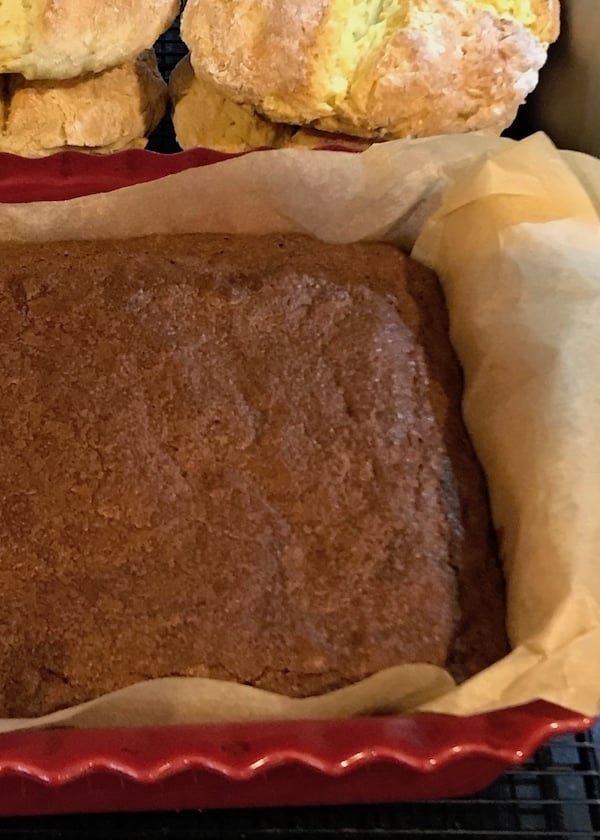 FUDGY vs. CAKEY STOUT BROWNIES
Brownies are tricky, if you like them cakey, leave in longer, if you like them fudgy, take them out sooner.
My rule of thumb for fudgy brownies; once the brownies have started pulling away from edges and are slightly dry; the center is not jiggly, but is a little glossy, remove brownies from oven. Personally I'd rather have gooey brownies than dry brownies.
Transfer brownie pan to cooling rack and allow to cool completely. If you need to hurry the cooling process, allow to cool on cooling rack for 20-30 minutes, then transfer to freezer for 30 minutes.
Once completely cool, use the parchment or foil and remove brownie slab to a cutting board.
IRISH CREAM BUTTERCREAM RECIPE
Add softened butter to the bowl of a stand mixer (or hand mixer) fitted with a paddle attachment. Beat on medium-high speed for 2-3 minutes, until light and fluffy.
With mixer on low or stir, slowly add powdered sugar, if you have a pouring shield* attach before adding sugar. Beat on low speed until mixed into butter, then increase speed to medium-high and beat for 1 minute, scrape down sides.
*If you are purchasing a pouring shield; be sure to triple check the mixer make, model and bowl size to make sure you order the correct size.
Add sea salt, vanilla and Irish or Bourbon Cream beating on low speed until combined, then increase speed to high and beat until light and fluffy, about 3-4 minutes, stopping and scraping down sides once or twice. If desired, mix in 1 tsp espresso powder (optional). My favorite small liquid measure cup
Can I replace Irish or Bourbon Cream in Buttercream?
Absolutely! Use equal amounts of cream, half and half or milk!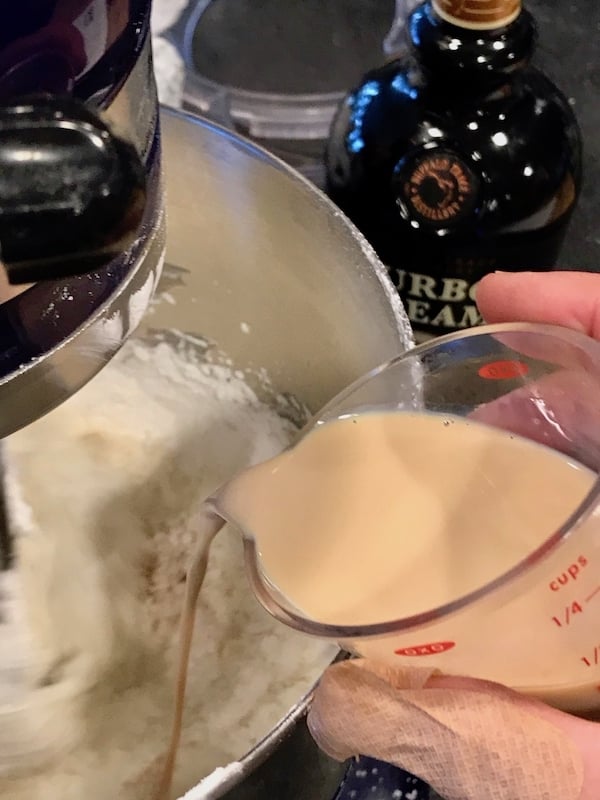 Spread buttercream evenly over cooled brownies, sprinkle with a little flaky sea salt, this is my very favorite brand!

If you haven't tried flaky sea salt on your baked goods, like these Chewy Chocolate Chip Cookies or Triple Chip Pudding Cookies you are missing out — BIG TIME!
Cut into bars, serve with a cold glass of milk or your favorite — stout!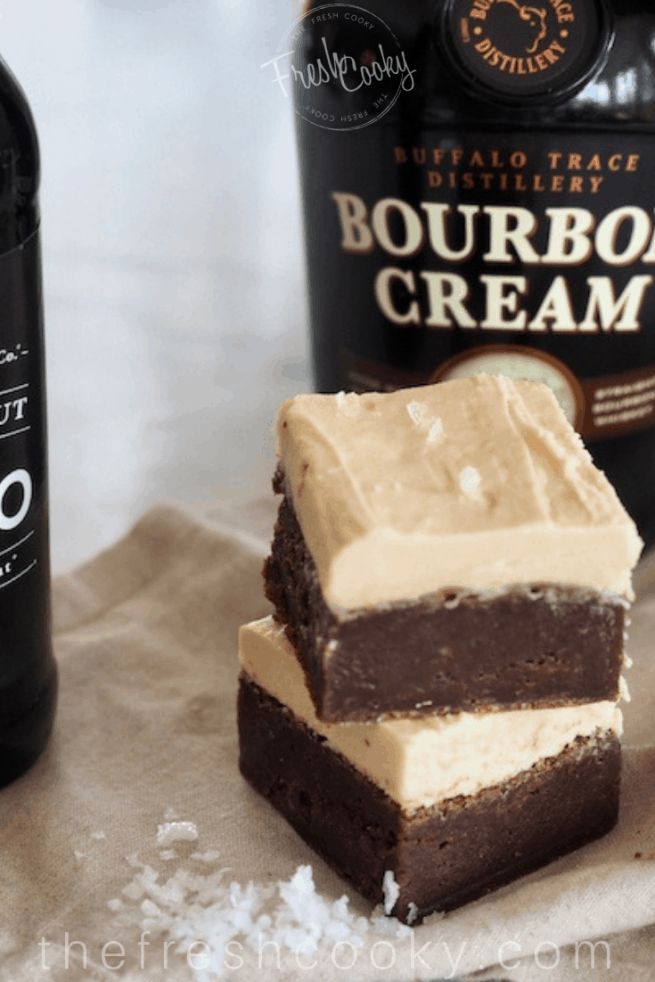 How to Cut Brownies Clean and Even
Step 1 | Freeze the frosted brownies for 15-20 minutes
Step 2 | Remove from freezer and place on cutting board. Run a long knife under hot water for a minute or fill a tall glass with hot water and set knife in glass for a minute.

Step 3 | Wipe blade with paper towel to remove moisture and slice through brownies, return to hot water, repeating process until brownies have been cut.

The heated knife allows it to slice clean through the frosting without pulling on the frosting.
Oh and since you'll have leftover stout, make up a loaf of Beer Bread or try this slow cooked, savory Beer Beef Stew or of course, Bangers and Mash a St. Patty's day favorite! And for your St. Patrick's Day celebration, mix up a couple of these Irish Mules.
For a comprehensive list of St. Patrick's day menu ideas, check out my 35+ St. Patrick's Day Recipes post.
Brownie recipe adapted from Cook Nourish Bliss.
Like this recipe?
Don't forget to give it a ⭐️⭐️⭐️⭐️⭐️ star rating and comment below the recipe!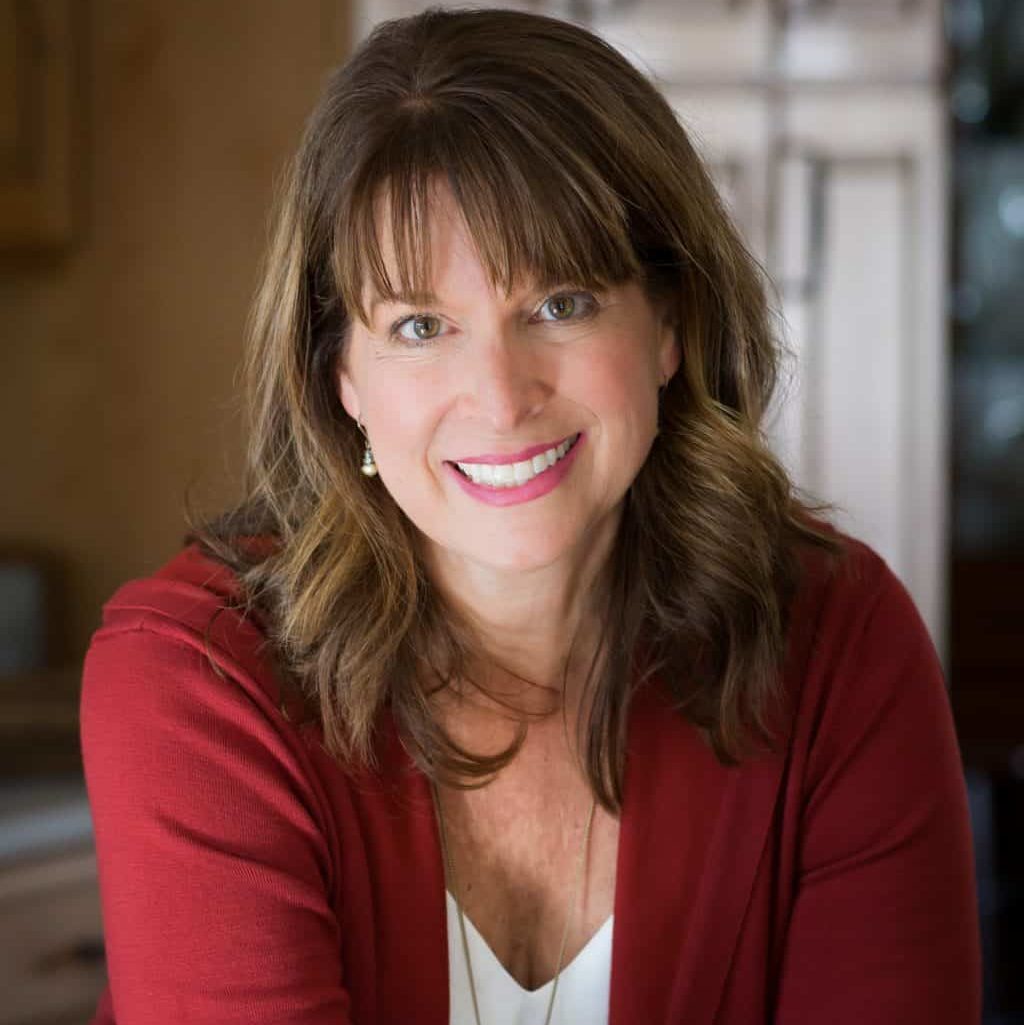 About Kathleen Pope
Recipe Innovator | Food Photographer | Food Writer
Hi, I'm Kathleen Pope. Here at The Fresh Cooky you will find easy, mostly from-scratch, trusted recipes for all occasions. From speedy dinners to tasty desserts, with easy step-by-step instructions. I am here to help teach you how to make mouthwatering recipes without spending hours in the kitchen. Read more about Kathleen here.