Easy 30 minute Chicken Parmesan Recipe + Gluten Free and Low Carb Option
As an Amazon Associate, I earn from qualifying purchases. Please read my disclosure policy.
Easy Chicken Parmesan is a delicious and hearty 30 minute meal. Lightly breaded chicken breasts, quickly skillet fried, simmered in marinara sauce, topped with creamy mozzarella and Parmesan cheese, served over your favorite pasta or zoodles.
I love easy, peasy dishes that look gourmet! Do you have meals like that? I've made this dish for years, I honestly can't remember where it originally came from, but I think it might be a variation on an old Weight Watchers recipe.
EASY, HEALTHY and easy to make low-carb and gluten free! Woot-Woot!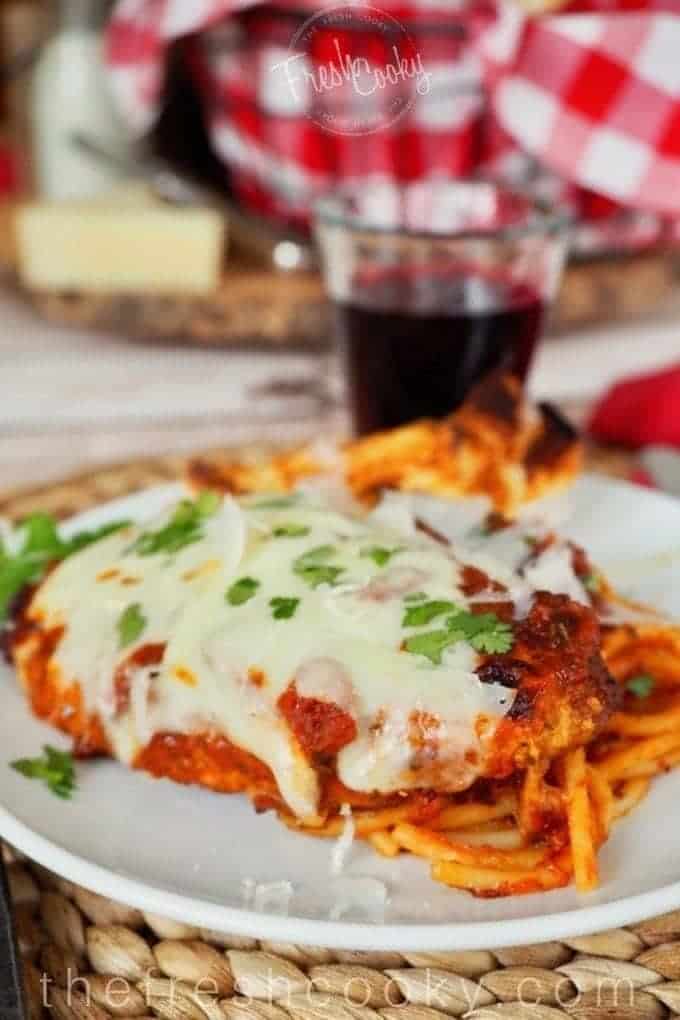 30 Minute Skillet Chicken Parmesan
PLUS — easy tips to make this gluten free chicken parmesan and low carb chicken parmesan!
Low Carb, Keto & Gluten-Free Chicken Parmesan
Omit the breadcrumbs and coat in grated parmesan cheese; Keto, Low-Carb, Gluten Free
Exchange pasta for zoodles (spiralized veggies like zucchini or summer squash); Keto, Low-Carb, Gluten-Free
Replace regular bread crumbs for GF bread crumbs & use GF Pasta, I love this brand the best; Gluten-Free
The recipe assumes you are using 4 large chicken breasts, but it's adaptable to your needs. Need just two breasts? Reduce your ingredients by half.
Need double? Well, you know, just double the recipe. See, easy! Depending on the size of your chicken breasts and or appetites; it will feed between 4-8 people. What is it with chickens? I guess, like us, they come in all shapes and sizes!
Healthy Chicken Parmesan
Step 1 | Prep ingredients
In a medium, shallow bowl, beat 2 eggs well, set aside.
In another similar sized bowl, add bread crumbs (may use gluten free bread crumbs, or Panko as well) and grated parmesan* cheese. You may use seasoned breadcrumbs in place of adding seasonings, but I like to add my own. Add seasonings, sea salt and stir with fork to combine.
Preheat your skillet over medium-high heat, pouring in a few tablespoons of olive oil.
In a large lidded pot, fill to 2/3 – 3/4 full with cold tap water, add 1 1/2-2 tablespoons sea salt and bring to boil. If water boils before you are finished searing your chicken simply reduce heat to low or remove from heat until ready to add pasta.
Step 2 | Pound Chicken Breasts
Ideally, you should flatten your chicken anytime you are cooking with even, direct heat, such as pan-frying, searing, or oven baking. Do you have to flatten your meat?
I don't think so, pretty sure the "chicken flattening police" are not going to come calling, but it does help your chicken cook quicker and more evenly, and if you are trying to stretch ingredients you can typically share a breast easily between two people after flattening.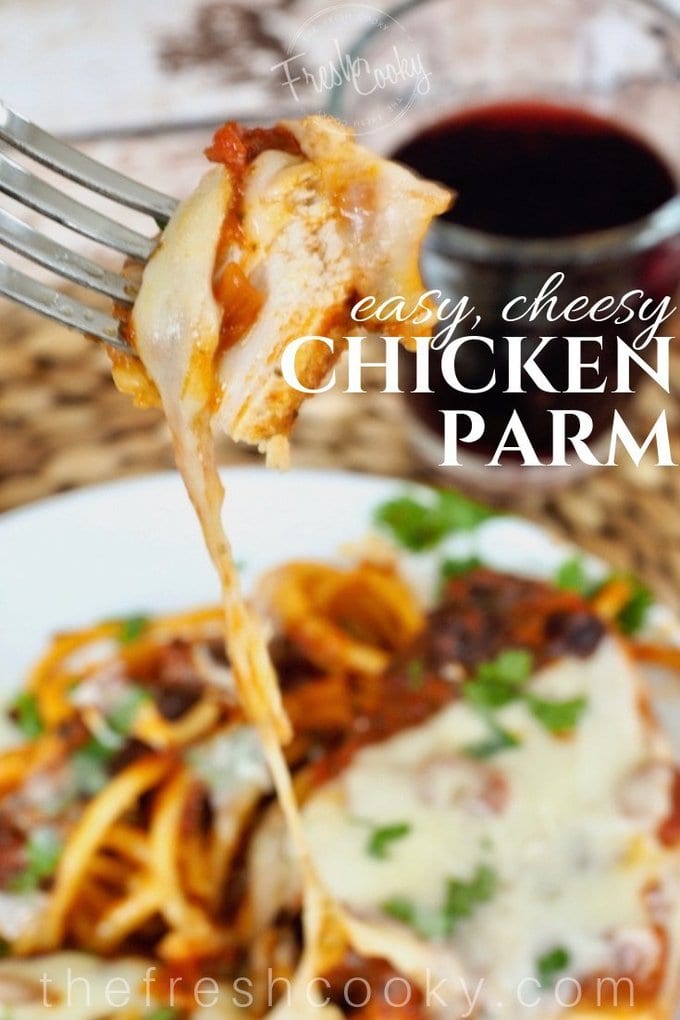 Step 3 | Make Chicken Parm
While your skillet is preheating, place your chicken breast (one or two at a time) in a gallon size ziplock bag, remove any air and seal.
Place flat on a cutting board, using any heavy object pound until even and flat, about 1/2-3/4 of an inch. You can use a heavy skillet, wine bottle, a heavy jar, meat mallet, or a rolling pin.
Not only will your meat cook evenly and quickly, but it's a fabulous tension and frustration reliever! Repeat with other chicken breasts.
Once your chicken is flattened; using a fork or tongs, dip breast into egg wash, coating both sides well.
Move from egg wash directly into bread crumbs/cheese mixture and press each side to coat well.
Place breaded chicken into hot pan or transfer to a plate until you've repeated the steps with the remaining chicken breasts. Toss egg wash (or scramble it up for your doggy if you have one) and breadcrumbs after use, do not re-use.
Sear/brown the chicken on both sides, check after 2 minutes.
Once golden crispy, turn to sear the flip side, 2-3 minutes.
Once both sides are browned, carefully spoon or pour marinara sauce, covering the chicken. If you are not a "swimming in sauce" fan; use half a jar, if you love sauce and/or think you might have leftovers, use the whole jar. If using homemade sauce, 3-4 large ladles full should do the trick.
Jarred Marinara or Homemade Marinara?
Your choice, the idea is to make this easy on YOU, so if you don't happen to have homemade sauce ready, then by all means use a bottle of jarred spaghetti sauce.
I typically have a frozen portion of Grandpa Frank's spaghetti sauce. Reduce the heat to low and simmer, covered for about 10-12 minutes.
While your chicken is cooking; boil pasta; cooking according to package directions.
Traditionally, Chicken Parmesan is served over a swirl of spaghetti, but you can use any type of pasta; I like bucatini, angel hair, fettuccine or even shaped pastas will work just fine.
Low-Carb "Noodle" Options
Or if you are trying to be carb conscious, spiralize yourself some zucchini "zoodles", sauté them in a little coconut, avocado or olive oil in a hot pan for a few minutes, then coat in marinara sauce until ready to serve.
Prior to serving, sprinkle a little shredded or sliced mozzarella cheese over the top of the chicken, cover until melted.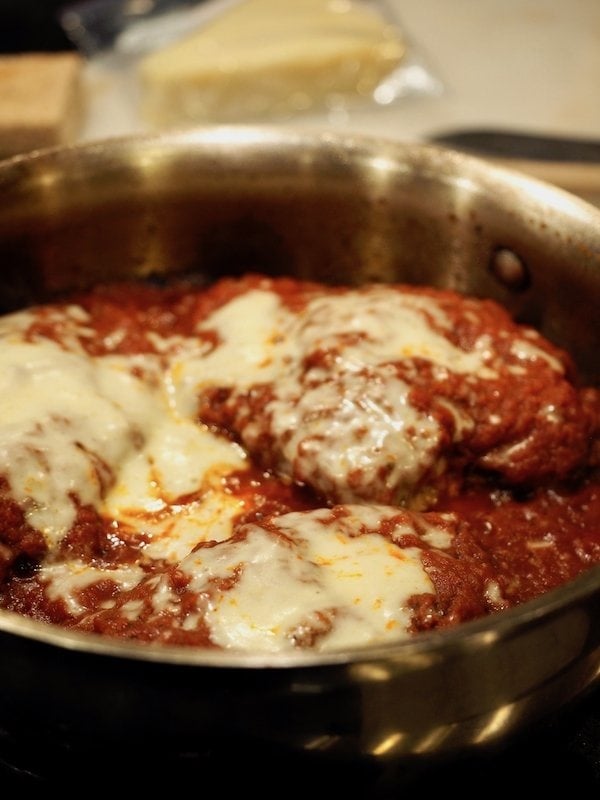 After draining cooked pasta (or zoodles), return to hot pan, add a little sauce and toss to coat noodles. Place a serving of pasta on each plate, then place a piece of quick and easy chicken parmesan on top; adding extra marinara sauce if desired.
Garnish with more Parmesan, grated or shaved! And if you want to be really fancy, chop a little fresh basil or flat leaf parsley and sprinkle over the top.
Serve with a Caesar salad and garlic bread, but not if you are keto, low-carb — sorry!
How to Make Quick Garlic Bread
Preheat oven to broil.
Slice a loaf of Italian or French bread in half length-wise and butter both sides of loaf (or amount desired).
Sprinkle generously with a good ground garlic and top with grated or shaved parmesan. Place cheesy side up on cookie sheet and broil on middle oven rack — stay close, every oven broils at different speeds, start at 2 minutes, remove when golden and bubbly, slice into individual servings.
Or you might try this over-the-top Cheesy Garlic Bread!
There you have it, another quick 30 minute or less family favorite that I make often.
Make it yours; adjust seasonings, change up the cheese, it doesn't have to be Parmigiano Reggiano, it could be Pecorino Romano, regular Parmesan or another hard rind cheese.
More 30 Minute Meals
What desserts go well with Chicken Parmesan?
A delicious dessert is what is needed to finish off this easy Italian meal.
Light, fluffy, creamy and not too sweet. This dessert is made ahead, taking one more thing off your plate. TIRAMISU RECIPE HERE
A simple single-layer ricotta cheesecake, a perfect compliment any pasta recipe. LEMON RICOTTA CAKE RECIPE HERE
>>> Browse all of my dessert recipes here.
Like this recipe?
Don't forget to give it a ⭐️⭐️⭐️⭐️⭐️ star rating and comment below the recipe!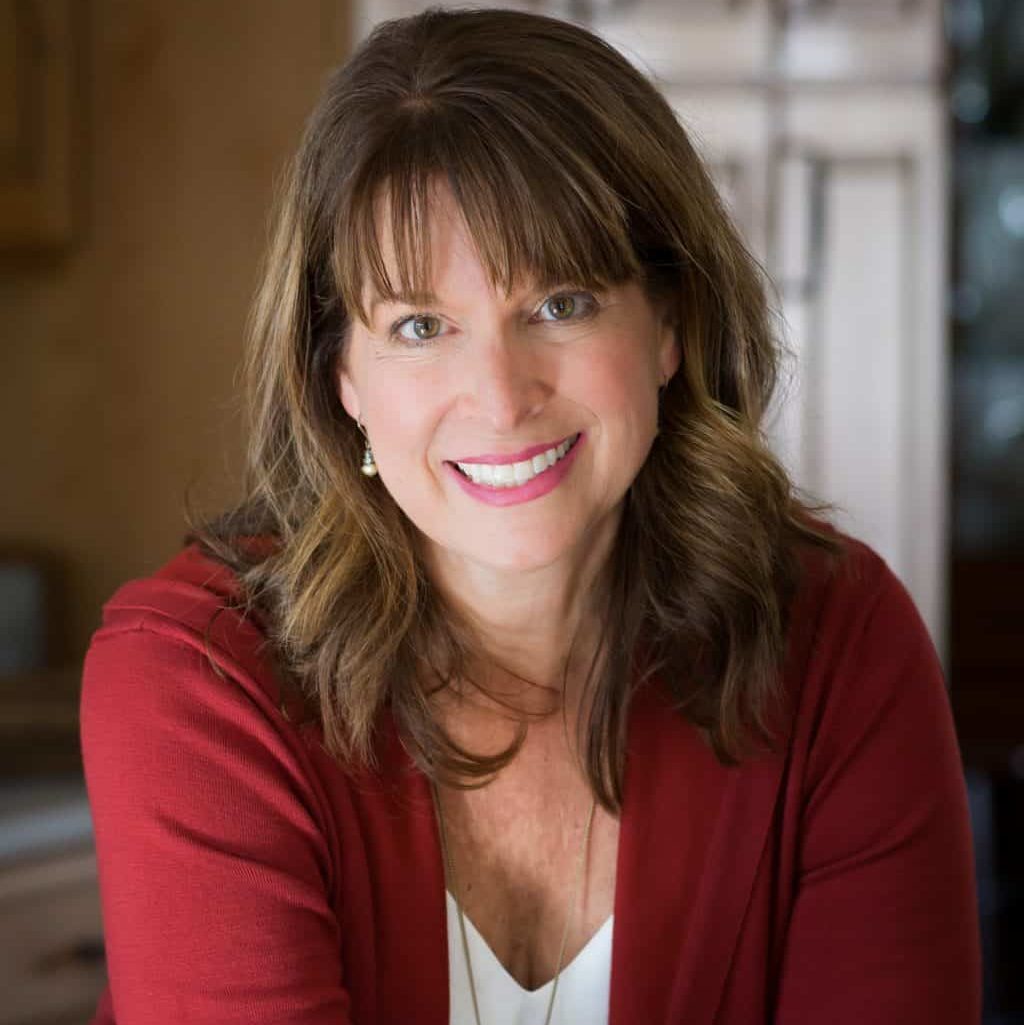 About Kathleen Pope
Recipe Innovator | Food Photographer | Food Writer
Hi, I'm Kathleen Pope. Here at The Fresh Cooky you will find easy, mostly from-scratch, trusted recipes for all occasions. From speedy dinners to tasty desserts, with easy step-by-step instructions. I am here to help teach you how to make mouthwatering recipes without spending hours in the kitchen. Read more about Kathleen here.