Easy Banana Bread Recipe + High Altitude
As an Amazon Associate, I earn from qualifying purchases. Please read my disclosure policy.
I have been searching for the Best Banana Bread Recipe for High Altitude! This one is quite possibly the best in the world! Using 4 bananas this recipe is more moist and amazingly delicious! Freezes great too! But have no fear, I give easy instructions to make at any elevation, plus how to make gluten free banana bread!
A great banana bread should be easy to bake, with simple ingredients; it must be moist, have subtle banana flavor, not overly sweet, bake up golden brown.
You might enjoy these other simple, classic recipes as well; New England Whoopie Pies, Chewy Chocolate Chip Cookies, Basic Fudge Brownies or Mimi's Copycat Honey Bran Muffins.
High Altitude Banana Bread
Right now, banana bread is trending everywhere, not fancy, boutique ingredient banana bread like my Banana Nutella Bread or Moist Banana Graham Oat Bread but a basic, simple, classic banana bread.
Baking at high altitude banana bread requires the right recipe; I will give you tips on how to bake at altitude or sea level as well as adjustments for gluten free banana bread.
Primary Ingredients
FLOUR | I use organic, unbleached all-purpose flour in my baking, substitute Gluten Free 1-to-1 flour or try half GF oat flour, half GF AP Flour)
SPICES | Cinnamon, Salt and Baking Soda
GRANULATED SUGAR | I love using organic all-natural cane sugar in my recipes
EGGS | for lift and to help bind the ingredients, I always use large eggs.
OIL | Adds simple, healthy moisture, I love using Avocado or Grapeseed oil in my baking.
RIPE BANANAS | this is a banana bread recipe using 4 bananas!
CREME FRAICHE | You may also substitute sour cream or Greek yogurt
VANILLA EXTRACT | If you have never made your own, now is the time to make some! Exquisite!
ADD INS | Keep it naked, or add chopped walnuts or chocolate chips, or go crazy and add both!
Flour's Famous Banana Bread
While visiting colleges in Boston for our oldest, I had heard so much about Flour's Famous Banana Bread.
I adore Joanne Chang's cookbook Flour and have made several of her recipes, including her brioche (WOW!) and browned butter rice krispie treats (WOW-WOW!).
The beautiful bakery in the heart of downtown Boston, with all sorts of delectable pastries, and yet I went for their Famous Banana Bread. Simple ingredients, outstanding texture and flavor!
Chocolate Chip Banana Bread vs. Banana Nut Bread
What do you prefer? For me there is no contest, it's banana NUT bread all the way, or plain without nuts, but my family, they are all about the chocolate chips, you might like this Double Chocolate Banana Bread too!
I will show you how to easily add your own mix-ins.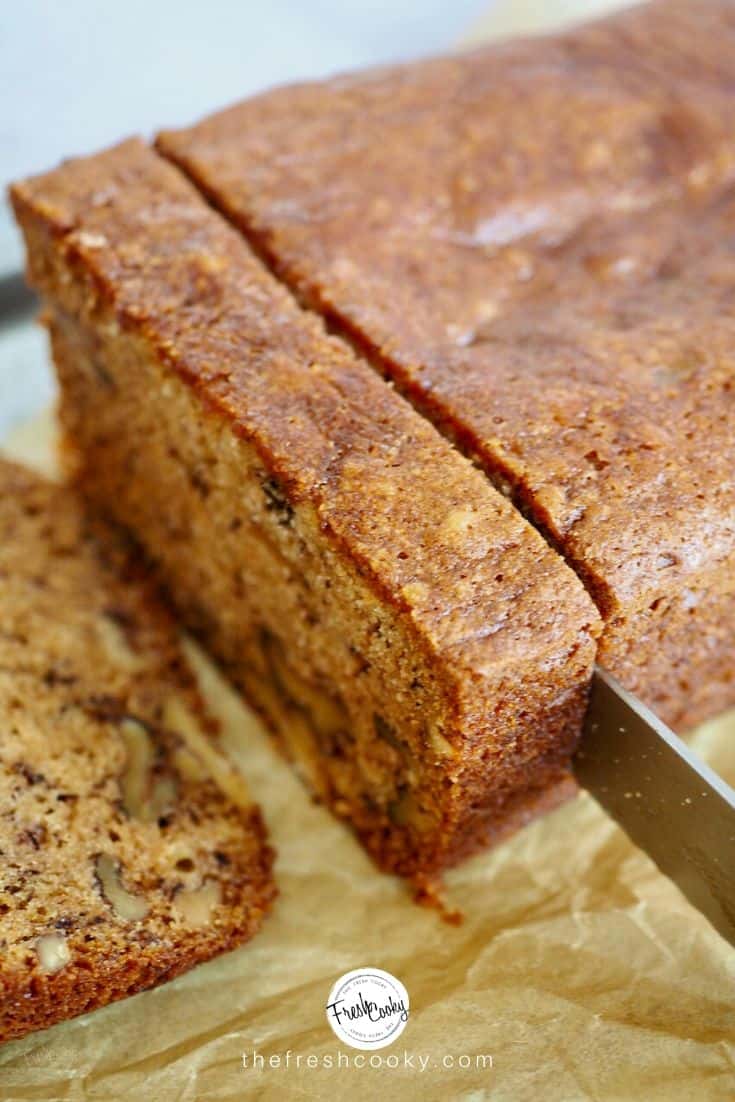 How to Make the Best Banana Bread Recipe in the world!
I know that is quite a claim, but truly, this banana bread is the best…in the world, my world at least! I hope you will give it a try!
It's easier for a recipe to come together when you get out all the ingredients ahead of time.
Preheat oven to 325 degrees F (350 degrees F high altitude), unless using dark or glass pan, positioning rack in middle of oven. Spray 9 x 5 inch loaf pan with non-stick spray, and dust with flour. Or spray, then line with parchment (at least the bottom of the pan) for easy removal. May also butter pan.
In the bowl of a stand mixer, mix sugar and eggs, beating on medium speed for about 5 minutes, until light and fluffy (8 minutes if using natural cane sugar or using a hand mixer).
While sugar and eggs are combining, in a bowl, add flour, baking soda, cinnamon and salt, whisk to combine, set aside.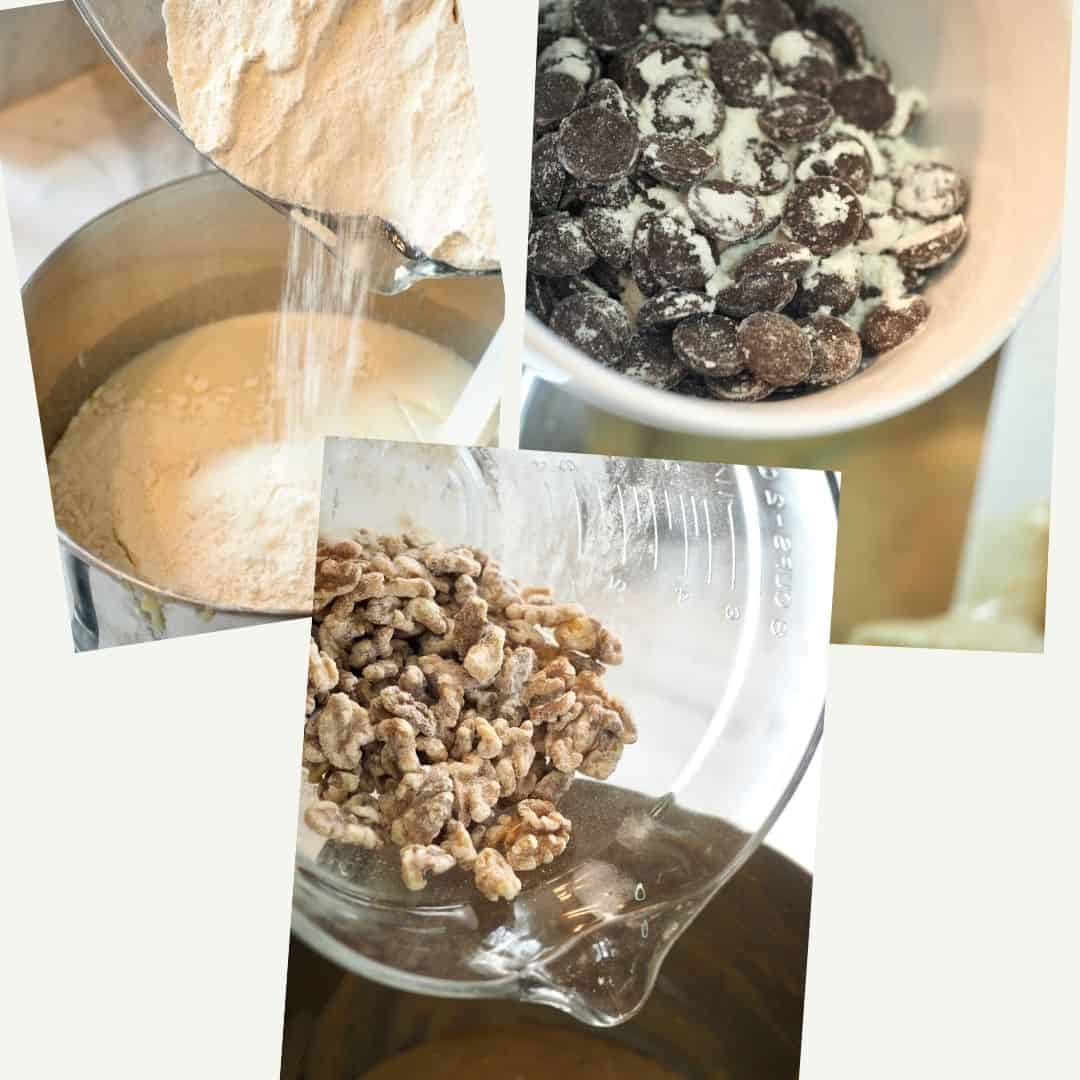 Keeping Chocolate Chips from Sinking in Quick Breads
The short and simple on this toss whatever you are mixing in, into the flour mixture and coat, or remove a few teaspoons beforehand and toss separately. The coating of flour, helps the mix-in to "stick" to the batter while baking, not allow it to sink completely to the bottom.
Mash bananas, measure creme fraiche (sour cream or greek yogurt) and vanilla.
On low speed slowly drizzle in oil. Don't just dump it in, but slowly drizzle while it incorporates, should take about a minute, you don't want to deflate the egg and sugar batter!
Add bananas, creme fraiche, and vanilla, mixing on low until just combined.
Stir nuts or chocolate chips (or other mix in) into flour mixture, then fold flour mixture into wet batter. I use this spatula style for folding, as it grabs more batter at a time. Make sure no flour streaks are visible and nuts/chocolate chips should be evenly distributed. Pour batter into prepared loaf pan and smooth top.
Bake starting at 45-50 minutes, but bake up to an hour and 15 minutes if needed or until golden brown and the center springs back when you press it, if your finger takes off or sticks when you press it, it needs a bit longer. It should not be jiggly.
How Long is Banana Bread Good For?
Personally, I think quick breads are better the next day, but sometimes I cannot wait that long! I also believe that something magical happens making the bread even more moist when frozen and thawed.
Wrap banana bread tightly in plastic wrap.
May hang out at room temperature up to 3 days or up to 5 if you keep your house cool like mine. 🙂
In the fridge up to 7 days (wrapped of course).
Frozen up to 3 months if tightly wrapped.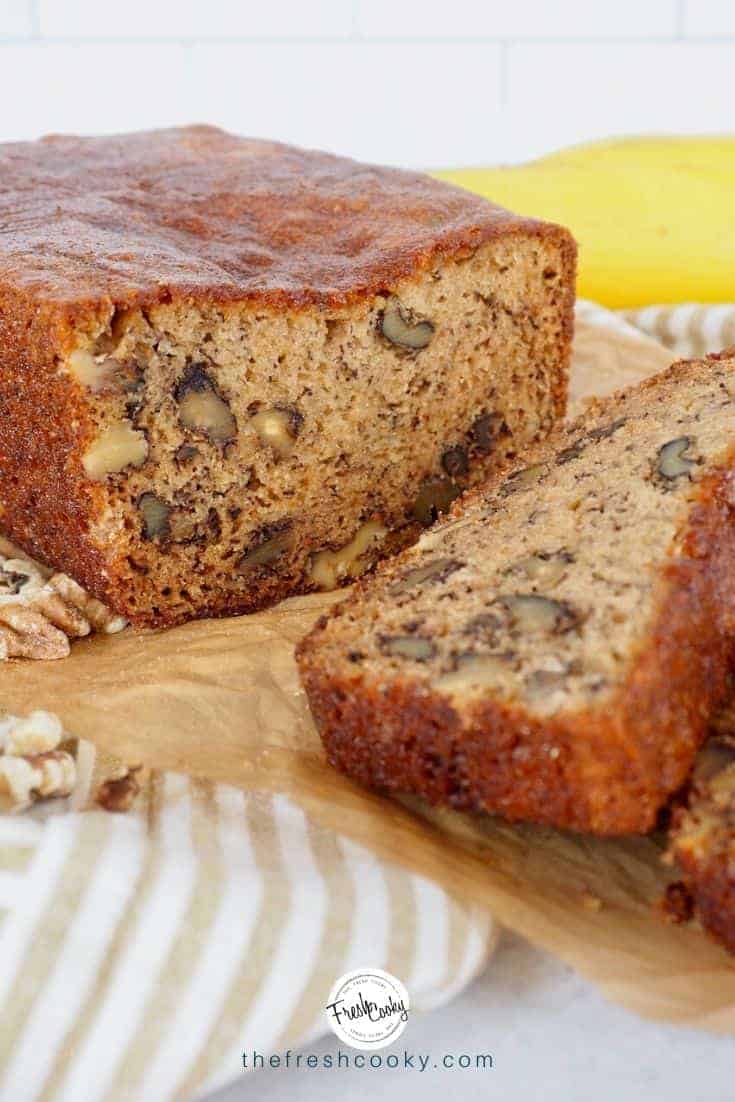 Can I Freeze Banana Bread?
Absolutely! In fact, high altitude banana bread freezes beautifully. Wrapped tightly in plastic wrap, then placed in freezer baggie up to 3 months (though I have found quick breads in my freezer that have been there longer and they thaw and taste just fine.)
Sometimes I cut the loaf in half, wrapping separately then I have a quick little something to give to a neighbor in need or when we have a banana nut bread emergency! LOL! Thaw frozen bread overnight at room temperature.
I also like to slice it ahead of time, into ¾ – 1″ slices, wrap the slices in plastic wrap, freeze — they toss well into lunch boxes! Check out my post on Creative Lunch Box Ideas for more "pop-in-the-lunch" snack ideas.
Recommended Equipment
The Best Bananas for High Altitude Banana Bread
I confess that I actually buy extra bananas sometimes just so I can have the "excuse" to make banana bread.
The browner the banana the better, in fact the best bananas are black bananas! That means that the sugars in the banana have done a great job at breaking down the flesh, making them even sweeter!
If using frozen bananas be sure to defrost on the counter first, draining the liquid that comes out before using in your recipe. Use 4 bananas for this banana bread recipe!
How to Ripen Bananas Fast
You can speed up the browning process by placing the bananas in a brown paper bag along with an apple on the counter for a day or two. The gasses emitted by the apple will speed the ripening process.
Or, while I have never tried this, if you are really impatient you can place bananas (in peels) on a sheet pan in a 300 degree oven and bake for about 20 minutes. Cool, peel, mash — makes awesome bread, I am told!
How to make GLUTEN FREE BANANA BREAD
This is a great Gluten Free Banana Bread recipe!
I have had great luck swapping out regular flour for a good 1-to-1 gluten free (my favorite) replacement.
You might also try substituting half the flour with GF oat flour or a 50/50 split between oat flour and a gluten free all purpose flour.
Bake as directed, watch on the earlier side though, my experience is that you do not want to over bake a gluten free recipe.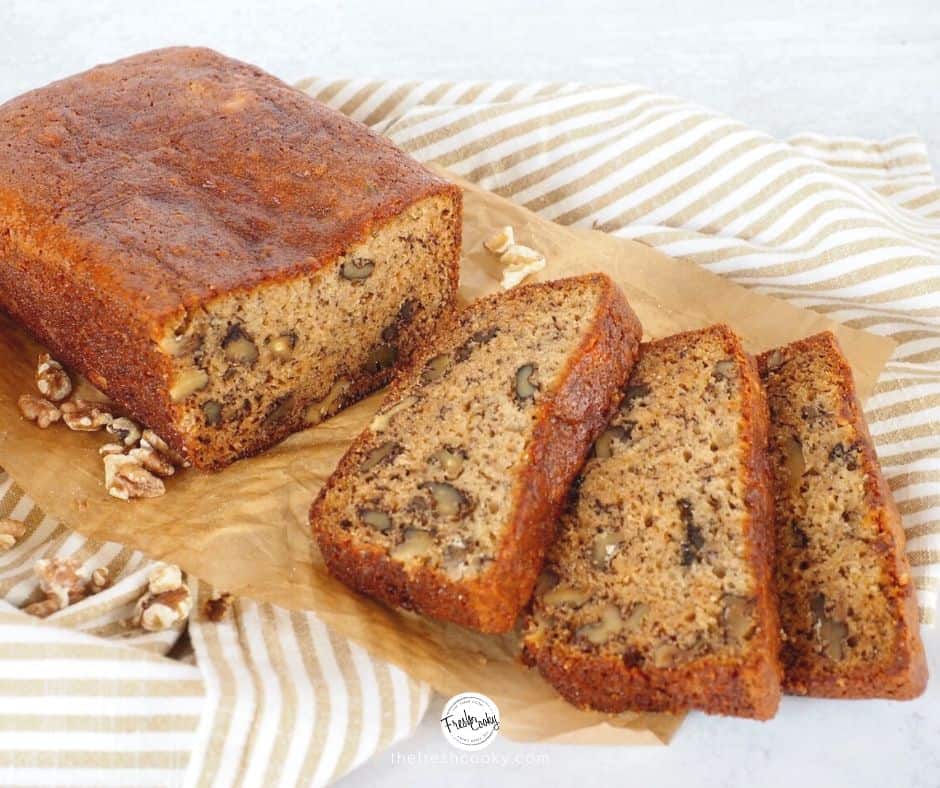 I hope you enjoy the recipe, if you do, peruse these other quick bread recipes and muffins!
Go and make some, toast a slice and slather it with butter and report back to me!
Like this recipe?
Don't forget to give it a ⭐️⭐️⭐️⭐️⭐️ star rating and comment below the recipe!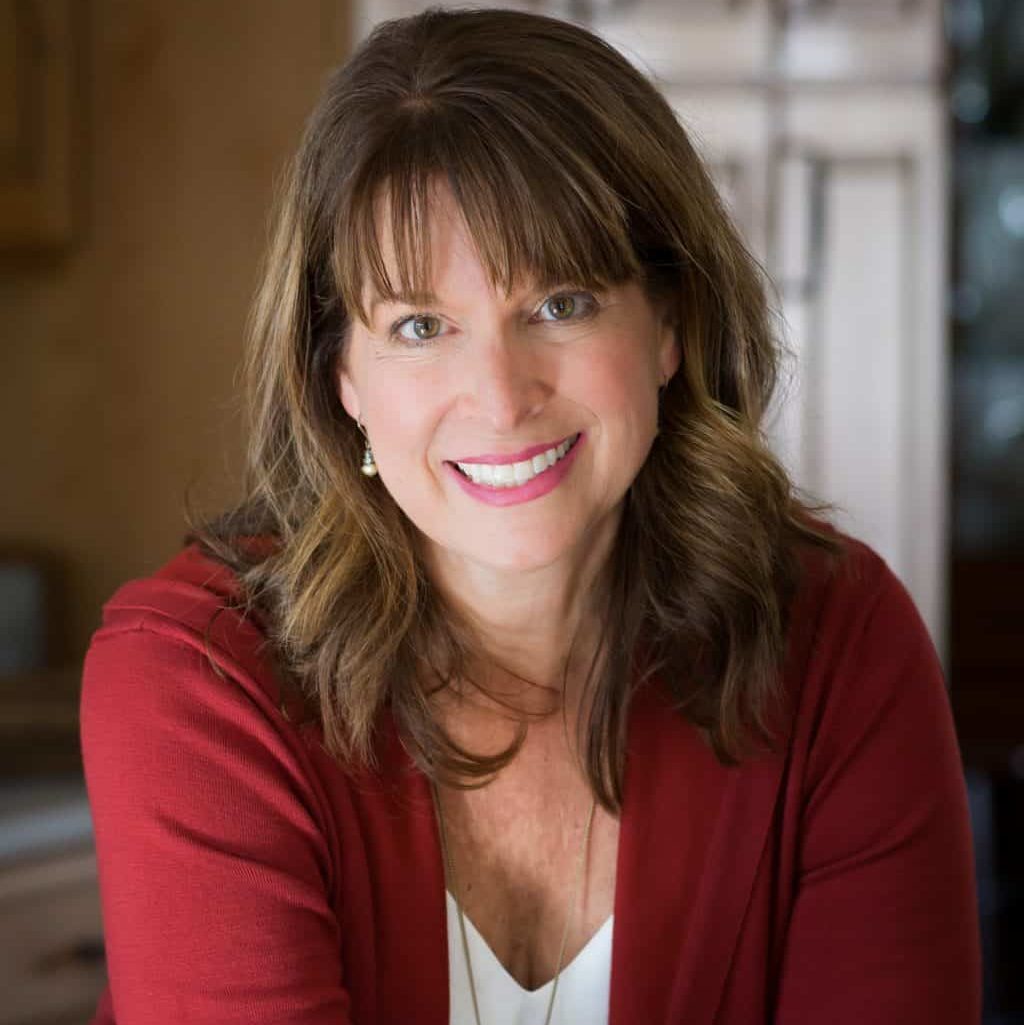 About Kathleen Pope
Recipe Innovator | Food Photographer | Food Writer
Hi, I'm Kathleen Pope. Here at The Fresh Cooky you will find easy, mostly from-scratch, trusted recipes for all occasions. From speedy dinners to tasty desserts, with easy step-by-step instructions. I am here to help teach you how to make mouthwatering recipes without spending hours in the kitchen. Read more about Kathleen here.